SilverStone ECM21 PCIe NVME Adapter
I have previously reviewed internal equipment from SilverStone and they have now asked me to look at one of their PCIe NVME adapters. If you want more space, or you do not have an M.2 port on your computer and want to expand. Then take a look at this review.

Packing and content.
The box you receive is a small box only the size of the print. It tells nicely on the outside what the product can and looks like.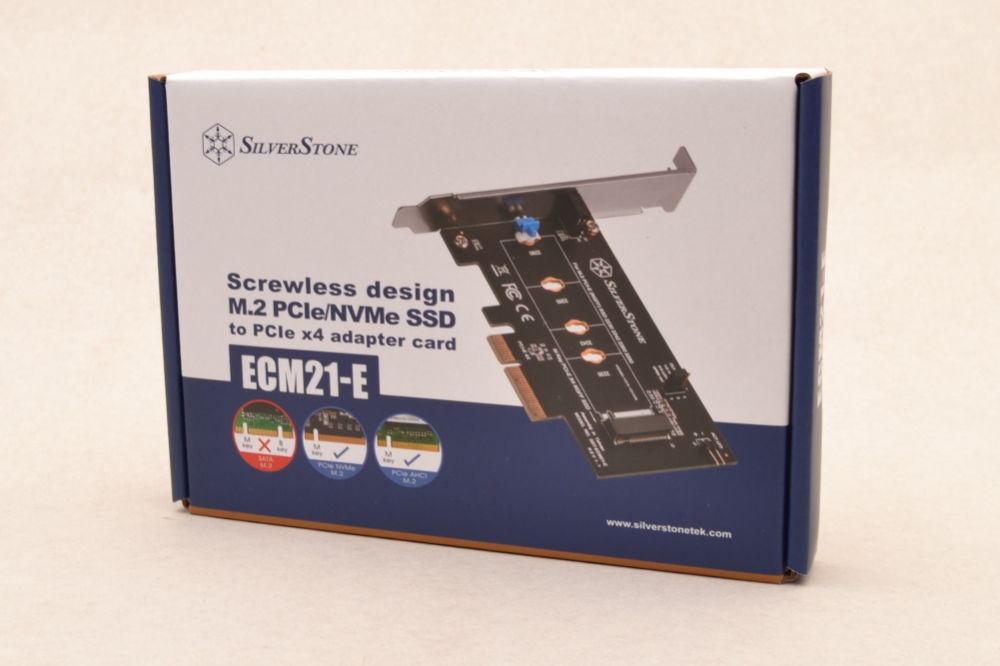 Inside the box, we find the adapter itself, a low profile bracket, user manual and a screw set for mounting the M.2 Drive. However, this adapter has a cool feature, which I will show a little later.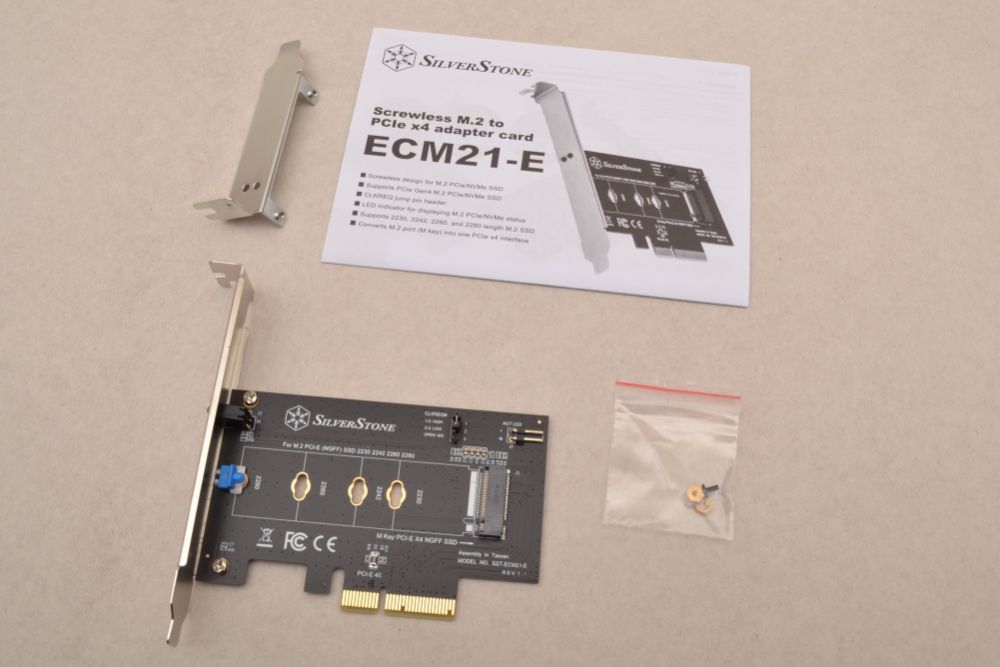 The technical specifications:
This adapter supports EXCLUSIVE NVME/AHCI drives. This is because NVME/AHCI does not need additional hardware or drivers, but runs directly on the PCIe port.
There is support for up to PCIe x4 speed, which is fine for today's drives. There are LEDs for both power and drive activity. The adapter supports the sizes currently on the market of these drives from 30-80mm in length.
Model No.: SST-ECM21-E
Interface: PCI Express x4
SSD Interface: M.2 (NGFF)
Module Key: PCI-E x4-based M key
LED indicator:
Power ON: Green
Read / Write: Red
Net weight 57g
Dimension:
120mm (W) x 23mm (H) x 104mm (D)
4.72" (W) x 0.91" (H) x 4.09" (D)
Support Length of M.2 SSD 30mm, 42mm, 60mm, 80mm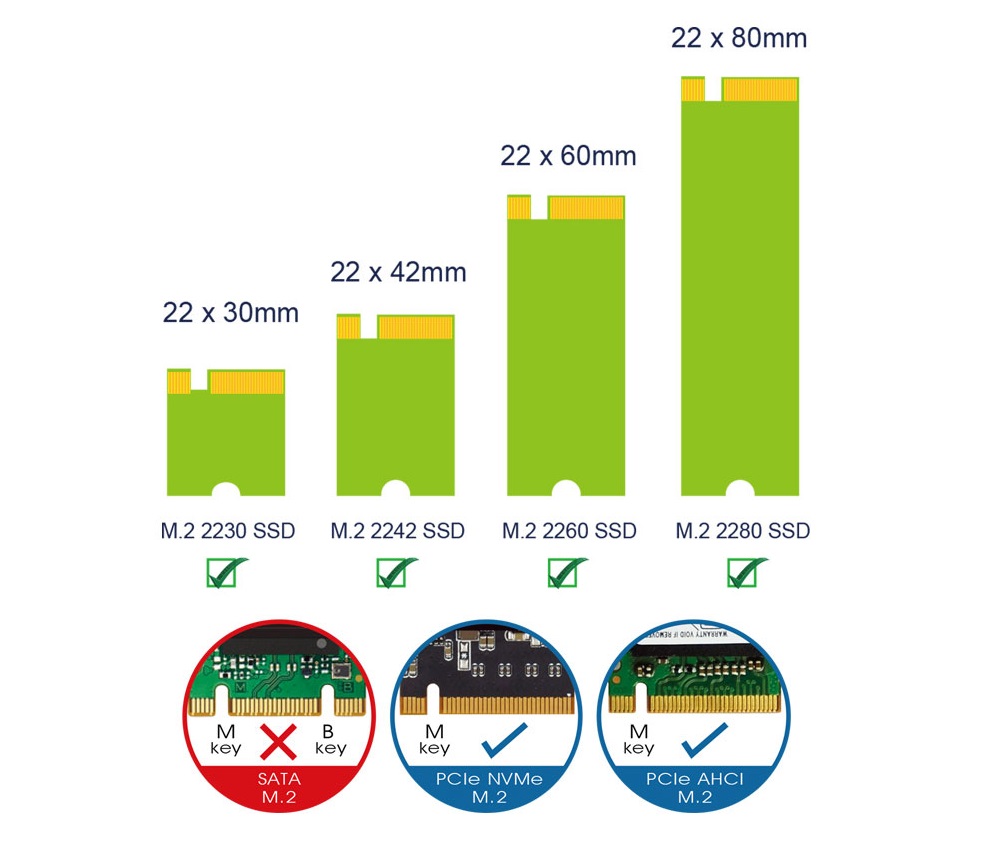 Let's look at the product.
The print itself is quite standard and the print is painted black so it fits into most setup.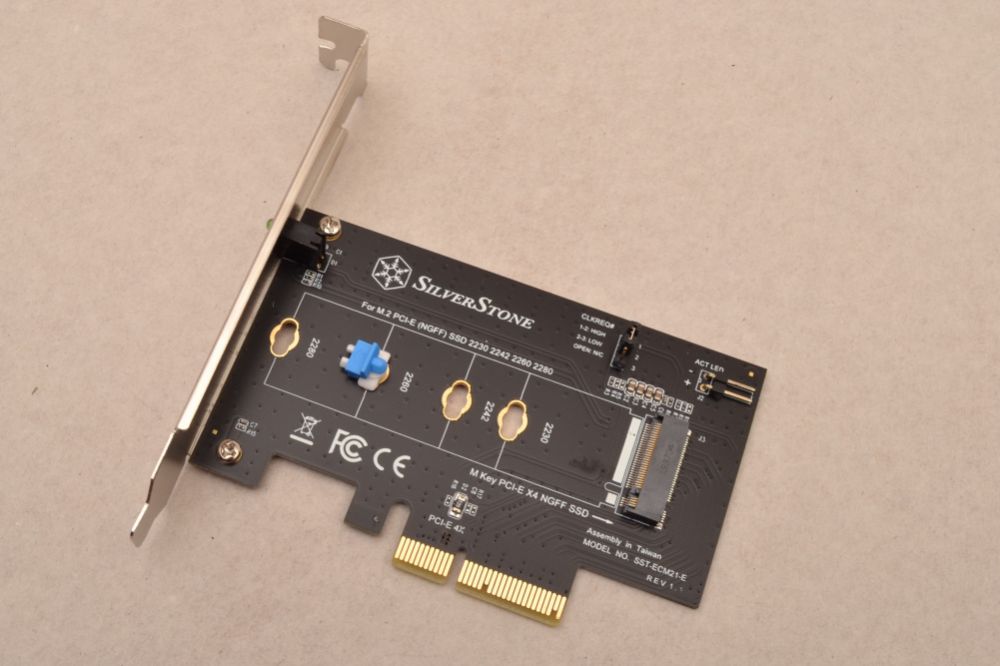 The back is virtually free of components, and that's mainly because this adapter is for PCIe drives. Then no other components are needed as nothing needs to be controlled. This is done directly by the motherboard.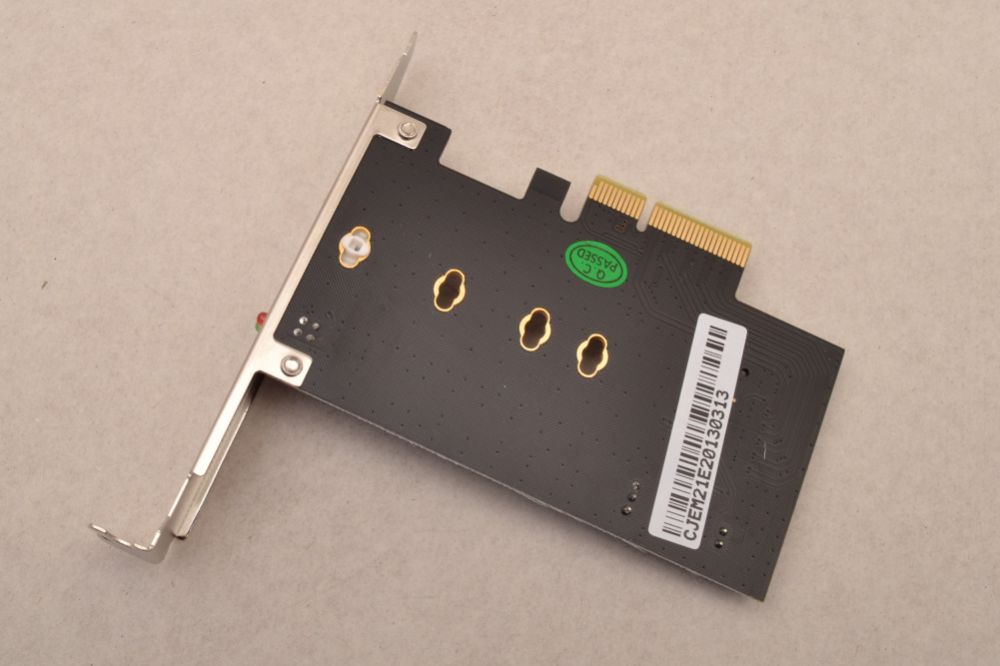 At the bracket, we find a couple of diodes. The green for power and the red for drive activity.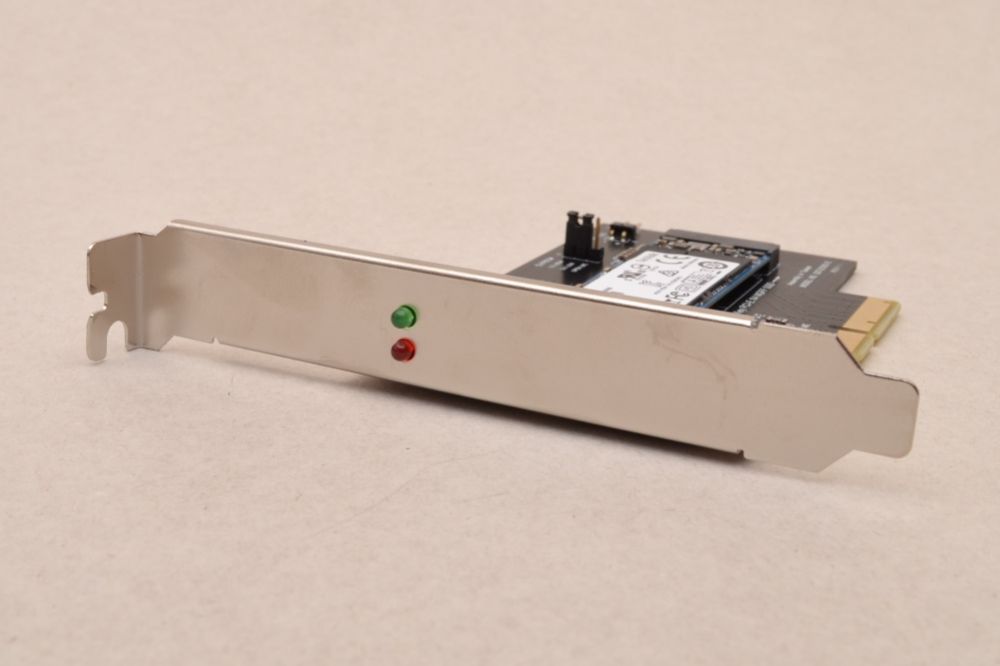 There is also a jumper where you can set the clock speed, and a connector so you can show the LED for drive activity in front of the casing.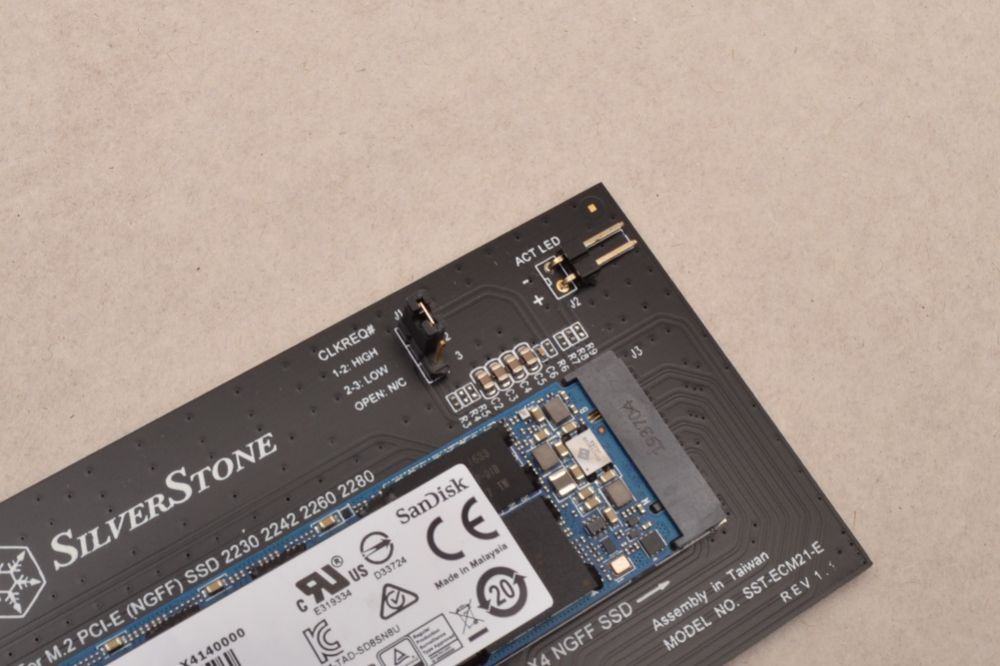 Mounting the drive on the adapter.
This adapter has tool-free drive mounting. So you do not need tools. However, a screw set is included if you do not need to change the drive.
You simply push the drive down into place, then it clicks firmly and is ready for use.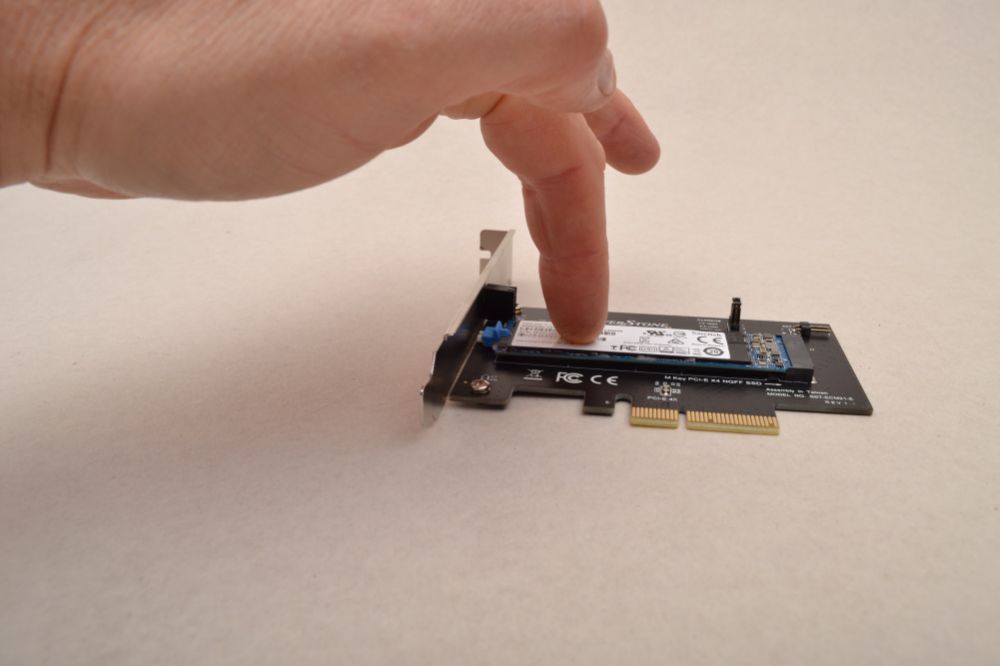 If you want to loosen the drive again, you push the blue lock aside and the drive clicks free again. It's super easy.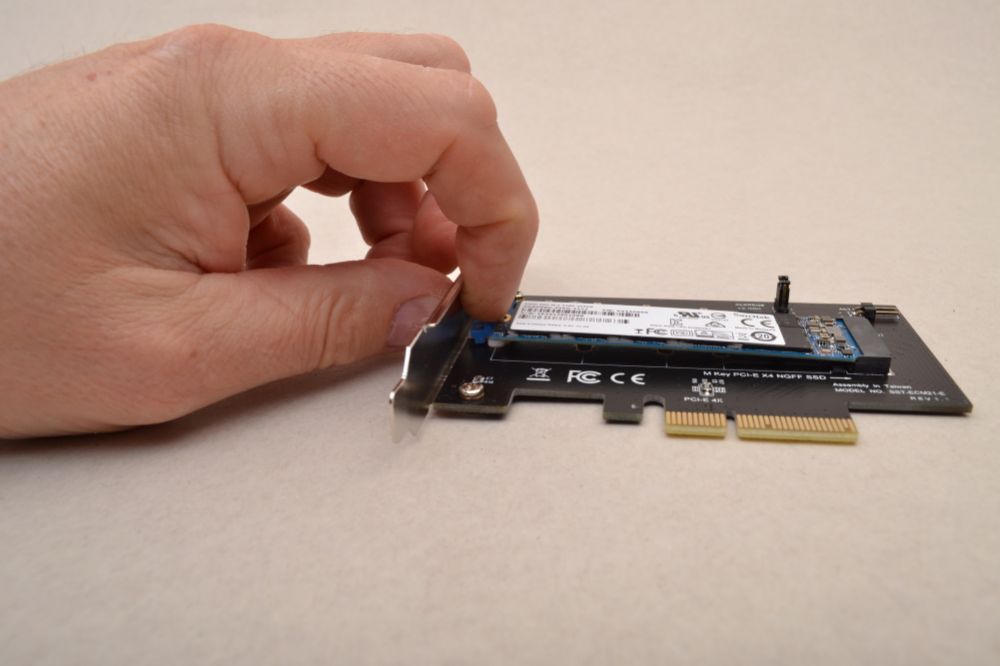 If you want to move the small clip, you just turn it, then you can take it out.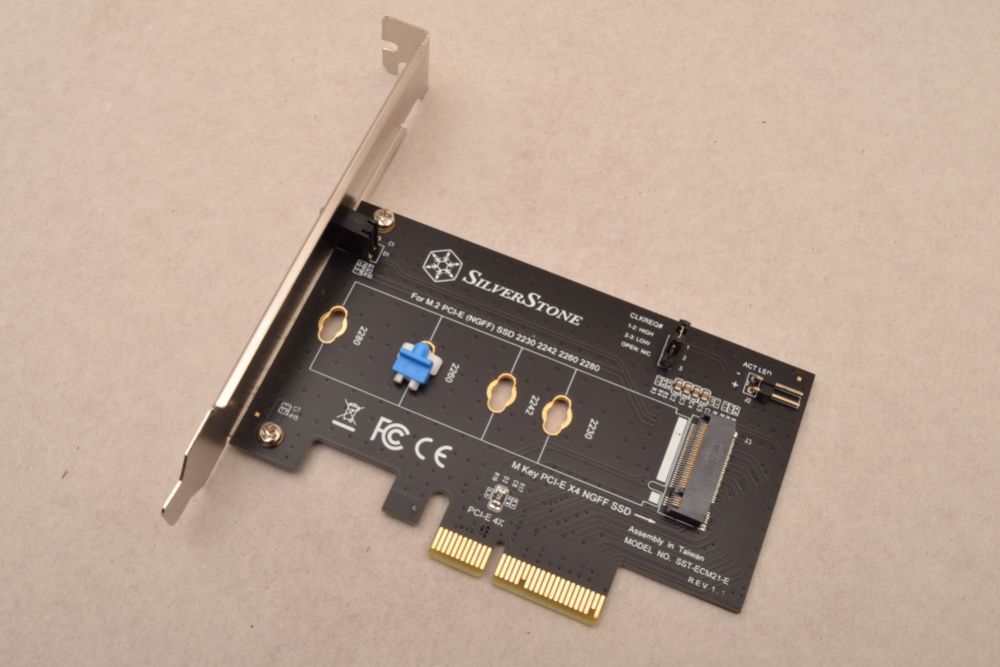 You put it in the new hole and turn it back in place. Voila, super easy and convenient.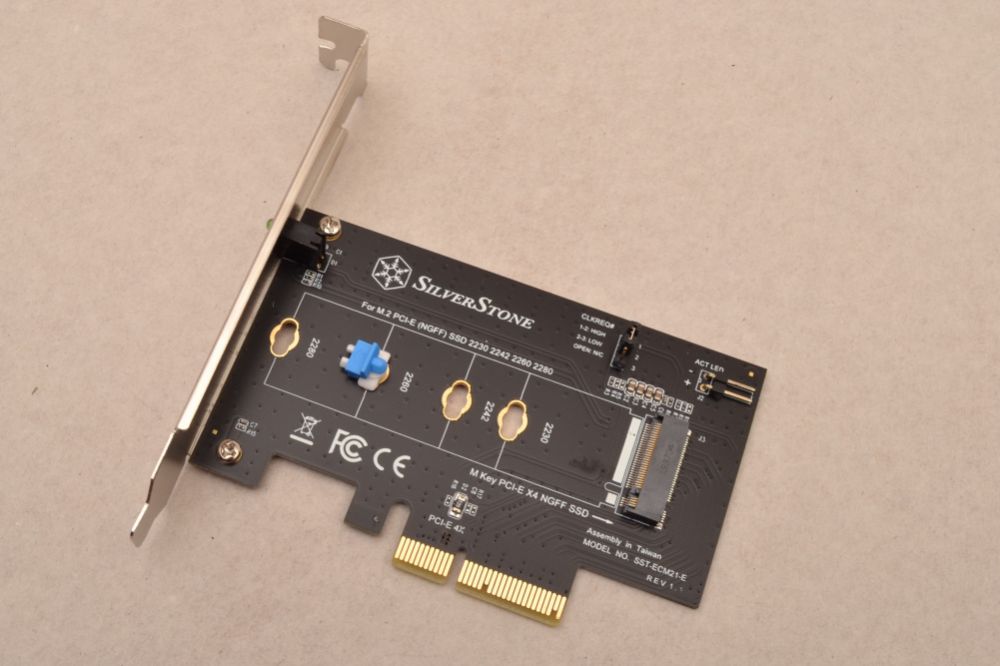 Speedtest.
I did a speed test with the latest Crystal Diskmark to see if there is any difference.
First, we just look at the reference speeds, so we have something to compare with. I use my normal M.2 port on the motherboard.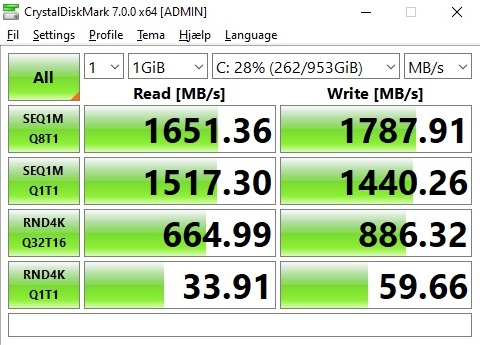 Then the drive is mounted in the adapter, and as you can see, the reading speeds dropped a bit. It's not much, but a little bit. I ran the test a few times and the result was pretty much the same. Maybe it's coincidence, but I would say we are very close to the reference measurement.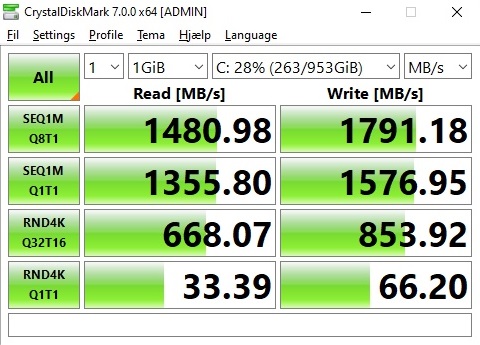 What is my opinion about the adapter.
SilverStone does all sorts of things that allow you to expand your system with the latest technology, even if you may not have it.
ECM21-E is a great opportunity to expand your machine with lightning-fast storage space in the form of NVMe drives. Then you get the opportunity to load your games or edit your photos and movies without delay. Load times will be super fast.
The design of the print is good, and it is possible to use the adapter in small computers and servers, as you can mount the adapter with a low-profile bracket. It is a good thing.
The mounting of the drive itself on the adapter is super easy, as you can do it without tools. So I could imagine that PC builders would use this opportunity to make copies of drives for new machines and Windows installations. I certainly like that. A set of screws is also included, so you can mount it more permanently.
Pricing:
I can not find ECM21-E online, but ECM21 (Without the tool-free lock) is sold for about 215 DKK in Danish webshops.
My final assessment.
I definitely think you get some good value for the money here, and if you want super fast storage space, then it is definitely a good option. It is also a cheap option so you get a lot for your money. Price and quality / features are well connected, therefore I choose to give the product a nice GOLD rating.
Read more about the product here:
https://www.silverstonetek.com/product.php?pid=905&bno=116&tb=51&area=en