SilverStone IceGem280 CPU Cooler
SilverStone has just released a brand new series of AIO water coolers, and I can proudly say that I am one of the first to test one of them. We are going to look at their IceGem cooler and I have been sent their 280mm version. Let's get started.

Introductory video.
We start with a nice little introductory video that SilverStone has made for us. Here you can see what we are going to take a closer look at in this review.
Packaging and content.
The packaging is quite nice, with nice pictures and specifications printed on the outside. You are in no doubt about what you buy, once you have seen the packaging.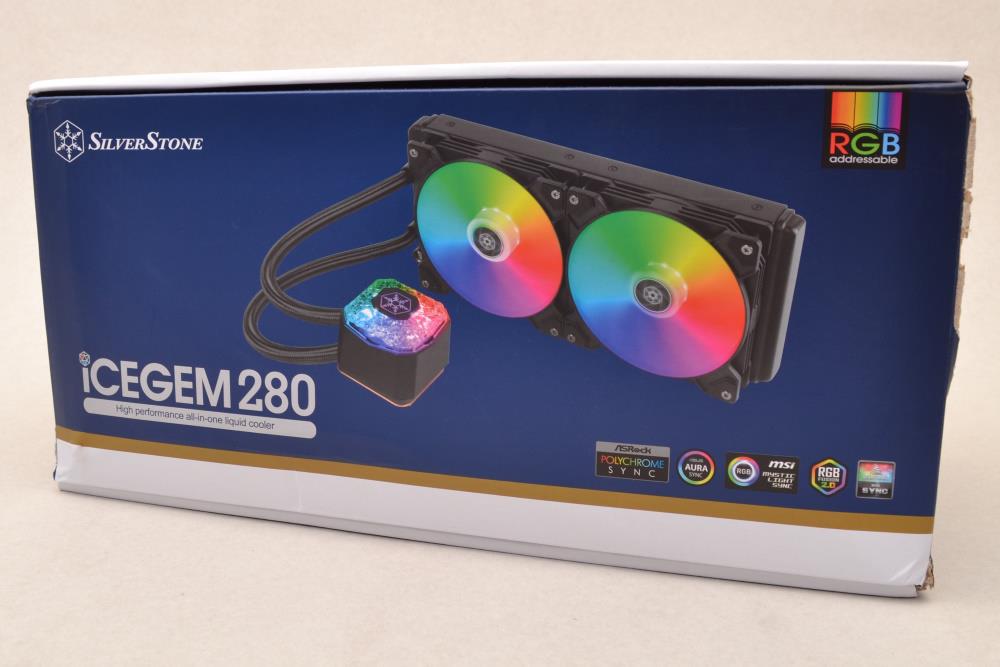 Inside the box, we find all the contents securely packed in a molded cardboard form. All parts are securely packed in plastic bags so that it does not get damaged during transport.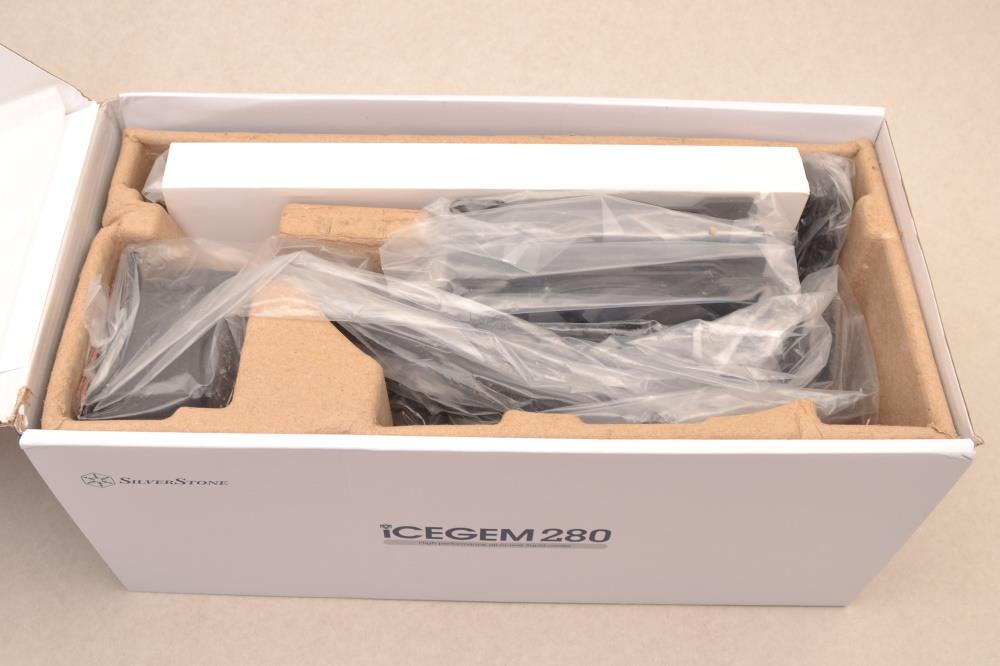 Of the small parts, we have a number of fittings, screws and wires. There are brackets for all the popular sockets, and there are the wires you need to get started as easily as possible.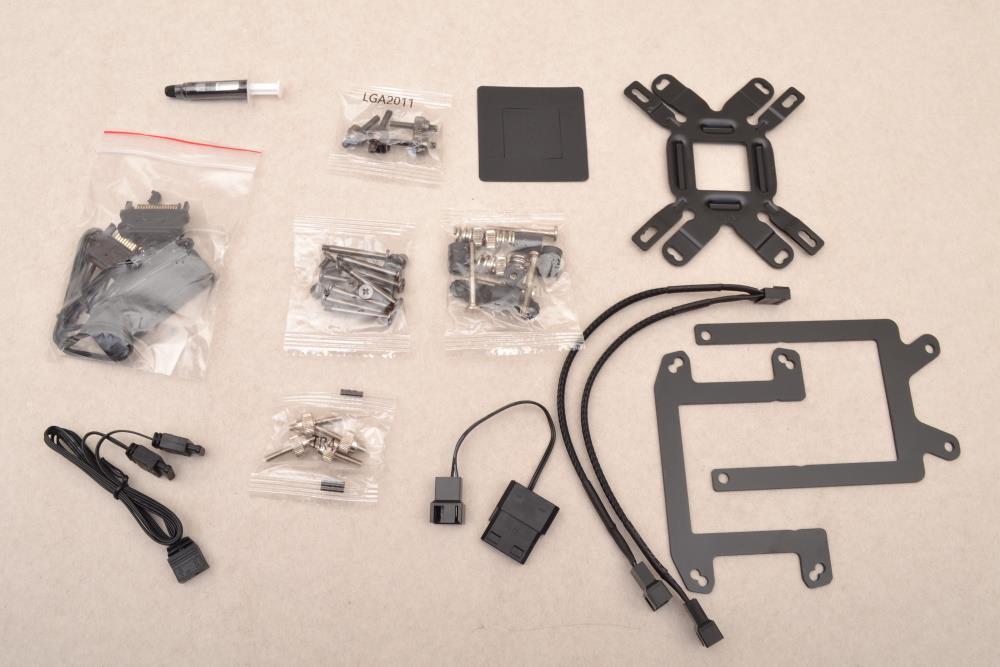 Of course, there is also a user manual and warranty description. Note that there is also a manual for the ARGB controller that you can choose to use, or you can connect the system directly to the controller you normally use.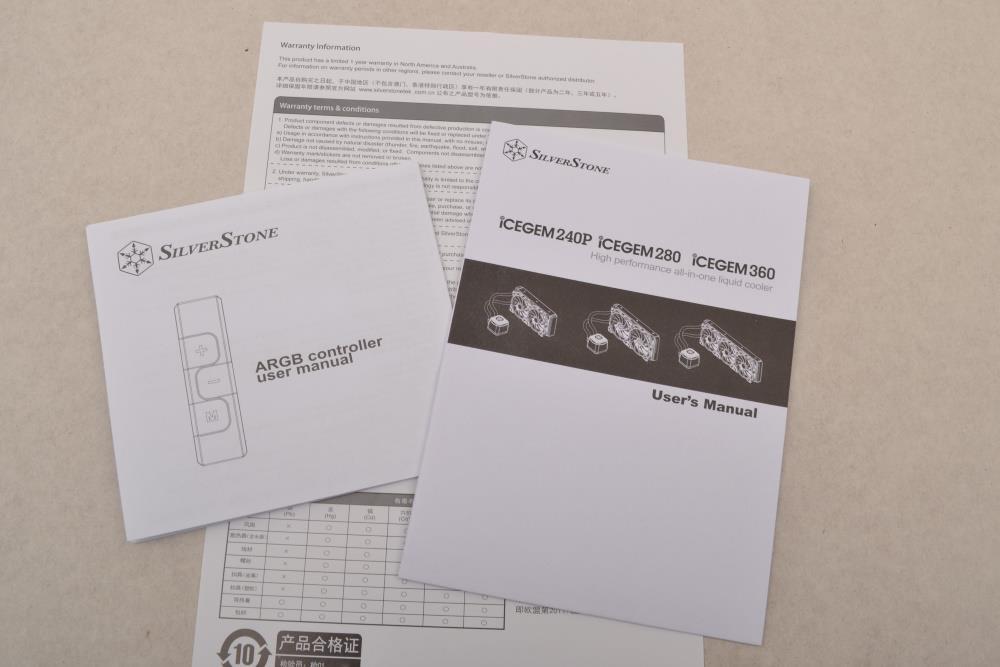 The technical specifications.
As you can read, the cooler supports all newer CPU sockets, so you should be able to mount it on your system. The pump runs around 3000 RPM and the fans run up to 1600 RPM. The fans make up to 23.4 dBA of noise, which is very normal for fans nowadays, but the sound can be perceived differently as it is 140mm fans.
Model No. SST-IG280-ARGB
Application
Intel LGA 115X/1366/1200/2011/2066
AMD Socket sTRX4/TR4/AM4/AM3/AM2/FM2/FM1
Water block Dimension 76mm (W) x 66mm (H) x 76mm (D)
Material Copper base with plastic body
Radiator Dimension 140mm (W) x 28mm (H) x 314mm (D)
Material Aluminum
Tube Length 400mm
Material Rubber
Pump Motor speed 3000 ±10% RPM
Rated Voltage 12V
Rated Current 0.42A
Connector 2510 - 3 pin & 3 pin ARGB (5V LED)
Fan Dimension 140mm (W) x 25mm (H) x 140mm (D)
Speed 600~1600RPM
Max airflow 99.2CFM
Pressure 3.1mm/H2O
Noise level 9.8 ~ 23.4 dBA
Rated Voltage 12V
Connector 4 pin PWM & 3 pin ARGB (5V LED)
Let's look at the product.
We start looking at the accessories, and here we find a pair of 140mm ARGB fans. They have frosted wings so the light can spread nicely in them.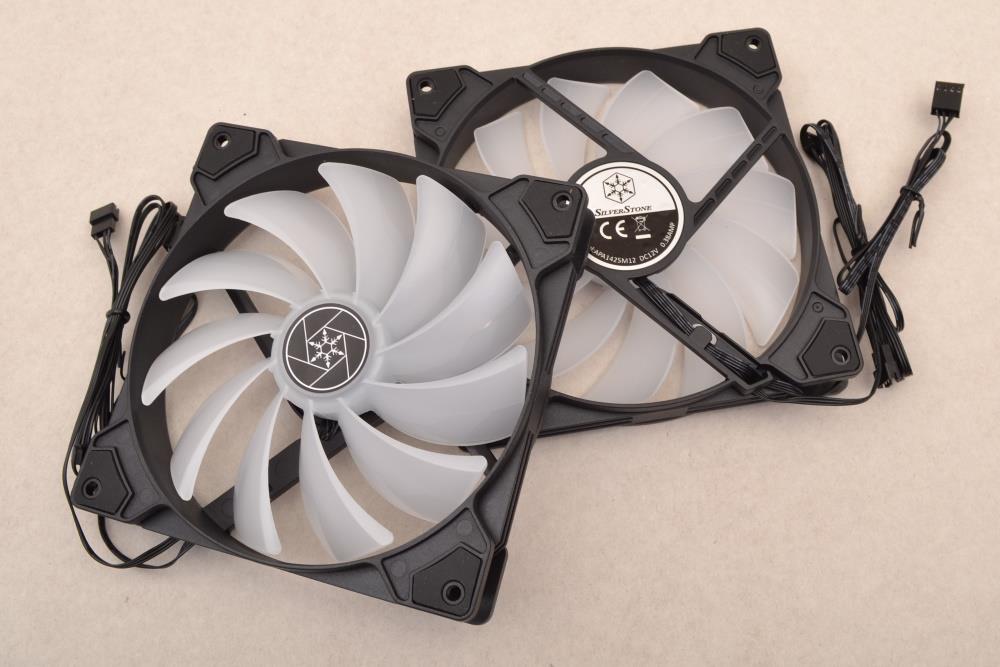 The corners have vibration damping if there should be some vibration from them.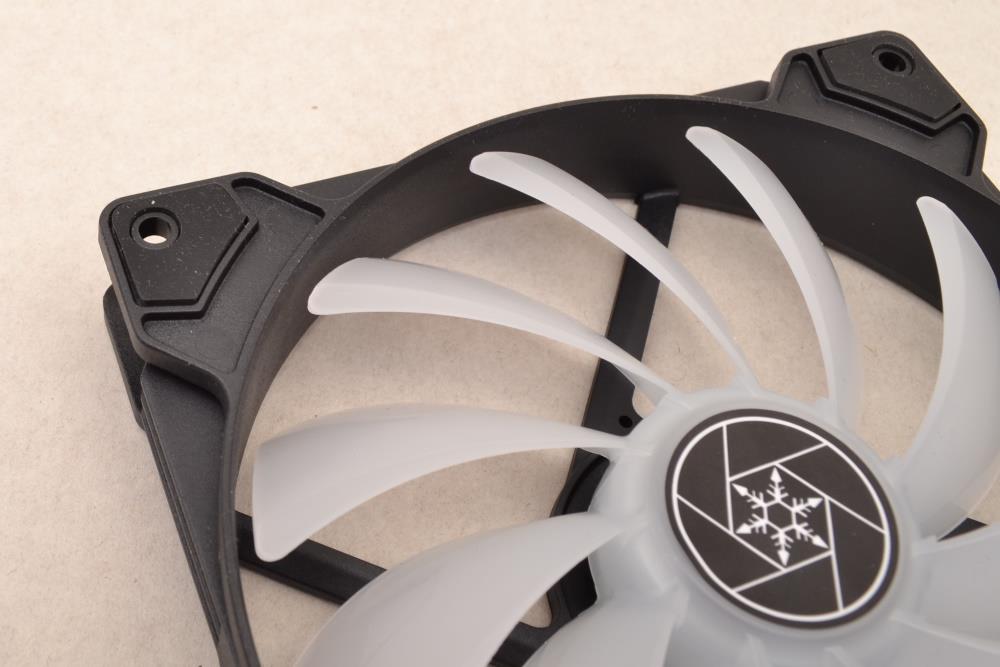 The connectors for the light are made so that you can connect the fans or other lights together in a long chain. It is very convenient so you do not need a big hub for it all. The power plug is a standard 4 pole PWM plug.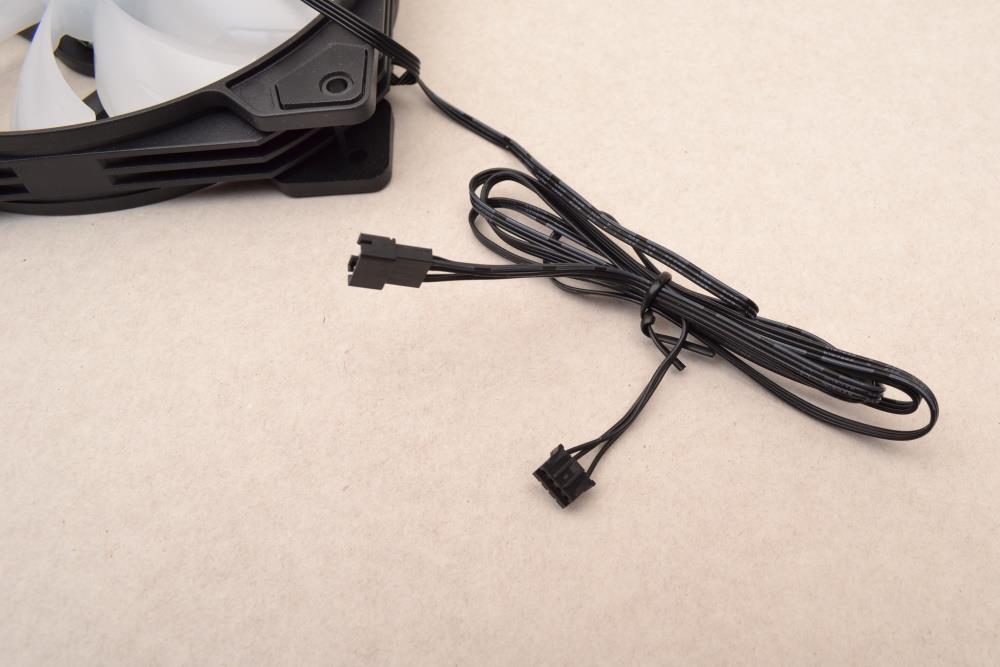 Of accessories for the light, we find a controller, which has a lot of ​​effects built-in. There are power connectors for the controller itself, and there is an adapter so you can connect the light to an external controller like the one on the motherboard. You just have to make sure it is a 5V ARGB controller.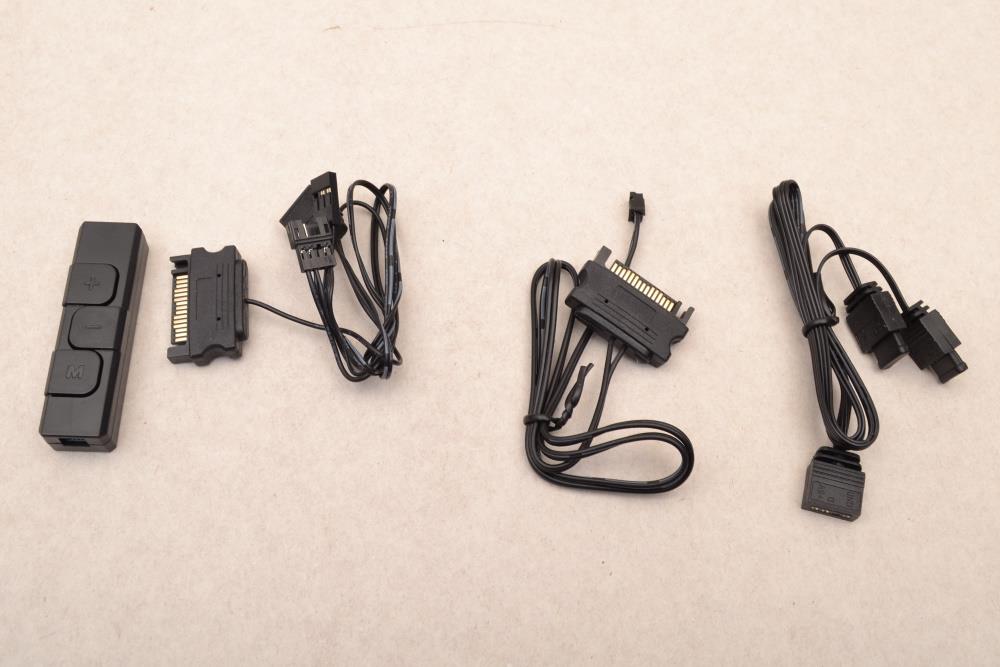 The cooler itself is pretty standard. There is a cooling head with built-in pump and light, some nice fabric-covered rubber hoses and a fairly standard 28mm radiator.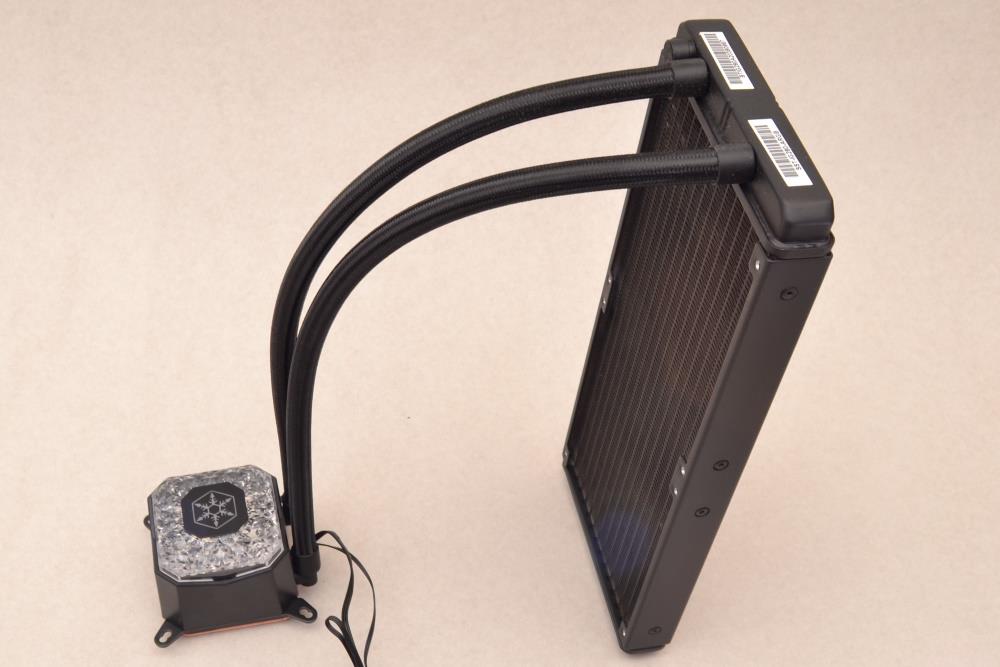 The cooling head has a top that looks like ice crystals (IceGem) where light comes out. It is relatively large but seems sturdy and safe. The head has a 3 pole DC power connector and ARGB connectors with an extension option.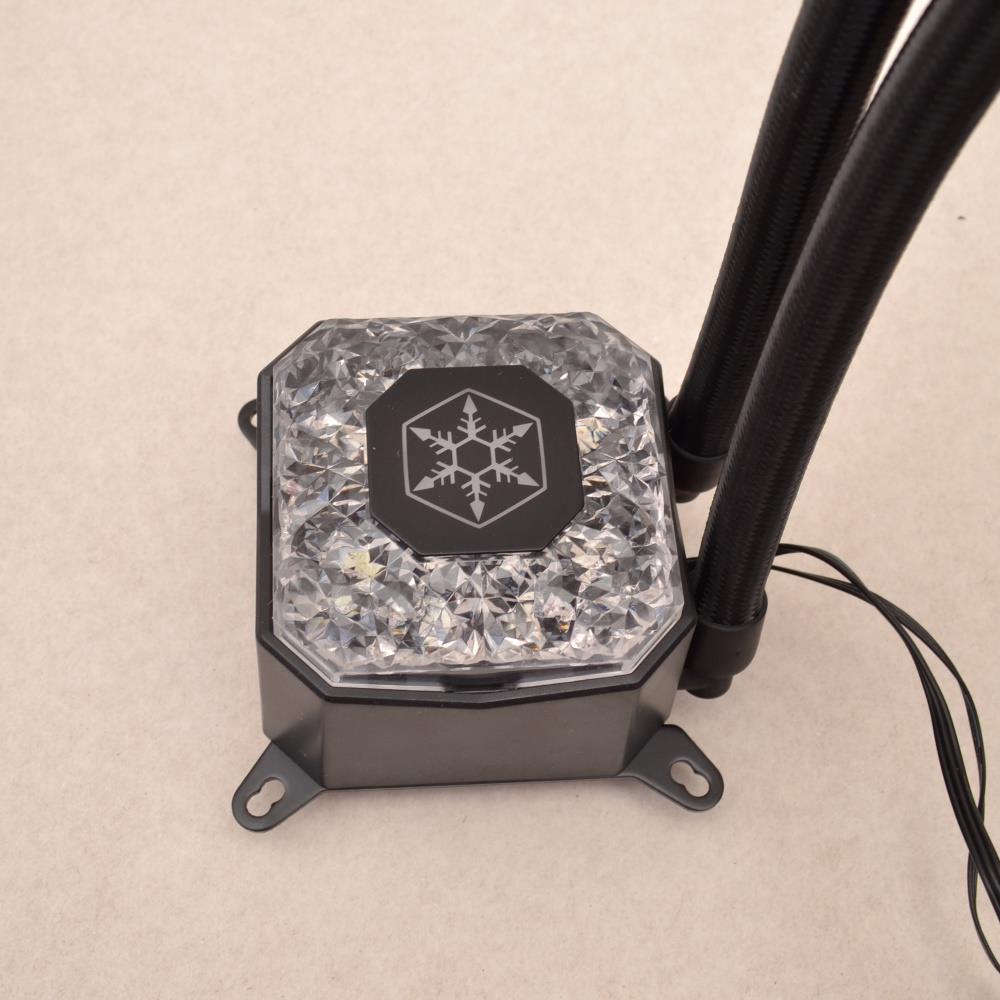 The cooling surface is made of pure copper, and it looks nice and completely flat.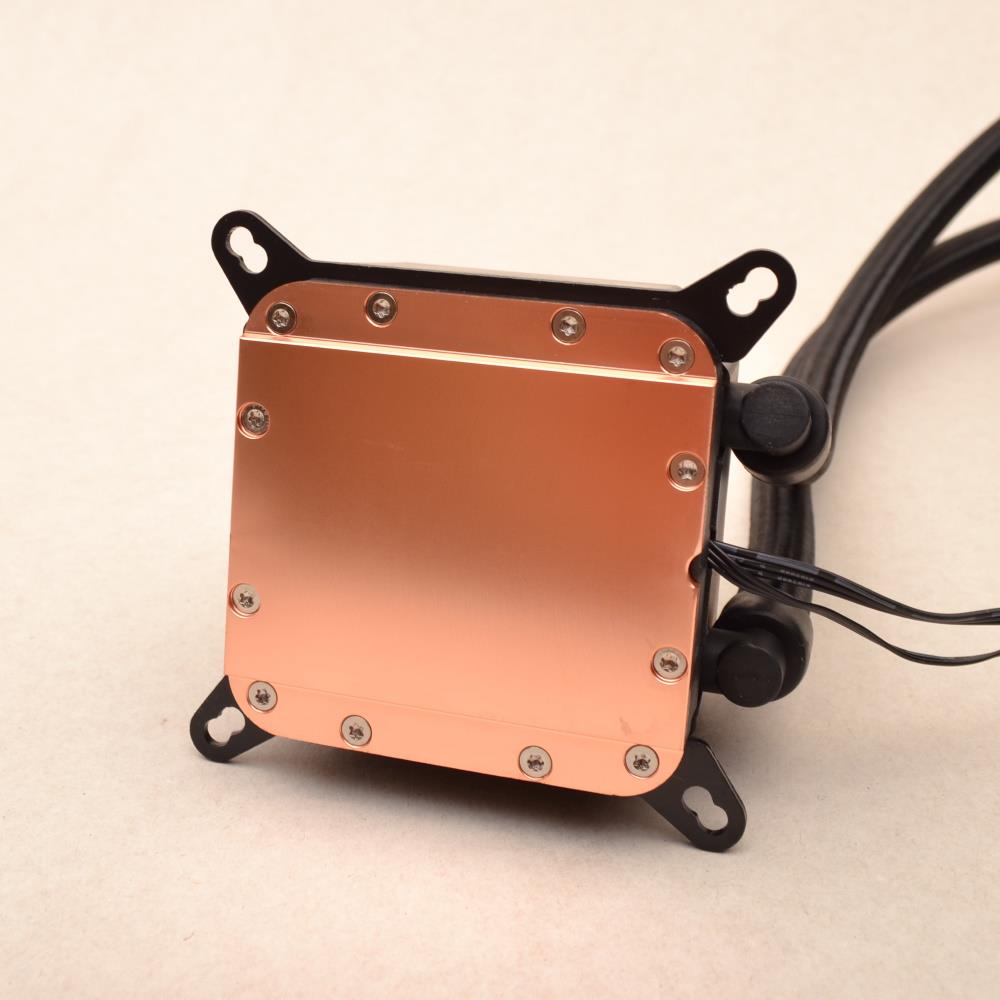 The radiator is a standard radiator as we know them from most other setups. It is 280mm x 140mm and 28mm in thickness.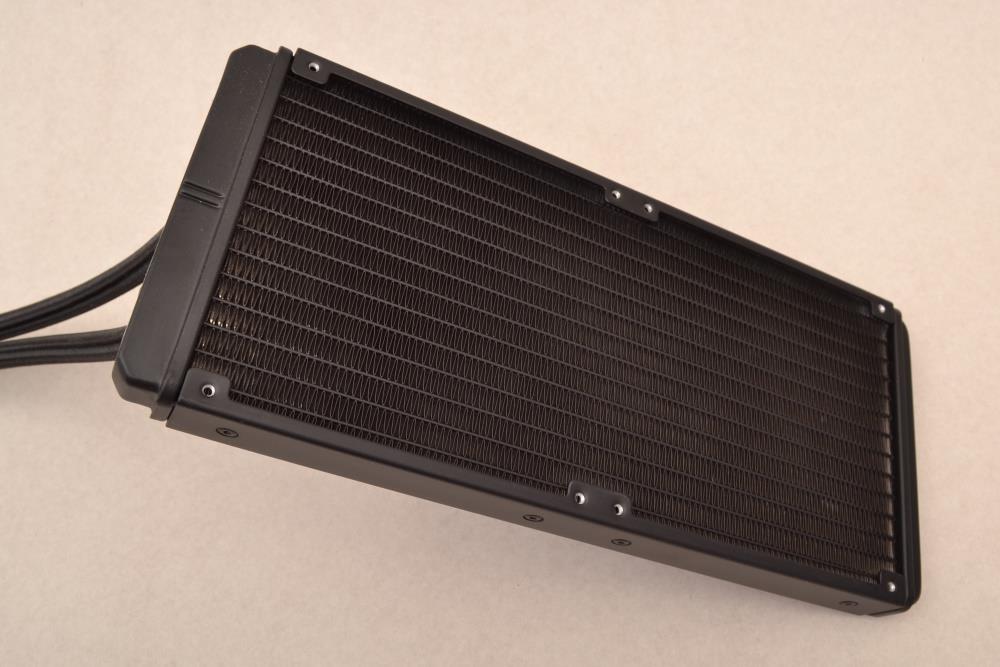 Time for assembly.
Brackets are included for the back of the motherboard for this cooler, and it is quite easy to mount. The threaded rods are inserted through the respective holes in the bracket and a plastic disc is mounted on the opposite side. The disc is tight so that it holds on to the threaded rod.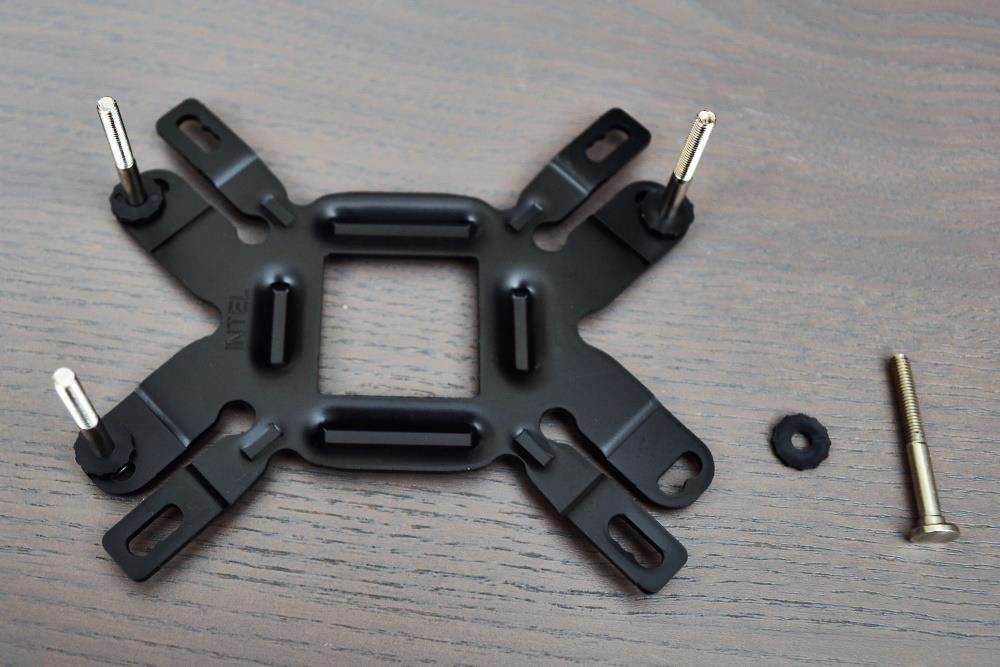 The threaded rods are passed through the holes in the motherboard, where some plastic bushings are mounted on the threaded rods. These bushings also go tight so they keep it all in place. Then the head is mounted easily and smoothly on the motherboard.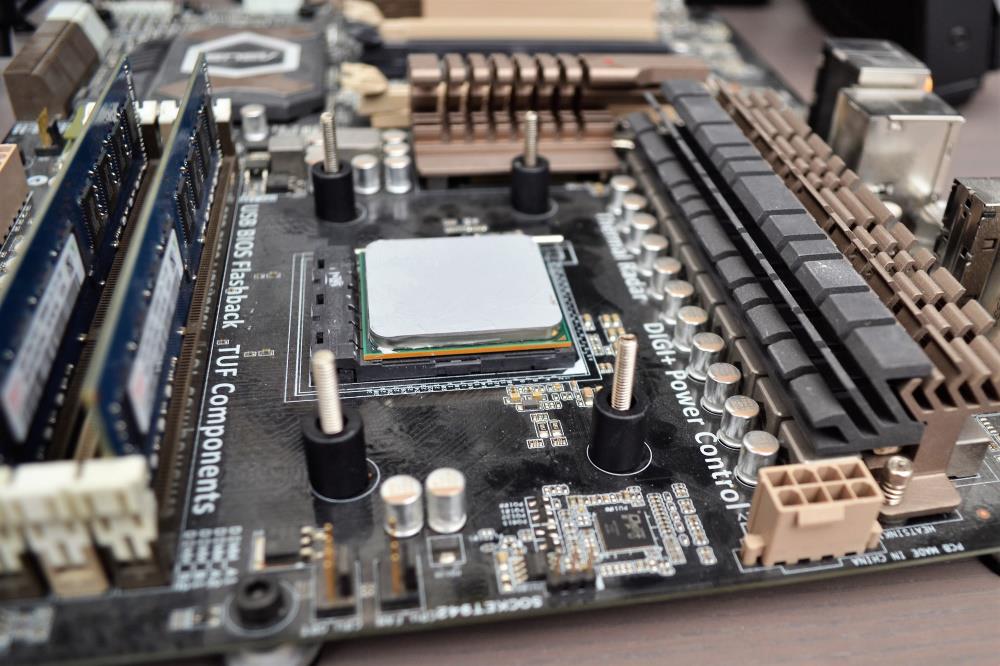 Time for testing.
My test procedure is quite simple, as I often find other reviewers shooting over the target with deep and not least VERY stressful test methods. My method is intended for the ordinary user who wants to know if the cooler fits the basic setup you now have.
If you overclock, you should already from the beginning have a deeper knowledge of cooling, and will therefore already have an expectation of whether the cooler I test is good enough or not.
Hardware:
MB: Asus Sabertooth 990 FX R2.0
CPU: AMD FX 9590 Black Exition (TDP=220W)
Software:
Procedure:
Air: Heating = 10 minutes / Test period = 2 minutes
Water: Heating = 30 minutes / Test period = 2 minutes
Reading: Delta temperature (Reading-Room temperature)
Fan speed: 100%
Loads: Idle / 2 core / 4 core / 6 core / 8 core
Room temperature: ~ 26 degrees.
Efficiency:
The cooler performs really well as you can see on the graph, and it is clear that this cooler is a little bigger than the ones I have otherwise tested. This is the first 280mm cooler I have tested, and it performs just a bit better than the other 240mm coolers I have tested.
I do not find the noise from the fans particularly annoying. It also means a lot that the fans are larger, as it gives a quieter noise compared to, for example, 120mm fans.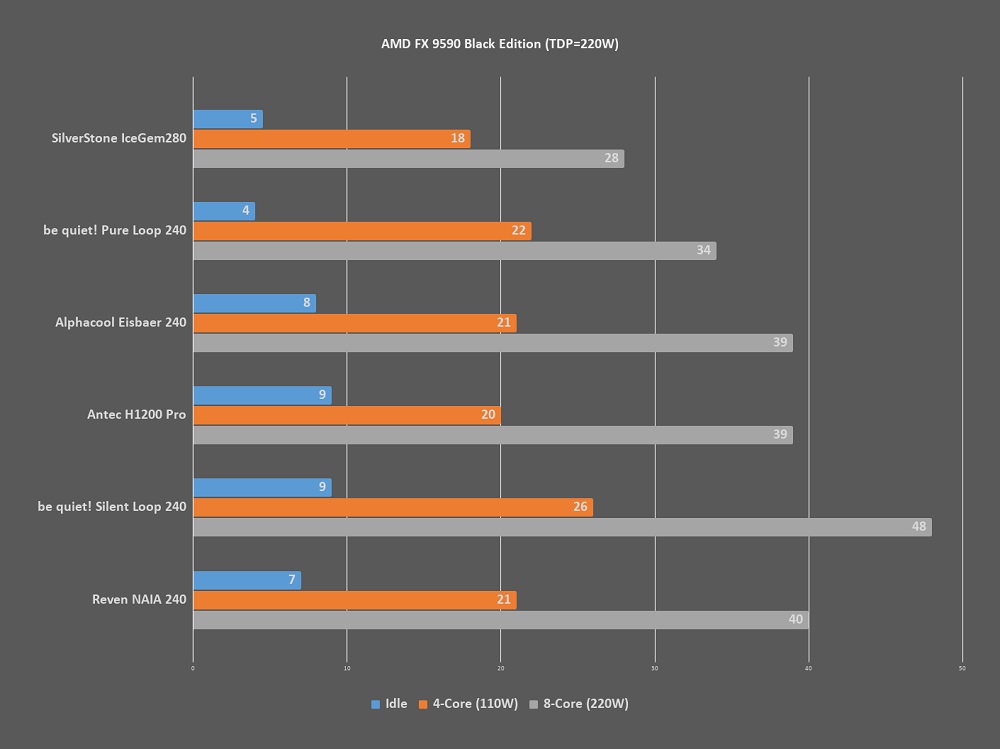 The light.
The light in the cooling head is bright and nice. You can adjust the strength and power with the included controller, so you can adapt the light to the need you have. I think the effect in the head is really nice, and you can easily imagine that it is ice crystals that are on the head of the cooler.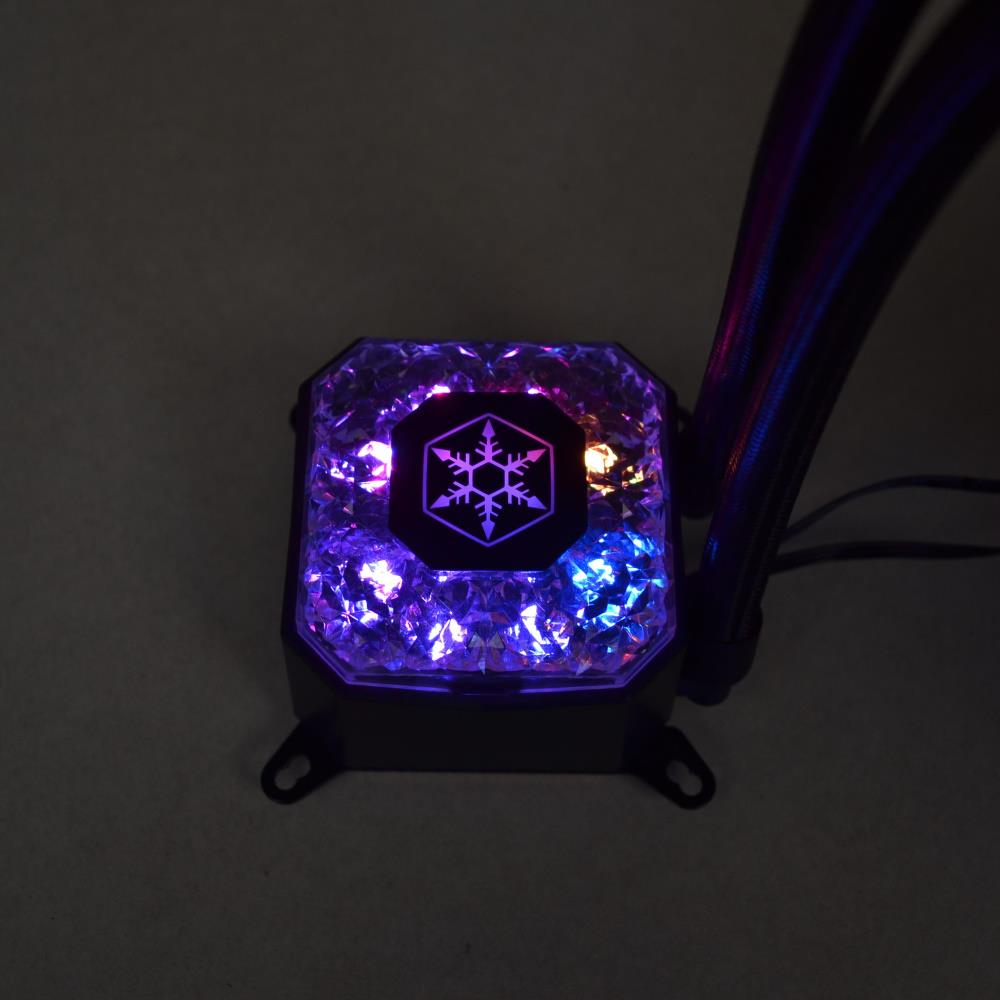 The light in the fans is also really nice and it spreads nicely between the colors. You can clearly see the different effects, and also here you can turn up and down the intensity of the light. It's super nice.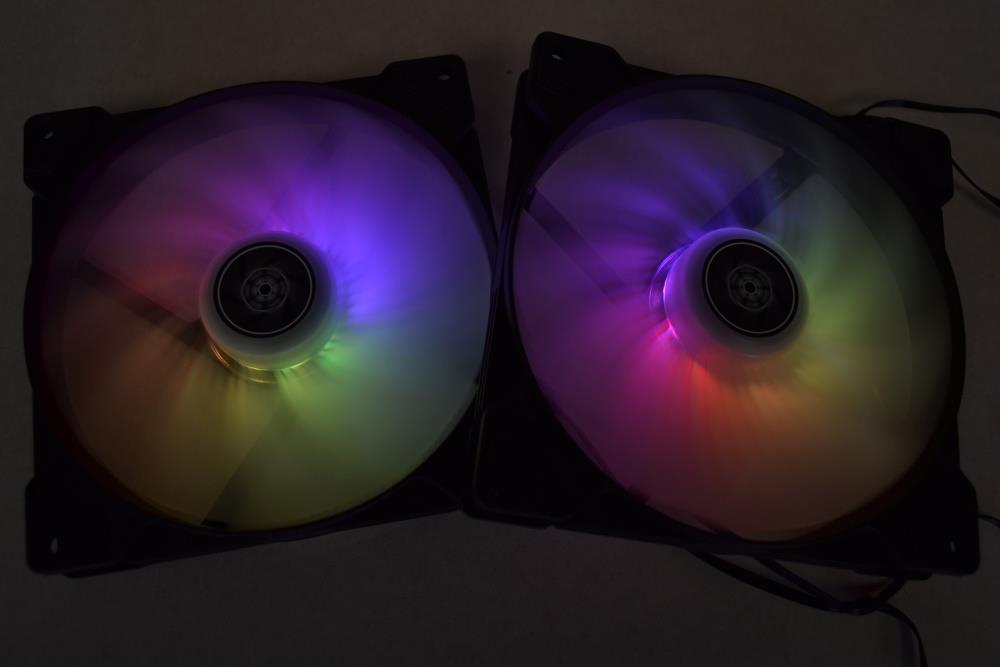 What is my opinion of the SilverStone IceGem 280 cooler.
I think SilverStone has made an awesome package. There is what you should need in the package and the whole set fits most setups.
The cooler supports all newer types of sockets from both AMD and Intel. I definitely like that.
The actual components like hoses and radiator look pretty standard. I like when there is a bit of detail on the different parts, and I think that may not be quite present on this set. But it works and does what it should convincingly, and that's the most important thing.
I think it all seems to be built in solid quality, and both fans and the cooling head seem robust and durable.
There are also plenty of accessories, so you can connect the set to what you need. That's great.
Pricing.
As the product has not been released in stores yet, I have been informed of the prices from SilverStone.
IceGem 240P - €118 / DKK880
IceGem 280 - €135 / DKK1006
IceGem 360 - €143 / DKK1066
You should probably expect that there will be extra costs in the form of taxes and fees and so on. So probably 25% more. However, the prices seem to be quite reasonable when looking at other manufacturers' prices for a similar product.
What is my final assessment.
There is no doubt that you get quality for your money. You also get a good set of ARGB lights, so you can adapt it to your setup, and then it just looks good. The efficiency do certainly not fail either, so I have chosen to give this cooler a nice GOLD rating.
Read more about the product here:
https://www.silverstonetek.com/product.php?pid=950&area=en