Roborock Mace H6 Adapt
Roborock is a giant manufacturer of cleaning machines, primarily vacuum cleaners. They are known all over the world for their robot vacuum cleaners, and in this review, we are going to look at the robot vacuum cleaner's perfect companion. Namely, a wireless handheld vacuum cleaner named Roborock H6 Adapt.

First, we look at the packing and contents.
You receive a nice box with nice pictures and description on the outside. There is no doubt at all about what is in the box and what it looks like.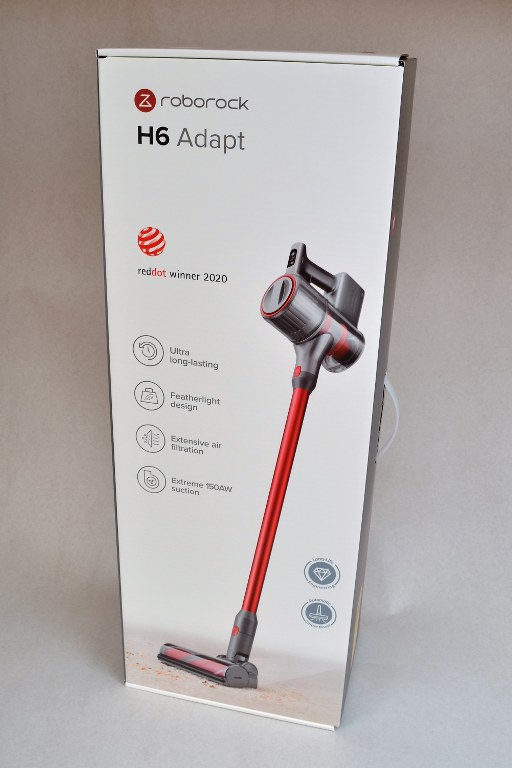 Inside the box, it is all packed securely in 2 layers. Everything is packed in plastic bags, and everything is safely placed in a cardboard mold. It's a long list, so we'll take a closer look at it in a moment.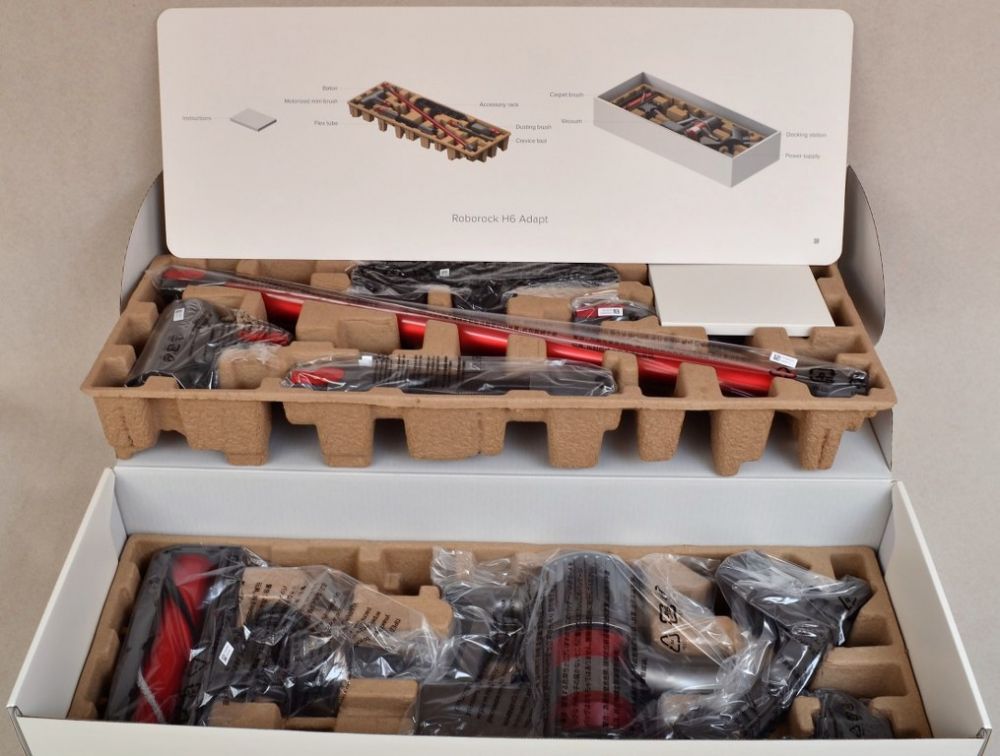 The technical specifications.
First, we just have to look at the technical specifications. The 2500mAh battery provides a usage time of up to 90 minutes, which is really nice. The weight is 1.4kg, which is a lot less than most competitors, and in fact less than half of the Dyson V11 vacuum cleaner. The vacuum cleaner makes up to 72dB of noise, which is an ok noise level for this type of vacuum cleaner, as they are very compact. And then the dust container can hold up to 0.5 litres of dust, which is good enough for most needs.
Suction power 140AW
Duration 90min
Noise 72db
Engine speed (rev) 110000
Number of brush heads 5
Product weight 1.4kg
Number of batteries (pcs.) 10
battery capacity 2500mAh (80Wh)
Cleaning levels EOC, standard, Max
Metal link Yes
Wall suction luminaire Yes
Battery removal No.
Crack cleaning Yes
Absorbs the smallest dust particles 0.3 microns
Removable dust cup No.
Dust cup capacity (L) 0.5
Motor type DC brushless digital motor
Bonus function OLED (battery capacity, gear, safety lock)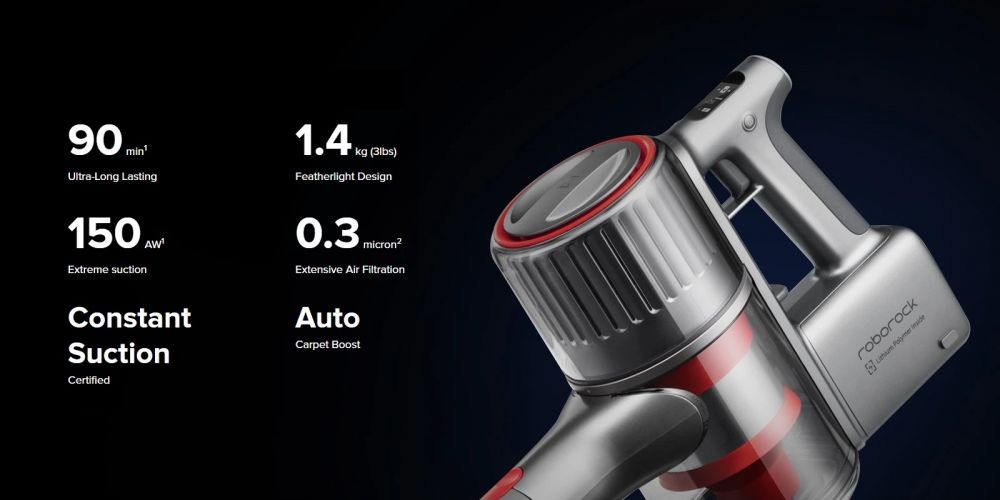 Let's take a closer look at the vacuum cleaner.
The vacuum cleaner itself is nicely designed in a naughty red colour. It has an aluminium shaft with an electrical connection to the motorized heads, so you can really get the bottom cleaned.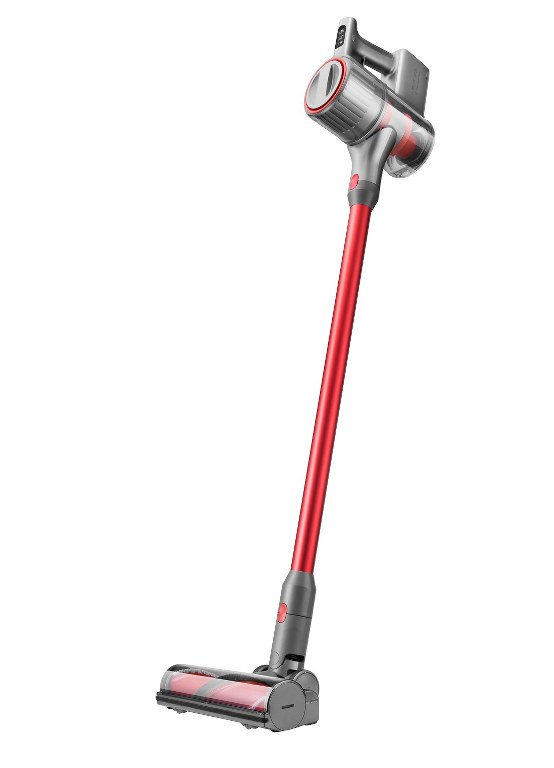 The vacuum cleaner itself is where the motor and controls are located. The weight distribution is good, and with a weight of 1.4 kilos, it does not weigh much more than a litre of milk. It is not much when you consider how much suction power it has.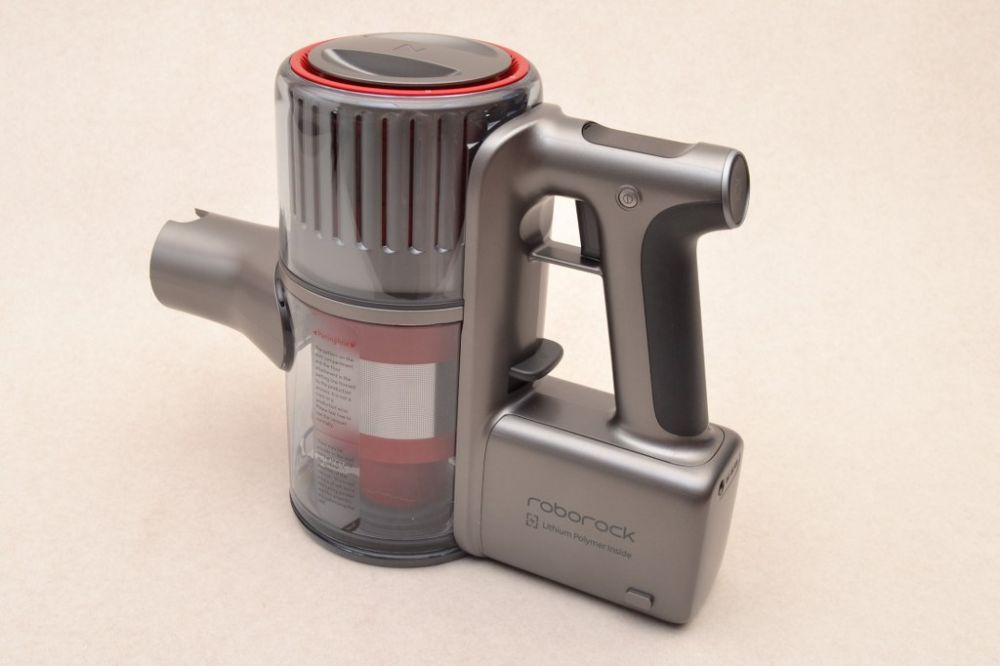 On the side of the container, there is an explanation of how to expect the dust to be excreted. Note the battery is LiPo and it cannot be replaced. Upon the handle, we find the first ingenious thing, namely a lock button. It means that you do not have to press the button all the time when vacuuming, but that you can lock the vacuum cleaner in started mode. It is SUPER practical when, for example, you have to vacuum the car with the flexible hose (Another ingenious thing I will show later)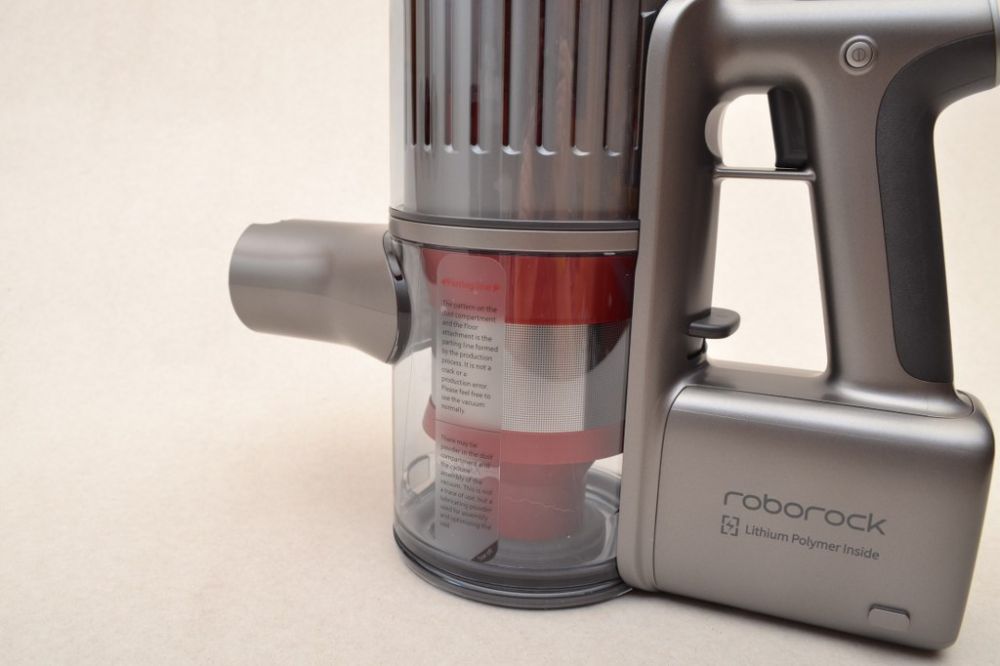 Inside the handle, we find a button to release the bottom. You hold the vacuum cleaner over the trashcan, and then you press the button.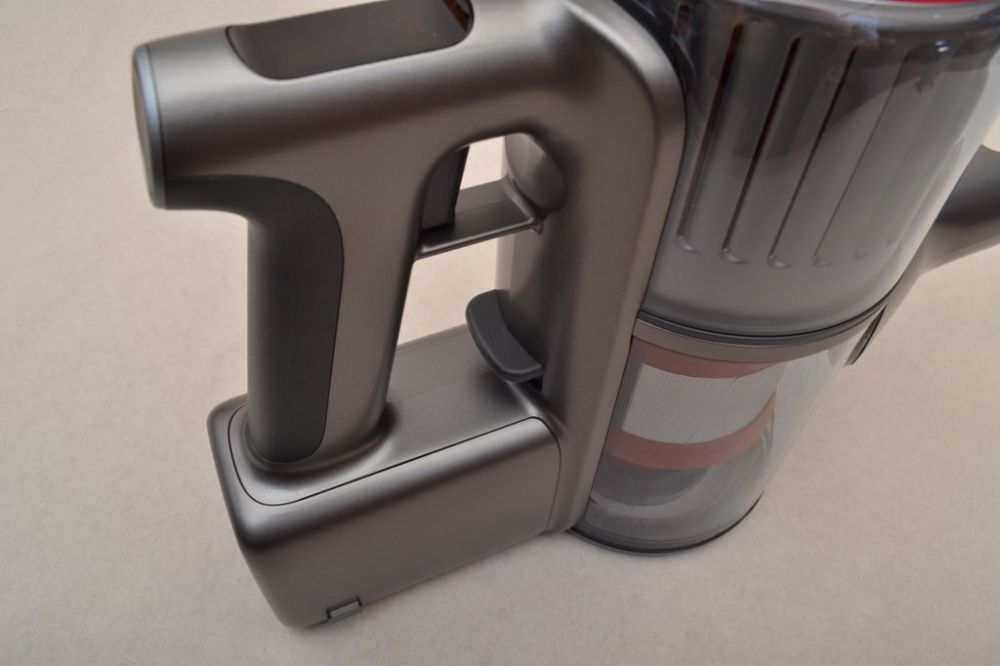 Immediately the lid opens and the waste falls into the trashcan. I am both a fan of and against this system, as you can not avoid that dust spread a little when you empty, and you will then have a lot of light dust lying in the trash, which easily dusts up. But it's super easy, I have to admit.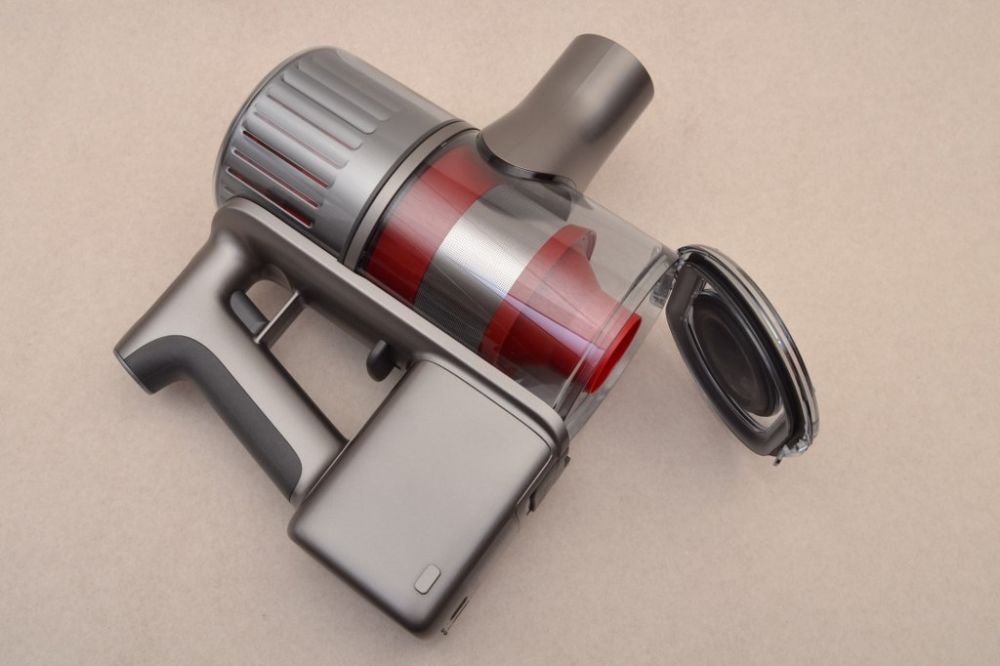 The entire vacuum cleaner can be disassembled into parts, and the filters can be cleaned and rinsed. Note the filter on the far left, which is a HEPA filter. This vacuum cleaner removes all dust from what it sucks up so that nothing comes out again, other than clean air.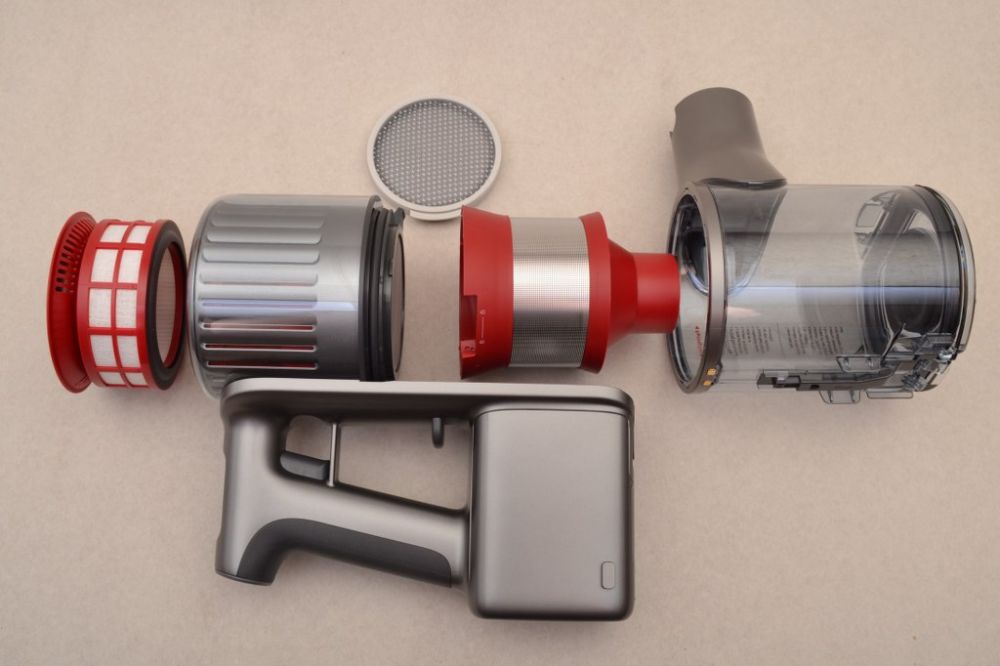 As you can see, the filter removes particles all the way down to 0.1 micrometres in size. These are very small particles. I saw a video review of the vacuum cleaner where it was tested with a smoke machine in front. No smoke came out of the outlet of the vacuum cleaner, so it cleans the air well.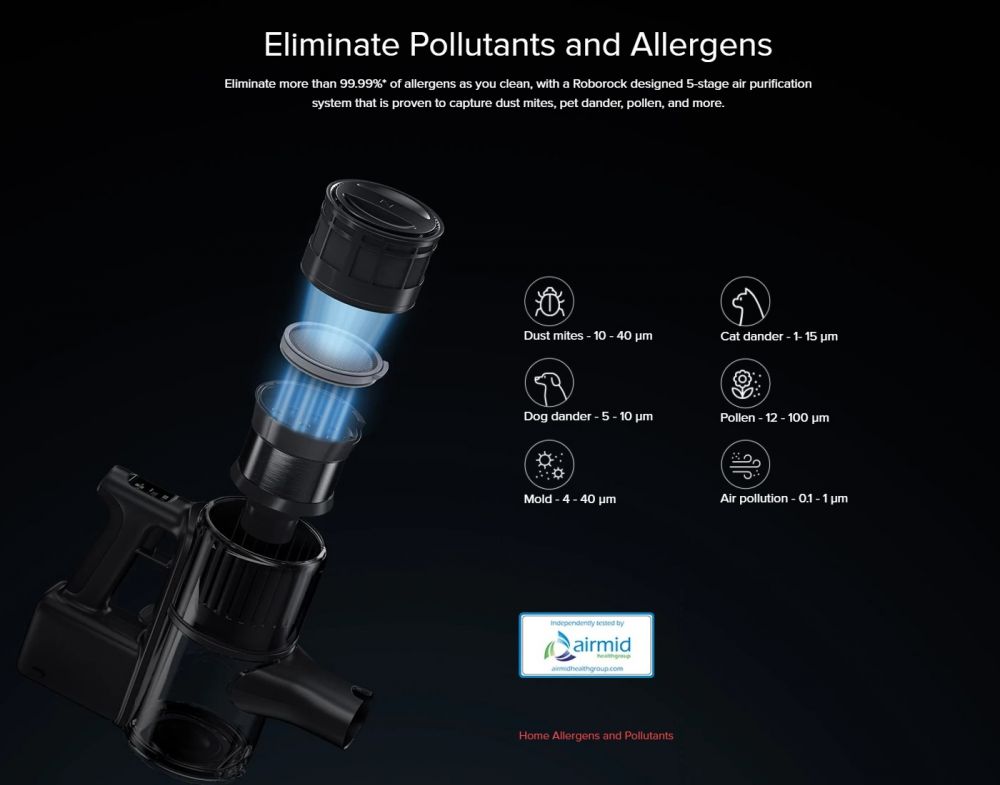 At the back of the vacuum cleaner we have a power socket for charging. You can use it if you do not want to use the holder on the wall. This is also why we find the button for the display. It changes the suction power, which consists of economical, standard and then full power.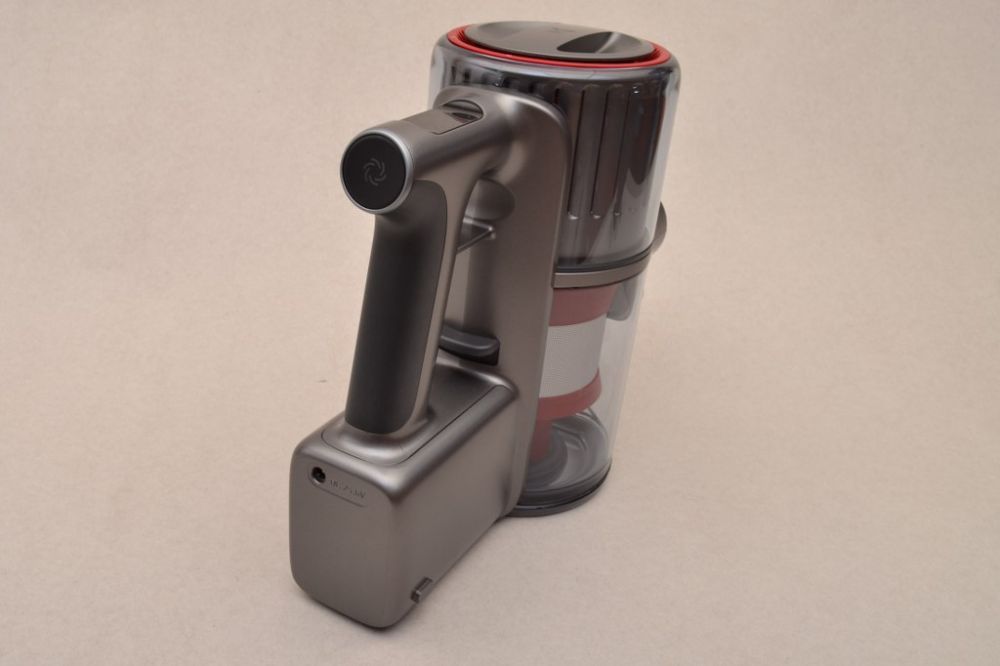 The display is a clear OLED display, which is bright and has good contrast. You can see what suction power the vacuum cleaner is on, whether the lock is switched on, and not least how much battery is left. In the picture it shows the percentage, but when you start the vacuum cleaner and it has run for a few seconds, it shows how many minutes are left on the battery. It's super smart.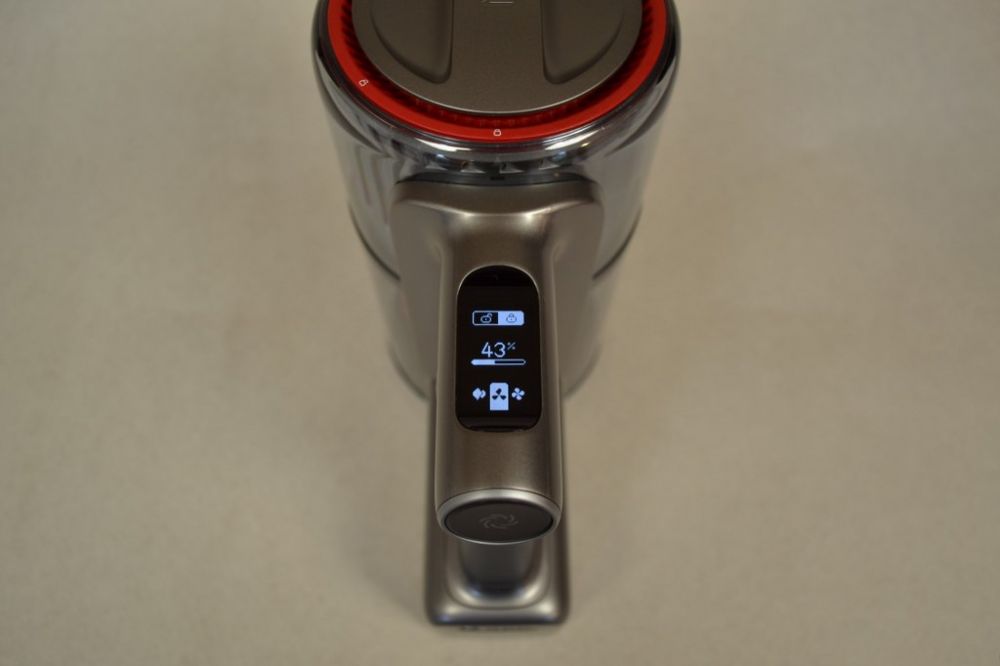 A dock is included with the vacuum cleaner, which can also be a charging station. The dock can hold all the accessories so that it is gathered in one place. Unfortunately, there is no holder on the vacuum cleaner itself for some of the tools, which is a bit of a shame. Then you have to have them in your pockets when you run around the house vacuuming.
There is also a stand that you can put the dock on so that the vacuum cleaner can stand on its own without having to screw it up on the wall. However, it is an optional accessory.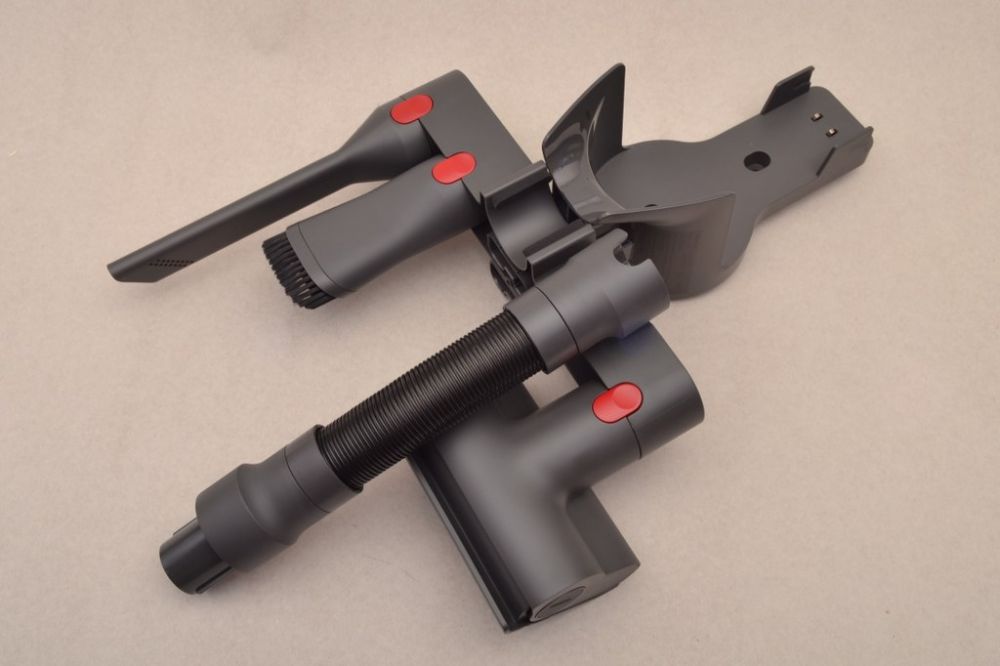 Of accessories, we find in addition to the joint and brush nozzle, also this ingenious accessory. It is a flexible hose that contracts to nothing if you do not use it. It is perfect if you have to go around with the brush head and vacuum on shelves and window sills. Or if you have to vacuum the car, where you then just put the vacuum cleaner on the floor while vacuuming the seats.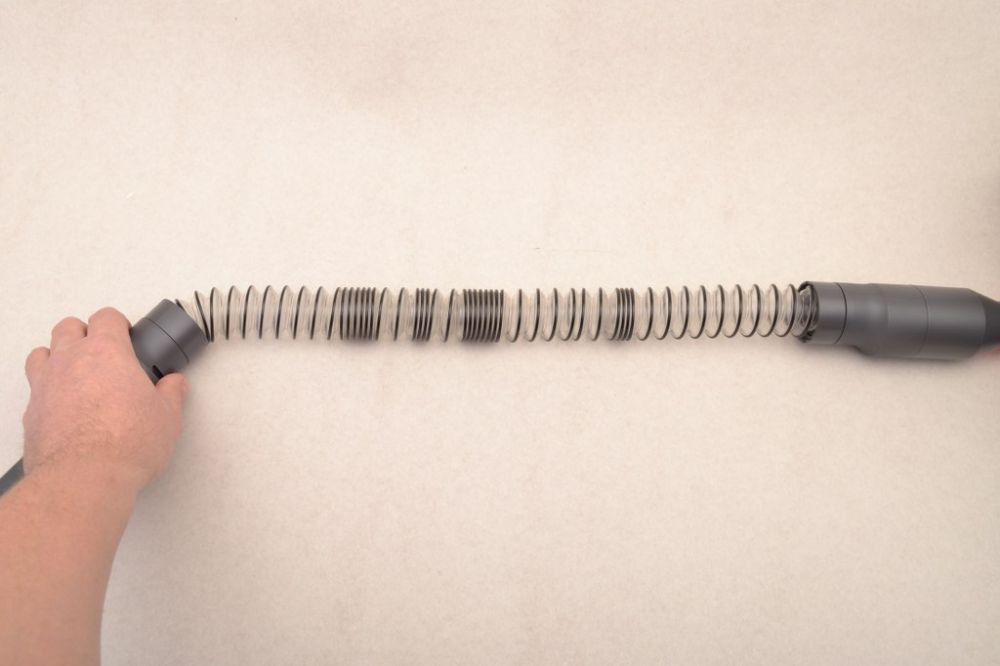 There are also motorized nozzles where the small is for furniture. It can be adjusted and locked in different positions, as needed.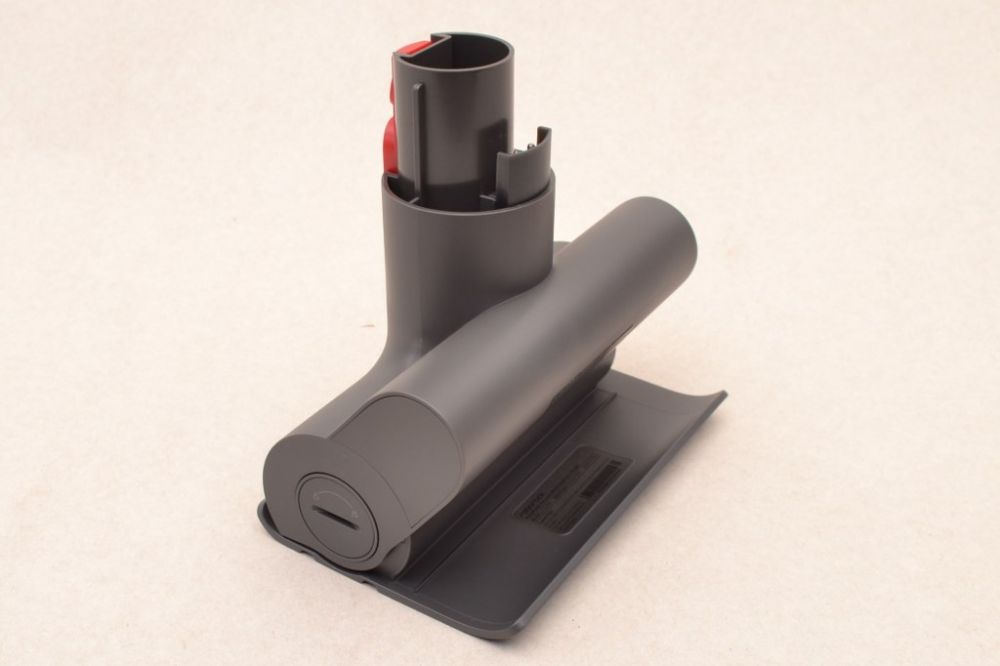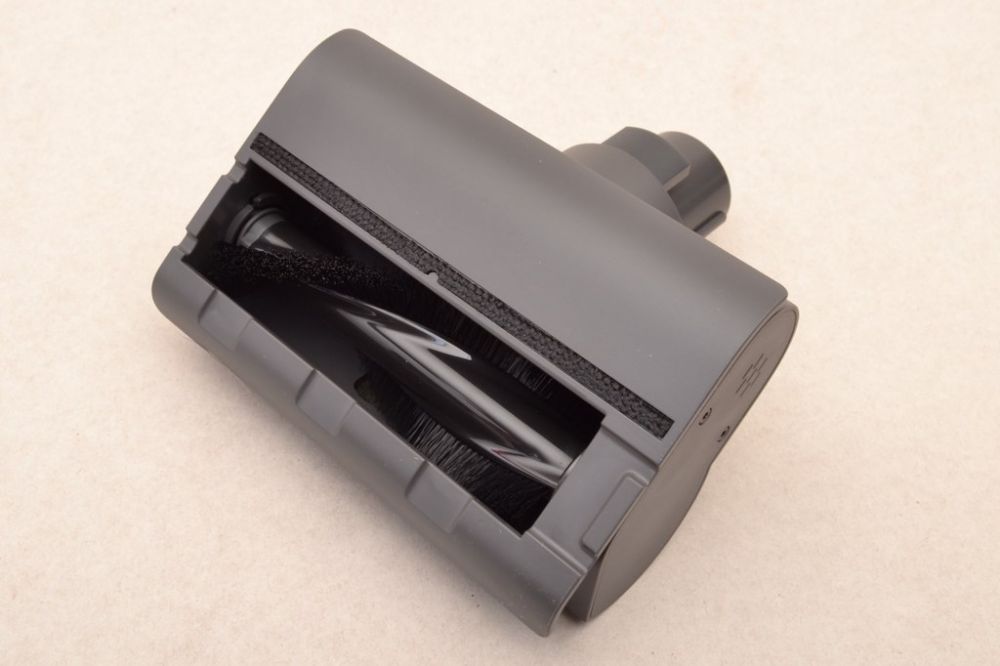 The carpet nozzle is also motorized. It is also quite flexible and you can get quite flat down towards the floor. The height of the mouthpiece is about 7 centimetres, which is enough for most sofas and furniture.
Unfortunately, a nozzle for hard floors is missing. Of course, you can use this mouthpiece for hard floors as well, but I have seen other vacuum cleaners have mouthpieces for hard floors that are smaller in height.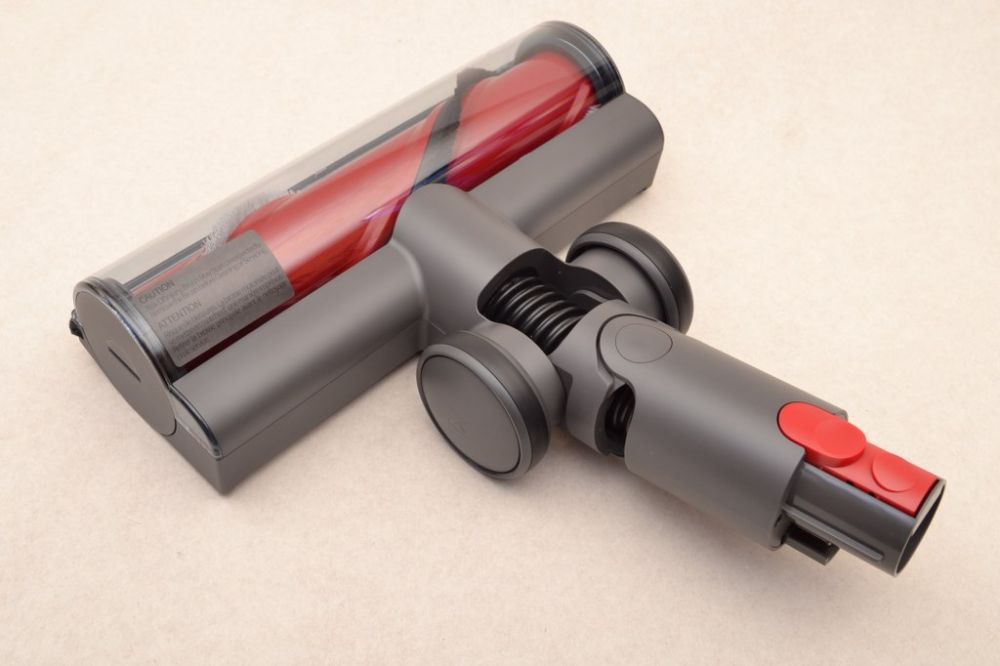 How is the vacuum cleaner in use.
For everyday use, I use an ordinary floor vacuum cleaner, meaning a vacuum cleaner with a hose, cord and bag. It is a Miele, so it does not make much noise, and sucks quite strongly.
Everyday use.
With a regular vacuum cleaner, you usually have all the accessories at hand. It can usually be in the vacuum cleaner itself.
Unfortunately, you can not do this with this vacuum cleaner, and you have to have it all in hand. It also means that if I need to vacuum the couch while I vacuum the floor, then I need to have more nozzles with me on the trip around the house. It is not very practical.
With a little planning, however, it quickly becomes a habit, and you quickly find out what to use where, and then you get a rhythm.
Suction capabilities.
The vacuum cleaner does not suck quite as much as my regular vacuum cleaner, but it also runs at reduced power. All in all, the Roborock H6 sucks really well, and if you have the need, you can quickly just switch up the suction power.
If you use some of the motorized nozzles, the vacuum cleaner finds out for itself whether you are vacuuming on carpet or furniture, after which it sets the suction power at full power. it's great that you do not have to think about it, but that it does it all by itself.
The practical stuff.
The large mouthpiece has wheels on it and it is super easy to drive around. It can turn sharply, and well into the corners. The motor nozzle is a bit noisy, but it is limited how much time you spend with the vacuum cleaner, especially if you have a robot vacuum cleaner for all the large areas.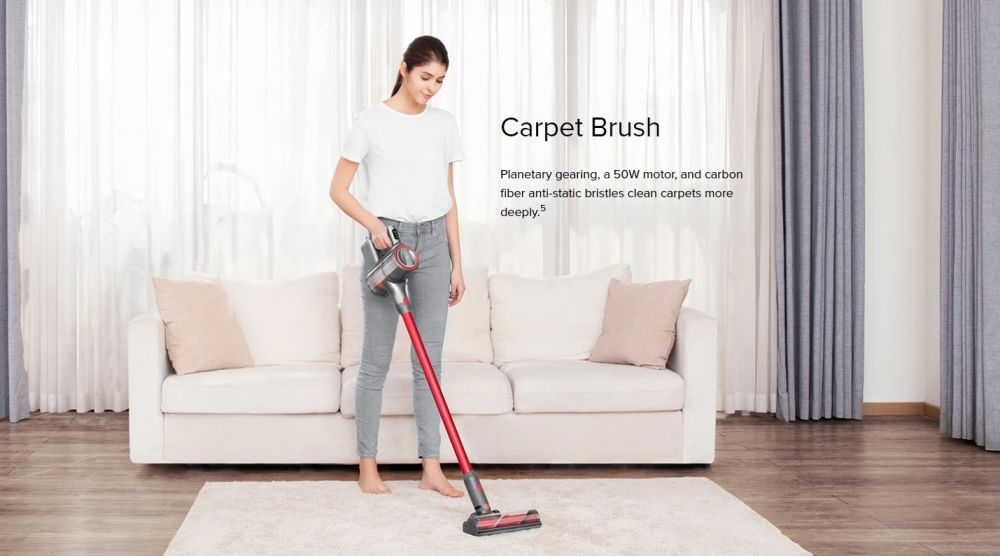 The flexible hose is ingenious, and you can relax with the vacuum cleaner in hand while you can vacuum on tall things. You should not think about lifting the vacuum cleaner up where you need to clean because the flexible hose solves just that problem. The same applies in the car, where you do not have to wave around with the entire vacuum cleaner.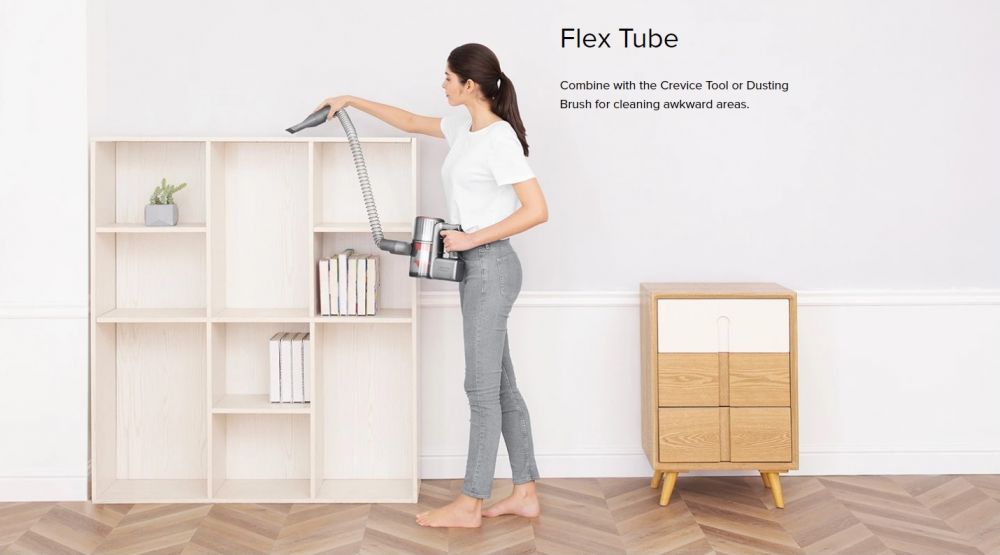 Then there is the lock button on the side which means that it is over with tired fingers when you have to vacuum. It means that you can walk around and vacuum in a relaxed way, and especially with the flexible hose, it works really well. It's a perfect combination.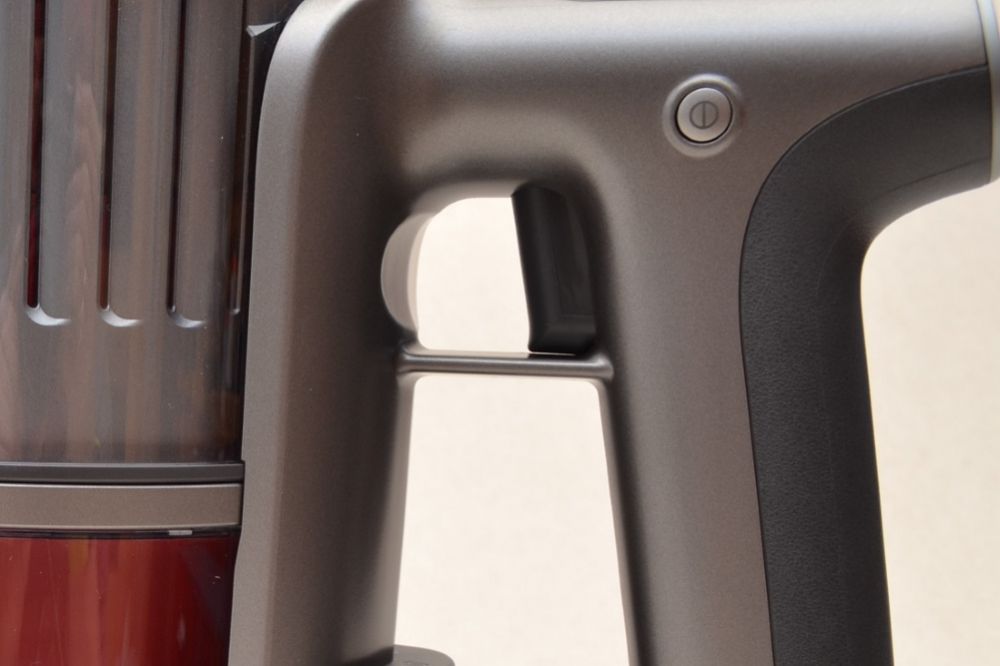 What is my opinion about the Roborock H6 Adapt vacuum cleaner.
There is no doubt that this vacuum cleaner is perfect if you have a robot vacuum cleaner to company it.
I'm also pretty sure it's perfect for regular vacuuming, and you will always have a vacuum cleaner that is ready to go and fully charged thanks to the smart dock that comes with it.
Roborock has again made a product that is ingenious, and with some extra ingenious solutions. The lock button, so you do not have to hold the button in all the time while vacuuming, is a great solution so that you do not get tired in the fingers. Then there is the flexible hose that actually made me go around this type of vacuum cleaner in the past as I would use it to vacuum the car without having to wave around the entire vacuum cleaner. This solution is ingenious.
This Roborock also has a HEPA filter, which removes even the smallest particles. This usually only belongs to vacuum cleaners in a completely different price range.
What I primarily lack in this vacuum cleaner is a regular parquet nozzle. I do not need motor nozzles at all, as I do not have blankets anywhere. I hope it comes as an extra accessory at some point.
Pricing.
The price for the vacuum cleaner on Danish webshops is just under 2800 DKK. If you compare with, for example, the Dyson V11, the Dyson V11 costs just under DKK 5,000, and their older V8 costs around DKK 3,000.
What is my final assessment.
There is no doubt that you get a lot of quality for the money here. You get a vacuum cleaner with good suction power. There are lots of accessories with it, and you get some things that you do not find at other manufacturers. However, you have to live with the fact that the dust container is a bit small, so if you have a huge house, or it is very dirty, you will probably find that you have to empty it more than once per vacuuming. However, I very much doubt that. The price is perfectly matched to what you get, so I choose to give the product a nice GOLD rating.
Read more about the product here:
https://www.mistore.dk/smart-hjem/handholdt-stovsuger/roborock-mace-h6-adapt-handholdt-stovsuger