be quiet! Pure Rock 2 CPU Cooler
be quiet! is one of the leading manufacturers when it comes to coolers, and in this review we are going to look at their Pure Rock 2, which is a new and improved version of their Pure Rock Slim. There are more heatpipes, and direct contact to the CPU. Let's see how it performs.

Let's start with a video.
be quiet! has made an introductory video showing the product itself. Then you get a sense of what this review is about.
The cooler is available in a standard and a black edition. I'm reviewing the standard edition in this review.
Packaging and content.
The box you receive is 100% true to be quiet! designs. A black box with beautiful illustrations and specifications on the outside.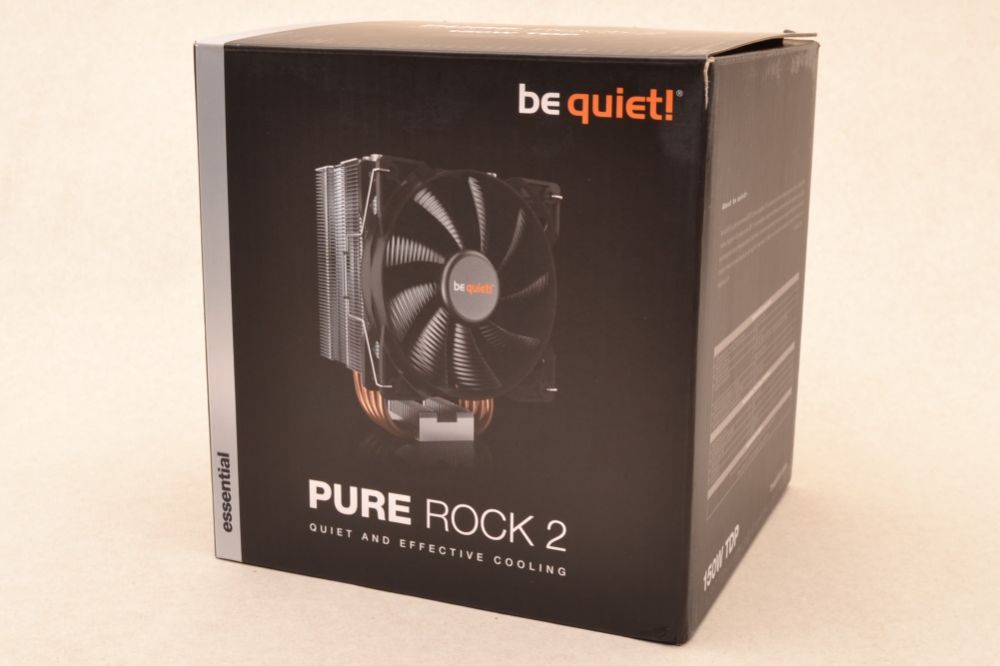 Inside the box, the cooler is well protected with foam on both sides, the fan stands on its own, and the box with accessories as well.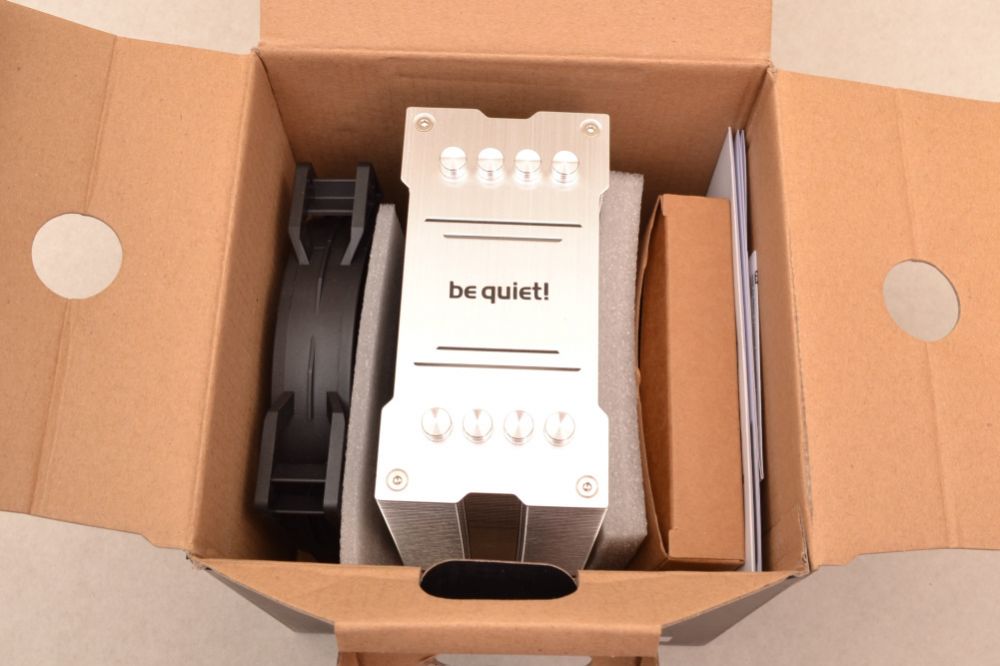 When it's all unpacked, we find besides the cooler itself, a Pure Wings 2 fan, brackets and hangers for 2 fans as well as bags with AMD and Intel brackets respectively and of course a user guide.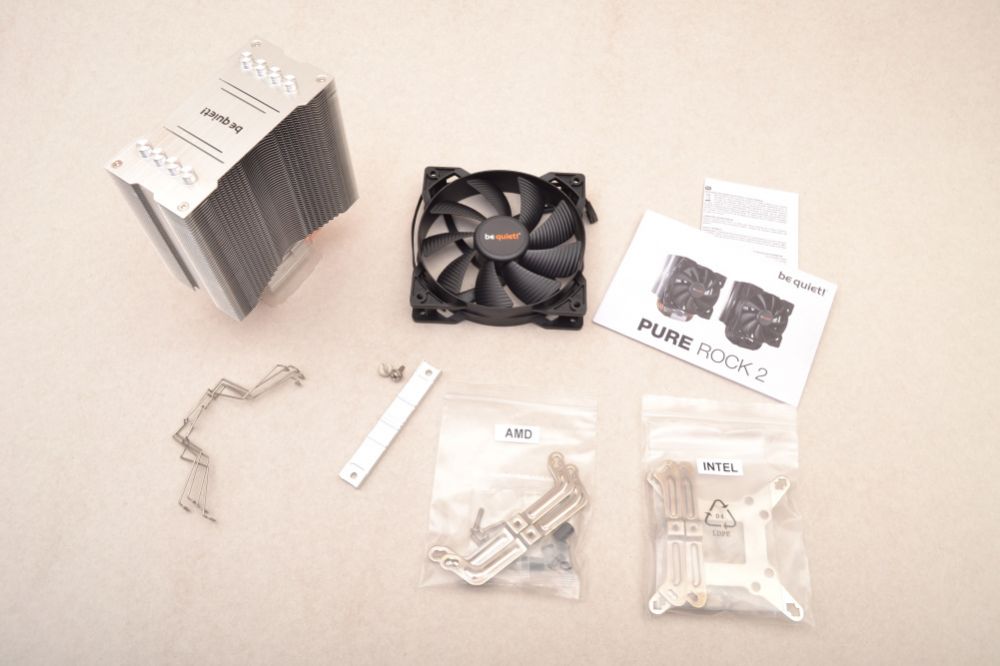 The technical specifications.
Here is a small selection of the technical specifications. You can read a long specified list on the website using the link at the bottom of this review.
As you can see, the cooler does not weigh much, so it is not huge, like a Dark Rock cooler. It has a Pure Wings 2 fan, which has a very nice noise level. It can be loaded with up to 150W, which is quite nice for most CPUs. We see how it performs down in the test section.
Model: Pure Rock 2
Overall dimensions without mounting material (L x W x H), (mm): 87 x 121 x 155
Total weight (kg): 0.575
TDP (W): 150
Socket compatibility
Intel: 1200 / 2066 / 1150 / 1151 / 1155 / 2011(-3) square ILM
AMD: AM4 / AM3(+)
Fan model, number: 1x Pure Wings 2 PWM
Decoupled fan mounting -
Overall noise level (dB(A)) @ 50/75/100% (rpm) 19.1 / 22.1 / 26.8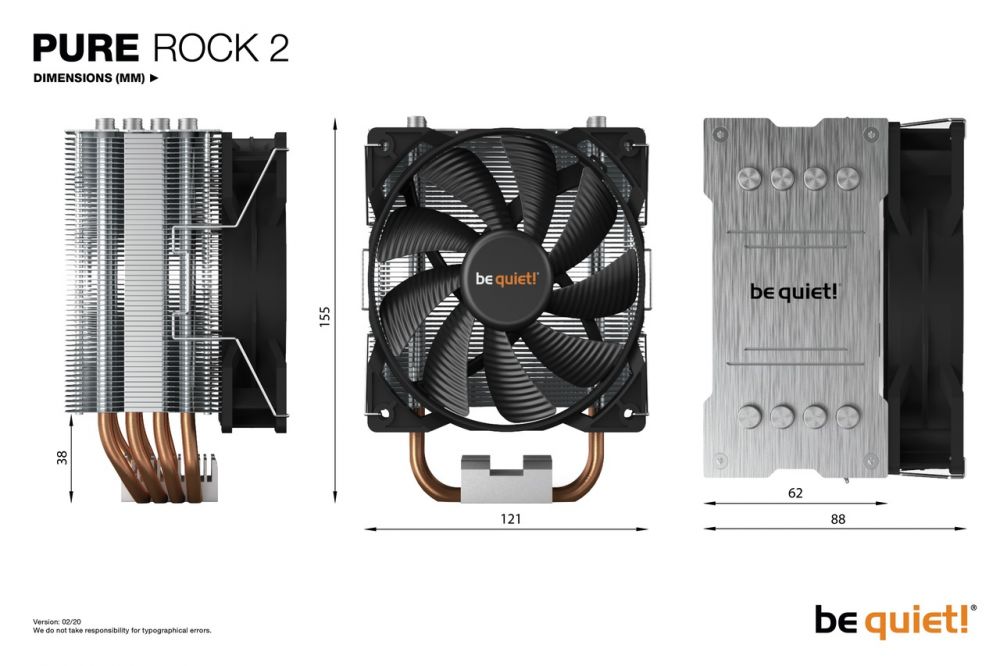 Let's take a closer look at the product.
We start with the fan. The design is very similar of their Silent Wings 3 fan. The wings have the same wavy design, but the frame itself is a bit thinner, and does not have rubber edges.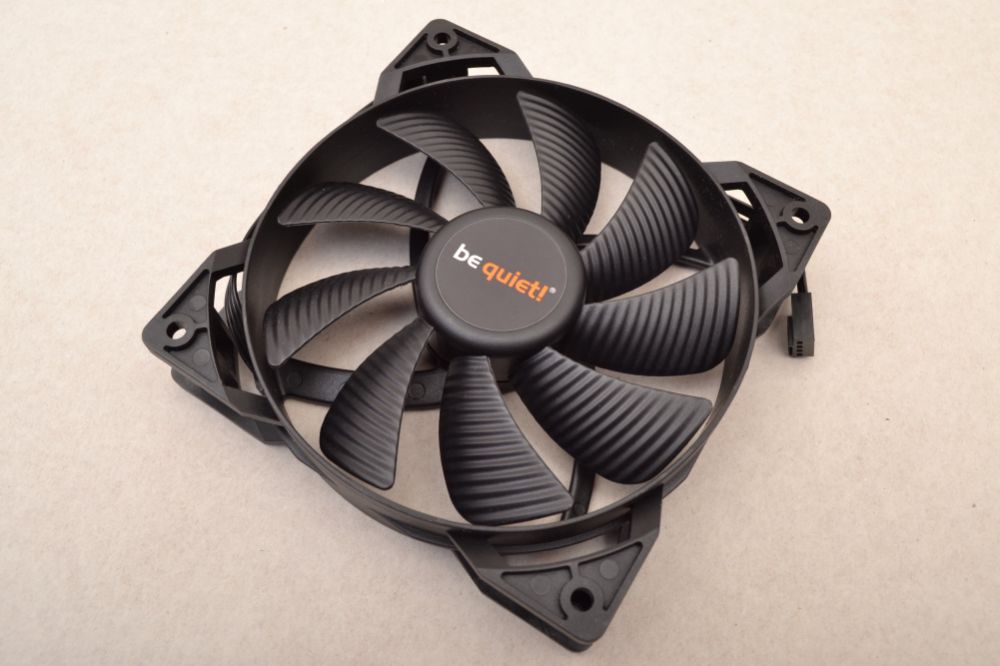 On the back of the fan you can see the model number. It's a pretty nice fan.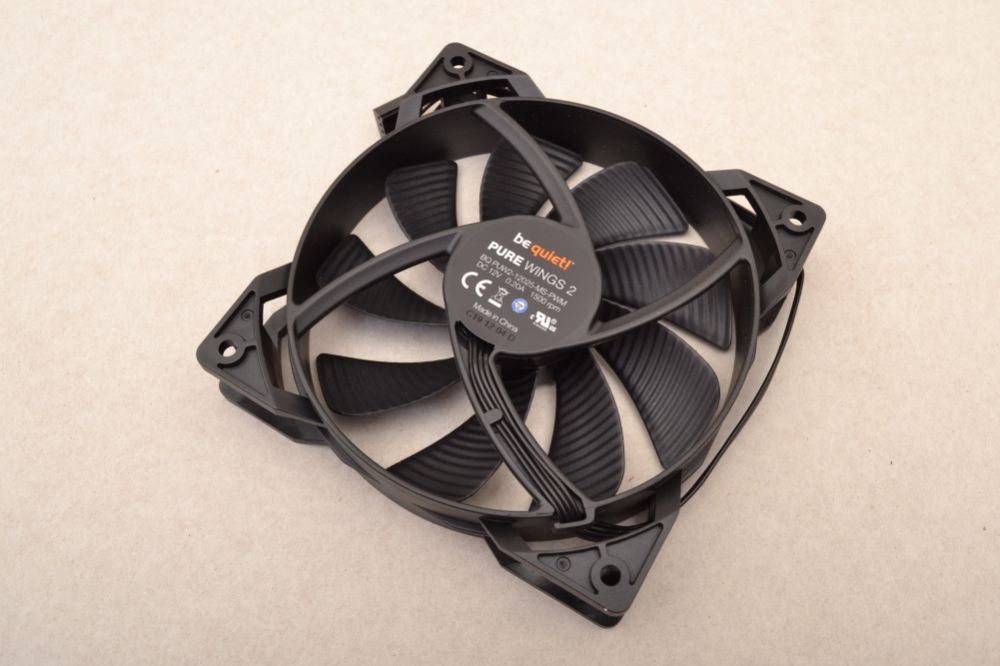 The fan is PWM controlled and can run up to 1500 RPM. It has an airflow of 87 m3/h and a pressure of 1.25 mm H2O at full speed. Pretty nice specs.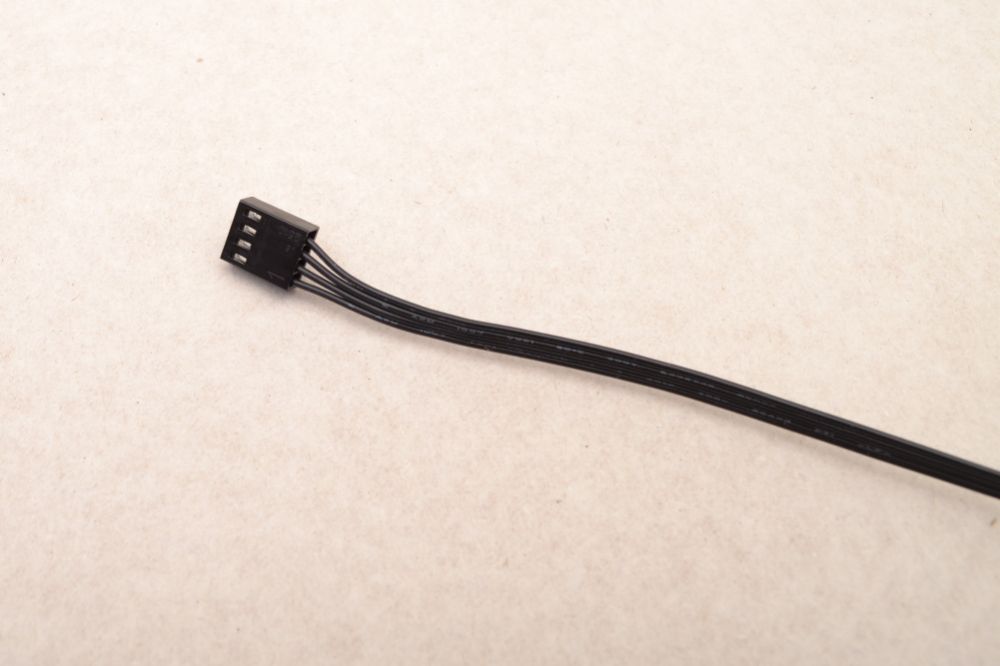 The cooler is really beautiful, both in this edition and the black edition. The top plate is made of brushed aluminum, and the ends of the pipes are nicely covered as we know it from all be quiet! coolers. A discrete be quiet! logo on the top, so you have no doubt about the quality in the computer.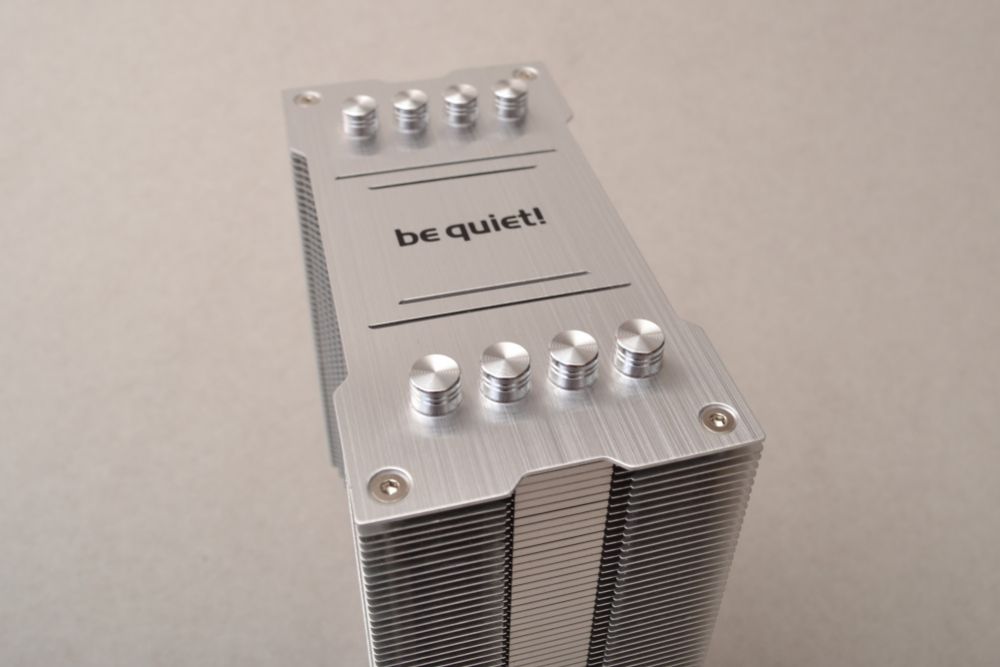 The block is formed in solid aluminum with cooling fins. The tubes are bent perfectly without curling, so they are not bent too much, which is important.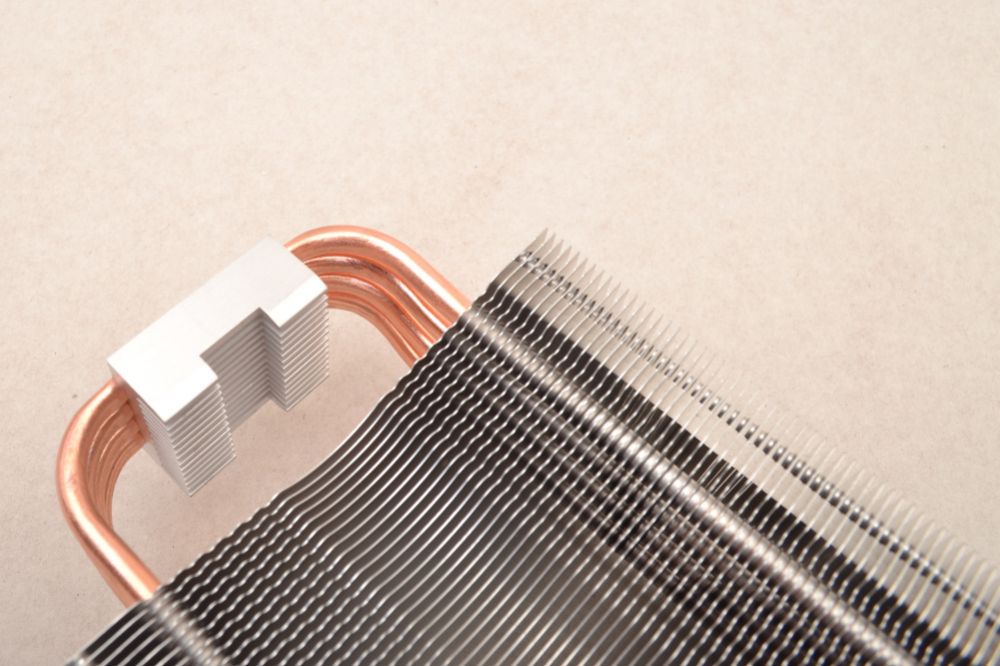 The cooler is fitted with pre-mounted cooling paste, which I personally do not like. This means that you only have one shot to mount the cooler correctly. And you have to buy cooling paste if you have to change the CPU or move the cooler to another motherboard. Note you can see heatpipes have direct contact to the CPU's TIM here. This means direct transfer of heat so it can get away in a hurry.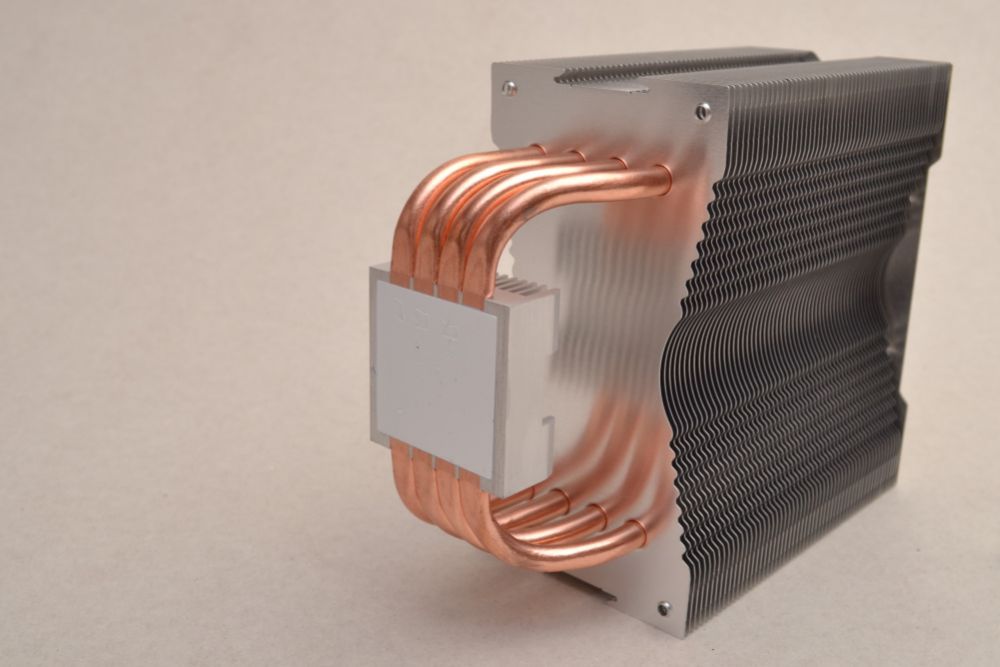 A quite nice cooler, even when you have fitted the fan. It fits well together. Note the space between the fan and the cooler, which effectively dampens the fan noise.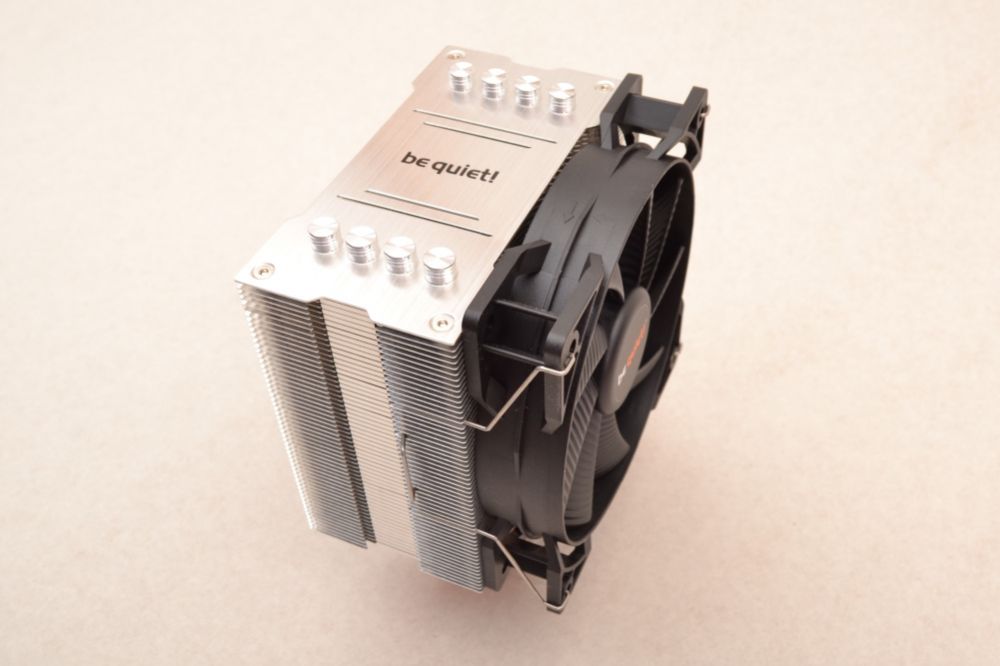 The cooling head itself is placed asymmetrically, which means that there is free mounting of high RAM profiles. So you do not have to worry about that when shopping for your new setup.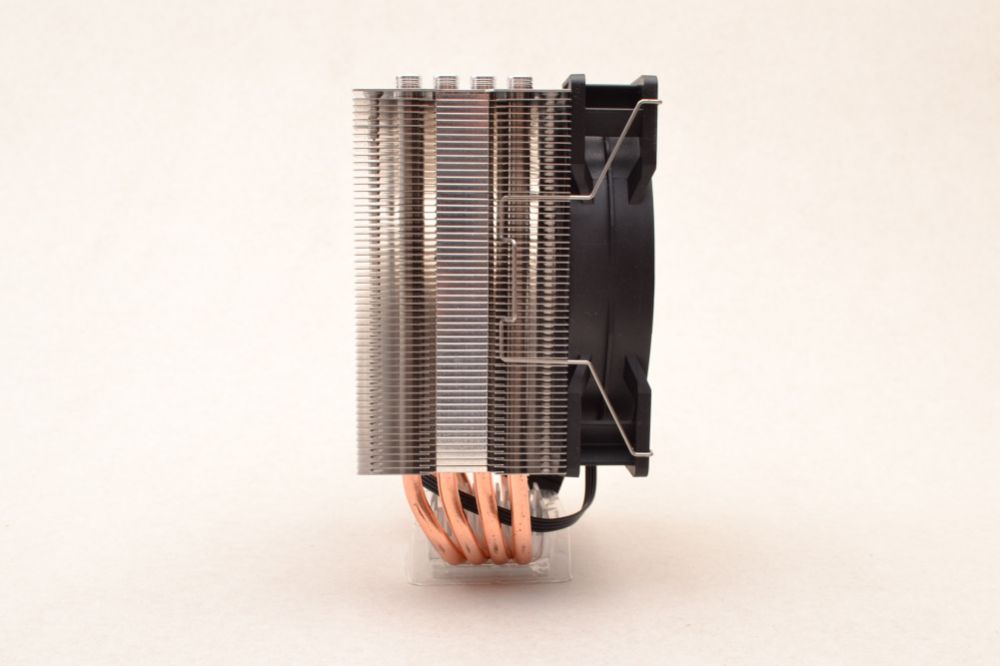 It is possible to mount another fan on the back. Then you can get an even more efficient setup with a push-pull setup. Also here on the back is the profile so there is air between fan and cooler.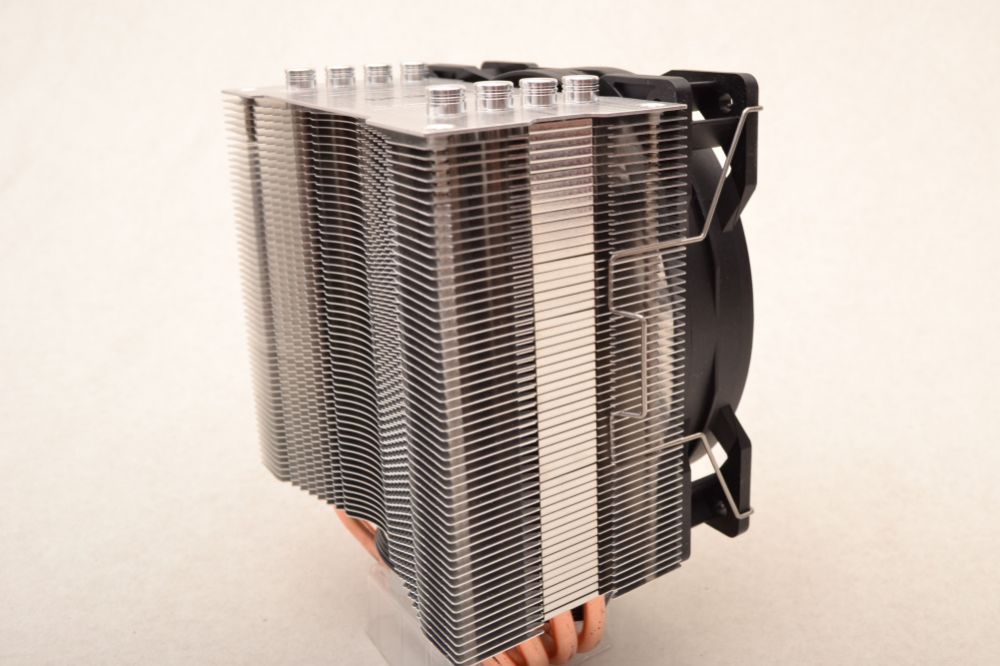 Mounting:
be quiet! have an easy system that is used on all of their coolers. For AMD mounting, you must use your original bracket on the back of the motherboard, so you must have it stored.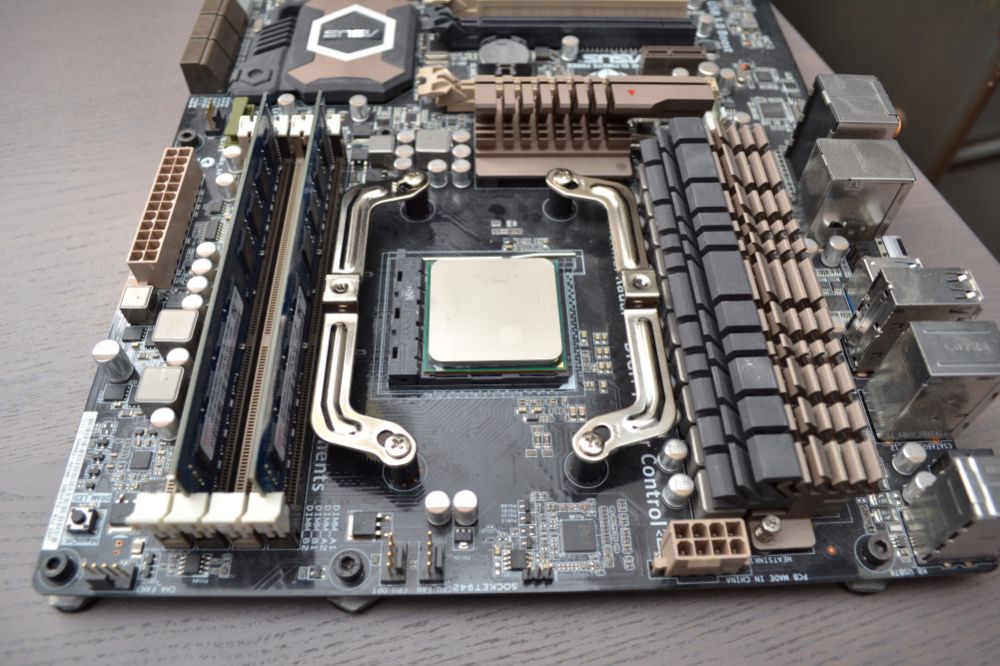 The assembly itself is straightforward and does not require any special tools. With a standard Phillips 2 screwdriver you are ready. You tighten it all together until it naturally stops and you can not tighten anymore. That way, you know that the pressure on the CPU is correct every time.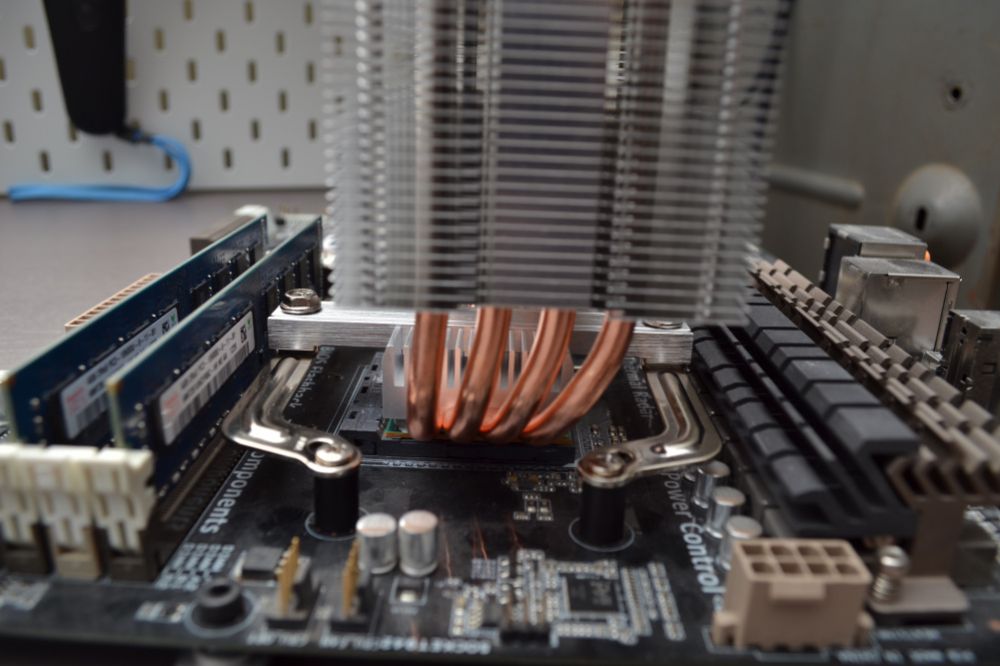 As you can see, all RAM slots go free after mounting the fan. So you can easily have high RAM profiles, and even with light in, which you will be able to see on all RAM slots. Nothing is covered by this cooler.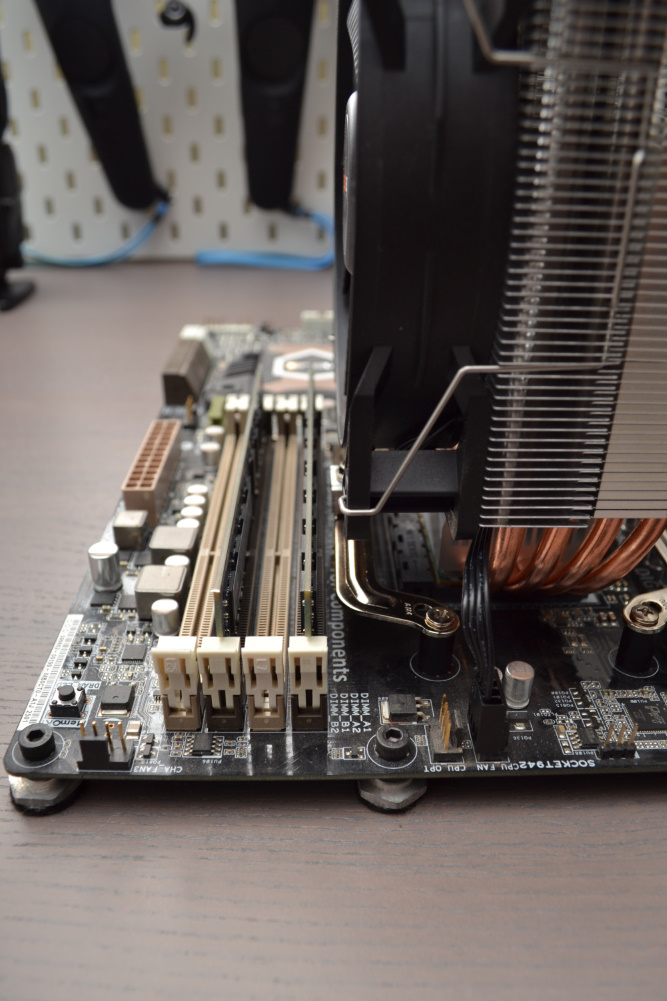 Also PCIE slot goes free, there is plenty of space for mounting a large graphics card, even with thick back plate or water cooling.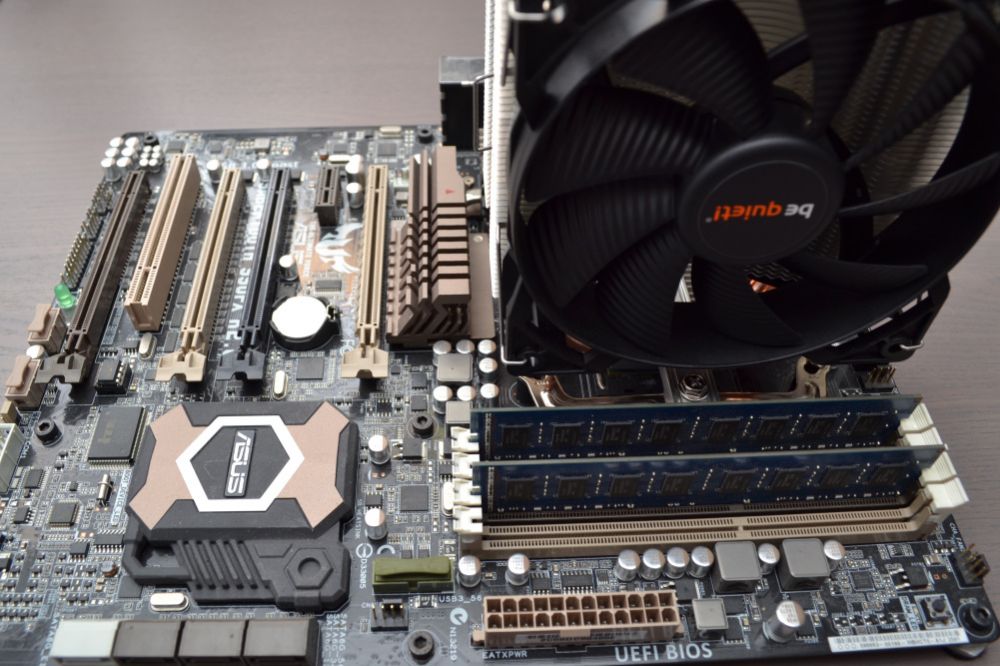 Time for testing.
My test procedure is quite simple, as I often find other reviewers shooting over the target with deep and not least VERY stressful test methods. My method is intended for the ordinary user who wants to know if the cooler fits the basic setup you now have.
If you overclock, you should already from the beginning have a deeper knowledge of cooling, and will therefore already have an expectation of whether the cooler I test is good enough or not.


Hardware:
MB: Asus Sabertooth 990 FX R2.0
CPU: AMD FX 9590 Black Exition (TDP=220W)
Software:
Procedure:
Air: Warmup = 10 minutes / Test period = 2 minutes
Water: Warmup = 30 minutes / Test period = 2 minutes
Readings: Delta temperature (Reading-Room temperature)
Fan speed: 100%
Test loads: Idle / 2 core / 4 core / 6 core / 8 core
Room temperature: ~26 degrees.
As you can see, the Pure Rock 2 does not perform quite as well as the Dark Rock coolers. But still better than the Cryorig cooler. However, it is still some perfectly acceptable temperatures as we need to be at least 20 degrees higher before it gets really critical on this CPU. Intel CPU can withstand even more heat, so there will be no problem at all.
The noise from the fan / cooler is not really something worth talking about, as it is simply such a low noise level that you do not even notice the cooler running when it is mounted inside a casing. There we need something much higher in noise level.
What is my opinion about the Pure Rock 2 cooler.
Pure Rock 2 is a solid cooler with good performance. It can be in virtually all setups as it is not particularly high and then it does not cover the RAM slot on the motherboard, even with the fan mounted.
It is super easy to mount, which means that anyone can mount it without any problems. However, no extra cooling paste is included, which I think is a bit of a shame. There could have been a small tube, so you could mount the cooler a couple of times.
The Pure Wings 2 fan itself is a great fan that does not make much noise. It is not quite as awesome as the Silent Wing fan, but it does the job it needs to perfection, and helps to lower the price of the whole set, as it is not as complicated as the Silent Wings fan. The 1500 RPM is quite suitable for heavy loads, and you can easily have it running at full speed without being bothered by noise.
Pure rock 2 allows you to mount an extra fan on the back, which can significantly increase the overall performance. It also means that the fans run at a slower speed at high load to move the same amount of heat. It is a good option to have.
The Pure Rock 2 cooler can be purchased in 2 different versions. Either the one I reviewed here, or a black edition. It allows using this cooler in several different setups. It is a good opportunity.
Price:
You can buy the Pure Rock 2 cooler from around 260 DKK, which is a good price. You get a good cooler for the money.
My final assessment:
I really think you get a good set for the money, so there is a really good correlation between price and quality and not least performance. You get the well-known German be quiet! quality, and at a price that is affordable. I give Pure Rock 2 a nice SILVER rating. We are down to the margins, and when we are down there, the lack of cooling paste means a lot. Especially for the beginner.
Read more about the product here:
https://www.bequiet.com/en/cpucooler/1841