ROCCAT Sova - Gaming in your lap
ROCCAT sent me a while ago, their Sova keyboard. But I've been really busy so I have not been able to make my review until now. I regret that of course.
The edition I have received of Sova, is the mechanical version, and there is also a membrane version.

ROCCAT Sova is a huge keyboard. It has integrated mouse pad and palm rest, and is built together on one large platform.
Specifikationer:
275mm × 240mm mousepad, replaceable
Replaceable wrist rest and lap cushions
Easy-Shift[+]™ with 28-key EasyZone
2 × USB 2.0 ports
ROCCAT® Talk™
Multimedia functions
4m break-away cable
512kB memory + 32-bit Arm IC
1000Hz polling rate
Advanced anti-ghosting with N-key rollover
Membrane keys (Sova)
TTC mechanical key switches (Sova MK)

DIMENSIONS / WEIGHT
Width 64.6 cm , Height 28.0 cm , Length 3.7 cm , Weight 2350 g
SYSTEM REQUIREMENTS
Windows® 10, Windows® 8, Windows® 7 64 Bit, Windows® 7 32 Bit
Internet connection for driver installation
USB 2.0 Port
How does the keyboard look?
Let's look at the packaging. You get a big box with fine illustrations outside. There is also information about various specifications and details.
When you open the box, the keyboard itself appears, packed neatly into a plastic bag. There's also a holder for the mouse cable, as I show all about later. Then there is a small package with installation instructions.
As written before, the keyboard is quite large, because it has it all built together. There is even a small USB hub in it, so you can have up to two devices connected. It's there for a reason, as I'll explain shortly.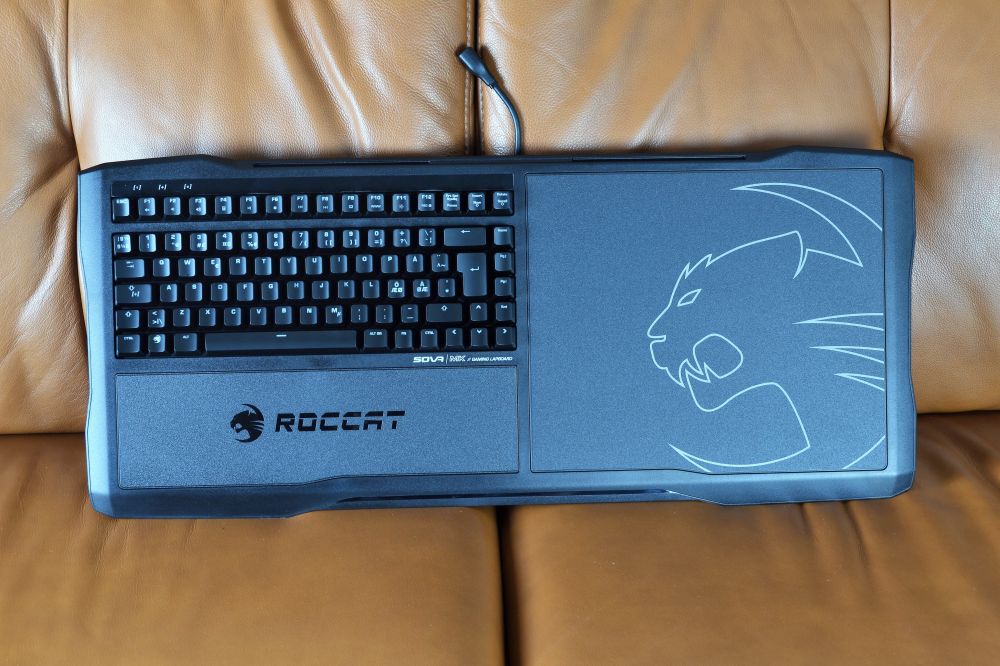 On the keyboard there are shortcuts to various normal things like multimedia features and applications. There is also a lighting button, where you select the brightness of the keys, and yes there is light in this keyboard.
The keyboard itself is incredibly durable, and you can even change the parts as they become worn. It's quick and easy to change both the wrist rest, mouse pad, and even the pads under the keyboard. In this way, ROCCAT ensured that Sova can last for many years from you buy it.
Finally, there is the connections. The cable supplied, is about 4 meters long, but you should be able to buy longer ones if you have the need. Besides that, there are 2 additional USB connector under the keyboard, so you can connect a mouse and possibly charge your phone, or connect a USB headset.
Is the keyboard use able?
I have tried, to sit with the keyboard for a while. To see if it's comfortable to use, which I must say YES to.
If you ARE a couch gamer, then this is definitely the way to go. You can sit completely relaxed and in control of all things without problems. There are a holder for the mouse cable, so the mouse does not fall off the board if you need to put it down.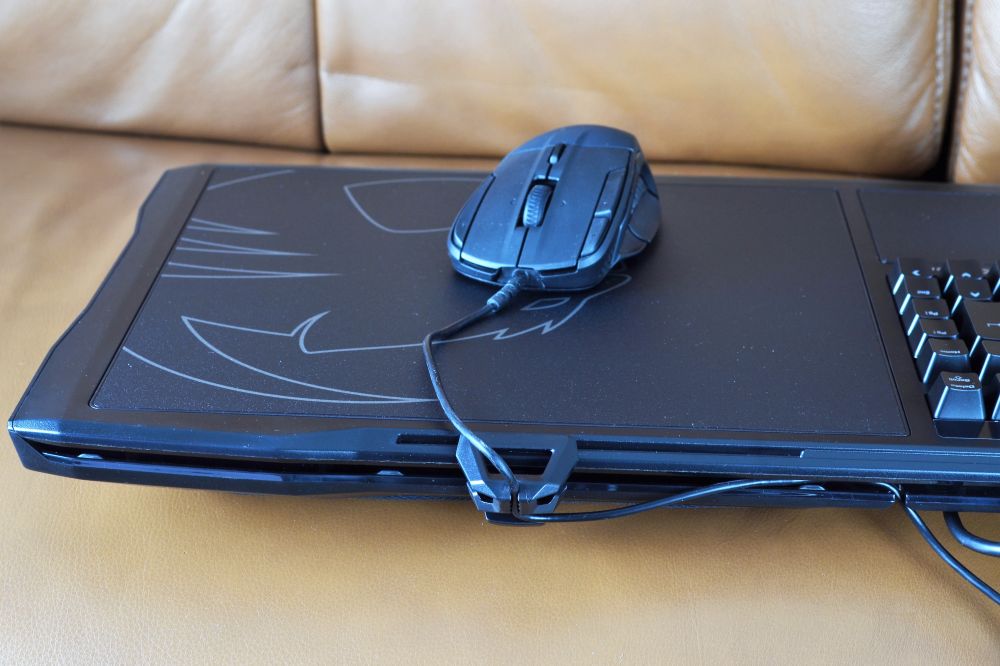 The only problem I might have found about the board is the plug on the cable. Or you can say that it is an advantage or a disadvantage, depending on how you look at it. There is no lock on the connector, so if you pull a little too hard, it will go apart. But if you pull the cable, and the connectors where locked, you would pull the computer or gaming device on the floor, that wouldn't be good either. So there are positives and negatives about it.
You can even get a phone holder for the keyboard (that is an extra accessory). So you can collect all of the entertainment on the keyboard. You can see if you get messages, or monitor computer with the ROCCAT Swarm software and app. It gives a perfect overview. (Click on image to get to the ROCCAT Swarm website)
The light:
The light in the keyboard is blue, and can not be changed in color. However, it can be changed in strength, and you can pretty much control each button as you like in terms of strength and lighting effects of the light itself.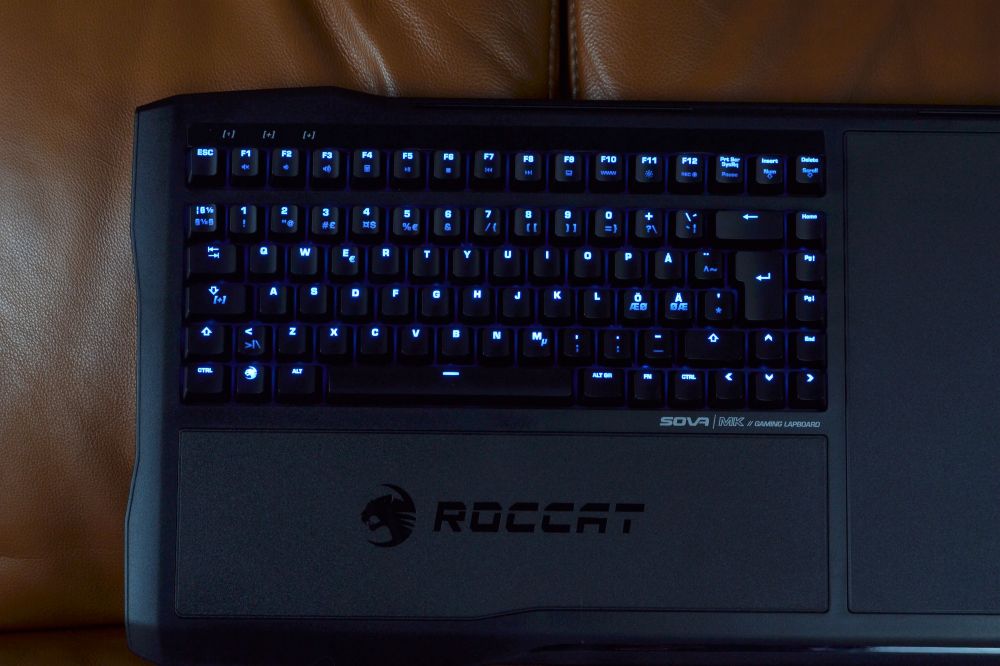 ROCCAT Swarm:
Is the name of the software you need to install. The software is a common software for all ROCCAT devices, and you can manage them all from this software. The software has a great overview and you can do many things in this software package.
(Click on images for full size in a new window)
My oppinion:
There is no doubt that ROCCAT gets around with their hardware. This time we moved onto the couch, and it is with great success.
ROCCAT has made this keyboard in both a mechanical and a membrane version, so you have every opportunity to choose a keyboard for your own temperament. The mechanical noise level a little louder and have slightly higher keys, where the membrane version is a little more subdued.
It is possible, to use two extra USB ports in the keyboard, which allows the mice and an optional headset to be connected. It's super cool that you can have it all connected at hand. Especially when sitting way over at the couch.
At the time of writing the price of the membrane edition is just below 1000 Kr. And the mechanical version just above 1,500 Kr. Since there aren't many competitors on the market, it is very difficult to judge whether the price is fair. However, it is the price.
The score is a beautiful 4 star rating. ROCCAT has managed to make a great innovative product. It has additional items which allows to extend it, and use of the accessories your needs locally.