Roccat Vulcan 120 AIMO Keyboard
Roccat is back with some new cool products. In this review, we have a look at their new Vulcan keyboard. I have been sent their Vulcan 120 AIMO, but it is also made in a 121 and 122 version, the only difference being the colour of the keyboard.

Roccat has then made a small cool introduction video you should see.


Let's see what's in the box.
The box you receive is with nice prints on the outside. There is a clear description of what is in the package, and features explain what the product can do.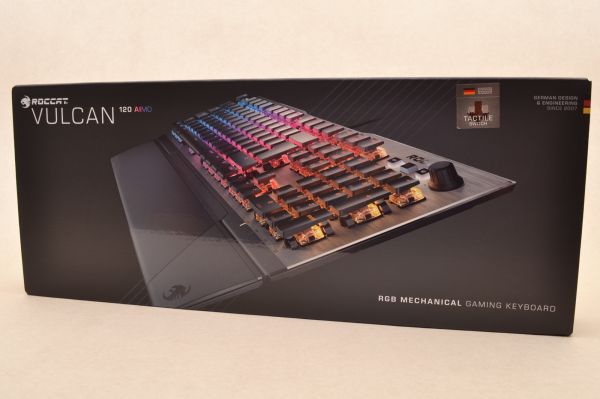 Inside the box, it is all well packed in a cardboard holder. There is a plastic bag over all the parts so they are not scratched during transport. It's great.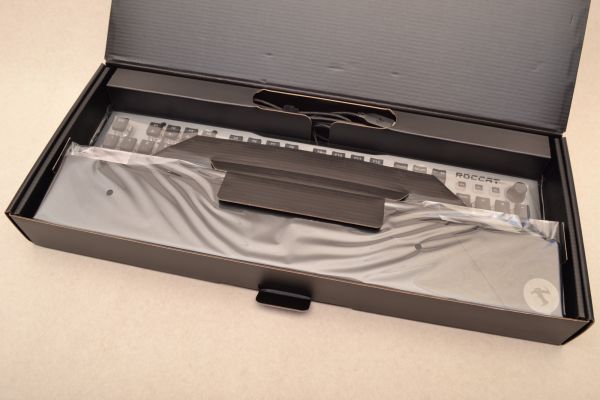 In addition to the keyboard, we also find a user guide along with a guide on how to dispose of the product properly. And yes, there are also some Roccat stickers included.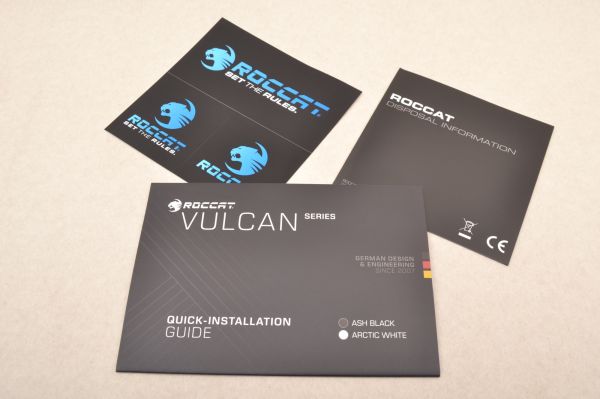 The technical specifications.
Roccat has gone all-in with technique. There are Roccat Titan switches (I'll explain in the test section) ARM processor, memory for profiles and removable wrist support. The weight is just over a kilo, so it is stable on the table, and of course, there is AIMO RGB light with every imaginable colour.
In general:
1.8mm activation point (noticeable, quiet)
3.6mm contact travel distance
512kb integrated memory for macros and settings
All keys can be reconfigured
ROCCAT® Easy-Shift [+] ™ technology
32-bit ARM Cortex-M0 processor at 50 MHz
1.8m USB cable
1000Hz signal frequency
ROCCAT® Swarm software packages
RGB lighting with DKK 16.8 million colours in all keys
Detachable wrist rest
Size:
Height: 3.20 cm
Width: 46.20 cm
Length: 23.50 cm
Weight: 1150 g
Compatibility:
System Requirements: USB 2.0 Port, Internet connection for driver installation
Operating system: Windows® 10, Windows® 7, Windows® 8
Let's have a look at the product.
The keyboard is with Roccat's own switches and slim caps for the keys. This causes a lot of light to come out of the switches. But it also makes it look like some kind of old typewriter, the kind we had when I was a kid. A little funny that the design returns, I've seen it several times.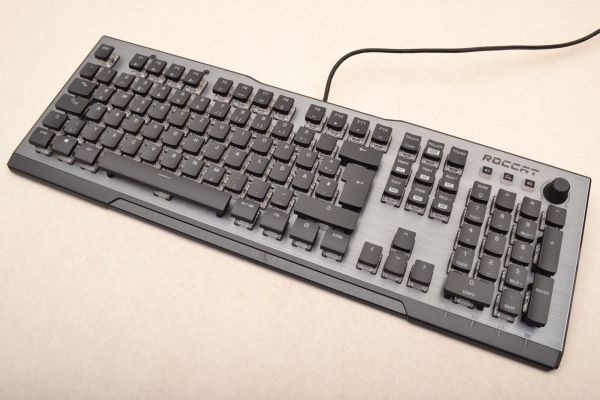 Under the keyboard, we find some solid big rubber feet. There is rubber along the entire front and back, so the keyboard is super firm on the surface.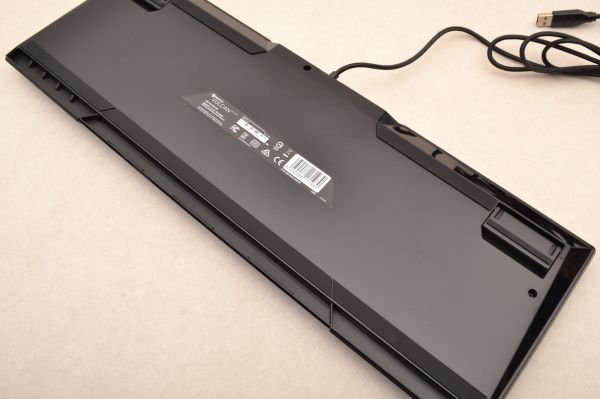 If you like to angle the keyboard, there is also rubber on the foldable feet, so even when tilted, it is super firm on the surface. That's great.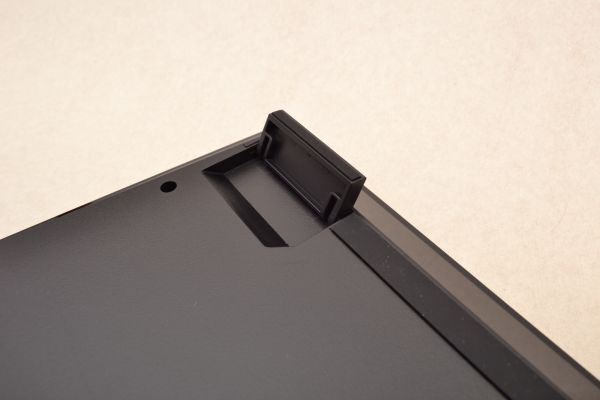 Then there is the wrist rest. It is made of plastic and with a structured surface.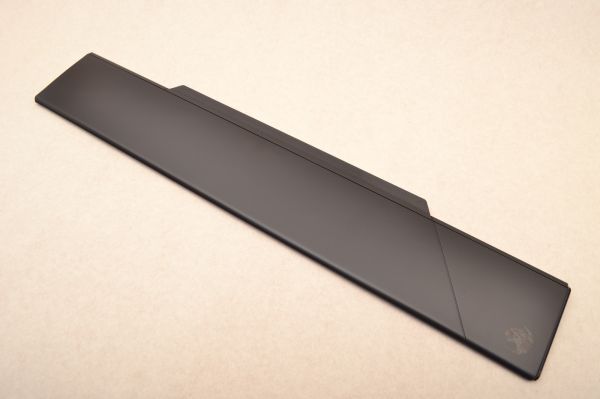 Under the support we also find some good rubber feet, so it is also completely fixed when placed on the table.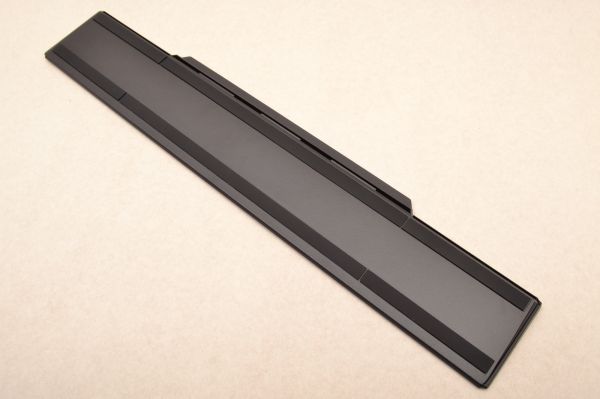 The palm rest is magnetic, so it can be easily removed and added to the keyboard. It snaps into place and stays when mounted.
There is a little easter egg hidden in this photo which they apparently thought was a bit funny from the factory. I haven't changed anything in the picture. Can you find the error?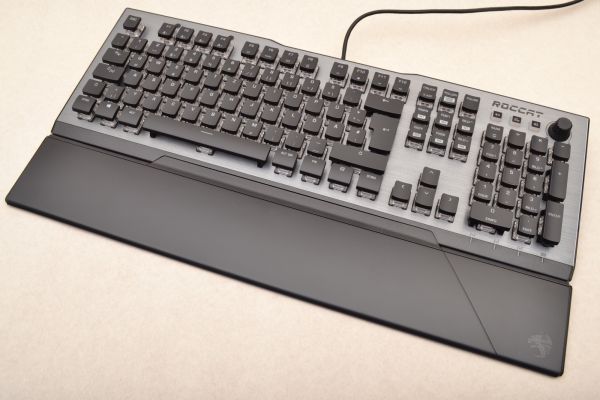 The keyboard has a couple of dedicated keys and a dial. The dedicated keys are a mute button where you can turn off the sound. Then there is an FX button where you can turn the microphone up and down by turning the dial, and the last one is volume where you can turn up and down for the volume on the dial. So you switch between whether it's the microphone or the audio output you control with the dial. There are lights in the buttons, which I show a little later, and the light changes with the active function.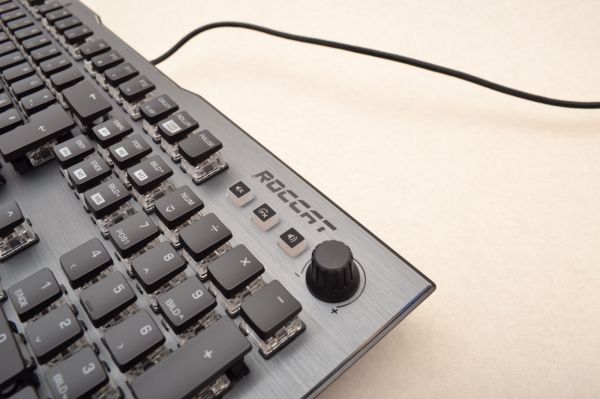 In addition to the dedicated keys, there are also a lot of secondary features stored on the keyboard. They are activated with the Fn key, which in this case is to the right of the space key.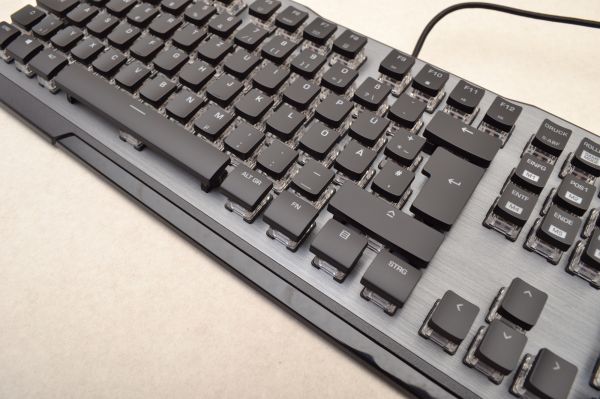 The secondary functions are on all F keys, with shortcuts for profiles, standard programs and multimedia functions.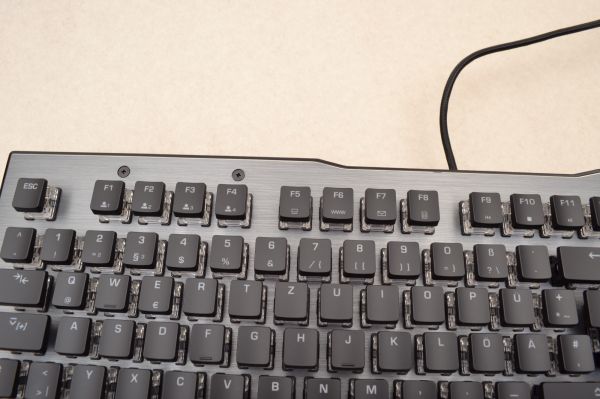 There are also shortcuts to various memory functions, for example, to play macros. There is also a game mode that disables different keys so you don't accidentally jump out of your game. Personally, I'm more for dedicated keys than I am for secondary functions. But I can live with this as some of the important features are put on the dedicated keys. However, I miss the multimedia features on dedicated keys.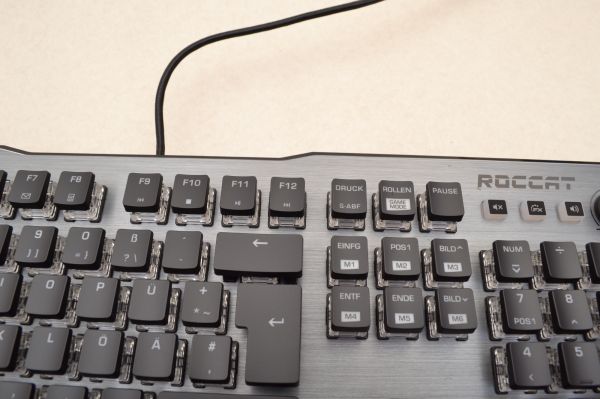 The cable is a fabric cable and there is a good solid USB connector at the end. The cable itself is a little stiff, but it is what they are like when it is fabric cables. However, it doesn't do that much when it's for a keyboard.
The Software - Roccat Swarm.
Roccat Swarm is a complete piece of software where you can control all your Roccat products. It provides all firmware updates and everything. It's easy and nice.


On the first tab, you can control some basic things on the keyboard and the way it should behave.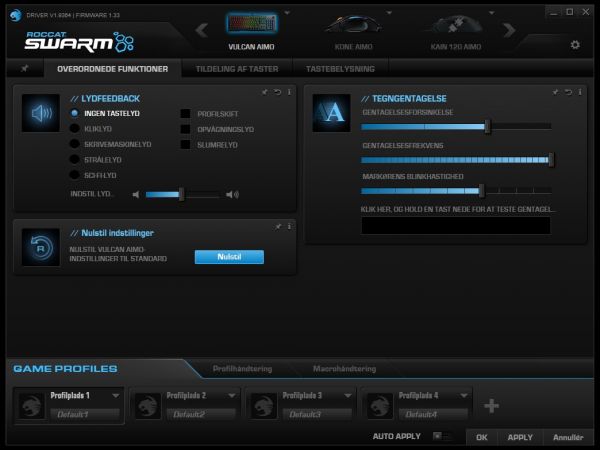 In assigning keys, the keys can be assigned different functions. It is possible to give most keys new features, however, I have discovered that there are some things you can not. I will notice Roccat support so they can get it fixed. Among other things, I wanted to skip F9-11 and throw up the multimedia features as the primary activity on the keys, but I couldn't. I also wanted to turn caps-lock into regular shift function, but unfortunately, I couldn't that either.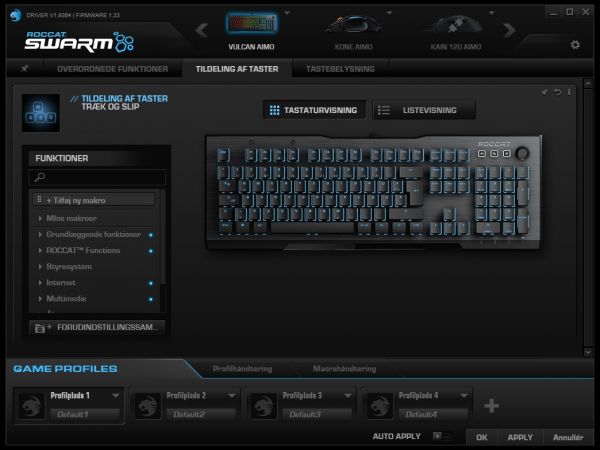 In the key illumination you can adjust the keyboard light to your own needs. You can also choose to run with the AIMO function, which adjusts the light according to how you use it. It is quite smart, and gives a dynamic effect on your setup. Especially if you have several different Roccat products with the AIMO function.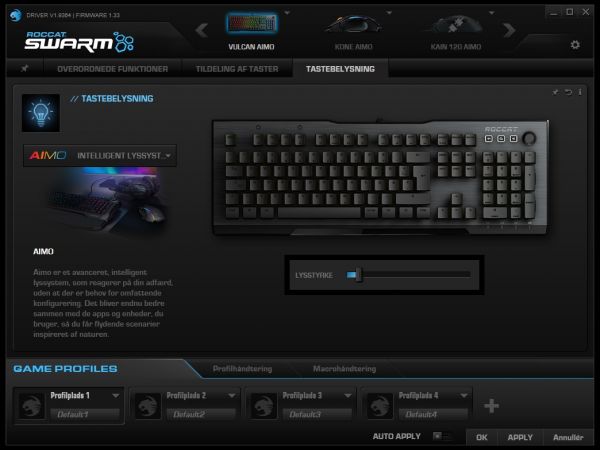 Time to write and test.
I come from a membrane keyboard with red light, that I have been using for the past few years. It is primarily chosen because of the noise level.
The comfort:
The comfort of this keyboard is quite high. You get the wrist rest, which is a huge help when resting your hands and wrist.
The keys have a travel distance like mechanical keys, but they activate fairly quickly thanks to the Roccat Titan switches.
The Roccat Titan switches have a travel distance of 3.6 millimeters, but already activate at 1.8 millimeters. This means that you do not have to press the key to bottom every time, but you can softly press them.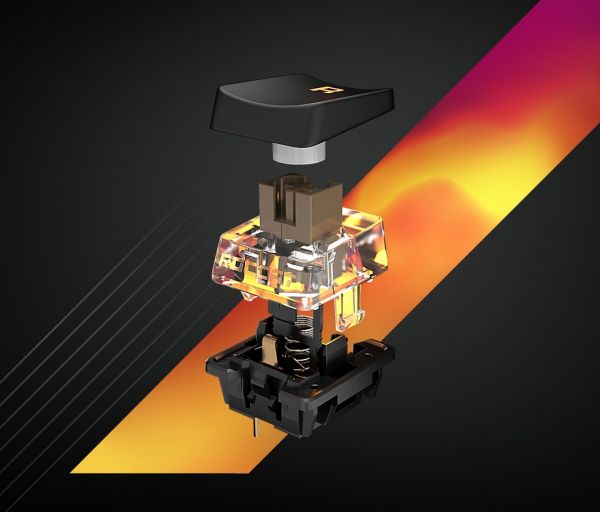 The noise:
The model I received is with tactile feedback, which means there is a small bump you have to press the key over. It does not make more noise than normal mechanical keys, and the movement in these contacts does not make much noise either.
However, I am used to membrane keyboards, which produces MUCH less noise than mechanical keys. Some say it helps with o-rings on the keys, but I generally think it makes a lot more noise than membrane. It's a personal opinion.
Then there is the talk of playing better on mechanical keys than on membrane keys. And personally, I don't think I can feel a difference.
The light:
The light in the keyboard is actually quite awesome. You can get the keyboard in black and white in addition to this gray / metal model. I can imagine the white being very bright in the light and the black being probably a little more muted than this. I actually think it looks pretty great, however, I only run at 50% in brightness during my test period as full power is too much for me.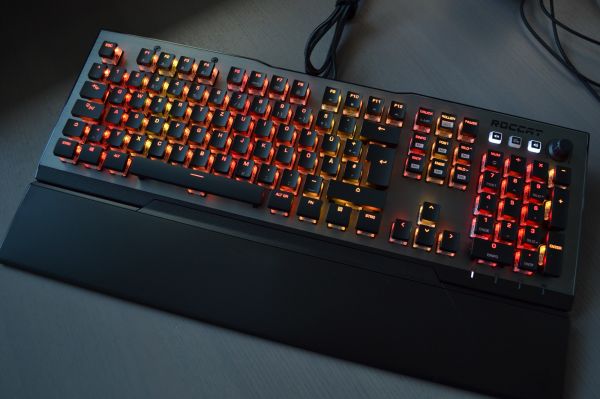 What is my opinion of the Roccat Vulcan 120 then.
There is no doubt that the Roccat Vulcan 120 AIMO is a super high-quality keyboard. It has an exclusive metal surface, good large rubber feet that ensure the keyboard is firm on the table, and the palm rest.
The keyboard has dedicated keys for some things, but in my opinion, lacks keys for the last few multimedia features that you often uses when listening to music and playing movies. Among other things, a pause that I often use.
I've been a huge fan of Roccat Swarm until now, but have now found a few things about the keyboard setup that I don't really like. You simply cannot change the keys as you wish, and unfortunately the program shows it as you can, but the change does not take effect. Of course, I write to Roccat in the hope that they will change it, but so far you are a bit limited, which I have not experienced before with this software.
Price:
Roccat Vulcan 120 AIMO costs just under DKK 1000 at the time of writing. You really get a lot of keyboard and value for the money, and the bugs I've found in Swarm are probably something they fix with an update. The basis for a lifelong keyboard is at least when it comes to quality.


Overall assessment:
There is no doubt that you really get a lot of value for your money when you buy this keyboard. It is a bit expensive, but the quality is simply just top-notch and feels super exclusive. This means that price and quality match really well, which makes me give the keyboard a nice GOLD rating. Then we just need Roccat to make the changes in Swarm, then everything is as it should be.
Read more about Roccat Vulcan 120 AIMO here:
https://en.roccat.org/Keyboards/Vulcan-120-AIMO