Cherry DW 9000 Slim Combo Set
Cherry is back on the blog with another product. This time we are going to have a look at one of their wireless mouse and keyboard set. It's called the DW9000 Slim, and is so far their top model in wireless sets.

Cherry is a German manufacturer who is probably best known for their contacts for gaming keyboards. However, they also make a lot of their own products for business / office use.
A small introduction video.
Cherry has been ind to us and made a small introduction video, so you can see what we are going to look at in this review.
Let's look at the packaging and the contents.
You receive the set in a fine white box with nice illustrations and specifications printed outside. There is a clear picture of the content.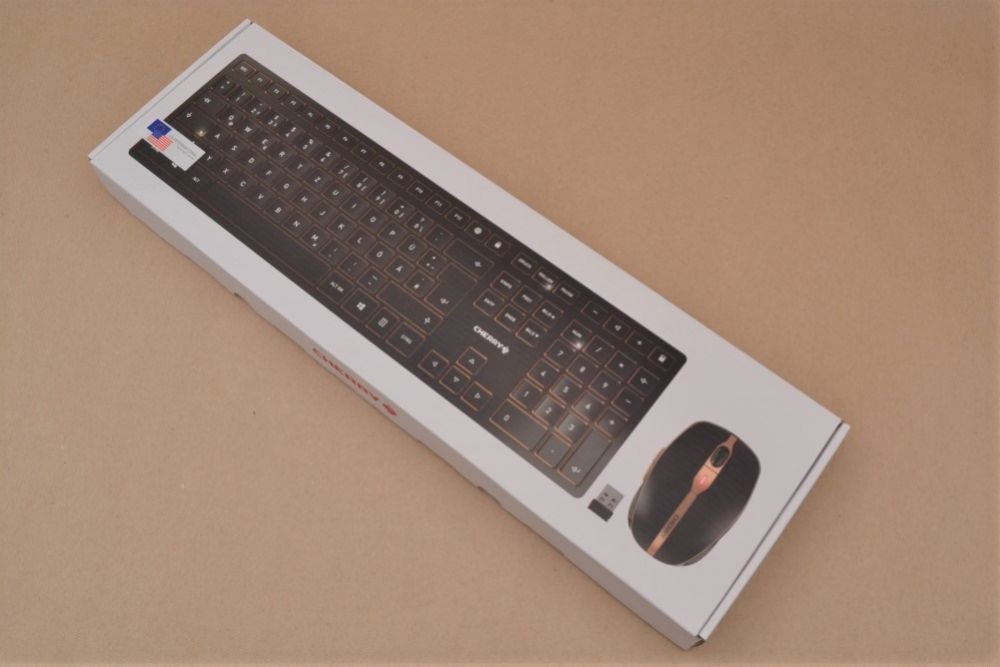 Inside the box we find the keyboard, mouse, user guide and cable as well as some other little things I'll show in later my review. Everything is packed securely so that it does not get damaged during transport.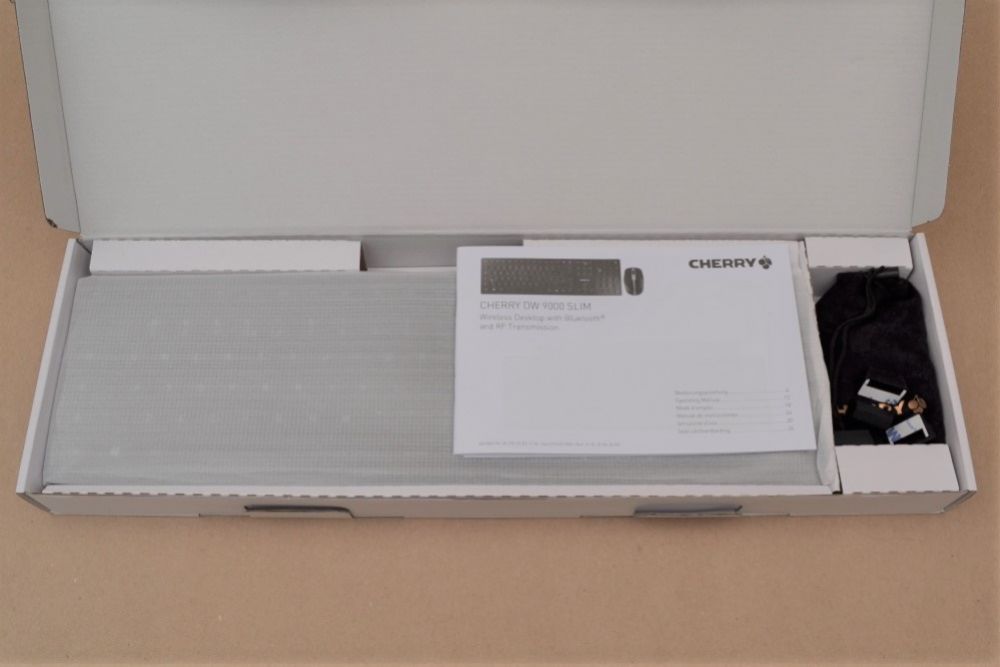 How are the technical specifications.
As you can read, the set has a 3 year warranty and laser engraved SX keys, which are scissor keys with mechanical contacts. They are low profile. The keyboard has a built-in 650mAh battery and the mouse's battery is 550mAh. The set has both Bluetooth and RF technology, so you can use it virtually anywhere either with the small USB dongle, or with Bluetooth.
Warranty: 3 years
Keyboard
Design: Chiclet-Layout with numeric block
Key technology: SX
Service life, standard key: > 10 million key operations
Inscription technology: Laser
Anti-slip feet 8 piece (18 x 4 mm)
Power supply Rechargeable lithium-ion battery with 650 mAh (permanently installed)
Status LEDs CAPS LOCK, NUM and SCROLL keys, battery status (via LED in keys) LED for battery charge status, Bluetooth or wireless connection (Bi-Color LED)
Number of Keys: Product dependant, see table "Models"
Number of additional keys: 6
Additional keys function: Windows Lock, Browser, Volume up, Volume down, Mute, Calculator
Mouse
Scanning: Optical Sensor (PixArt)
Resolution: 600 dpi / 1000 dpi / 1600 dpi (adjustable)
Number of buttons: 6
Function button Right/Left-click, Scroll wheel; Browser for; Browser back, DPI-switch
Mouse wheel design: Scroll wheel with key function
Design: Symmetrical
Power supply Rechargeable lithium-ion battery with 550 mAh (permanently installed)
Status LEDs LED for battery charge status, Bluetooth or wireless connection (Bi-Color LED)
Housing color: Product dependant, see table "Models"
Key color: Product dependant, see table "Models"
Reliability: MTBF > 80.000 hours
Packaging dimensions: ca. 570 x 170 x 45 mm
Delivery volume
Keyboard
Mouse
Transport pouch
Nano-USB transmission receiver
4 rubber feet
USB-A/Micro-USB charging cable
Manual
System requirements
For connection using Bluetooth®: Compatible device with Bluetooth® 4.0 or higher
For connection via USB: Free USB port (type A), Windows 7, 8 or 10
Interface: Wireless, optionally using 2.4 GHz frequency (via USB receiver) or Bluetooth® 4.0 - both with AES-128 encryption
Should we look at the goods.
The keyboard has the standard layout and numeric keypad on the page. Note, this is a UK keyboard I have been sent, but the EU edition will also have standard layout (big enter-key).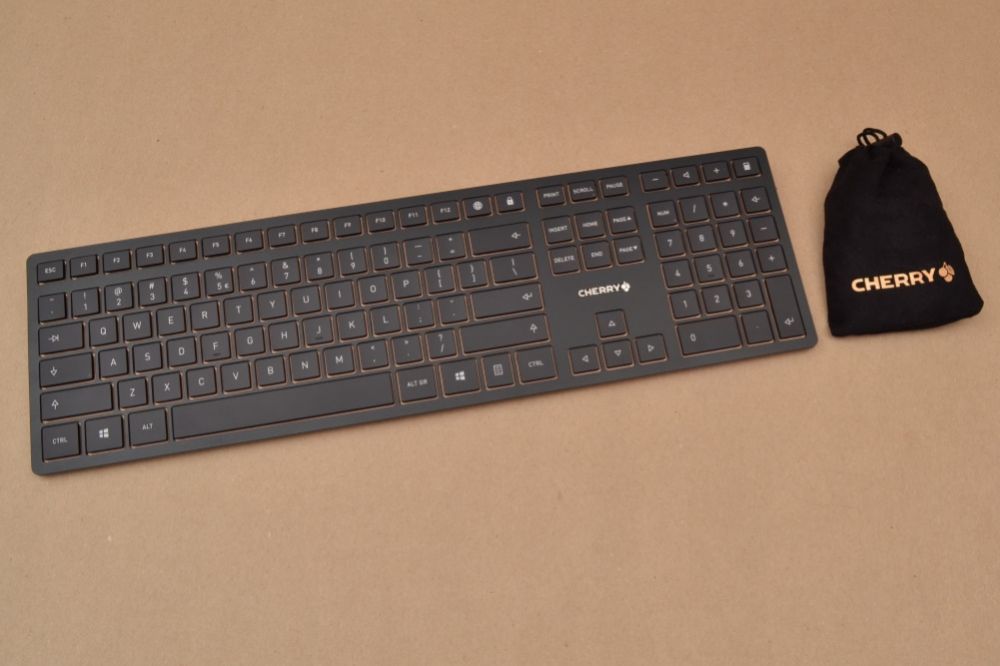 On the underside we have a fine copper color, which we could also see between the keys on the top. It makes it easier to see the keys and gives an exclusive look. There is built-in iron core in the keyboard, which gives some weight and stability.
At the back of the keyboard we find a few buttons and a plug. The plug is micro USB for charging, and then there is a switch where you can choose RF / Off / BT depending on which connection you want to use. BT has a pairing button and a LED indicates the status of the keyboard.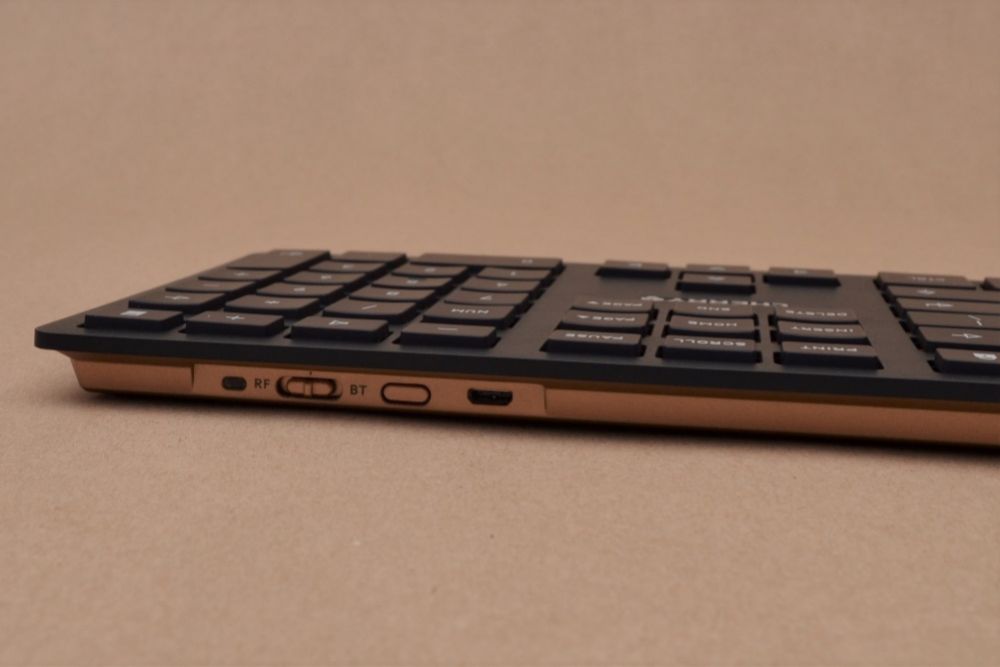 The keyboard does not have a Fn key, but there are some dedicated keys on the keyboard. Up at the F12 key we find keys for browser and lock of the computer.
Over the numeric keypad we find keys to control the sound and a key to open the calculator. All in all some good usable shortcuts. I would probably miss some more multimedia keys, for pause / play and skip each way. Then it would have been perfect.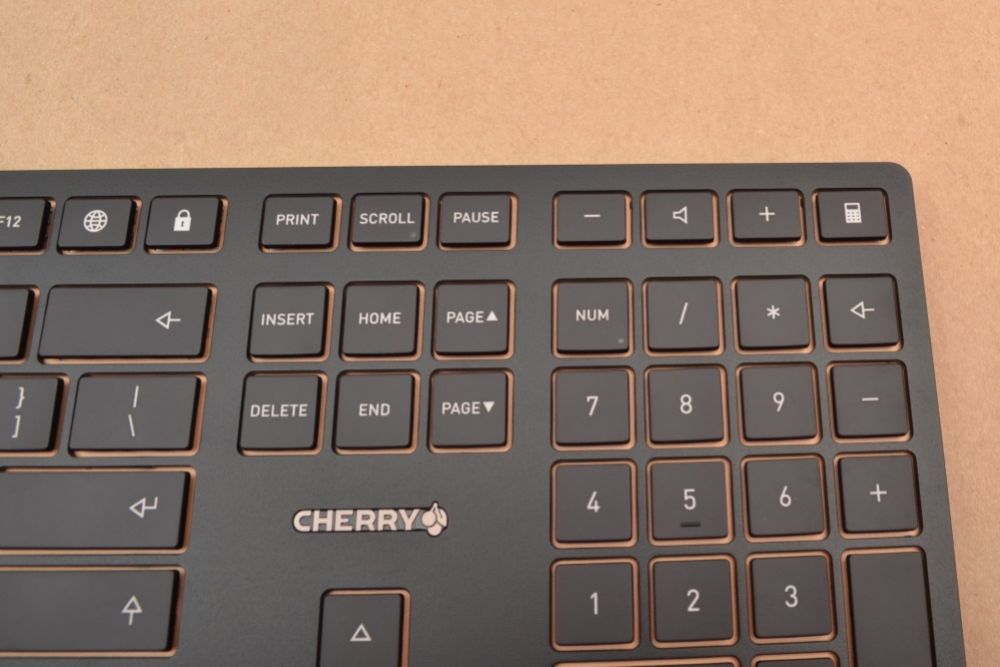 If we move on to the mouse, we can see that it comes with a nice bag for transportation. It is useful, especially for the mouse, as it is probably the one you most often have on the go with your laptop.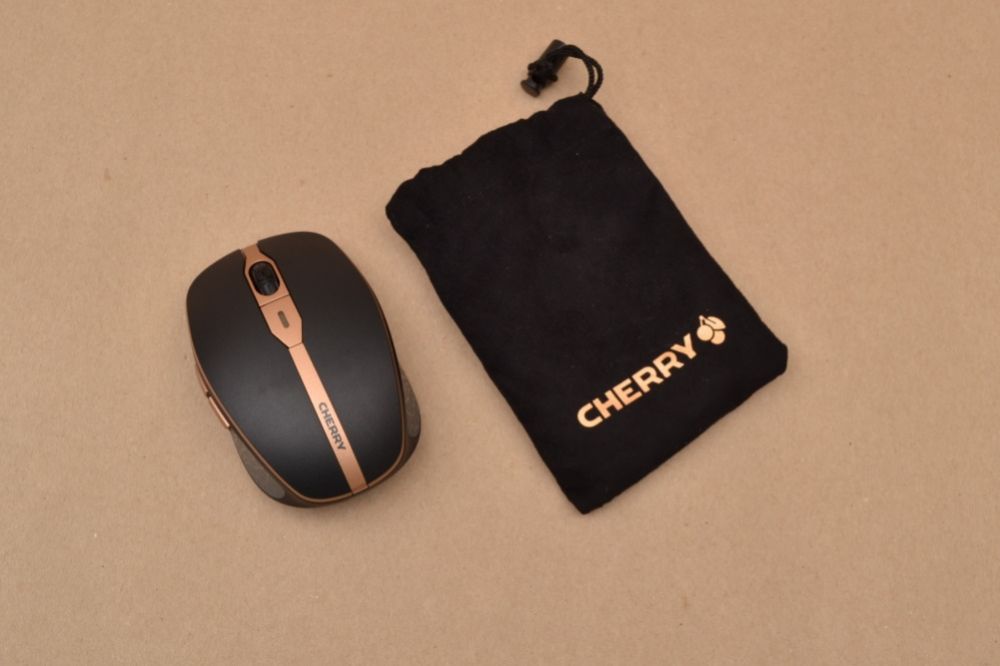 On the mouse we have a scroll wheel and the two main buttons on the front. There is also a LED with built-in DPI button. That way you can change DPI as needed. That's great.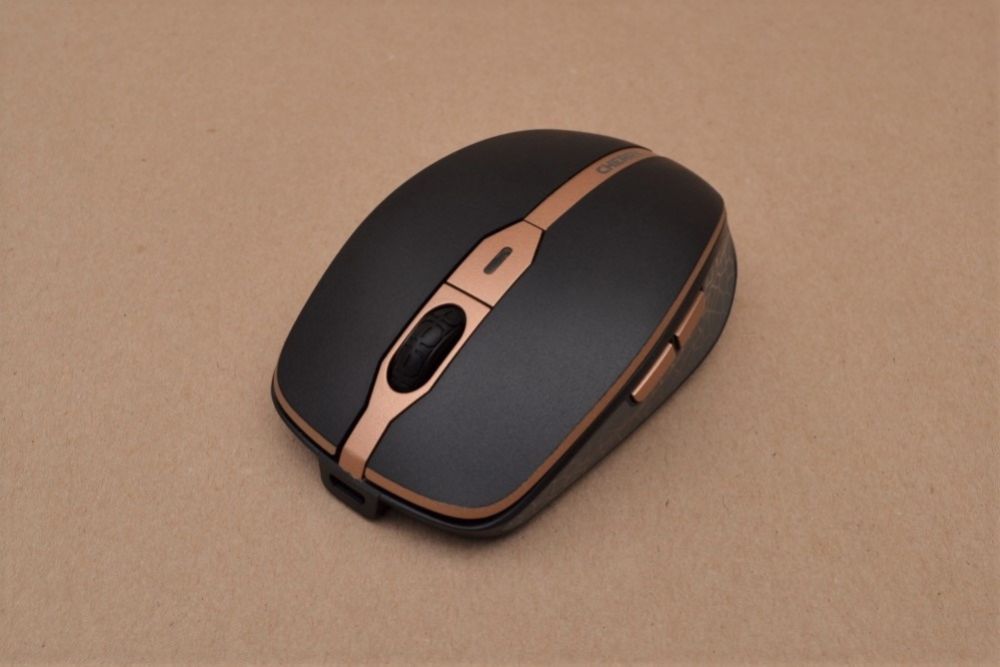 On the left side of the mouse we find a couple of buttons for the thumb. I use them often, so for me they are super helpful. Note the structured rubber that gives a good grip on the mouse.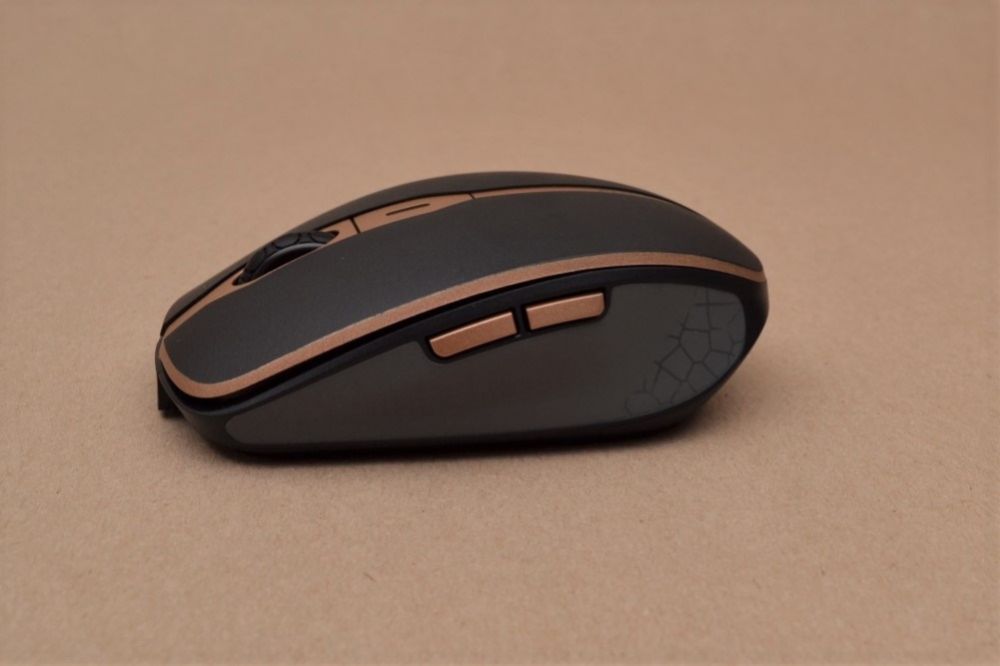 On the right side there is also rubber coating. Also note the fine details in the copper color of the mouse. It's well done this set.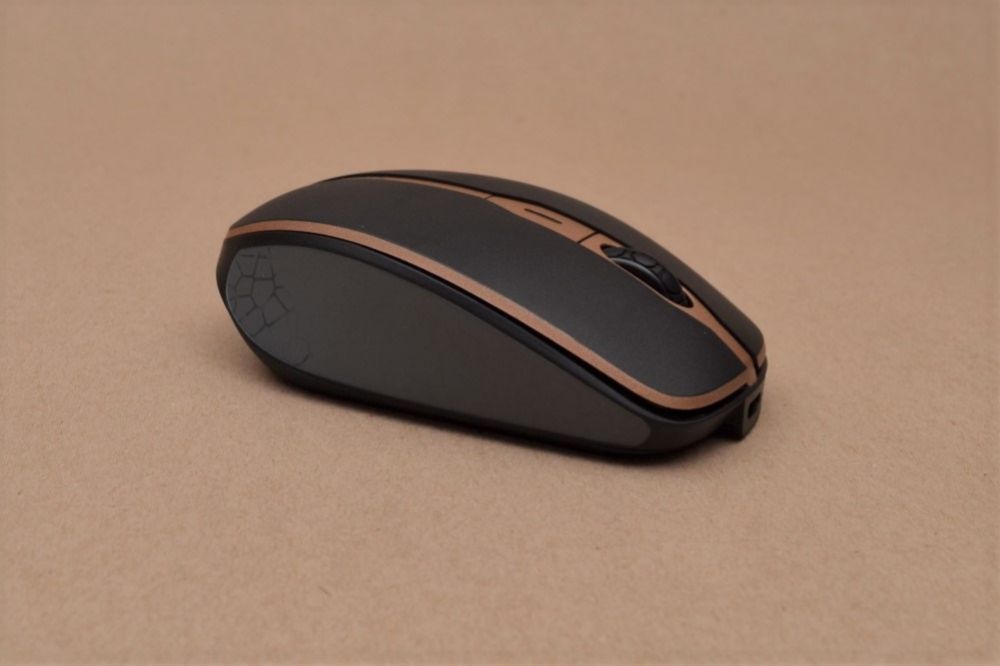 Under the mouse we find the technical stuff. Here you switch between RF and BT connection, and you have a pairing button as well as the small RF dongle belonging to the set. Note the sliding pads that cover the entire bottom.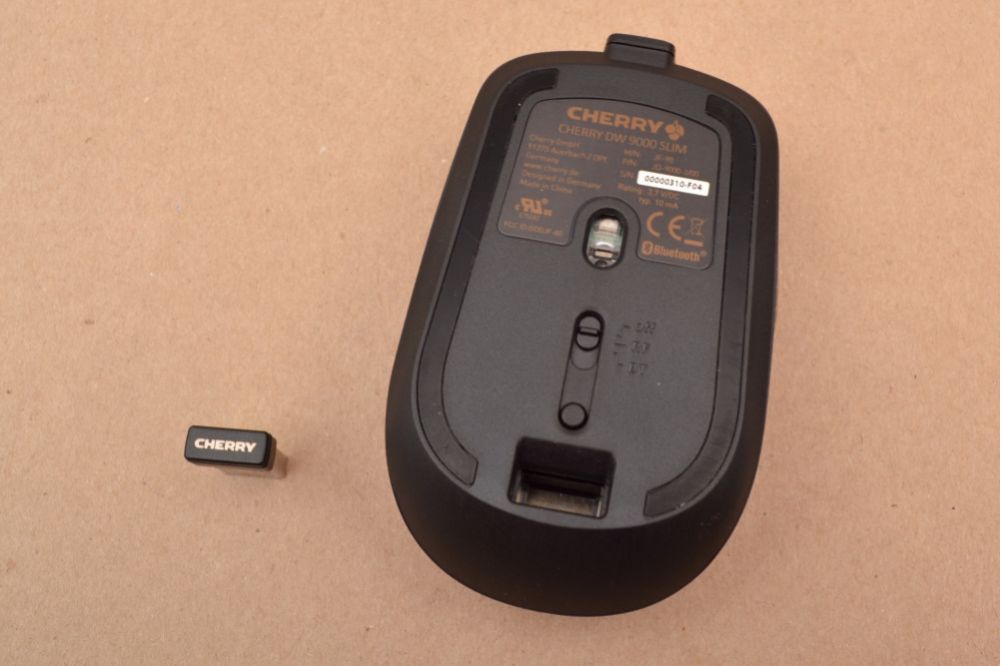 Finally a picture of the USB cable that comes with the set. It is a cheap plastic cable, but it is only used when the keyboard or mouse runs out of power. One can use any micro-USB charger to charge the kit.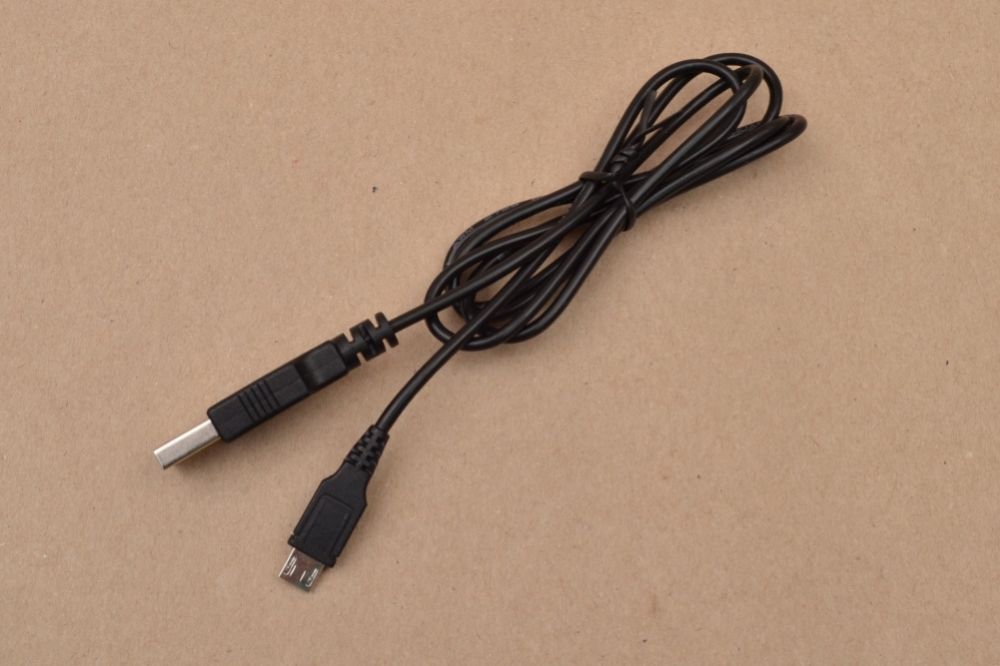 How is the set in use.
Mouse:
The mouse is actually really good. You have a good grip on it, and it has the buttons you need in a normal everyday use. It could even be used for gaming in the absence of better.
However, Cherry has chosen that the mouse should be quite small in the physical size, which means that you use claw grip on it instead of palm grip, which I am not the biggest fan of. However, it is practical when you have to carry it on the go, as it does not take up much space in the bag.
You can use the mouse while it is charging, which is very convenient, and it is super easy to switch between Bluetooth and RF connection, depending on whether you are sitting at your laptop or using your desktop computer there.
The mouse has 3 different DPI settings (600/1000/1600), which is fine for normal use. Again, you must have in mind that this set is NOT intended for gaming.
Keyboard:
I am, on the other hand, a huge fan of the keyboard. I love the way it is to write on and the short walking distance on the keys.
It is quite silent, however, there is a space bar that makes pretty much noise compared to the other keys on the keyboard. It gets pretty annoying, as you use it quite a lot. In my opinion, Cherry could have done better.
I like that Cherry has not stored functions under a Fn key, but make dedicated function keys. It's quite often I use music shortcuts when I sit and listen while writing articles or surfing. Then the shortcut keys really becomes handy.
Unfortunately, there are no lights in the keys, otherwise it would have been great for the late evenings. I should think it could be done even with a wireless set. It will only require charging more often. Otherwise, you should have a small light sensor that could turn on the light as needed. I miss light a little in the evening when sitting in the dark and writing.
Ergonomics:
I have previously reviewed the Cherry KC6000, which is actually the same keyboard as this, only with the wire in difference. There I had a criticism, which was about a missing angle on the keyboard. You get that with the DW9000 keyboard, as you get adhesive feet that you can paste under the keyboard. In this way you an angle on the keyboard, which in my opinion, makes it better to write on.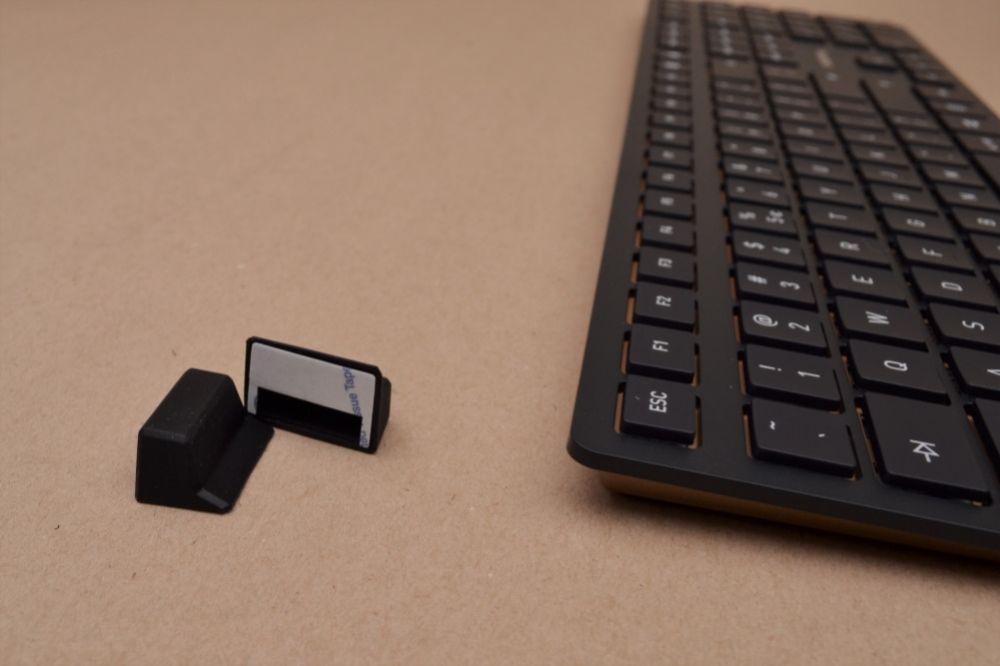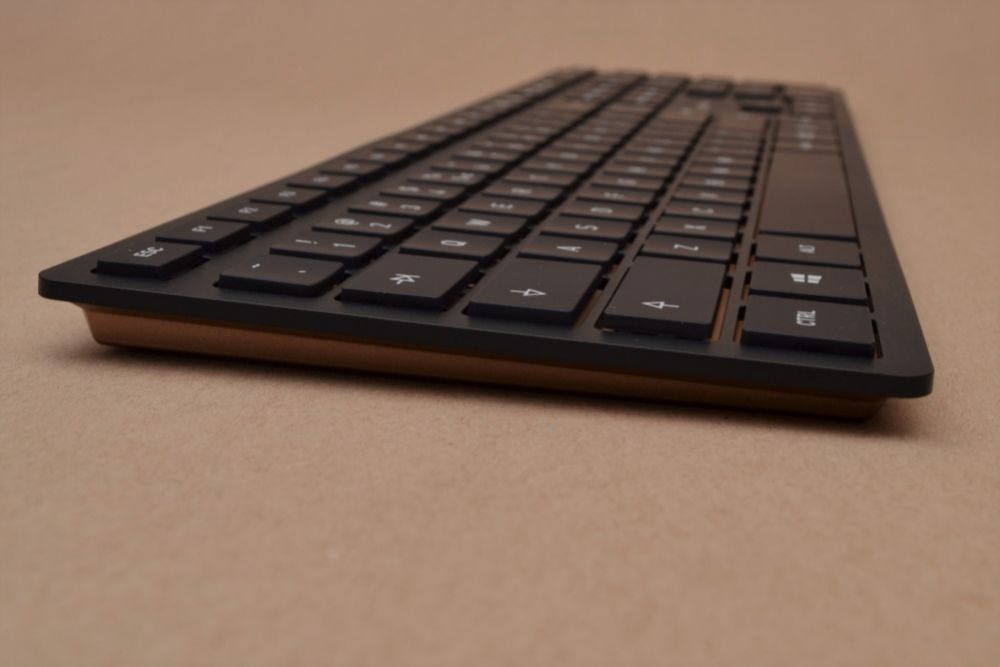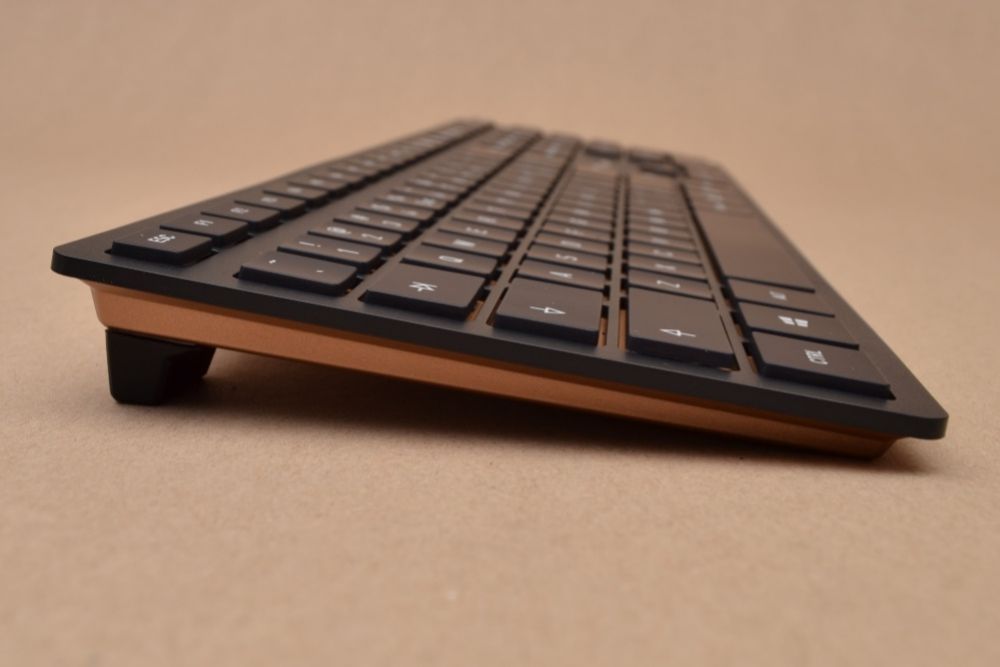 Light:
There are lights in different places that indicate the status of the various functions.
In the mouse there is a LED that indicates the status of several different things. It shows which connection has when activated. Whether it is RF or BT connection. Then it flashes according to which DPI setting you are using and it tells you when the battery is running out.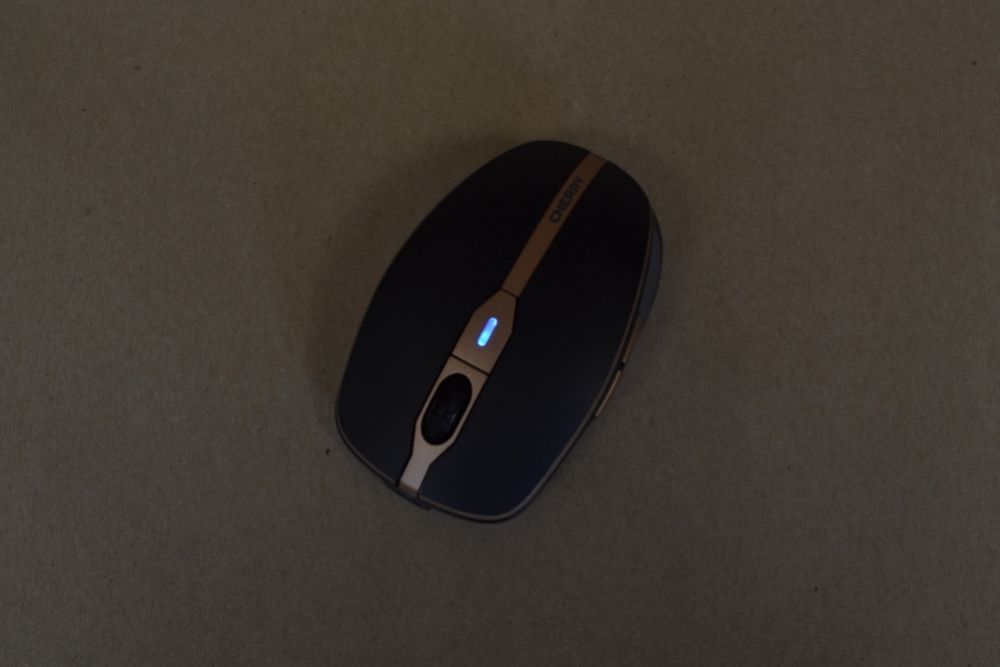 On the keyboard, there is a LED on the back that shows the state of connection and battery, and there are LEDs at the various keys that can change function. Typical Caps and Num and Scroll lock keys. Unfortunately, that is the only light in the keyboard.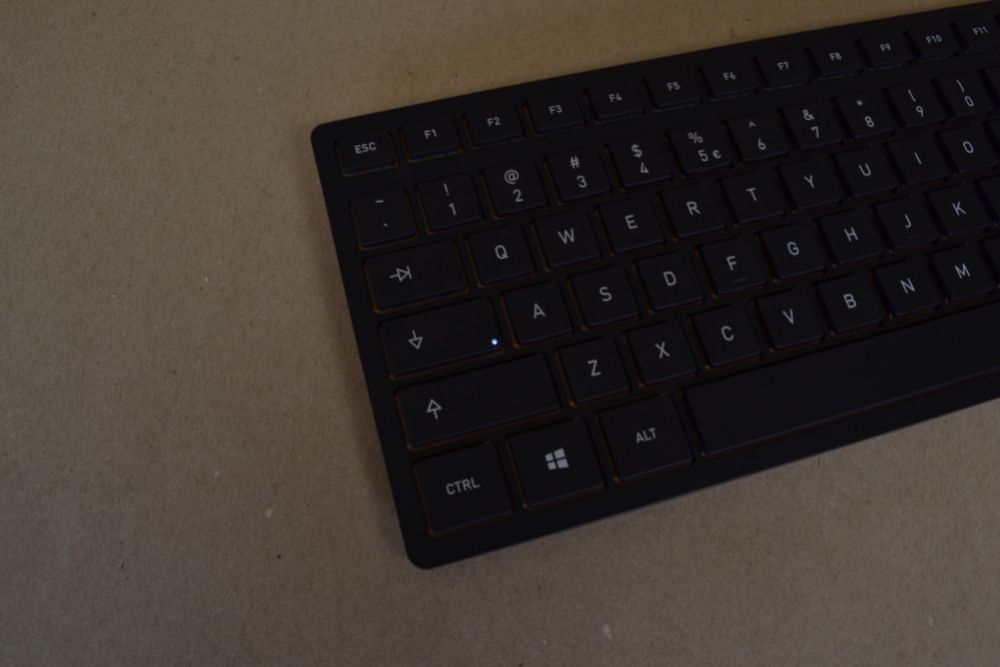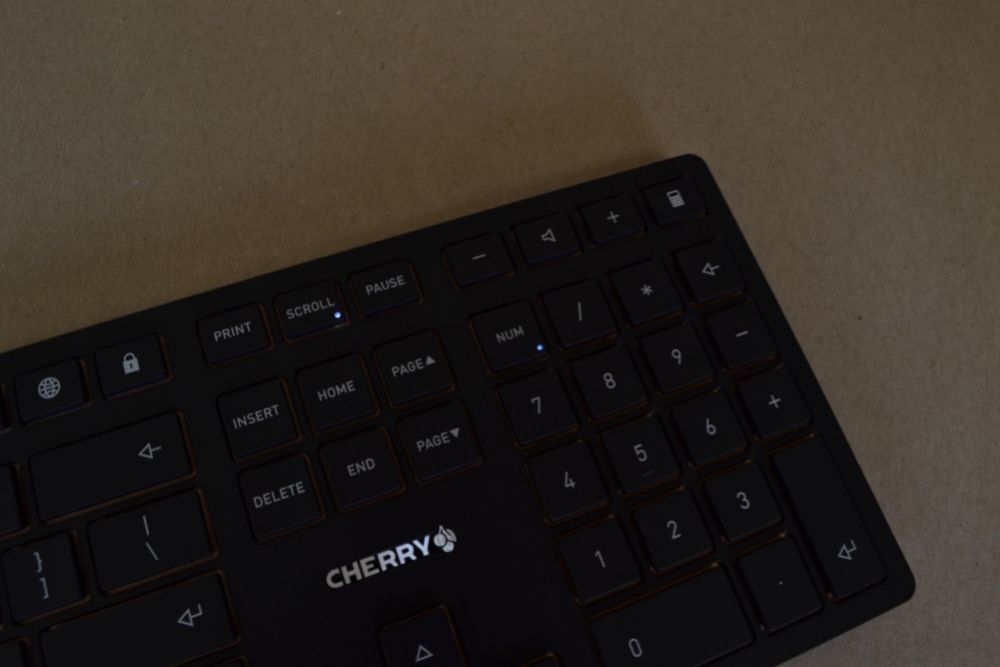 My overall assessment of the Cherry DW9000 Slim.
All in all, I actually think it's a super nice set. However, there are a few things that pull down, so the question is just how high I rate these things.
When it comes to the mouse, it's basically really good. It should, in my opinion, just be full size, because you do not really want to use a small mouse with your workstation. It is of course very pratical when you have to bring it on the go, but when you come home or in the office and have to work, you sit with a small mouse. That's not so great.
The keyboard is also great, and built in good quality. Unfortunately, the spacebar makes pretty much noise, which makes it quite annoying to listen to in the long run. Especially if you are sitting in an office or in a room with others. Then it becomes quite obvious how big a problem it can actually be.
The keyboard, on the other hand, has got rubber feet, which I missed on the KC6000. It is great it has been included in the package. However, a little strange if it is supposed to be used on the go, because then you have the rubber feet that stick out, and maybe easily be torn down in the bag. Then foldable feet would have been much better. But rather rubber feet than no feet to raise the back of the keyboard.
The price:
I have searched around the net and found the set for DKK 790 in Danish webshops. With the shortcomings I have found, I might think the price is just on the high end for what to expect. For that money, I probably expected a little more features at the keyboard, and possibly some light behind the keys. And then I probably expected a normal-sized mouse.
My overall assessment ends up on a nice BRONZE star. The set is great for office use, but has a too many flaws in my eyes to come up with a gold rating. Cherry must improve next time, so we can get to the top.
Read more about the Cherry DW9000 Slim here:
https://www.cherry-world.com/cherry-dw-9000-slim.html