SilverStone FS303 Hotswap Drivebay
SilverStone Technology does many different things. In addition to casings and power supplies, they actually make many storage and server solutions as well. In this review I am going to look at a drive enclosure designed for those who change disks frequently, or need a backup solution where you change the disks and store them offsite. Their FS303 is an elegant and good solution for this kind of storage.



This is what the box and its contents look like.
The package you receive is a white box with a sleeve. There are photo-realistic images and features as well as specifications listed on the outside.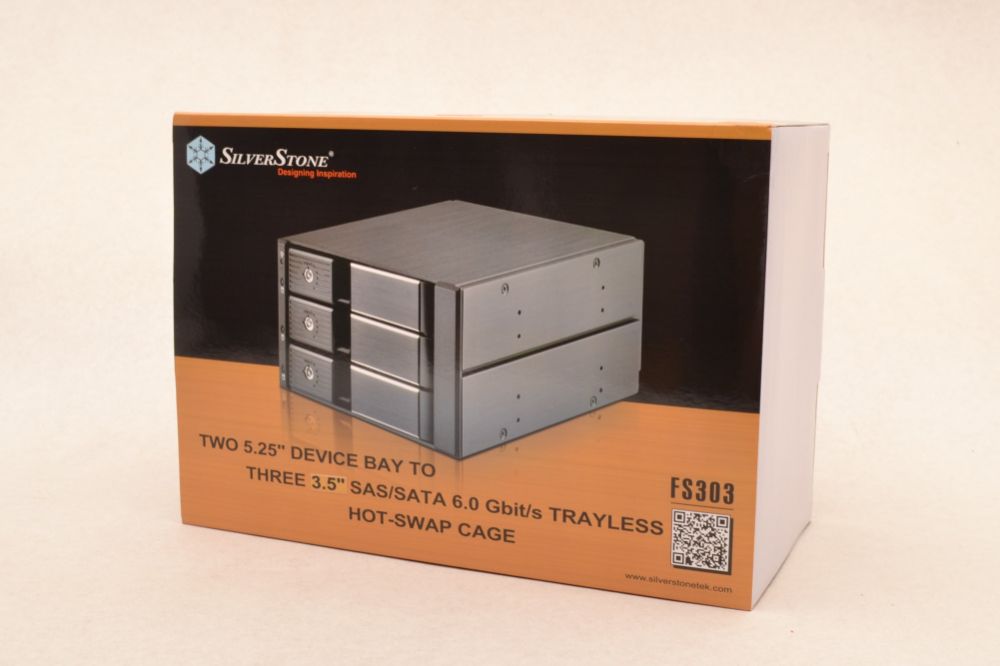 Inside the box, the product is well protected in a plastic bag with foam around it. This product should not get any transport damage of any kind.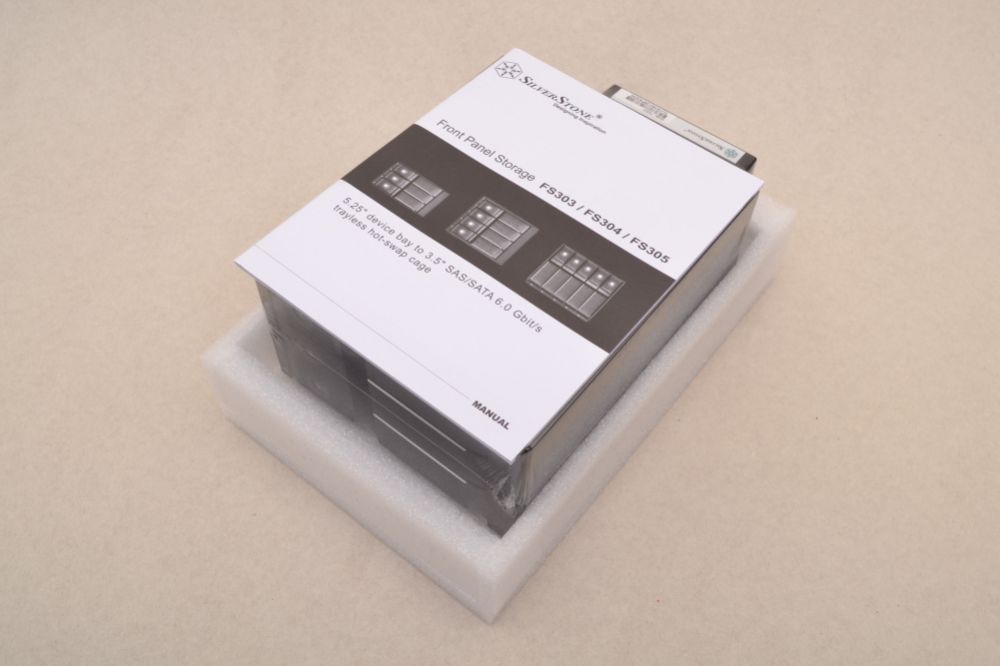 In the box, we find in addition to the unit itself, also a user manual, screws and keys to lock the unit doors.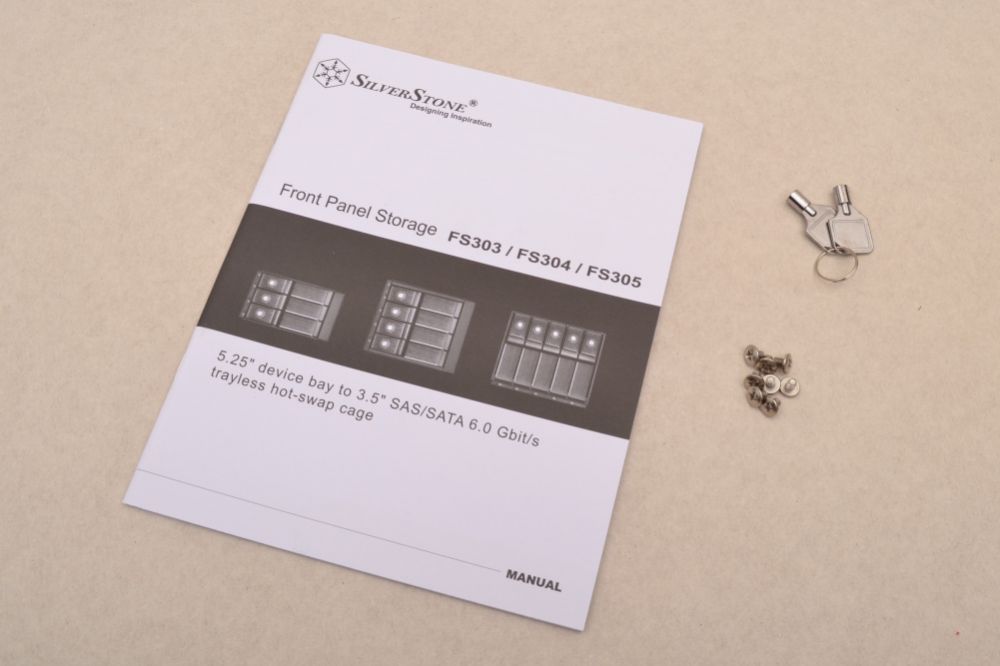 The technical specifications.
As you can read, there is full use of the space. Thus, you get a total of 3 drives on 2 5.25" drives. A 6 Gigabit bandwidth, which gives about 750 MegaBytes per second. That's fine for HDD, but can be at the bottom for multiple SSDs. There are key locks and diodes for activity as well as a fan for cooling.
Model No.: SST-FS303B
Color Black: Material Aluminum and front bezel with plastic clip button
Form factor: 5.25" drive bay x 2
Drive support: 3 x 3.5" SAS*/SATA HDD or SSD
Transfer rate: Up to 6 Gbit/s (dependent on drive speed)
Host interface: 7-Pin SATA connector x 3 or SAS* primary channel connection
Power connector: SATA 15-Pin x 2
Drive tray security: Triangle metal key lock design
LED indicator:
Power ON : Blue
Accessing : Purple blinking
Number of key: 2
Switch button Fan speed: High/Low
HDD LED: ON/OFF
Cooling fan: 1x 70mm fan, 3000rpm
Net weight: 1.02kg
Dimension:
146mm (W) x 84.5mm (H) x 195mm (D)
5.75" (W) x 3.33" (H) x 7.68" (D)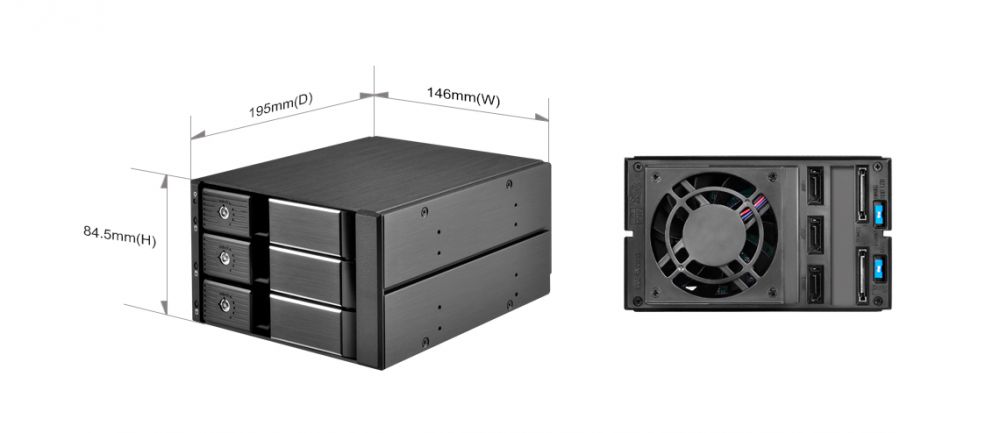 Let's take a look at the product.
The unit is made in great quality, most of it in brushed aluminum. You can get this type of device designed for both 3, 4 and 5 drives. However, those for 4 and 5 discs occupy an additional 5.25" slot, where this one only takes up 2 x 5.25" slots.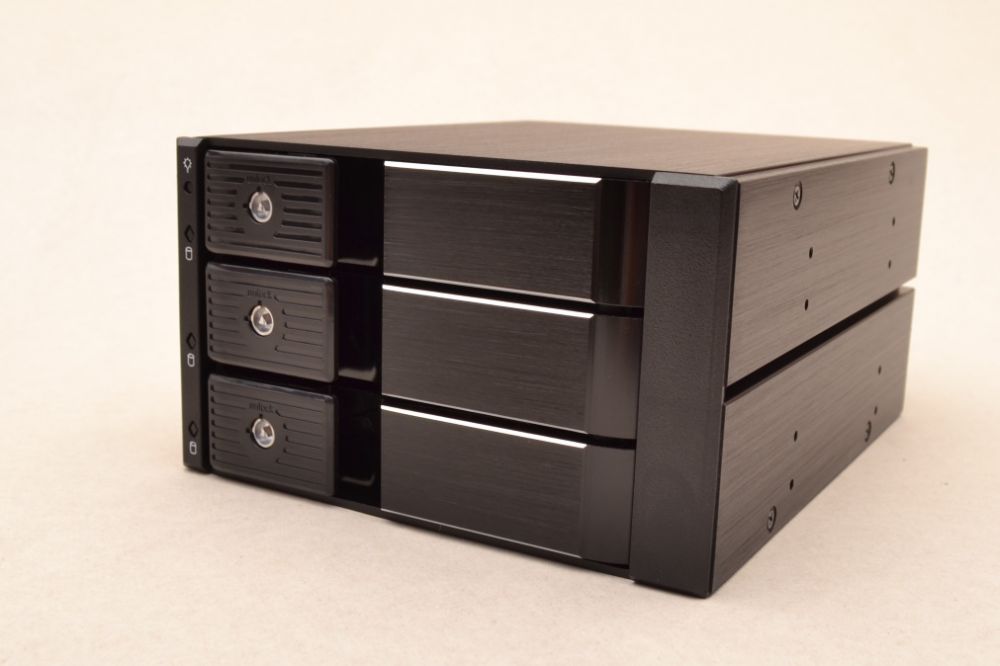 On the front we find diodes for drive activity, and a diode for power. There is a lock, coded with a small triangle, with which you can lock the covers.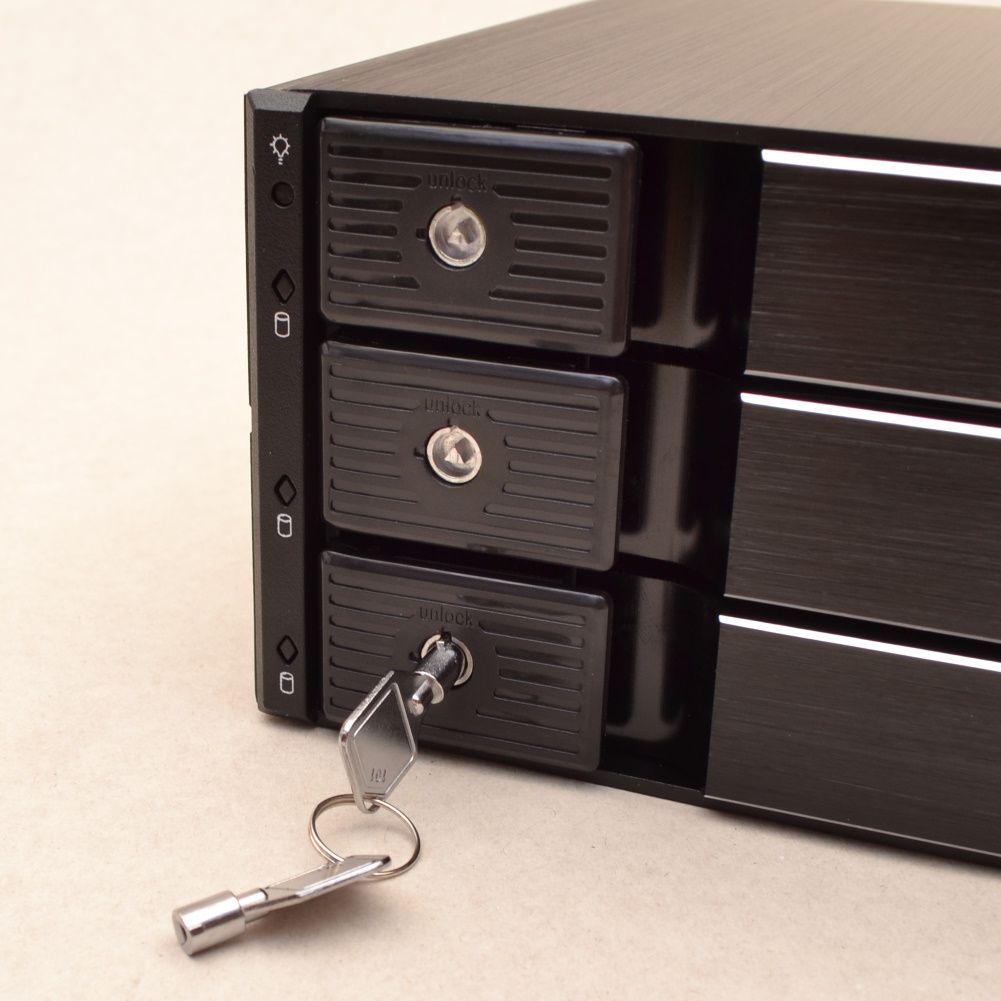 At the back of the unit we find the fan, which provides ventilation so that the drives do not get too hot. Then there are 3 SATA / SAS data connectors, and 2 SATA power connectors. There are also two switches where you can turn off the light in the drive activity diodes and you can turn the fan speed up and down. These are good features to have.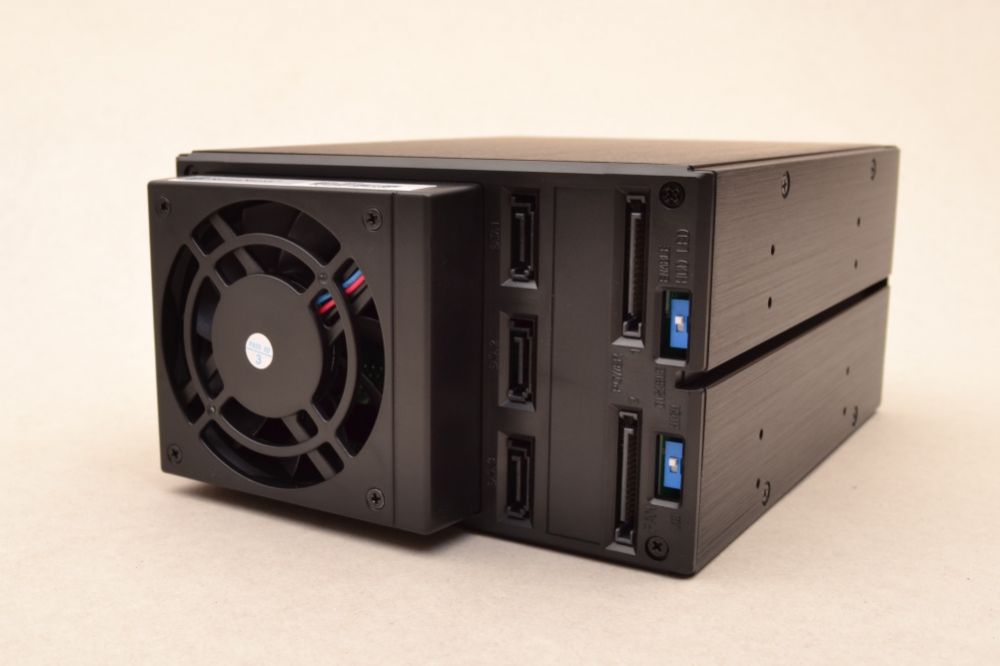 Inside the box, you can see that the connectors are assembled as a connector. The unit should be able to take both SAS and SATA drives, which are slightly different connectors. Hot-swap is an option, so you can take out the drives while the computer is turned on if the controller supports that feature.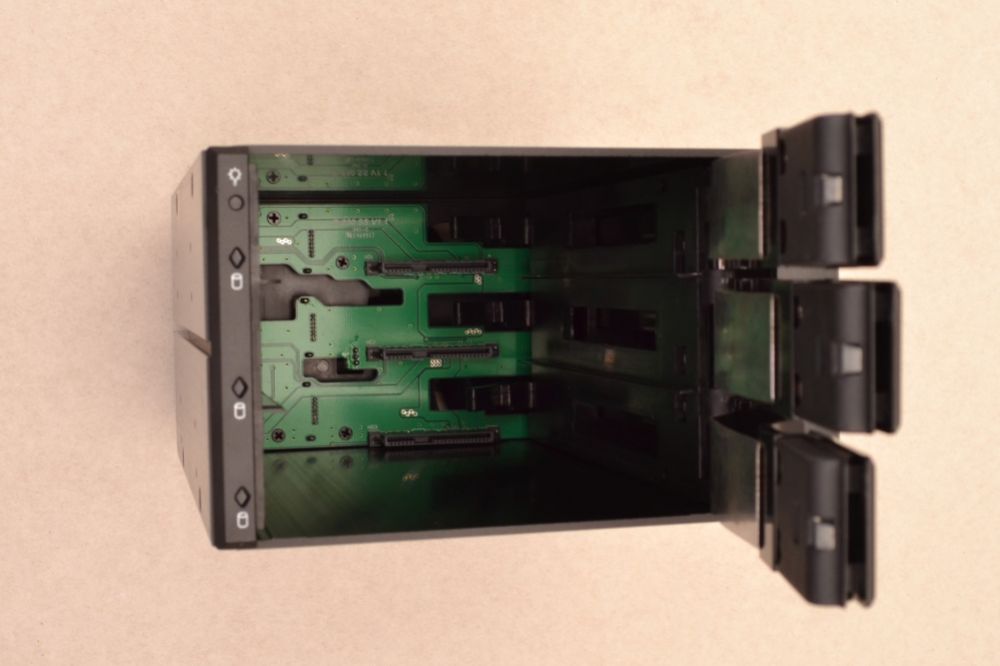 The test.
After all, there is not much to test with such a device. I have mounted a drive in one slot, and when you just learn that it is not broken by grabbing it firmly. Mounting a drive is actually quite simple and easy.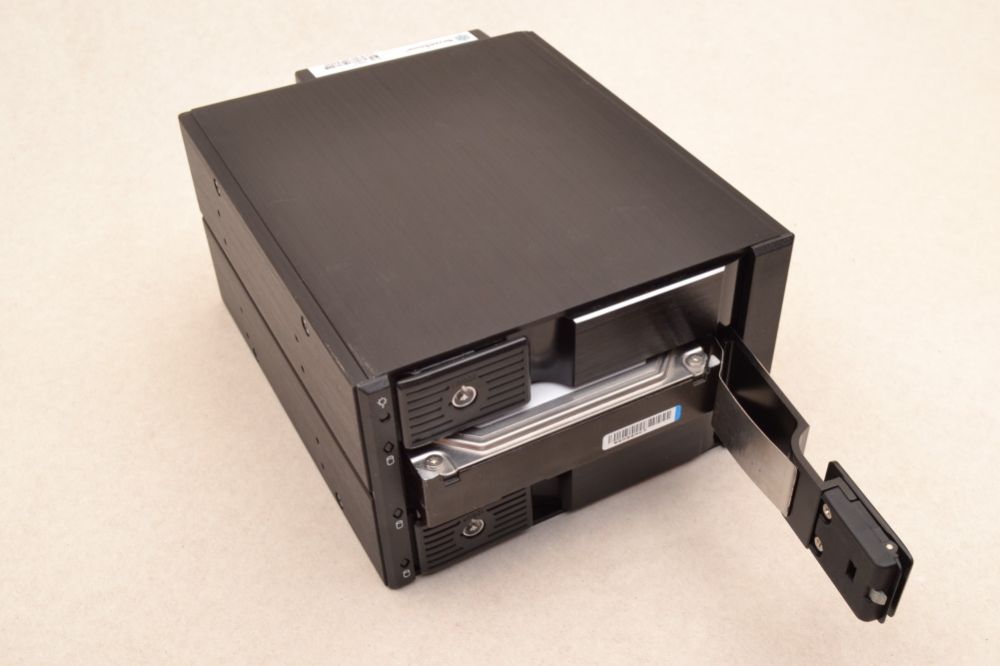 The fan on the back of the unit is a 70 mm fan and is not quietest I've heard. Now, this is also intended for server environment where noise means less than performance, so that's probably why. I need this device in my office machine so, the fan will definitely be running at low speed.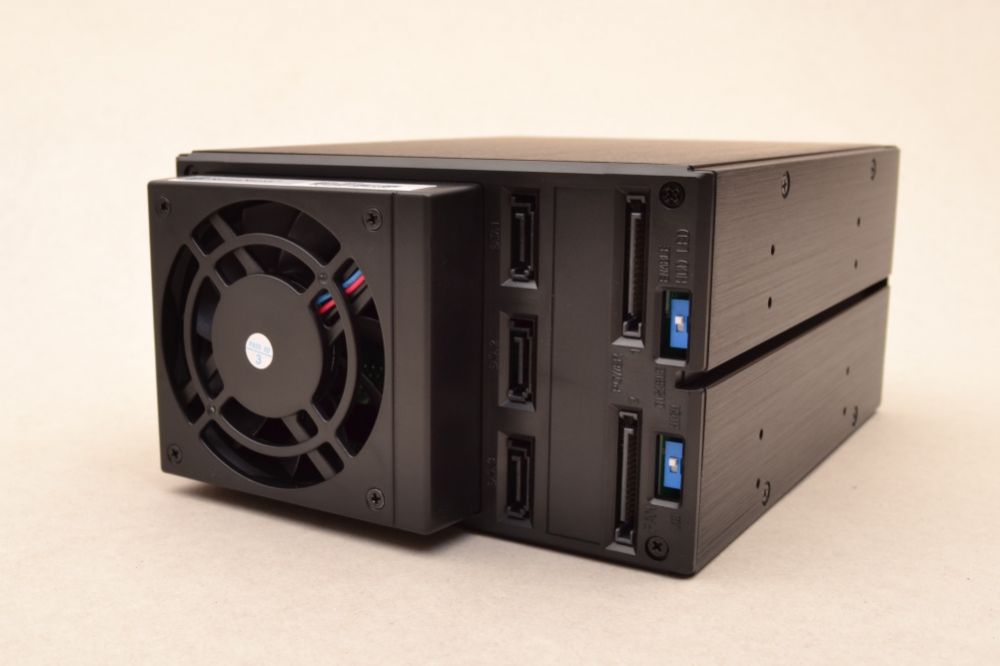 The unit is designed for mounting in 2 x 5.25 "drive slots in the front of the casing. Not many casings have it anymore when talking gaming machines, but this product is also not intended for gaming machines, but more for servers and media centers. The mounting is straightforward with screws on each side.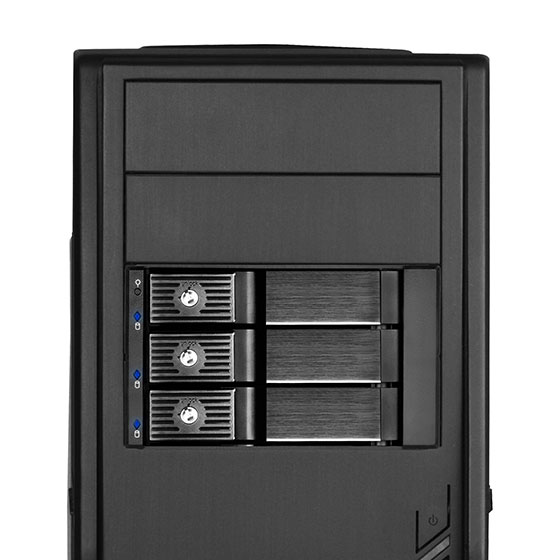 The diodes are reasonably powerful, so it is a good idea that you can turn them off. I think if you have drives in the unit all the time and they work and blink. Then they could probably be a little annoying at times.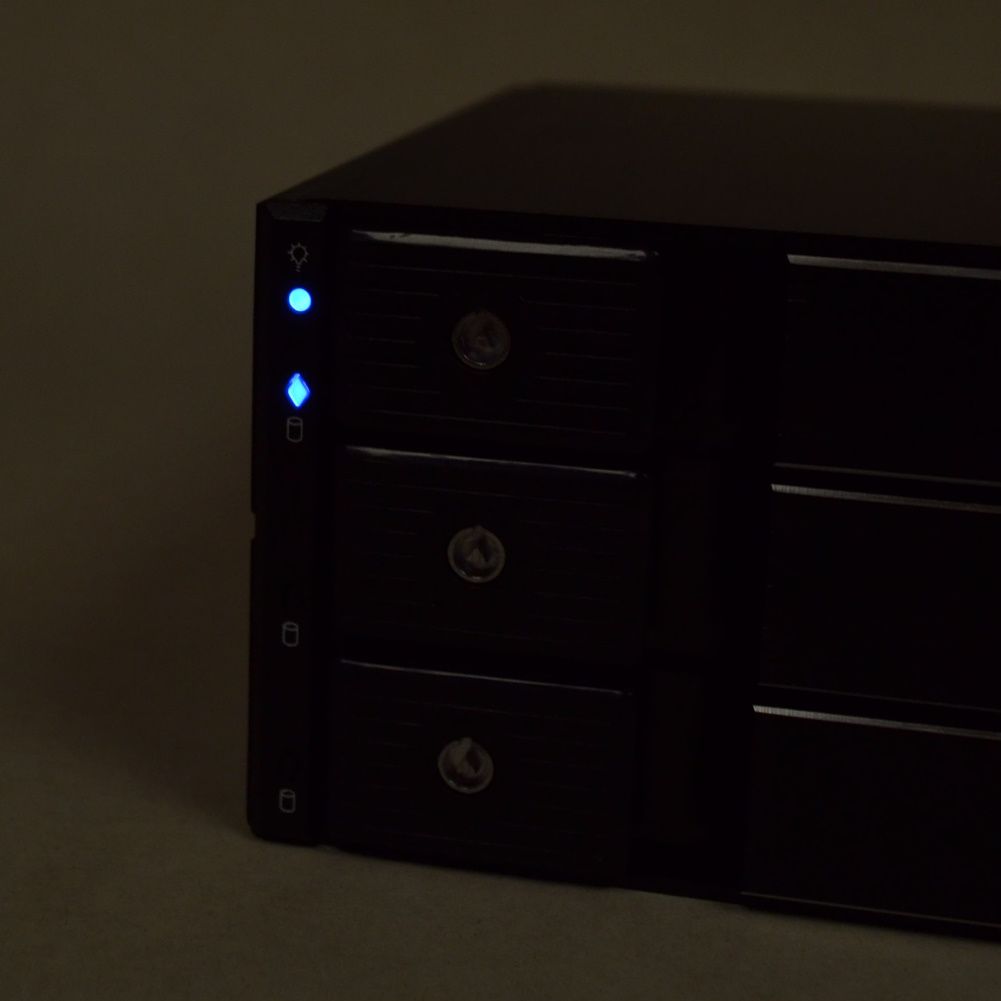 In conclusion, what do I think about the product.
After all, SilverStone makes a lot of things other than coolers casings and power supplies. That they prove with this product, which can meet a great need in servers or media centers at home. You can use it for backups, where you regularly change the drives to have them lying somewhere else to prevent theft or fire.
The quality certainly doesn't fail as the unit is built of aluminum on all surfaces. The only plastic to be found is on the front and back. Otherwise, the rest is aluminum. It also provides pretty good cooling of the drives, which means a lot in a closed space like this.
I like that you have the option of both SAS and SATA in this unit. Then you can optionally connect the unit to a SAS controller, then you have free choice about which drives you want to connect to the unit, as most SAS controllers can take both SAS and SATA drives. But not at the same time.
The price.
The FS303 can be purchased online for around DKK 575. I think the price is quite suitable as you get a good product built in great quality with the possibility of both SAS and SATA drives.
Final assessment.
The price + the quality + the functionality means that I have to give the SilverStone FS303B a nice shiny GOLD rating. You get a good multifunctional product in good quality at a good price.
Read more about the SilverStone FS303B here:
https://www.silverstonetek.com/product.php?pid=603&area=en