Xiaomi Mi Smart Band 5 Watch
Xiaomi produces a lot of things for smart home, but also things for leisure in the form of smart watches and wearables. In this review we are going to look at the newest activity tracker, namely their Mi Smart Band 5.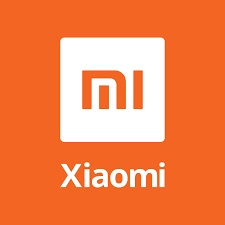 Xiaomi is one of China's largest electronics manufacturers when it comes to smart-home and leisure products. They make everything from smart watches, electric scooters and to smart lamps and a lot of other little things to make everyday life easier.
Let's look at the packaging and content.
You receive a nice black box with pictures and features listed on the outside.
Inside the box, the watch is well protected in a cardboard holder.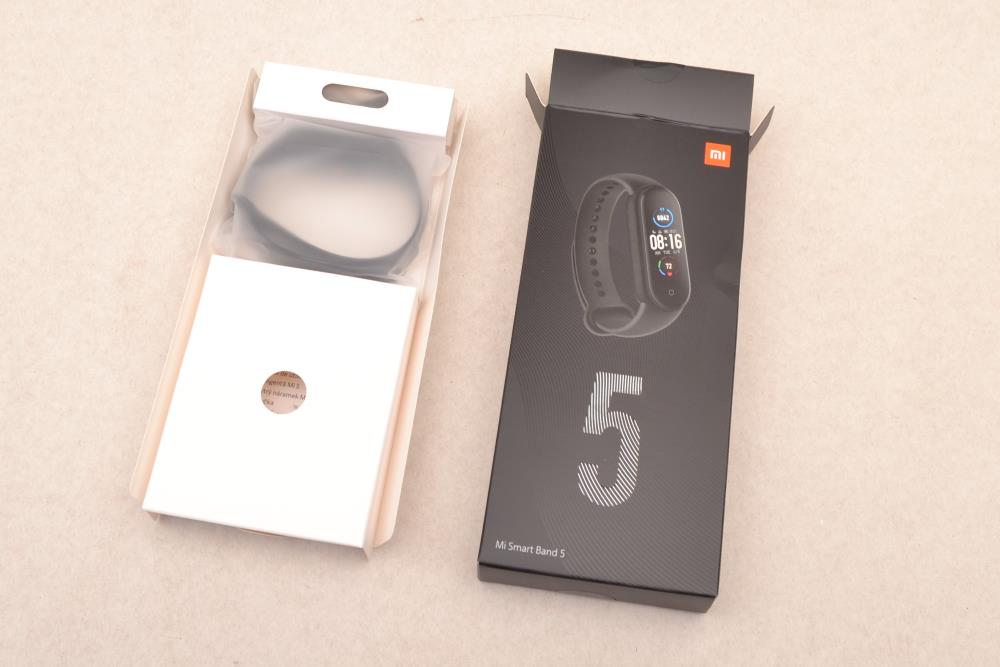 In addition to the watch itself, you will find a charging cable and a user manual.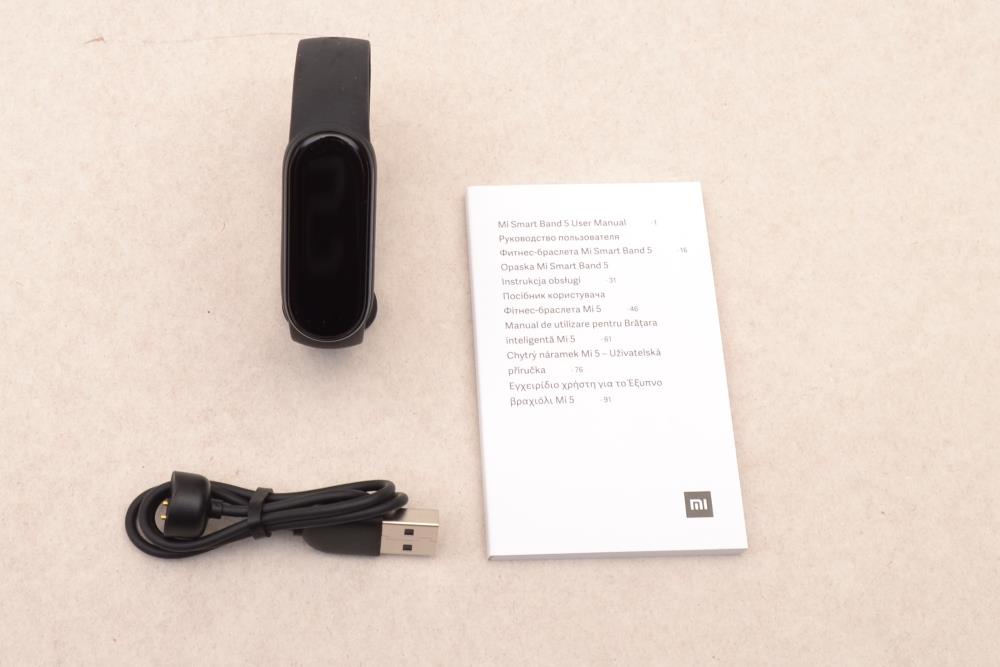 The technical specifications.
The watch has a 1.1" crisp AMOLED screen with built-in touch. There are no buttons on the watch and it can hold up to 50 meters depth in water. Battery life is about 14 days in normal use, and there are a lot of functions and monitors built-in as heart rate monitor and pedometer.
USB type USB-A (Charger not included in the package)
Waterproof 5ATM (approx. 50 m)
Battery life 14 days
Screen 1.1 inch AMOLED Touch screen
Ur Yes
Distance meter Yes
Gyroscope Yes
Pedometer Yes
Heart rate monitor Yes
Calorie counter Yes
Sleep reading Yes
The content of the package
1 x Mi Band
1 x Strap
1 x Charging cable
1 x User Manual
Let's look at the product.
The watch itself can be clicked out of the strap, so you can change the strap as needed. It is super easy and convenient.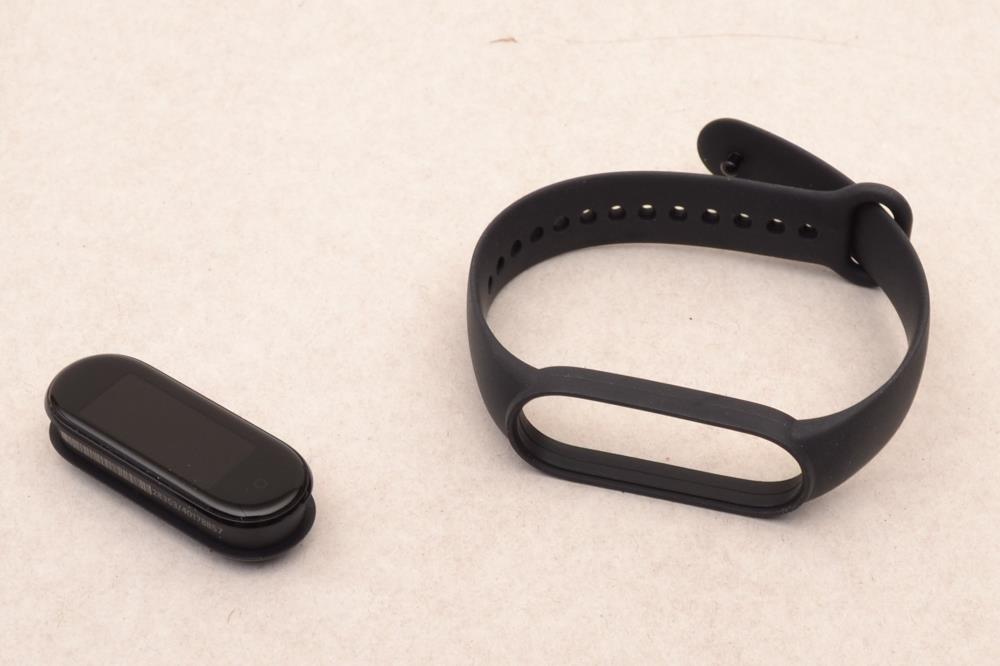 On the back of the watch we see different sensors. They emit a strong green light, but you are gradually getting used to it from such watches. This is also where we find the charging socket, which are the two gold contacts on the left.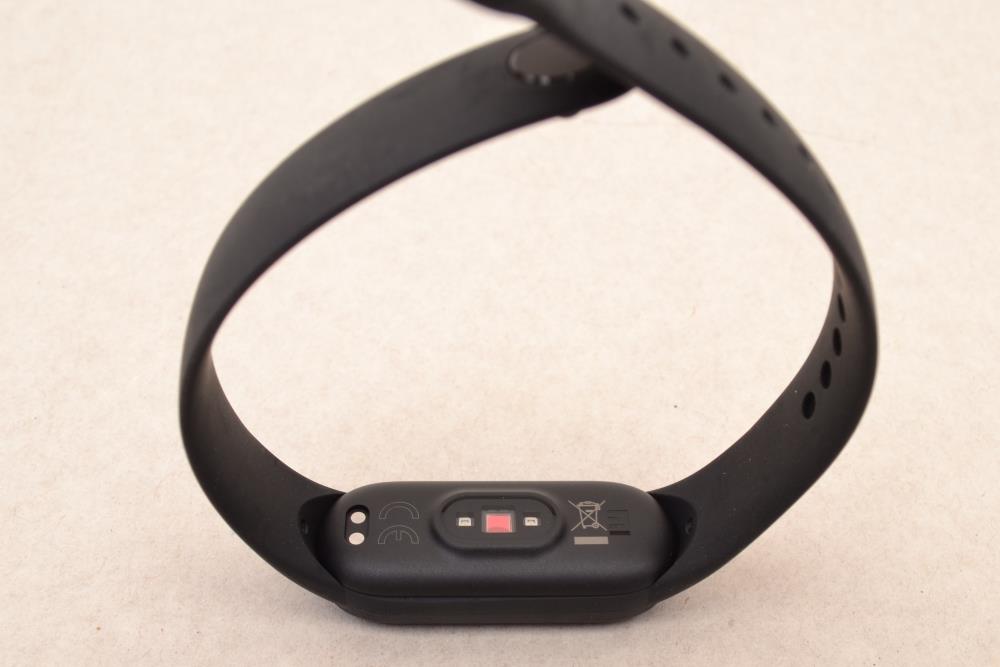 The strap is of a type I have not seen before. You click the strap into place, and avoid the flap that is usually outside the strap with normal straps.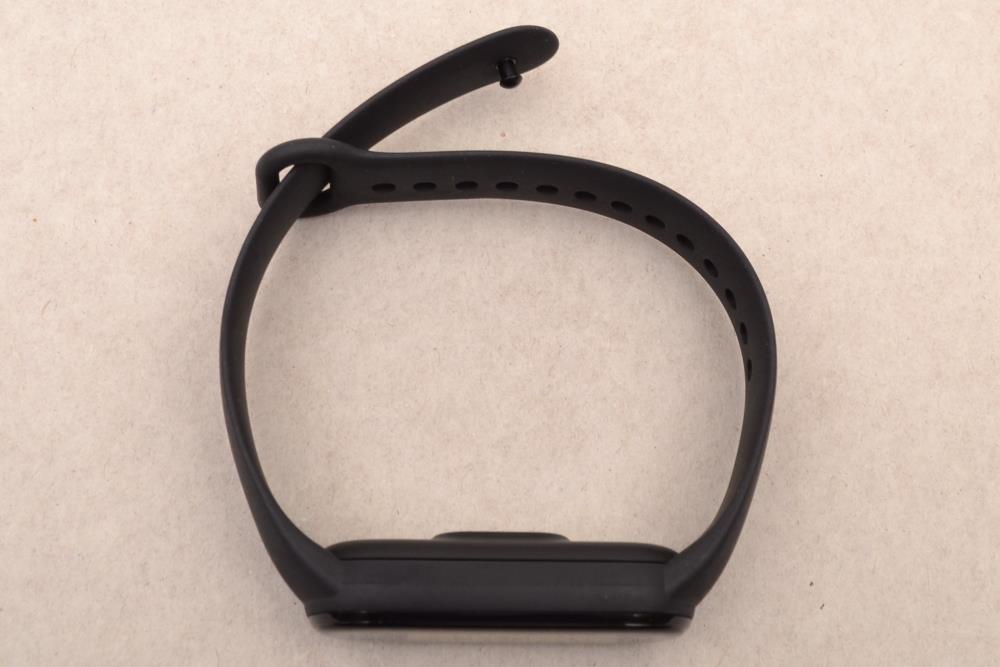 It is super slim and streamlined when the strap is closed. It is also extremely comfortable to wear.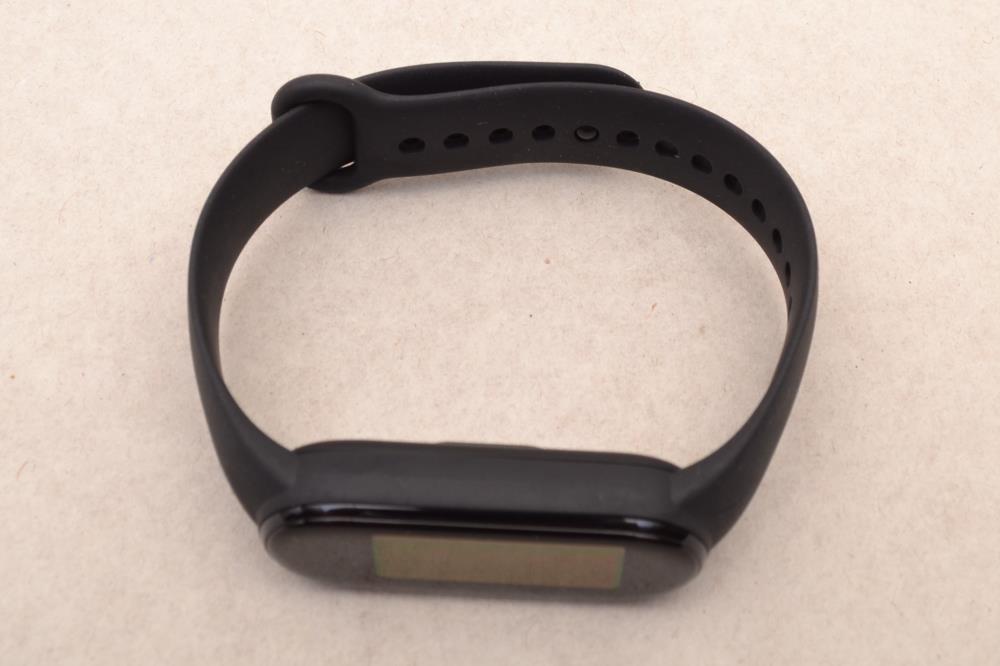 The charging socket has a strong magnet, so there is nothing to click into place or anything. The plug is held to the back of the watch and it pretty much finds its way to the right position. Super smart and easy to deal with.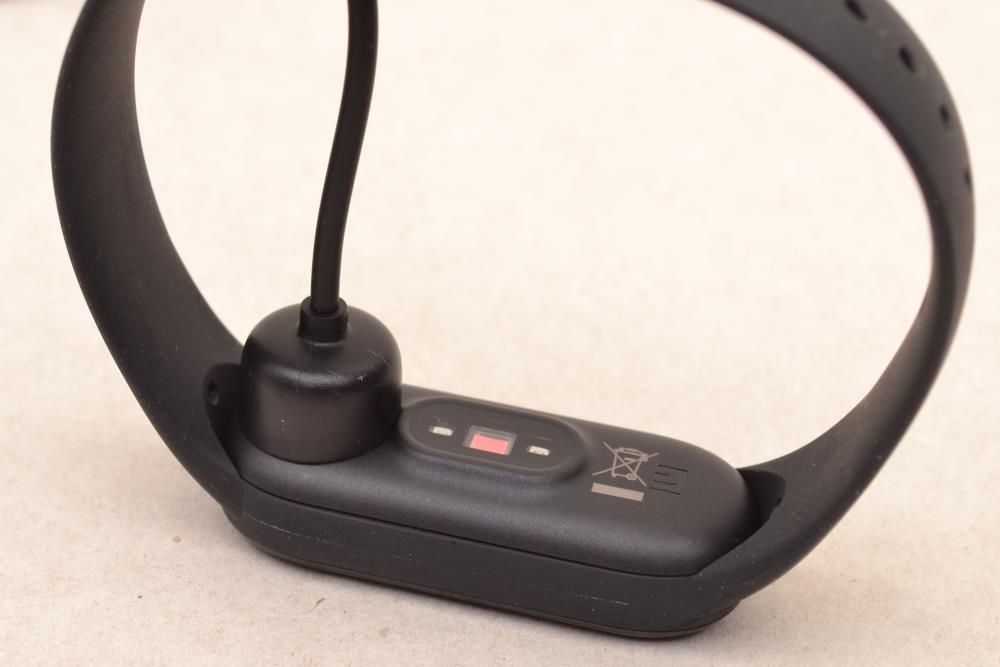 A charger is not included, but since the charging cable is standard USB, you can conveniently use the same charger that you use for your phone.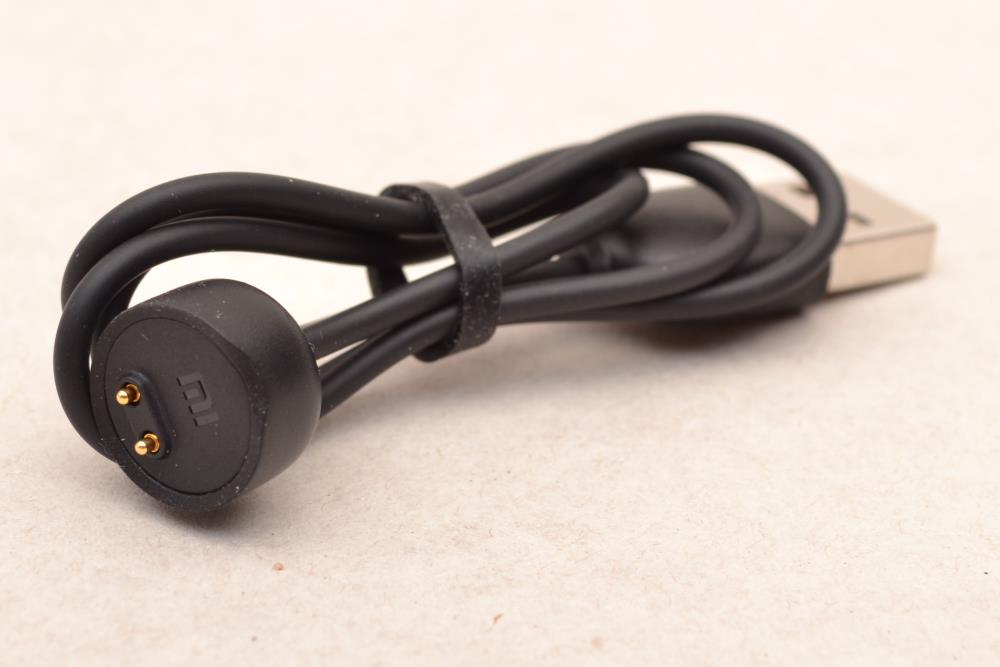 The Mi Fit app.
The Mi fit app is an app for all activities with the Mi products such as watches and bathroom scales (which they also make) In this way you can keep an eye on the health of the whole body.
You can start activities from the app if you do not want to scroll through the menus on the watch itself. It can sometimes be a little more convenient with a larger display.
The app provides an excellent overview of how your day has been, and not least also your night. The only thing I miss (or have not found yet) is some kind of calendar feature in the app, so you can look back and quickly get an overview of previous activities or days. But other than that, the app shows quite good what you are doing, and you can of course scroll back in time, just one day at a time after what I have just found out.
In general, as with all other new things, the app requires that you just get to know it.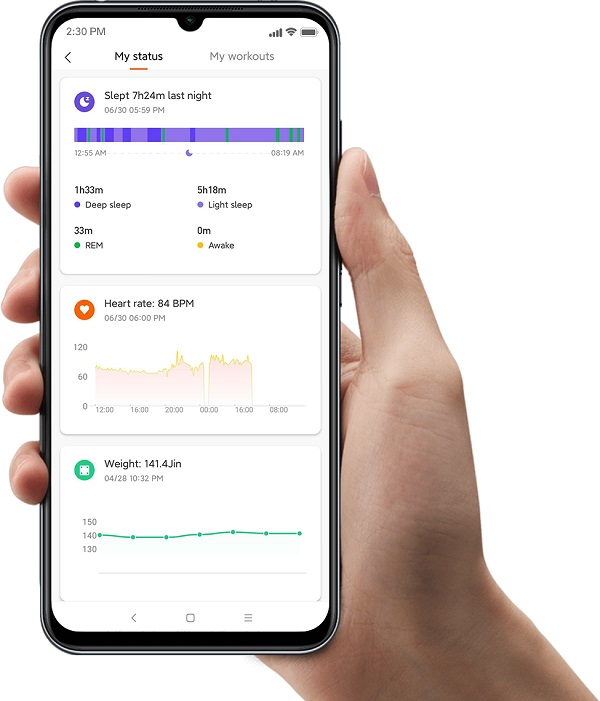 How is the watch to use.
I compare the Mi Smart Band 5 with my current Garmin vivosmart HR+ which I use on a daily basis. There are, of course, a few differences that I will get into in my description below.
The comfort.
The watch feels incredibly comfortable to wear, and you can sleep with it without discomfort. It's not something I've used before I tried this watch.
The strap itself closes with a kind of button lock, which means that you do not have the 'flap' from the strap that you normally have on a standard watch strap. It actually means a lot when sleeping. You do not have these problems at all with the Mi Smart Band 5 strap.
The strap are also available in many different colors, so you can easily change the strap for the situation or the clothes you wear.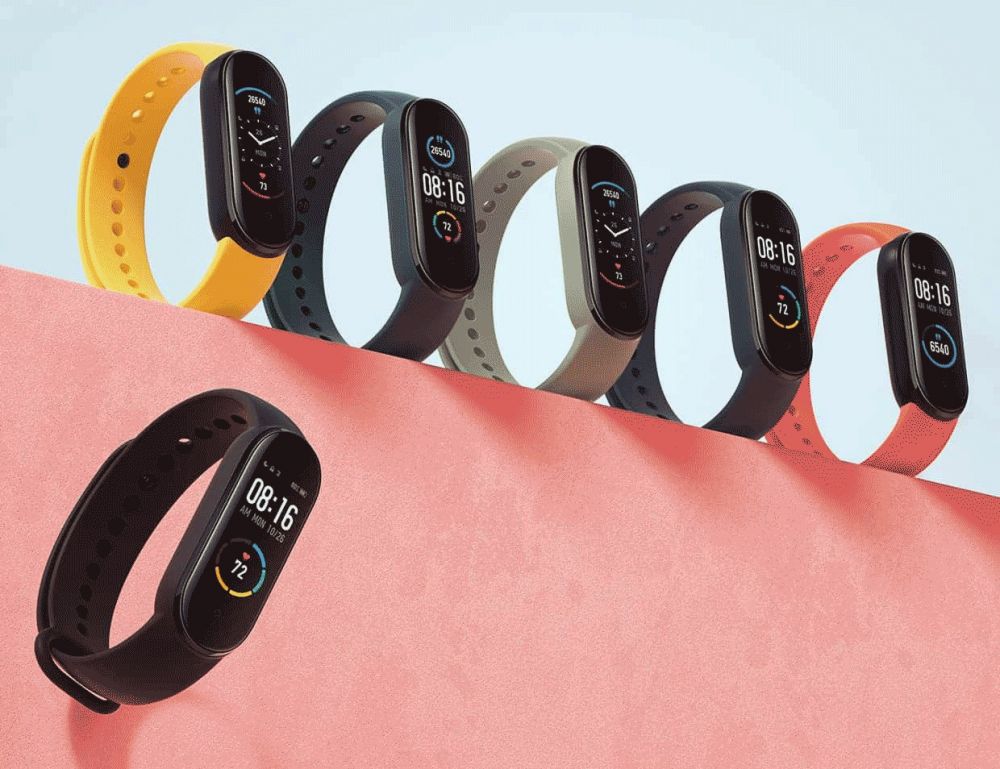 The screen.
The screen is a 1.1" AMOLED which is not particularly large. It also means that if you have a lot of information on the screen at the same time, it all becomes a little small to look at.
I therefore like that you can select the screen you want on the watch face, and then scroll to the rest of the information if you need it. This way you can keep the information limited on the watch face.
You can still see it all in the app, go browse the submenus, where the same information is also available.
The quality and brightnes of the screen itself is really nice. You can easily see the colors, and they stand out clearly.
Activity tracking.
My existing watch has GPS built-in, which the Mi Smart Band 5 does not have. It is actually one of the biggest drawbacks of the watch, because you might miss that option once in a while.
That being said, you can use GPS from your smartphone, but of course it requires that you have your phone with you on the trip. Maybe most people have it, but I dive and swim a lot, and therefore do not have my phone with me on the trip.
Besides that, the watch checks for all the activity you do, and it monitors heart rate and much more, so it is as it should be. In terms of steps, it counts quite well, and all in all, I'm quite happy with activity tracking.
You can also track sleep, how well and heavily you sleep. It can even track REM sleep so you know how much deep sleep you have at night. There is also some tracking for women so they can keep an eye on their cyclus. However, I could not test it from natural reasons.

Use under water.
Xiaomi writes that you can use the watch under water and for swimming as well as water activities.
After a shower, my watch was suddenly a mess and I am showing here a little movie that shows why.
The watch lacks a physical button that locks the watch. The existing lock button is also a touch button, which means water can activate it. So when you stand there in the shower, you can suddenly be on a run, or you are changing all the settings on the watch. It is not so optimal.
A physical button on the watch had made all the difference, so you can wear it without accidental activating the watch even in rain or shower.
What is my opinion about Mi Smart Band 5.
Mi Smart Band 5 is an excellent watch for those who want to track their activities.
It can measure a lot of different things, and track the stress level and the body's general balance as well as the woman's cycle, should one need it.
The watch does not have a built-in GPS, which in some circumstances you may miss. However, it is a choice you should make up for yourself before buying the watch. However, you can of course use GPS in your smartphone, so if you always have your phone with you, then it probably mean less.
Personally, I do a lot of activity in water, and I found out pretty quickly that this watch might not be entirely practical for that. As shown, the screen can be activated by water, and there is a risk that the watch is a mess after a shower or in the swimming pool. So if you want to use your smarttracker for water activities, then I probably would not recommend a Mi Smart Band 5. It is also pretty much the only major drawback I have on this watch.
The comfort is top notch, the strap has a special button lock, which is extremely practical and comfortable.
Battery life is also impressively good when you consider the size of the watch. My own watch lasts a week and this lasts almost 2. It's impressively good.
The price:
You can buy this tracker for less than 250 DKK, which is a really good price for such an activity tracker.
What is the final assessment.
There is no doubt that you get really great value for money. A watch that tracks everything you need and at a price so low. Then you can hardly wish for more. It should just be a physical button to activate the screen instead of pure touch.
I choose to give the product a nice SILVER rating. Price and quality go really well together, but I think the lack of physical button is a big dealbreaker. I hope it comes on Mi Smart Band 6 if they make one.
Read more about the product here:
https://www.mistore.dk/traning-og-helse/aktivitetsarmband/xiaomi-mi-smart-band-5-vandtaet-aktivitetsur