Reeven NAIA AIO Cooler
It's time for a review and this time I'll look at a water cooler from Reeven named NAIA.

Reeven is not very known here in Denmark and the north, but I have had the honor to review more of their things with great pleasure. I hope they come to the north, as I'm sure they will receive a warm reception.
Let's take a look at the packaging and the contents of the package.
You receive the cooler in a nice box in typical Reeven colors, which are black and yellow. Outside the box is photo print of the cooler and listed specifications.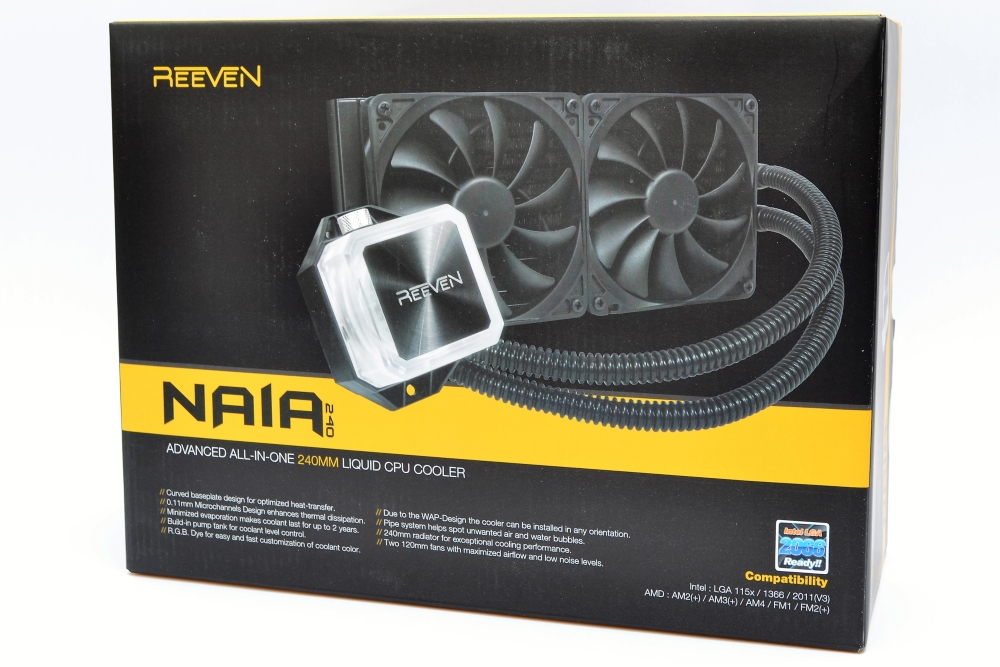 Inside the box is all nicely packed in a molded cardboard holder.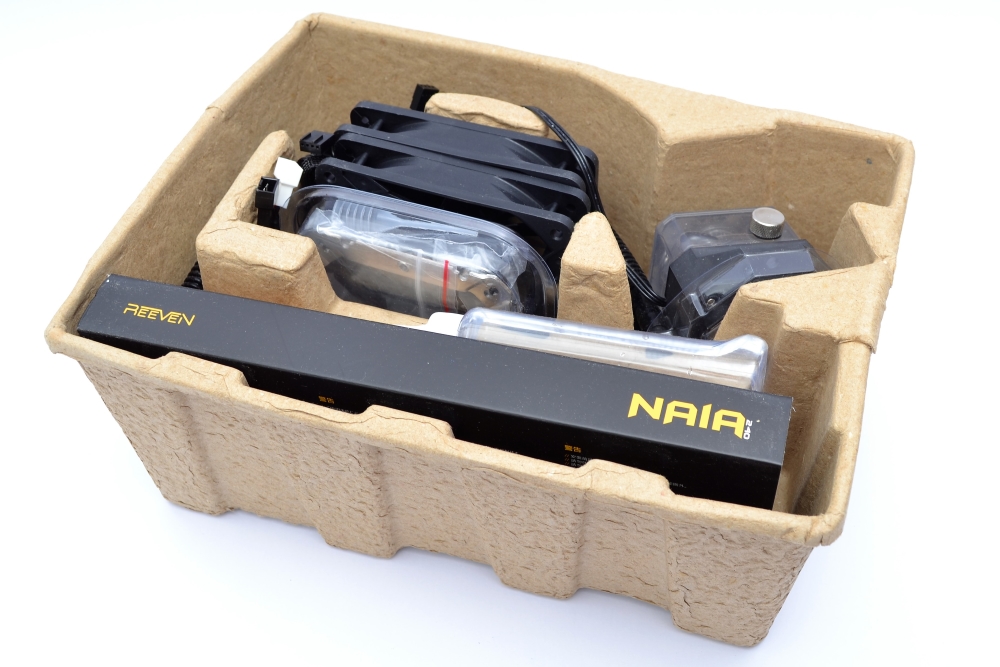 The contents of this cooler are quite extensive. Besides fittings for all the contemporary cpu's, you also get colors and extra water. So you can refill the cooler if necessary. We will look a little closer at the content in the review.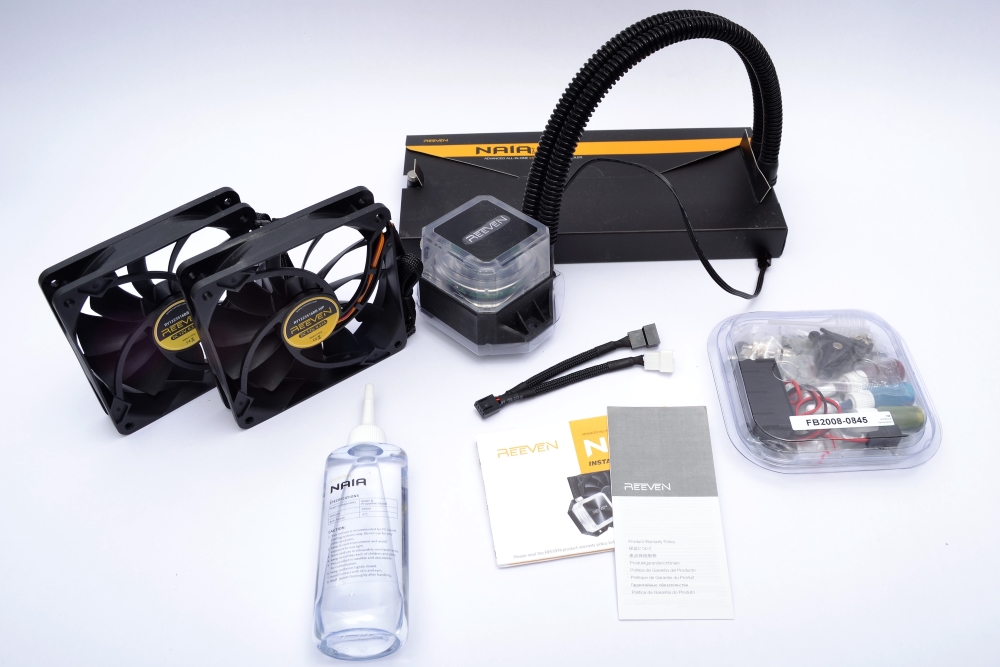 Content:
Reeven NAIA 240mm CPU Cooler
2 pcs. 120 mm fans
Extra water for the cooler
Fan splitter
Red, Green and Blue Dye
PSU start plug with pump connector
Brackets for all contemporary CPU's
User guide and warrenty description
Let's have a look at the specifications.
As you can see, this cooler fits all new sockets. There are also some old ones, but we must also admit that the very old is not relevant anymore.
The fans are a pair of 120mm fans running at up to 1600 RPM, which is quite fine. They also do not seem to make so much noise.
The pump speed is not noted, but I can tell that it is 2600 RPM, which is not very much compared to others.
Model Number: RW-2401
Socket:
INTEL: LGA 115x / 1366 / 2011(V3) / 2066
AMD: AM2(+) / AM3(+) / FM1 / FM2(+) / AM4 / TR4 (Upgrade Kit required!)
Overall Dimension: (W)272 x (H)52 x (D)120 mm (with fan)
Fan Dimension: 120 x 120 x 25 mm
Fan Speed: 300(+300/-100)~1600(±10%) RPM
Air Flow: 16.93~90.28 CFM
Static Pressure: 0.003~0.08 inch H?O
Noise Level: 6.5~30.9 dBA
Weight (with Fan): 1,290g

Should we have a look at the stuff?
The two fans that are included look pretty standard. However, they have sleeved wires to appear nice and black and they have 4 pole PWM connectors.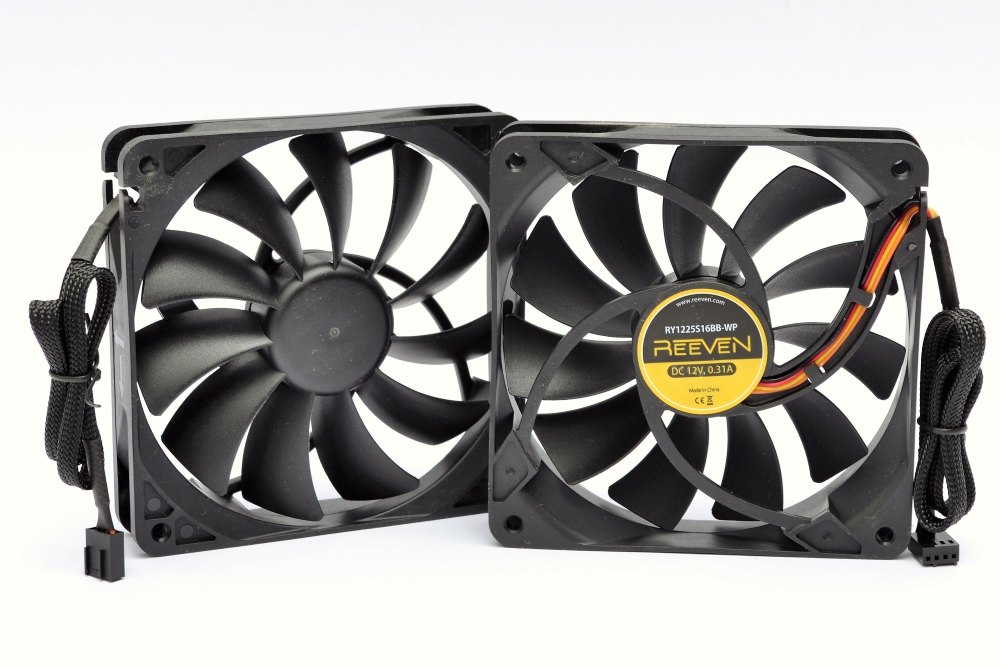 Included in the package is a PSU starter, which turns on the PSU, and supplies power to a 3 pole fan plug. It is intended to test the cooler when fitted. That way, you do not have to turn on the entire system if there is a leak from the cooler.
There are also the 3 colors that you can mix up as you like, and a small pipette that you can use to suck water when you need space for the colors. Practical tools I must say.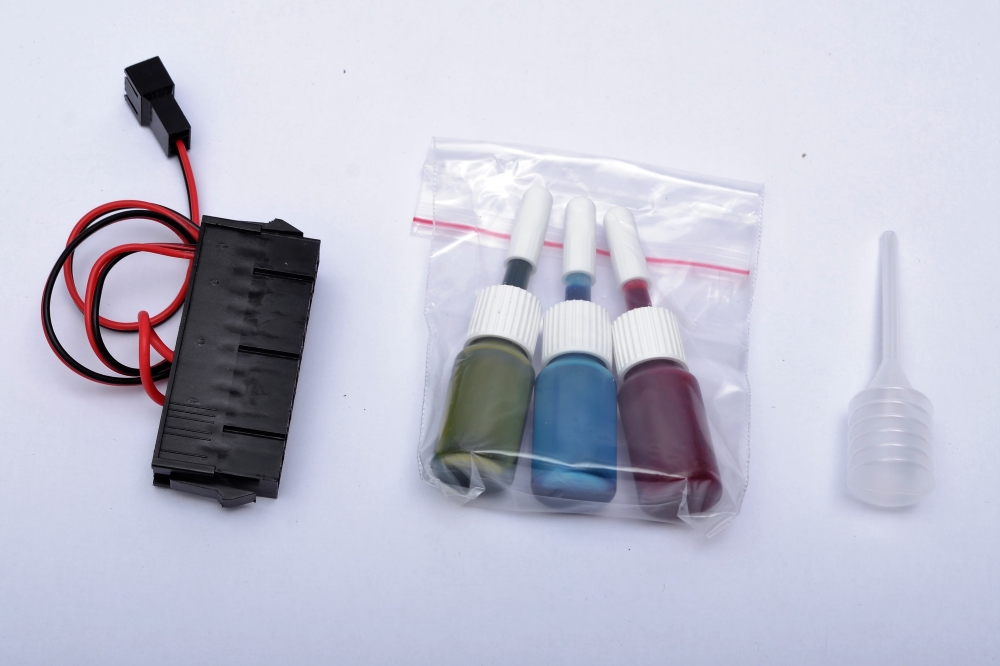 I've taken the colors out on white paper, so you can get an idea on how they are.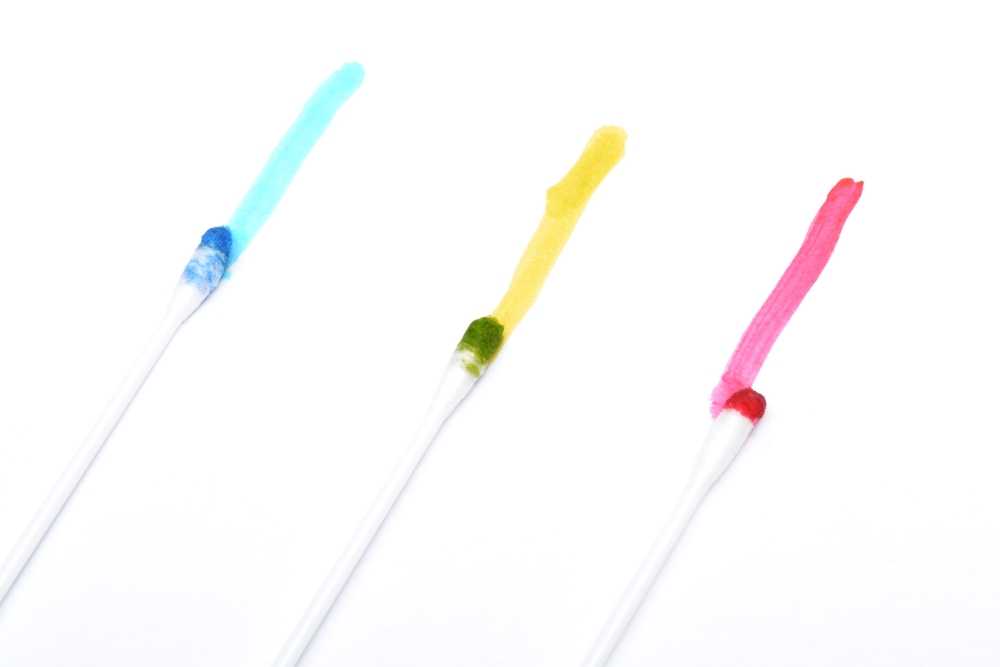 Then there are mounting brackets in solid metal and cooling paste.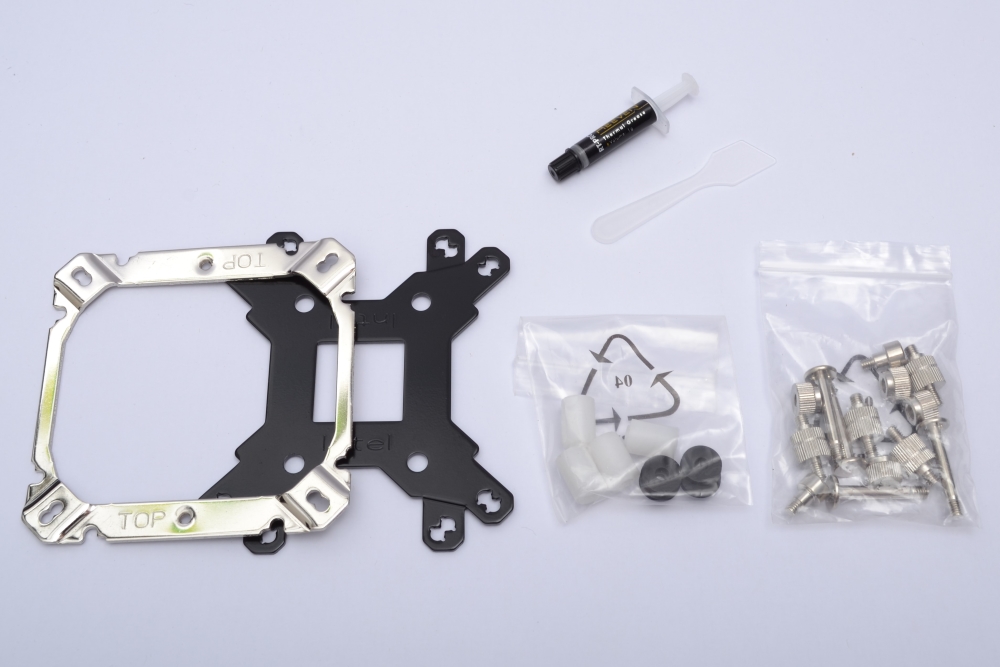 Finally a bag with fan screws. Reeven do not make millimeter thread, like many other manufacturers otherwise have begun to turn to. It will probably come.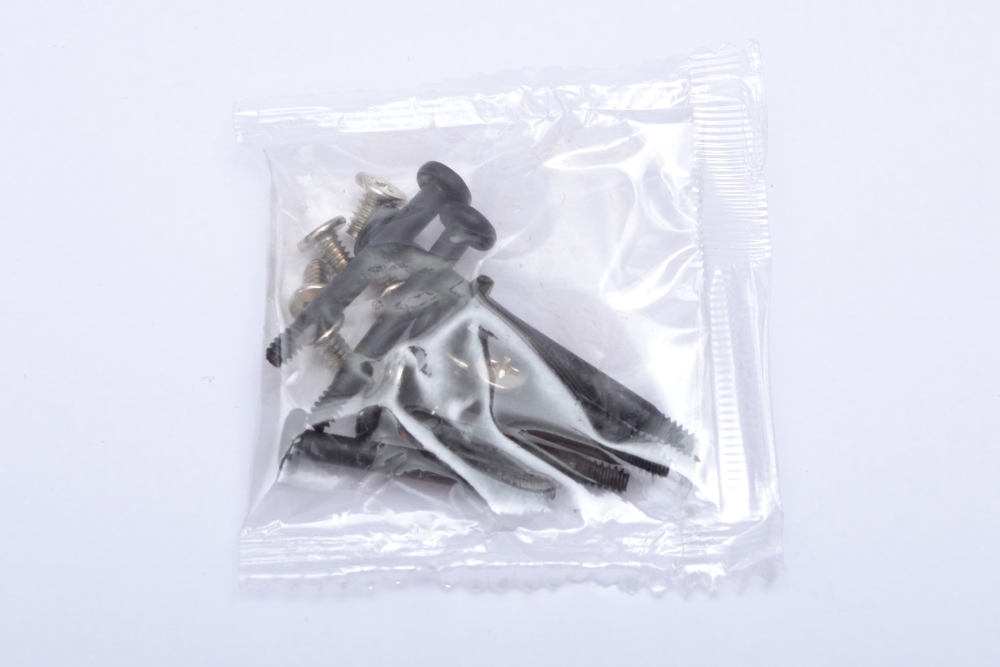 Then pump the head, which seems quite heavy. On the top is a nice aluminum logo. The tubes are the hard type, some like it, others don't.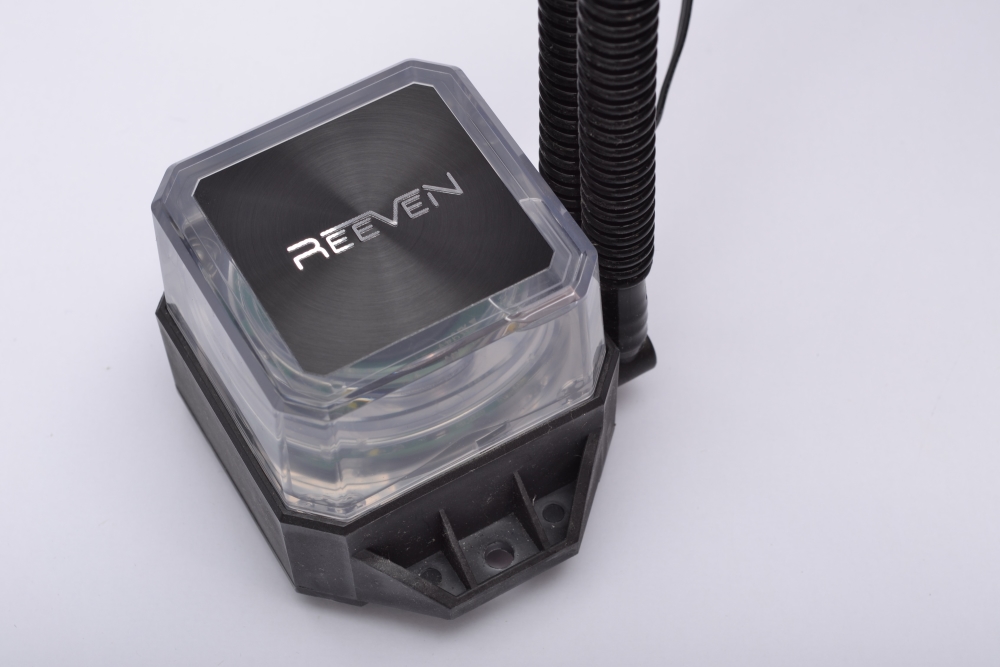 On the side of the pump head we find a water port where you can refill or empty or even pour color. It's pretty smart.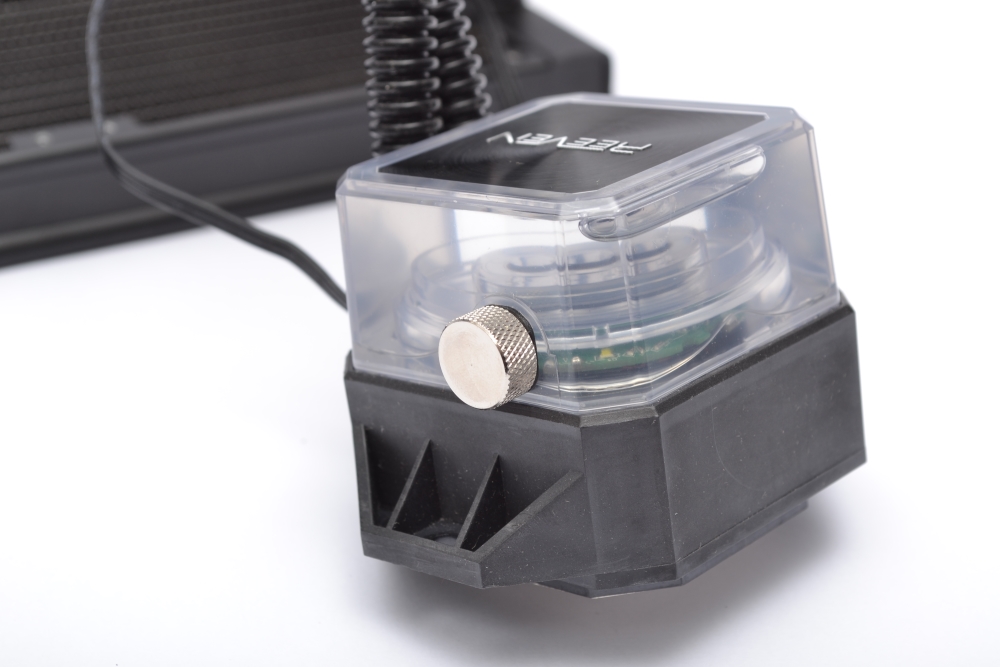 The actual cooling surface looks nice and is large enough to suit all CPUs.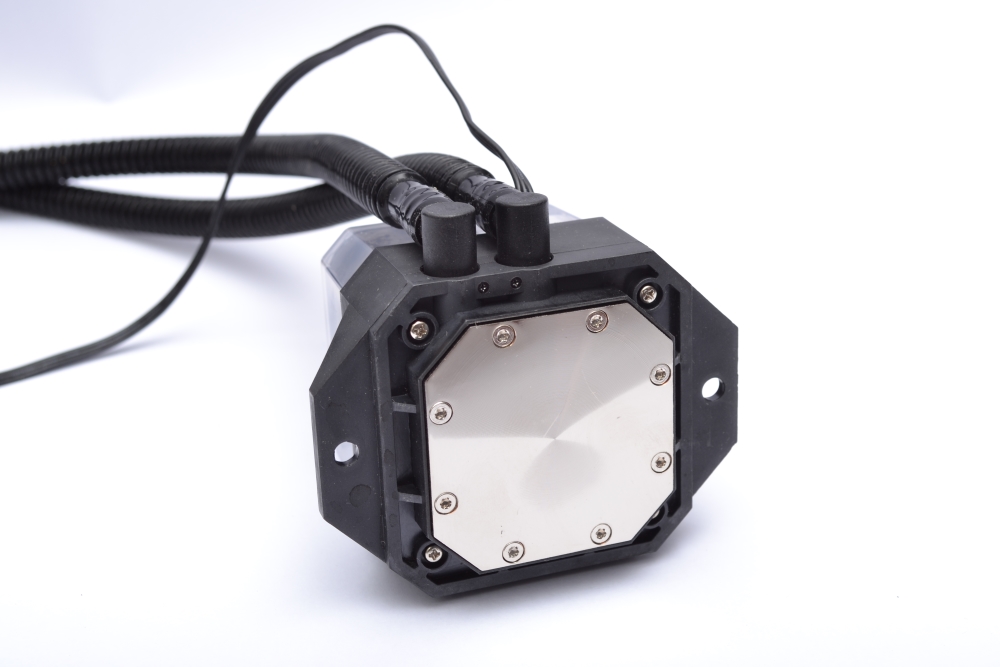 Then there is the radiator, which has a nice square design. No round ends or anything wierd looking.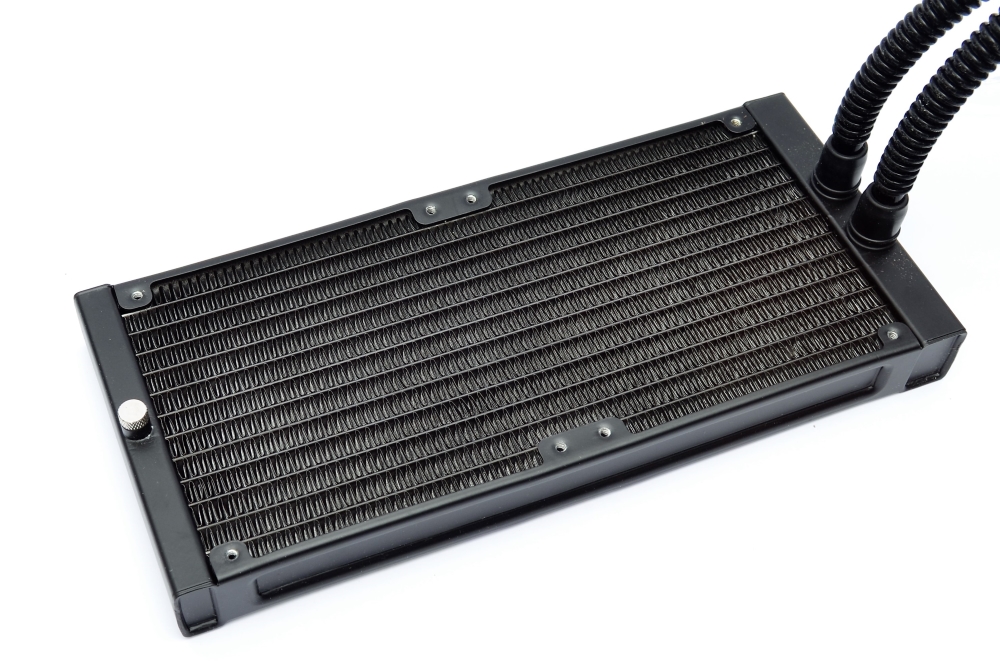 The radiator also has a water port, so you can vent the system or refill it. It is nice that Reeven has thought of that sort of thing.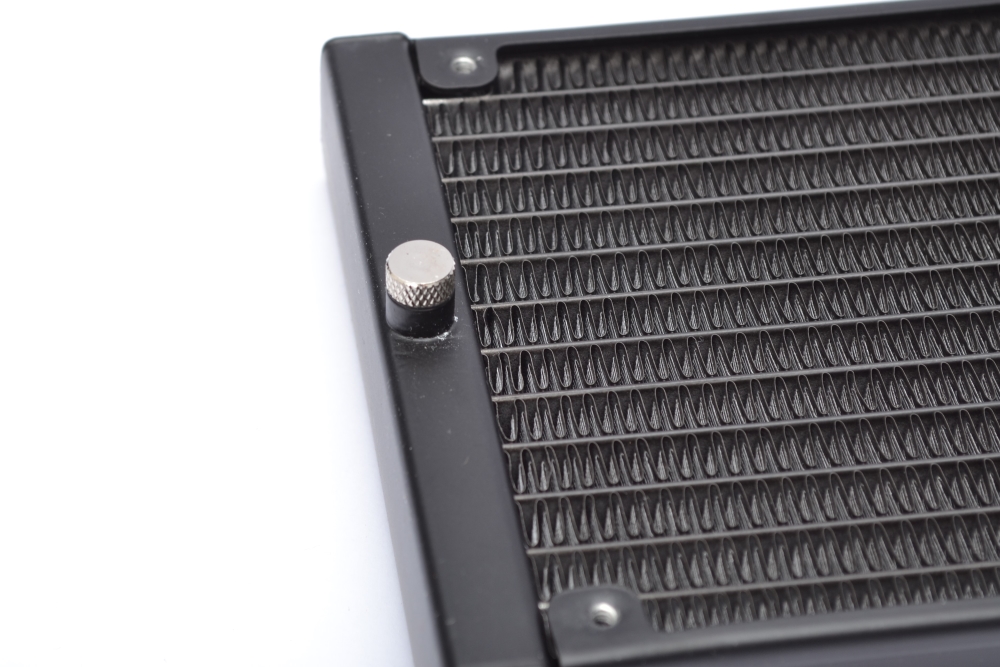 The tube connections are covered with rubber. It feels and looks quite robust.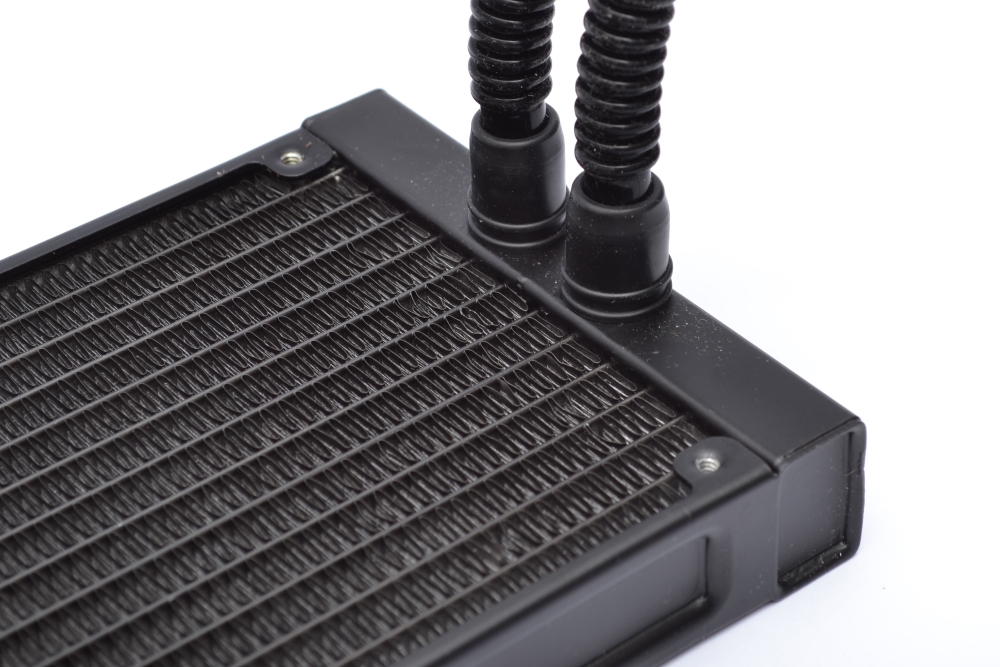 Now we have gotten to the test.
Before we start, the cooler must be mounted. The backplate is prepared with threaded rods, which are fixed by a rubber washer.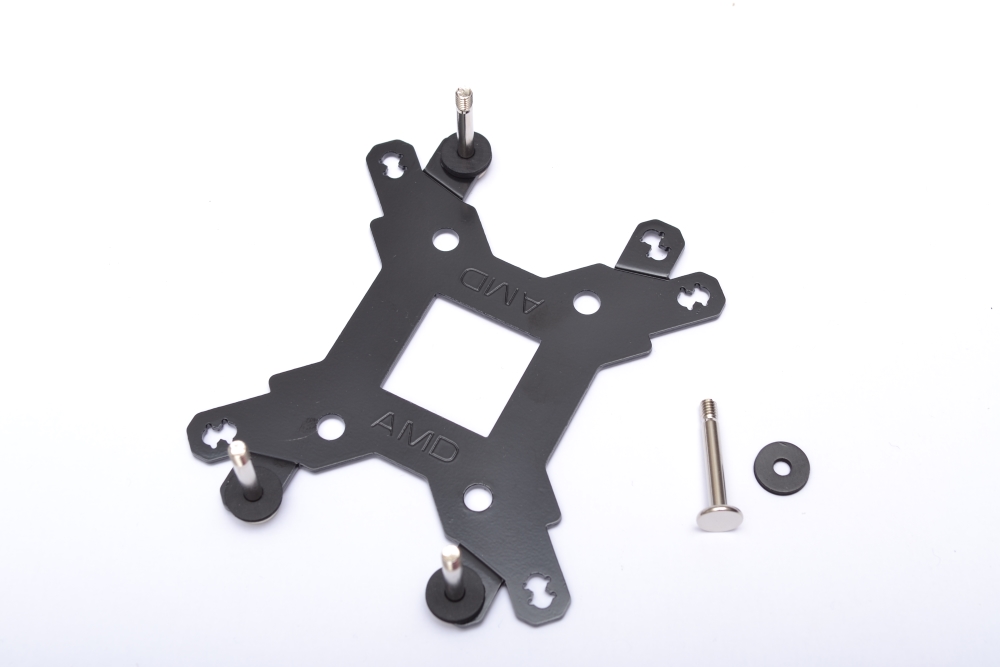 The threaded pins are inserted through the holes in the motherboard, after which some nylon bushings are mounted. It is important that you turn them correctly as they center the threaded rods into the holes in the motherboard with small collars.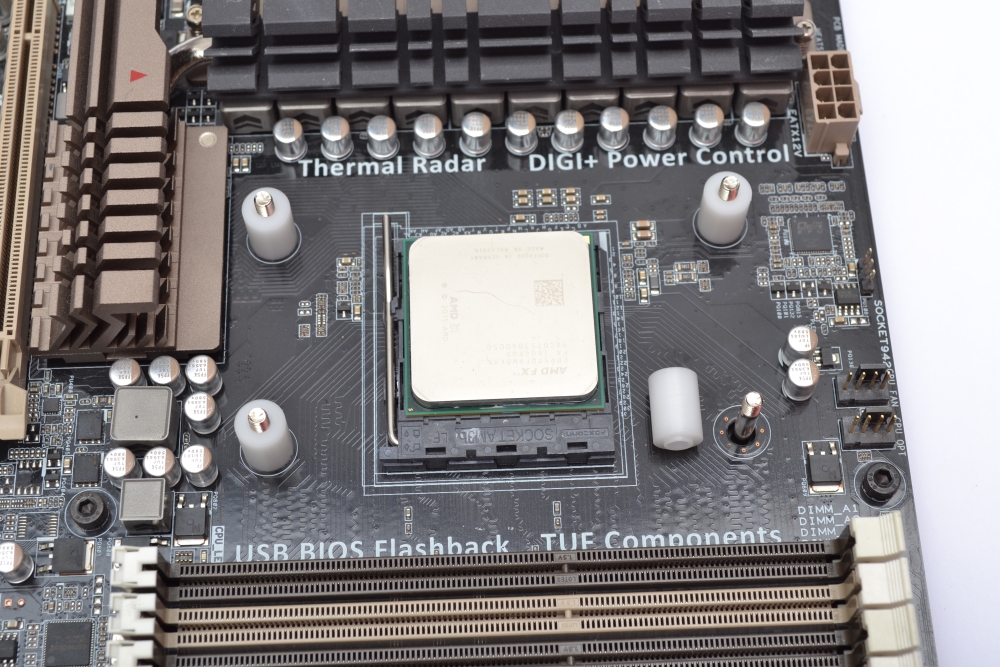 Then mount the top bracket with some finger nuts, tensioned as hard as you can.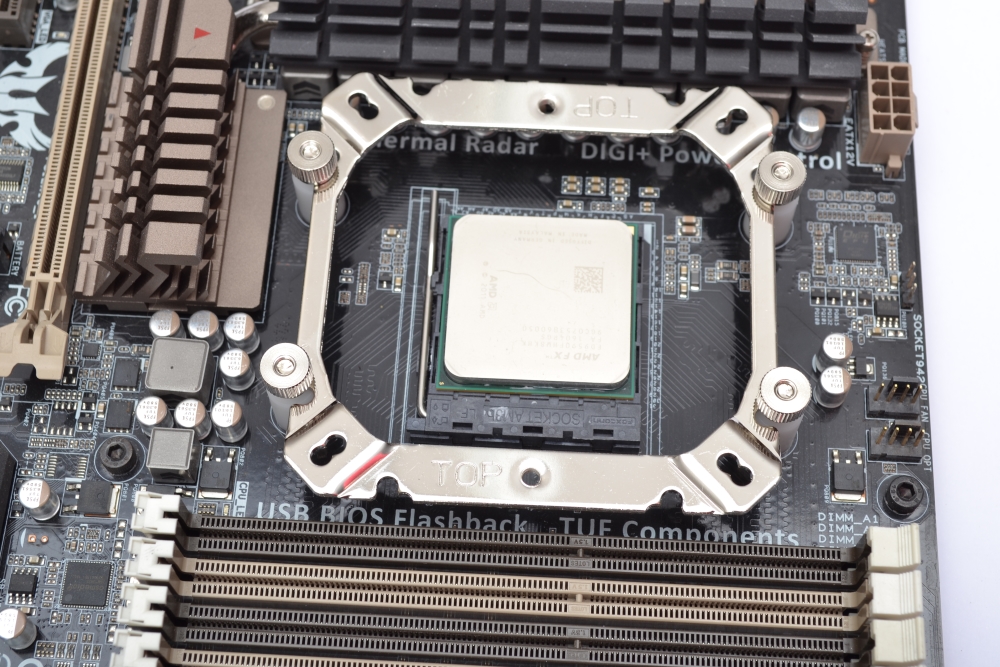 Finally, the cooling head is installed. Note that I had to turn the bracket in relation to the picture above, as the hose connections could not turn the other way. You should test it before installing cooling paste, so you do not have to do it twice due to incorrect mounting.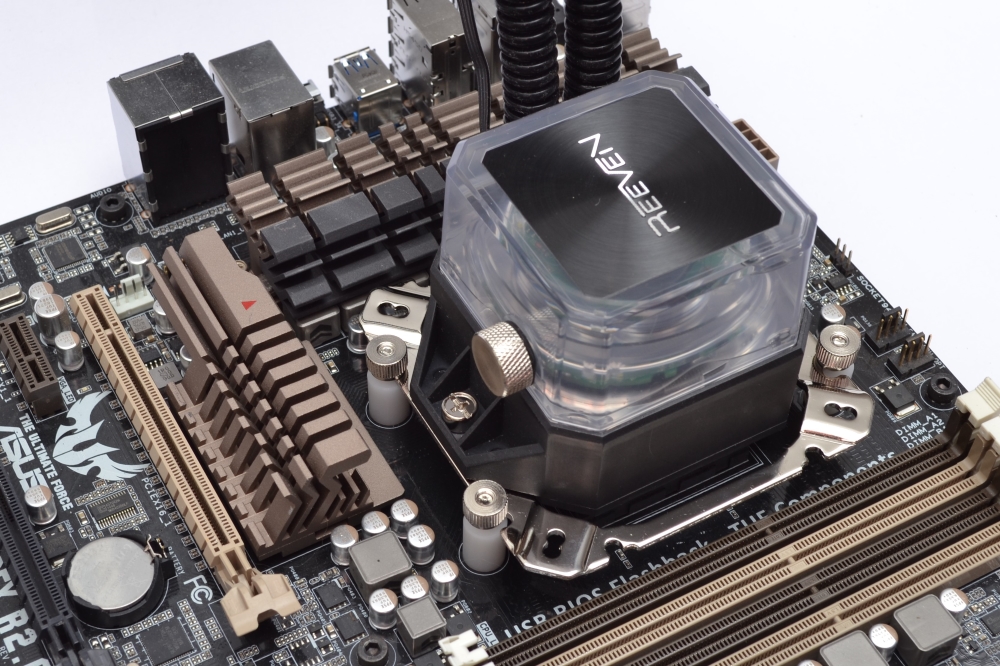 The test:
Software:
For software, I have chosen to use Prime95 as it loads the processor to the max. It shows the absolute heaviest load you can put on your cooler. Prime95 is run with the 'Small FFT' setting, which should provide the biggest heat development, and the least strain on the RAM.
For measuring temperatures, I have chosen to use HWinfo64, which is an excellent tool for that. Temperatures are measured after a warmup period of typically 10 minutes for air coolers and 30 minutes for water coolers. So the cooler would be stabilized and warm and the measurement should be possible.
AMD setup:
CPU: FX-9590 (TDP=220W)
RAM: 8GB
The process:
All of my coolers are tested with fans on 100% RPM. I have chosen to show my readers how much the can cool at max. I'm aware that it makes a lot of noise, but hopefully you do not have the need to drive the fan at 100% under normal conditions.
The graph shows so-called DELTA temperatures. This means that I have withdrawn the temperature from the surroundings. That way, everyone can compare the result without calculating on my results.
Results:
As you can see, this cooler is doing quite well. It's also pretty quiet even with the fans at 100%, which also means a lot. Normally, however, you want to adjust the fans automatically, so it should rarely come up to 100% for a long period of time.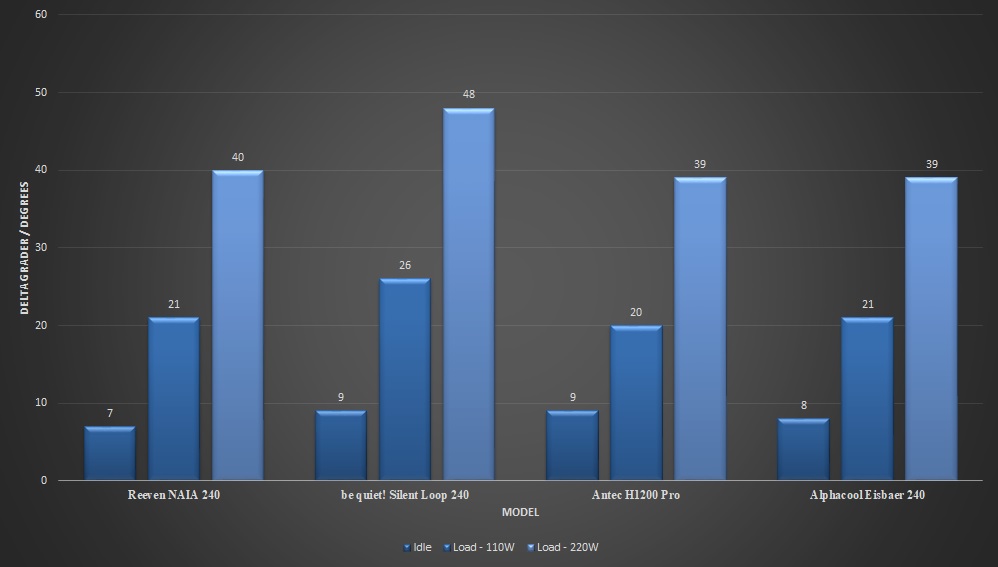 Lyset:
The light in the cooling head is white by default. However, as previously written, you can color the fluid in several different colors, and the possibilities are many if you mix the colors. I think it looks pretty nice.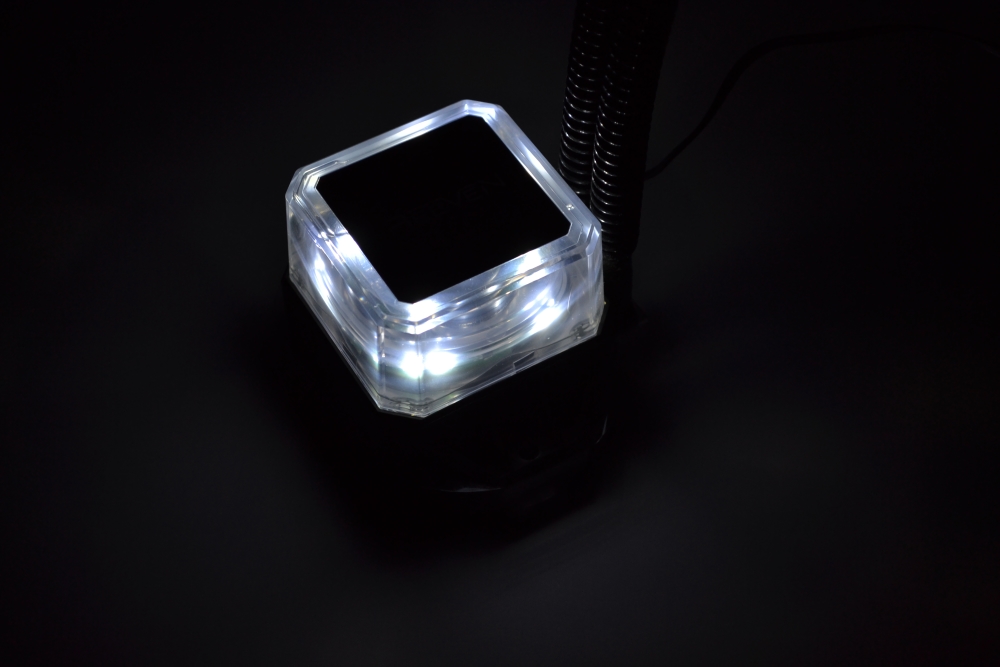 What is the judgment (The conclusion).
During my time I have tested a number of different coolers, and this one is one of the better ones. Reeven generally makes good products and has also done it in this case.
The pump is really quiet, it is not noticeable at all. The fans makes a little noise, but I do not actually think it's too much when you think about other fans. They are some good products.
You can discuss whether you like the tubes hard or soft. Some people do not trust the hard tubes to last but I have not seen any problems with them. The manufacturers are using what they think is best.
I think, on the other hand, it's a bit unfortunate that you can not turn the cooling head as you like. It may be possible on an Intel setup, but since I have an AMD setup, I do not know. In any case, you should just think about it if you have an AMD setup with AM3+ socket like I have.
The light and the possibilities on that side with this cooler is great. You can even give it the last touch in your setup, as you wish. The advantage is that the liquid is dyed and it may give a better effect than if it had just been the light that changed. The downside, on the other hand, is that it is quite demanding to change color. So you have to be pretty sure you choose the right color at first try.
Both the pump and the radiator have gates so that you can vent and refill water. It's pretty awesome, and not something you usually see on this kind of AIO cooler. It is nice that Reeven has thought a little further for their customers.
The performance on the cooler is good, it is well in line with the others I've tested, which is really nice.
Now we get to the problematic stuff, because you can not find the price of this cooler in the north, and it seems that Reeven has withdrawn from the European market. Of course I'm really sorry to learn that because I think they are making some really cool products.
I have been abroad to look and found the cooler on Amazon. Here it can be purchased for 112USD, which in today's rate is 680 DKK. But if you import this kind of thing, you have to pay customs too, so you have to keep it in mind before ordering. The 680 DKK, however, is quite a nice price.
My rating of this cooler with the little things I have found gives it a nice Gold star. I do not think that the little things I've found pulls down the rating compared to all the extra things you get in this package. Reeven has done well with their NAIA cooler.
Read more about Reeven NAIA here.