2021-01-29 00:00
- Review / Cooling -
be quiet! Pure Loop 240 CPU Cooler
be quiet! has launched a new AIO cooler series they call Pure Loop. It is built of the best materials and has a unique discreet design. Just as we know it from be quiet!
In this review, we are going to look at their Pure Loop 240 cooler.

Introductory video.
At first, we start with an introductory video of the be quiet! Pure Loop range, so you can see what we have to look at in this review.
Packaging and content.
The box you receive is typically be quiet! style with black design, pictures of the product and features and specifications printed on the outside.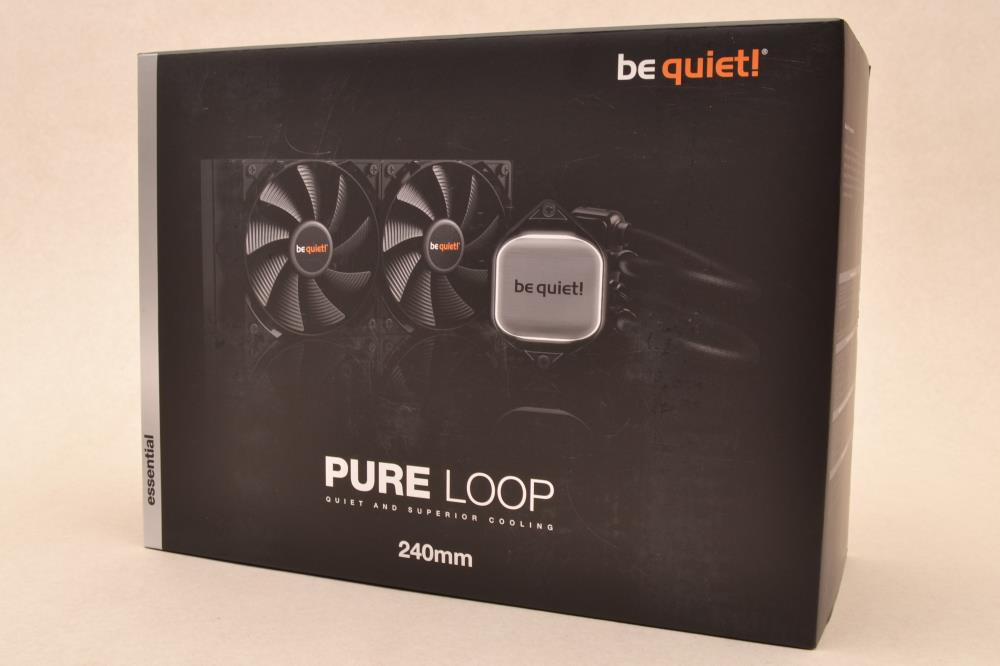 Inside the box, we find it all wrapped nicely in plastic bags. It is placed in a moulded cardboard holder, so it is safe and secure during transport.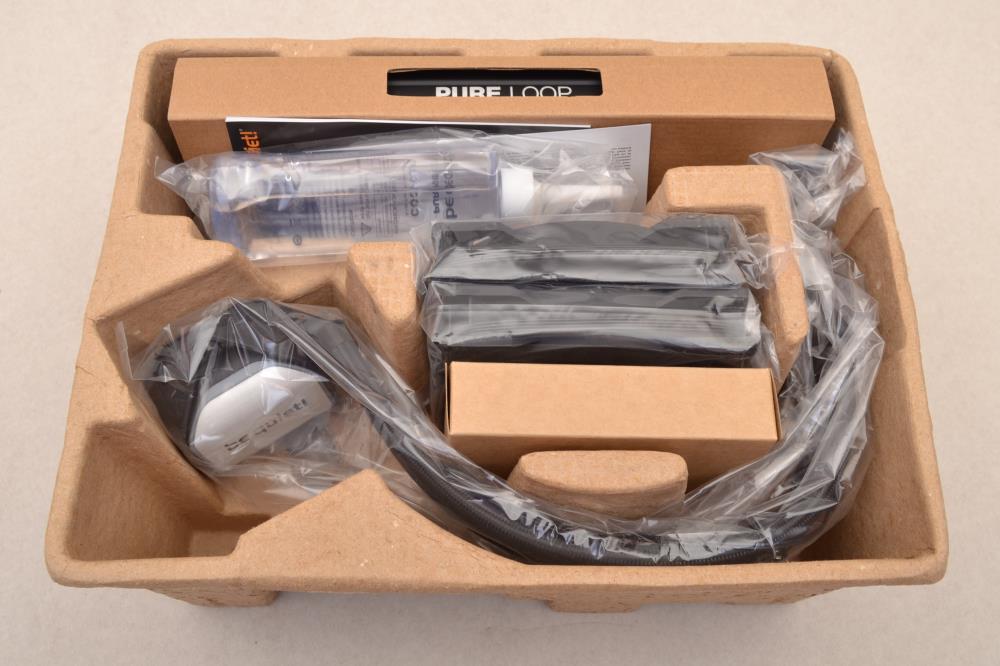 In the box, in addition to the cooler and the fans, we also find the following. Intel and AMD brackets, user manual, strips and power cables for fans and pump as well as the light.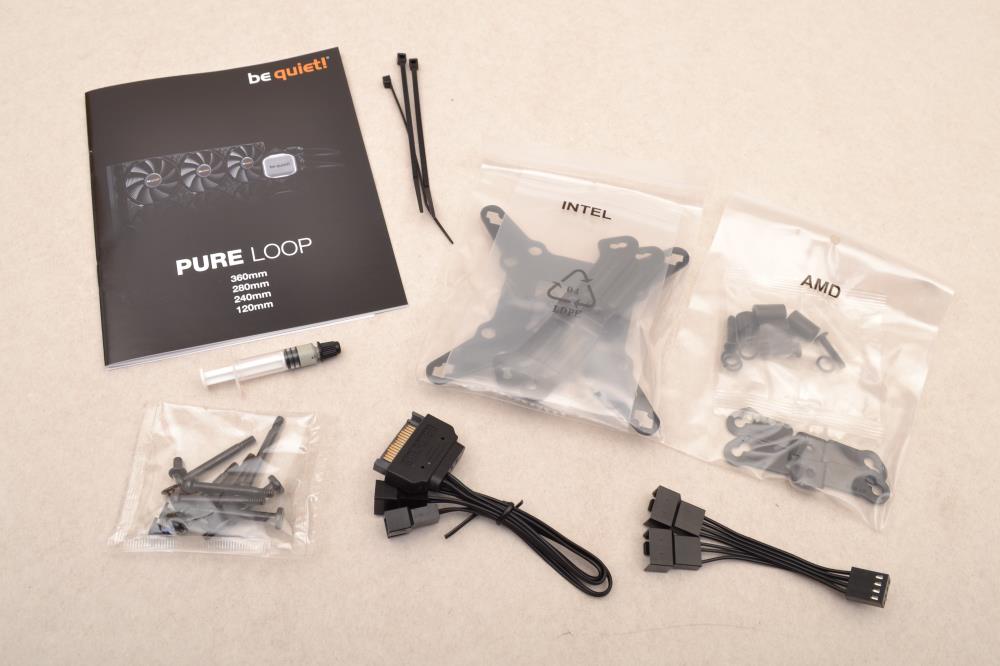 Oh yes, there is also a bottle of liquid so you can refill the cooler after a year. I'll show you where to fill up later.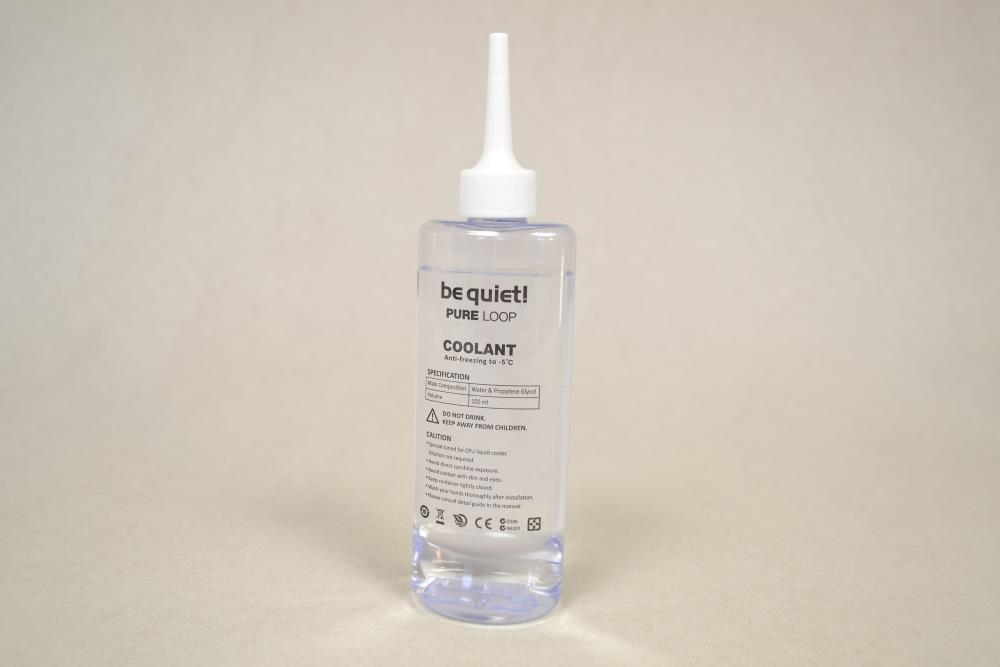 The technical specifications.
As always, there are many more specifications if you click on the link at the bottom of this article. But here are the highlights.
Weighing just over 1kg, and it covers virtually all of today's sockets from both AMD and Intel. The fans are Pure Wings High Speed, so they run at 2000 RPM at full speed. The pump runs at 5500 RPM and the length of the tubes is 400 mm.
Model Pure Loop 240mm
Dimensions radiator, incl. fan (H x W x D), (mm) 277 x 120 x 52
Total weight (kg) 1.05
Socket compatibility
Intel 1200 / 2066 / 1150 / 1151 / 1155 / 2011(-3) square ILM
AMD: AM4 / AM3(+)
Fan model, number 2x Pure Wings 2 120mm PWM high-speed
Noise level (dB(A)) @ 25 % / 50% /100% rpm 19 / 26.6 / 39.5
Pump speed (rpm) 5500
Pump connector 3-pin
Tube length (mm) 400
Refill port ✓
Dimensions on the radiators.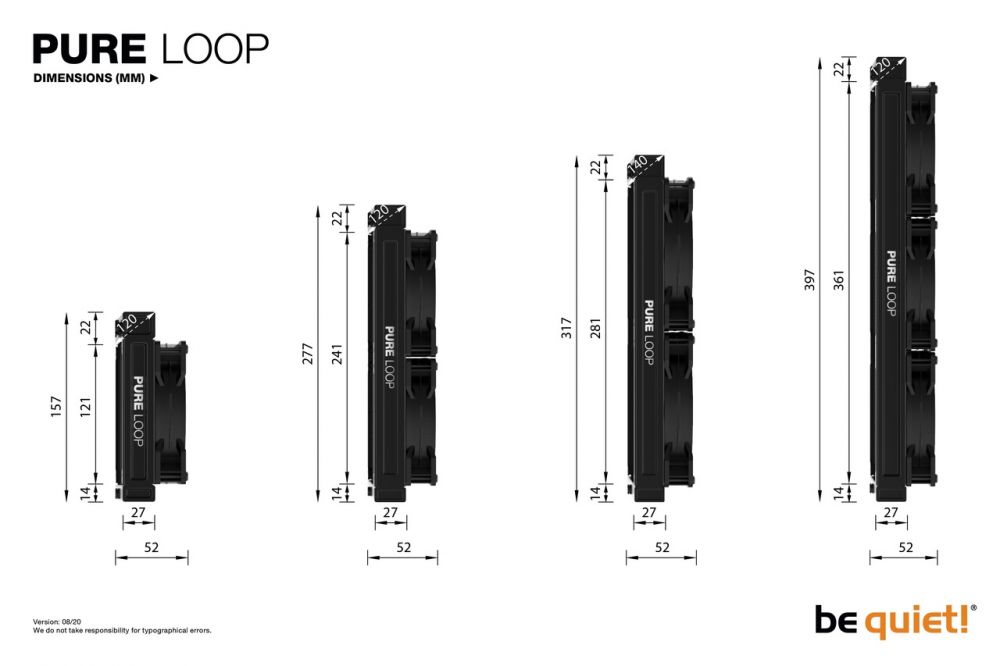 Recommendations of cooler for overclocking.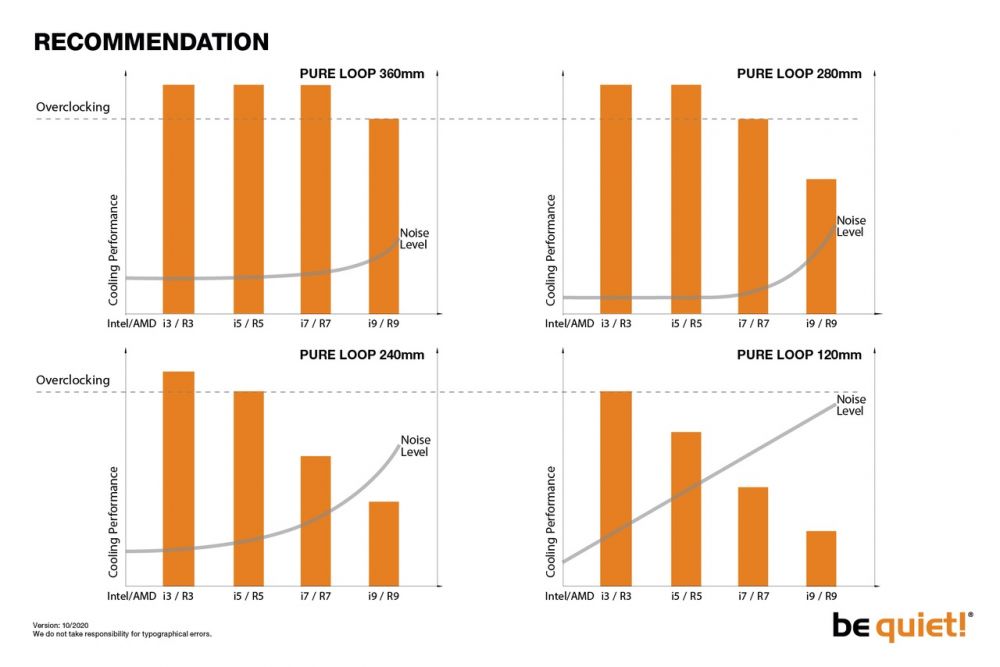 Let's take a closer look at the product.
We have seen the product itself in the movie we saw in the beginning, so I highlight some details that I think are good or require an explanation.
We start with the discreet logo on the sides. Unfortunately, it is not milled aluminium as we know it from other be quiet! coolers, but a nice print instead. An aluminium sticker would have been a little more cool looking in my opinion.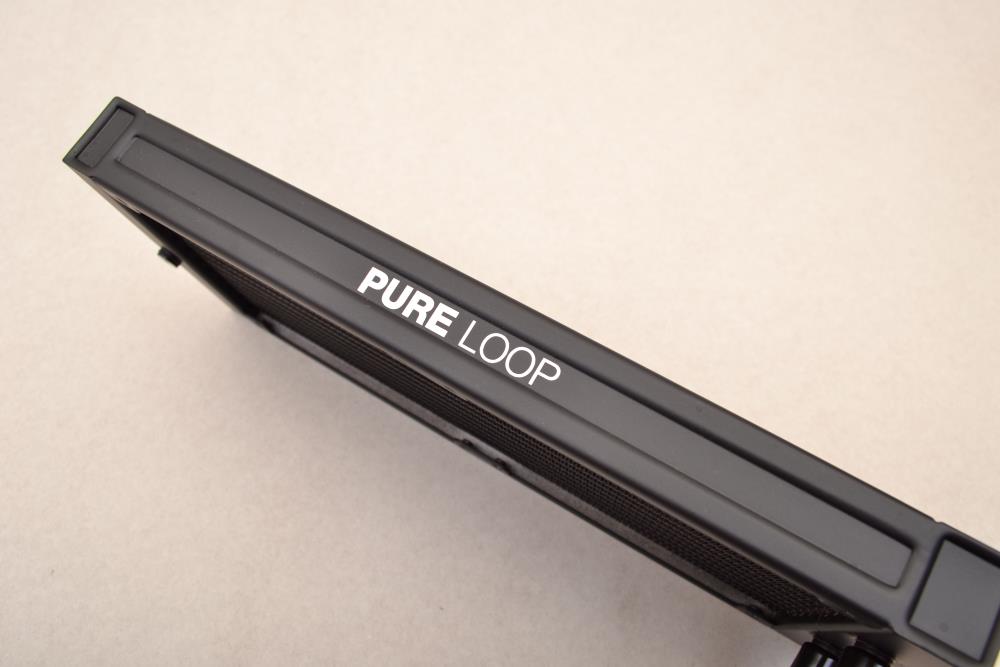 The filling of water takes place through this screw hole at one end of the radiator. Of course, in most cases, this requires dismounting the radiator.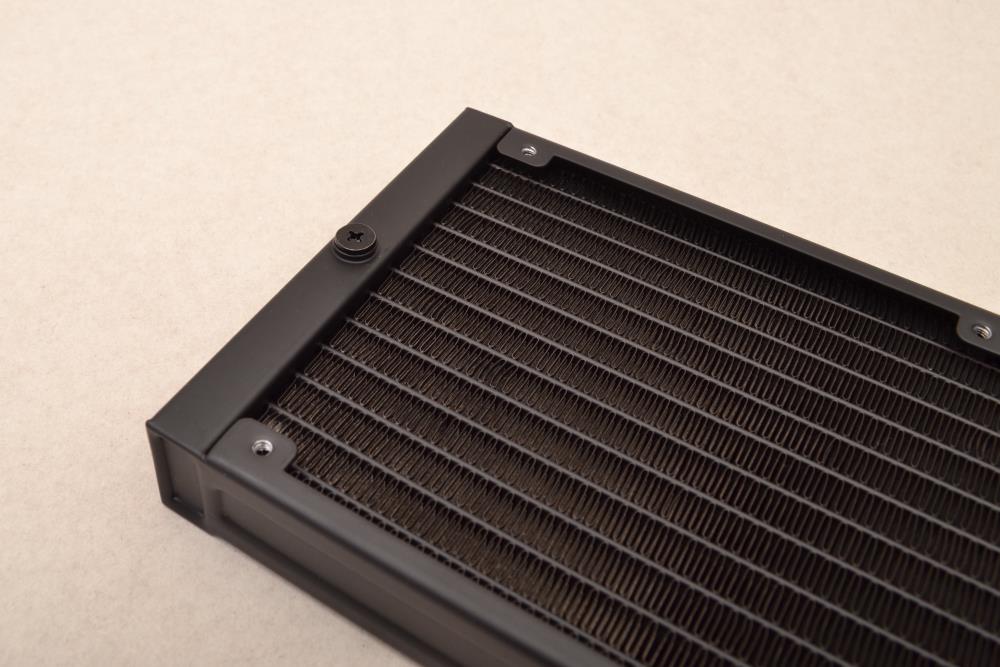 be quiet! have chosen a solution I have never seen before. They have mounted the pump on the tubes. Depending on which solution you choose for your setup, it can seem a bit clumsy. But I actually think it's very cool. The pump does not make much noise even if it is on the hose, and it is limited how many vibrations it can send in the motherboard or casing when it has rubber suspension in that way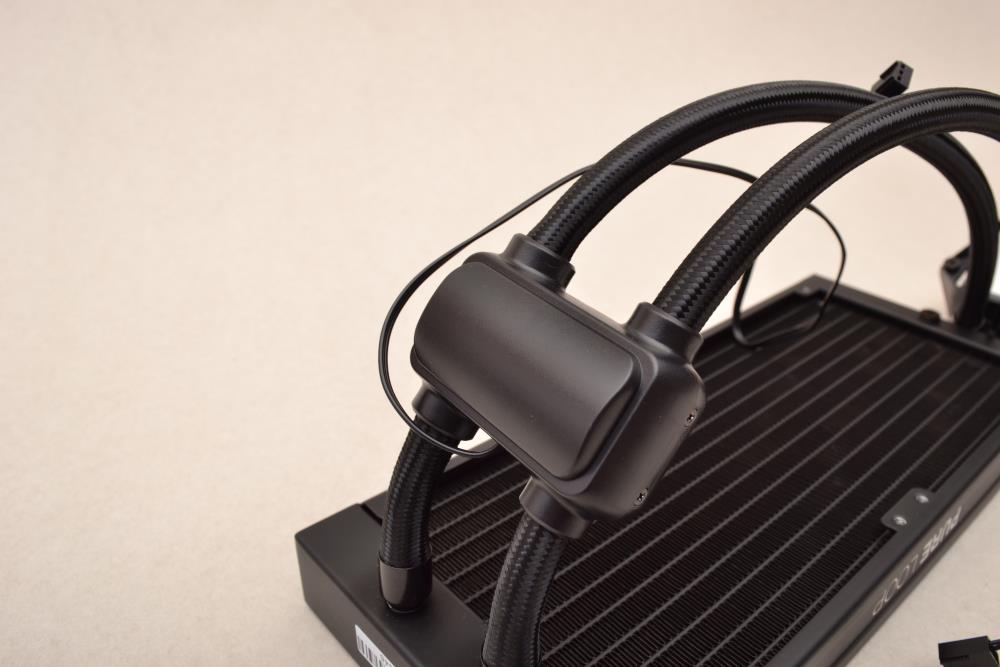 The cooling head itself is then also low profile, as there no longer is a pump in the head. It has a nice aluminium profile on top with an edge of light around (I'll show that a later) and a be quiet! logo in the middle.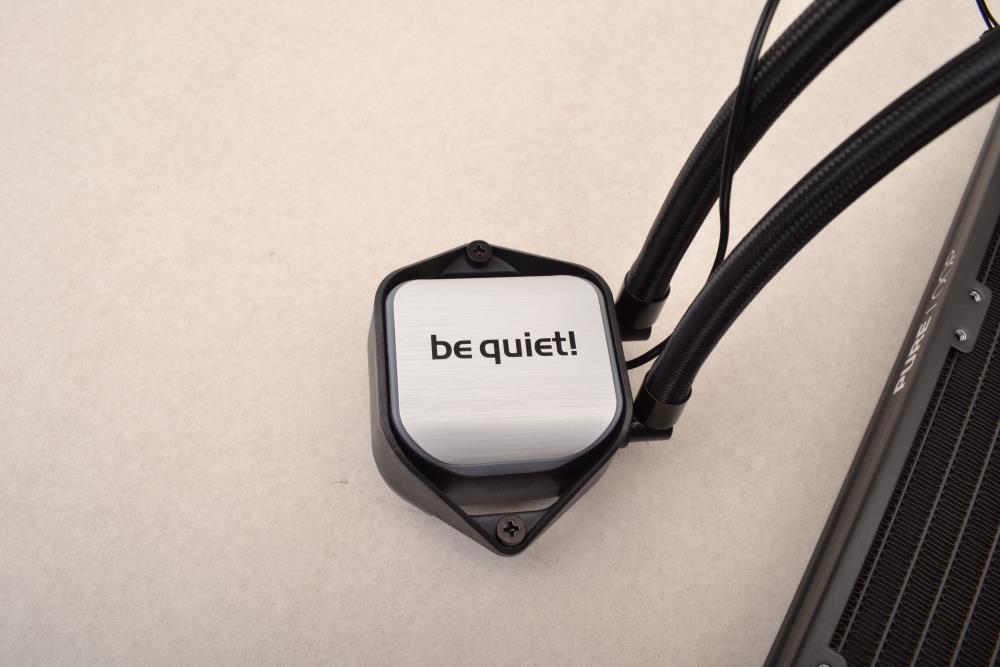 The fans are a couple of be quiet! Pure Wings 2. It is a nice and sturdy fan, not quite as delicious as Silent Wings, but still quiet and solid.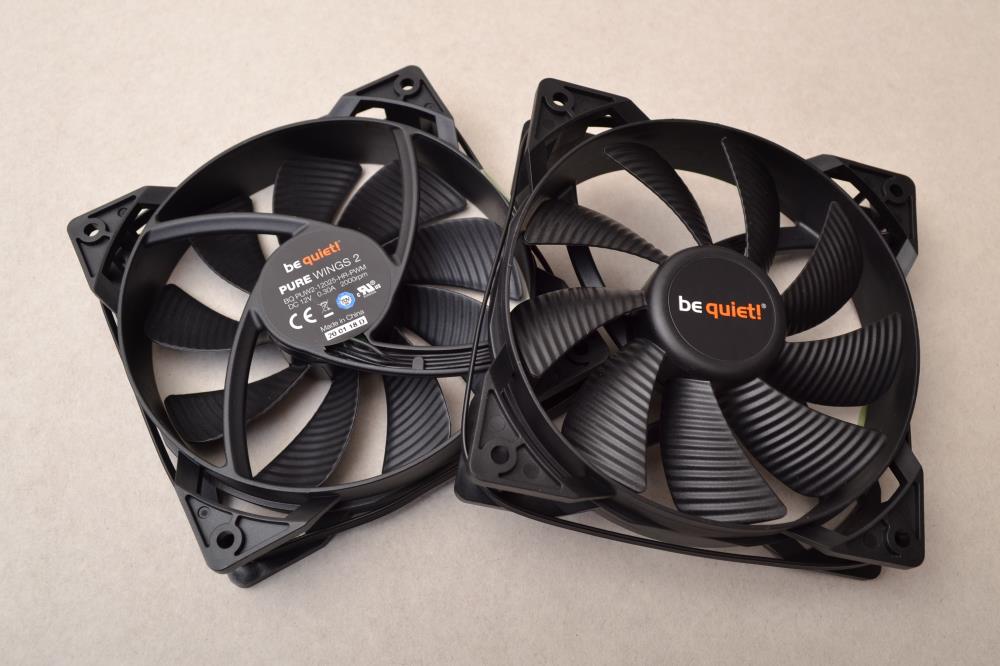 Then it's time to assemble the hardware.
I mount the hardware on my AMD motherboard, and here I use the original bracket on the back. The bracket is super easy to mount with screws and spacers, and it fits well.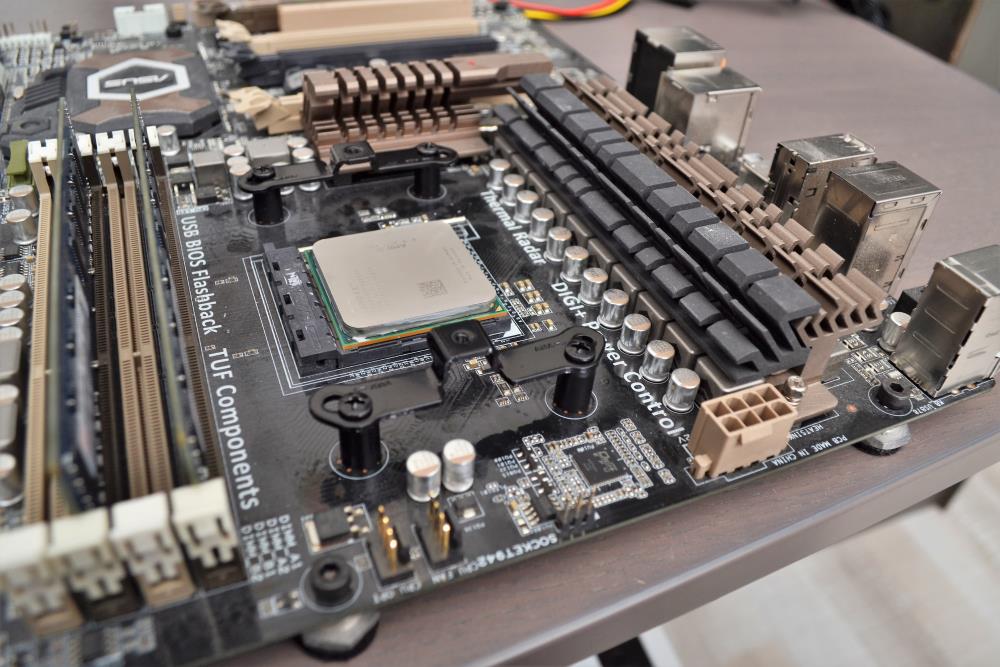 The screws that go into the bracket are mounted permanently on the cooling head so that they do not get lost. The cooling surface is milled completely flat with a CNC milling cutter, so there is an assurance of perfect contact to the CPU.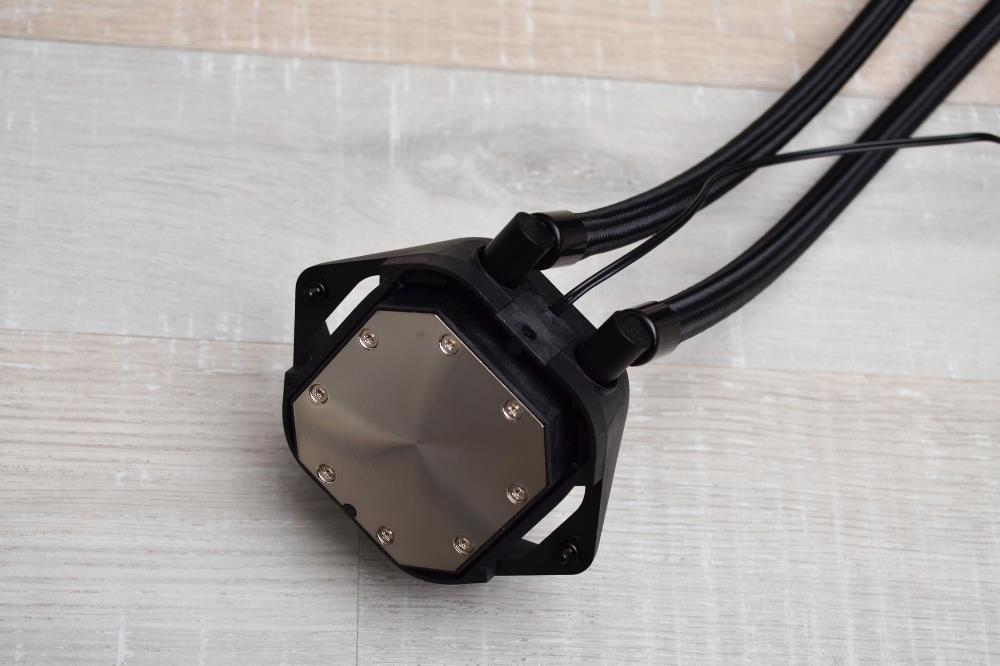 The fans are also easily mounted on the radiator with the included long screws. Unfortunately, there are no screws for Push-Pull setup.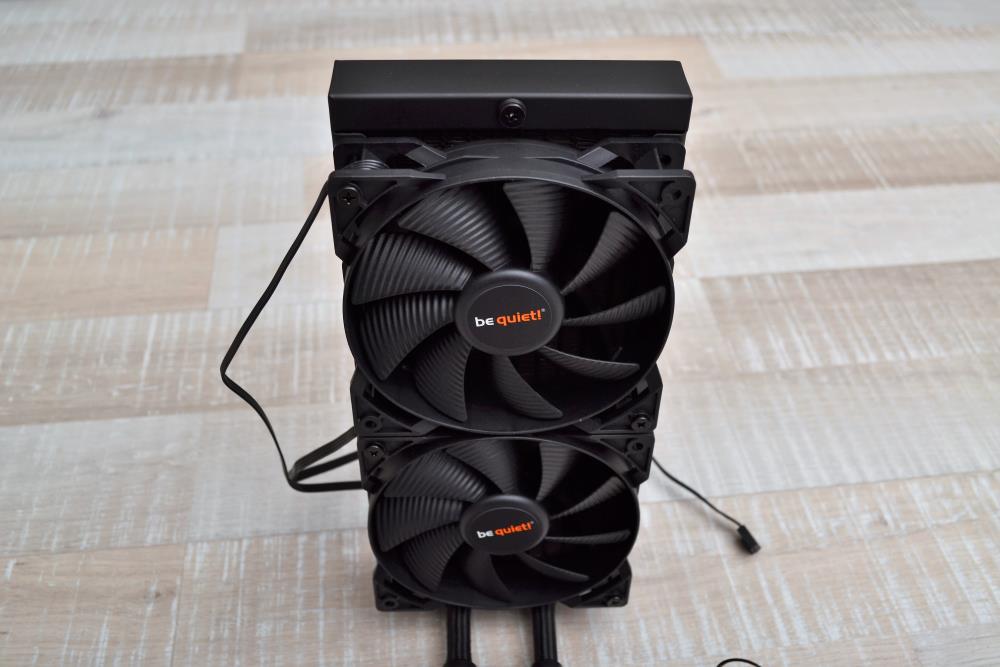 Time for testing.
My test procedure is quite simple, as I often find other reviewers shooting over the target with deep and not least VERY stressful test methods. My method is intended for the ordinary user who wants to know if the cooler fits the basic setup you now have.
If you overclock, you should already from the beginning have a deeper knowledge of cooling, and will therefore already have an expectation of whether the cooler I test is good enough or not.
Hardware:
MB: Asus Sabertooth 990 FX R2.0
CPU: AMD FX 9590 Black Exition (TDP=220W)
Software:
Procedure:
Air: Heating = 10 minutes / Test period = 2 minutes
Water: Heating = 30 minutes / Test period = 2 minutes
Reading: Delta temperature (Reading-Room temperature)
Fan speed: 100%
Loads: Idle / 2 core / 4 core / 6 core / 8 core
Room temperature: ~ 26 degrees.
Efficiency:
If we disregard SilverStone Icegem, which is a larger cooler, then be quiet! Pure Loop is actually at the very top. It does really well compared to the others, also be quiet! Silent Loop, which was their first water cooler.
The fans are specified at just over 39 dBA, which many will think is quite high, but it is actually not overwhelming. You also have to keep in mind that it is probably rare to run the radiator so hard that there is a need for the fans to run full speed for a longer period of time.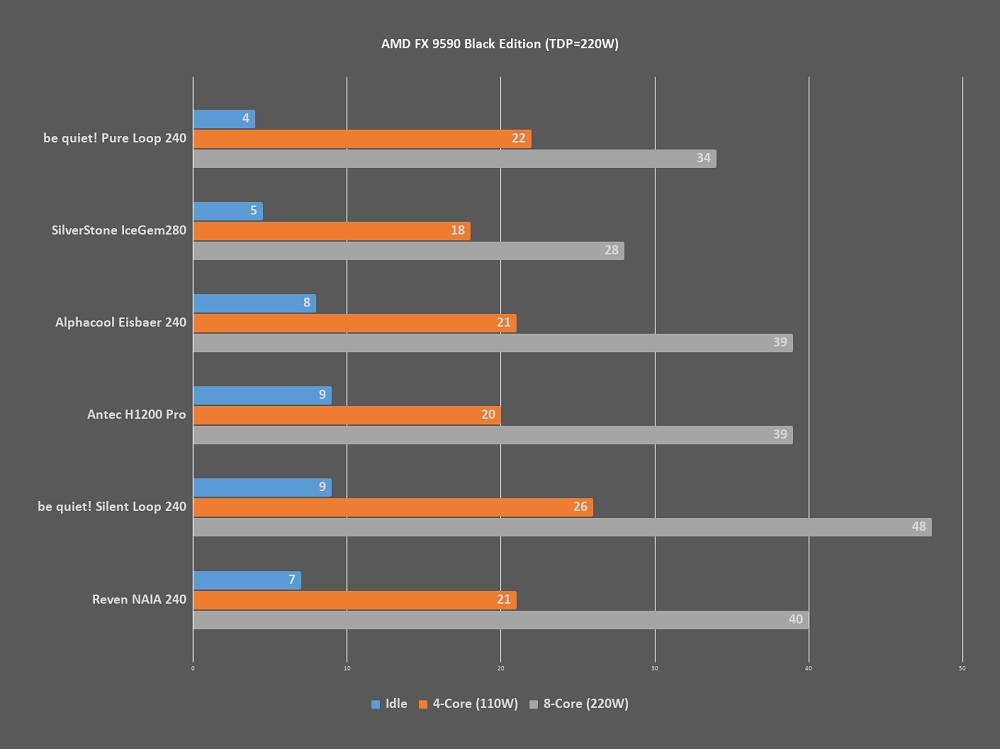 The light.
There is actually light in the cooler, though be quiet! is not know to go crazy in fancy lighting. It is also quite limited, namely with a white ring around the cooling head. But it's super discreet and neat, just in be quiet spirit. Unfortunately, the be quiet! logo is not in light, I might have wished it to be. But they can do that next time.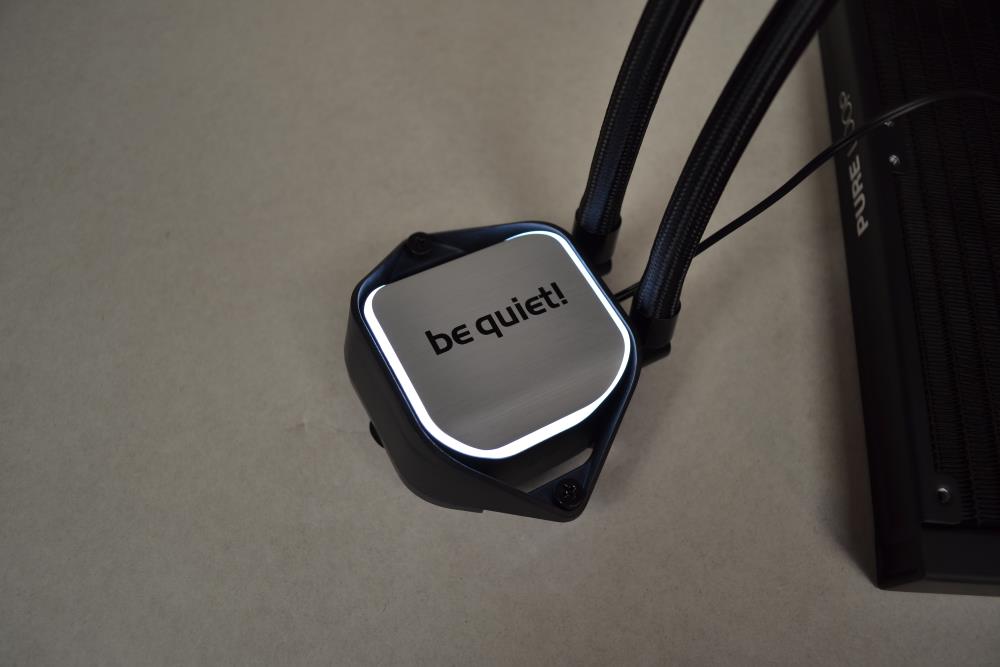 What is my opinion on be quiet! Pure Loop 240 cooler.
be quiet! has made a great product that just works. It is discreet in design, not too flashy but just right.
I might have wished that be quiet! had made a little more of the light, and not least the logo on the side of the radiator. It's a bit tame once you have seen what they can do with their new casings.
The solution with the pump on the hoses works really well, it dampens any kind of vibration noise that may come from the pump. However, some will find it strange, and maybe find it ugly and that the pump is actually in the way, but I think it is really good, and how much it bothers depends on how you mount your setup.
The fans on the radiator may be making too much noise at full speed, and it is wquite normal at such a high speed. However, you rarely need to run them at full speed, so I hardly think it will bother anyone. be quiet! could, however, have done better by choosing Silent Wings instead. But it's probably a matter of getting the price to stick with the product, as Silent Wings is somewhat more expensive.
The pricing:
Speaking of the price, the 240mm cooler is at a price around 688 DKK, where a 280mm model is just a little above, and a 360mm model is at 883 DKK All prices are at the acceptable level.
What is my final assessment of the cooler.
I'm a little divided in my assessment of this cooler. On the one hand, the cooler is incredibly efficient for the price, and on the other hand, it also has some shortcomings and features that I could see pull down. Among other things, there are the missing long screws for mounting extra fans, and then there are the small features with light and logo on the side of the radiator, which I think could be better. And not least finally the slightly noisy fans compared to Silent Wings.
I therefore choose to give be quiet! Pure Loop 240 a nice SILVER rating. It simply miss the last for a top score. It's not about efficiency, but the things around that could well have been better, even if you should have to pay more for the product.
Read more about the product here:
https://www.bequiet.com/en/watercooler/1961