SilverStone TJ04-E ATX Casing
SilverStone makes a lot of different casings, also with alternative designs, and intended for purposes other than gaming. In this review we have to look at an older casing named TJ04-E, which is intended for server use as it can contain a lot of hard drives.



How does the packing look.
The box is a beautifully printed box with nice illustrations and technical specifications printed on the outside.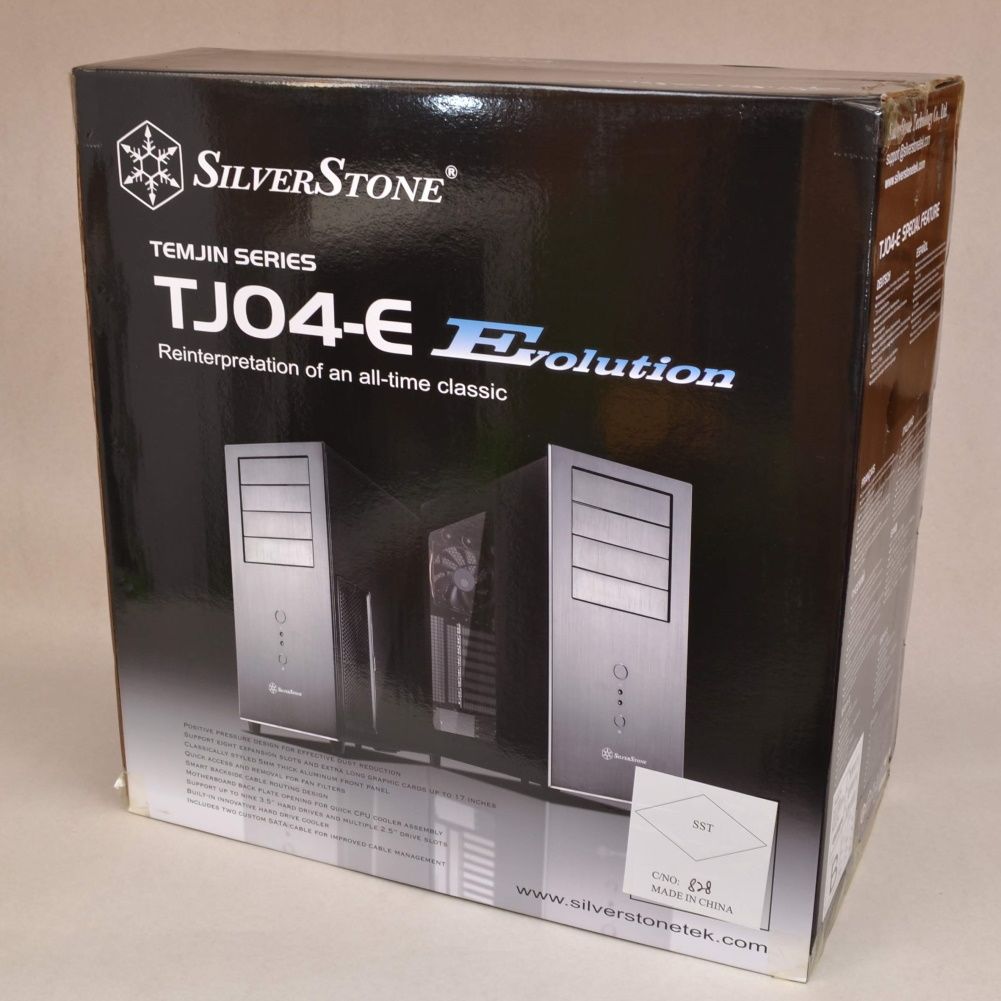 Inside the box we find the casing well protected by a plastic bag and solid flamingo sides. This enclosure should not be damaged during transport.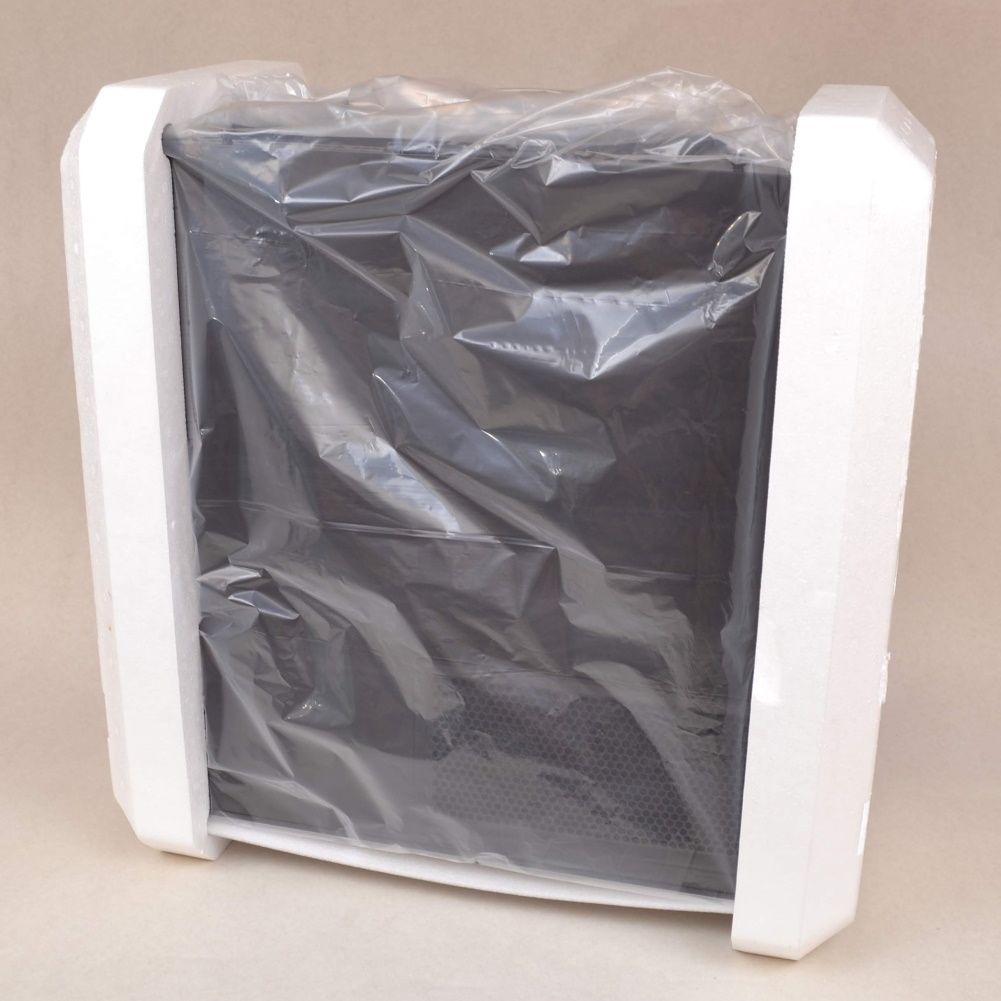 In the casing we find the accessories, which are user manual, power distributors for SATA power, a floppy adapter from SATA power, a bag with screws, strips and cooling profiles for hard drives. Yes, it's not every day that you see these kinds of accessories for a casing.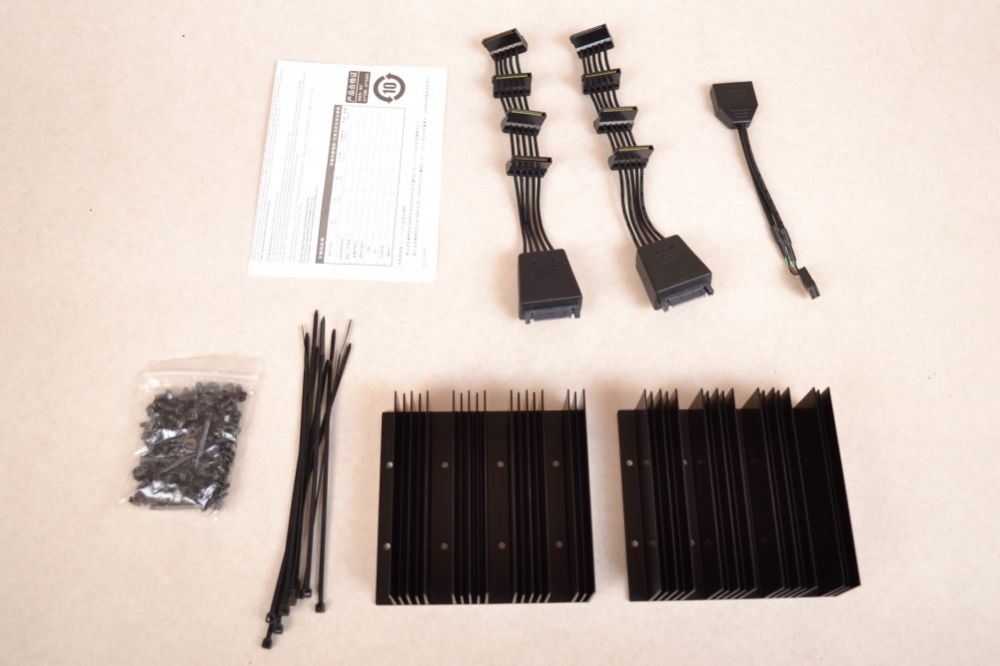 The technical specifications.
The casing is available in 2 versions. With and without window in the side. It can contain a full ATX system and associated disks. Fans can be inserted in the side, bottom, rear and top. But not in the front, as you normally see. There is good support for radiators and graphics cards, so you can build a solid system in this casing.
Model No.
SST-TJ04B-E (Black)
SST-TJ04B-EW (Black + Window)
Material
7mm aluminum front panel, steel body
Motherboard
SSI-CEB, ATX (up to 12" x 10.9"), Micro-ATX
Drive bay
External: 5.25" x 4
Internal: 3.5" x 9 (optional 3.5" x 8 + 2.5" x 1), 2.5" x 6
Cooling system
Rear: 1 x 120mm exhaust fan, 1200rpm, 21dBA
Side:
Right:1 x 120mm intake fan, 1200rpm, 21dBA
Right:1 x 120mm fan slot (optional)
Top
1 x 120mm intake fan, 1200rpm, 21dBA
1 x 120mm / 140mm fan slot (optional)
Bottom
1 x 120mm fan slot (optional)
Radiator support:
Rear: 120mm x 1
Top: 120mm x 1 / 240mm x 1
Expansion slot: 8
Front I/O port:
USB 3.0 x 2 (backward compatible with USB 2.0)
audio x 1
MIC x 1
Power supply: Standard PS2(ATX) *1
Expansion card: *Compatible up to 17" (431mm) long, width restriction-6.14" (155mm)
Limitation of CPU cooler: 168mm
Limitation of PSU: Unlimited *1
Net weight: 9.6kg
Dimension:
214mm(W)x489mm(H)x489mm(D), 51.2 liters
8.43" (W) x 19.25" (H) x 19.25" (D), 51.2 liters
Extra: Support Kensington locks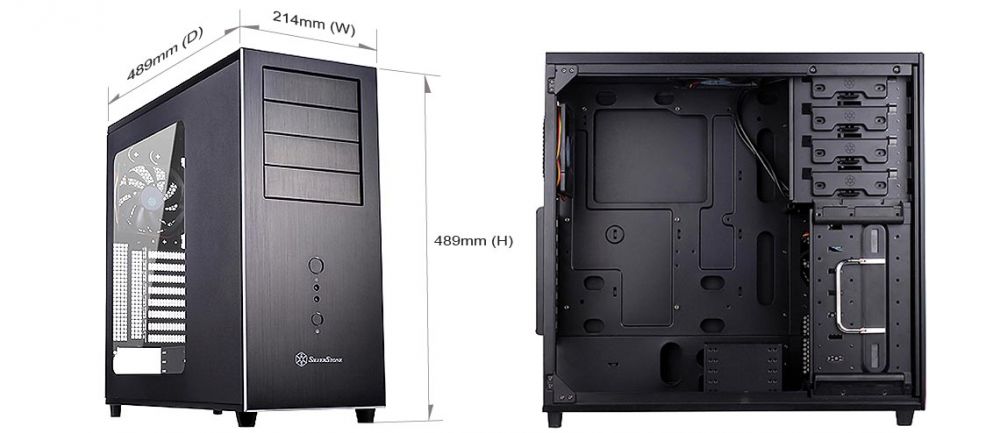 Let's have a look at the product.
The casing is built in the well-known SilverStone quality. There are aluminum and steel on all surfaces, nothing is made of plastic. Even covers for 5.25 "slot and buttons are made of aluminum. There is a large intake for the fans here on the side where 2 120mm fans can pull fresh air.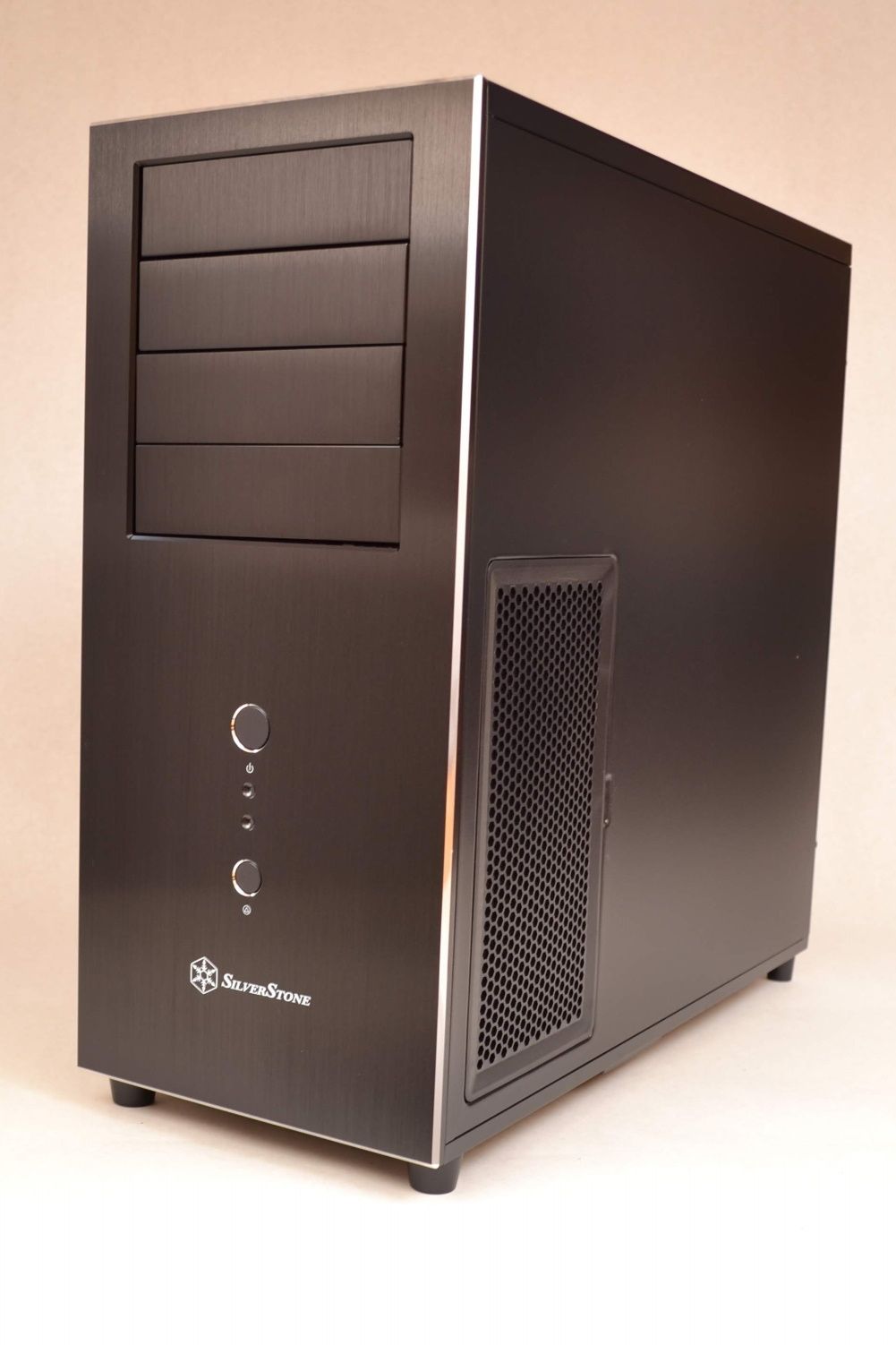 At the back of the casing we see that there is plenty of ventilation through all the covers, and there is room for a 120 mm fan. Insert cards are mounted outside the casing so that the screws are not inside the casing.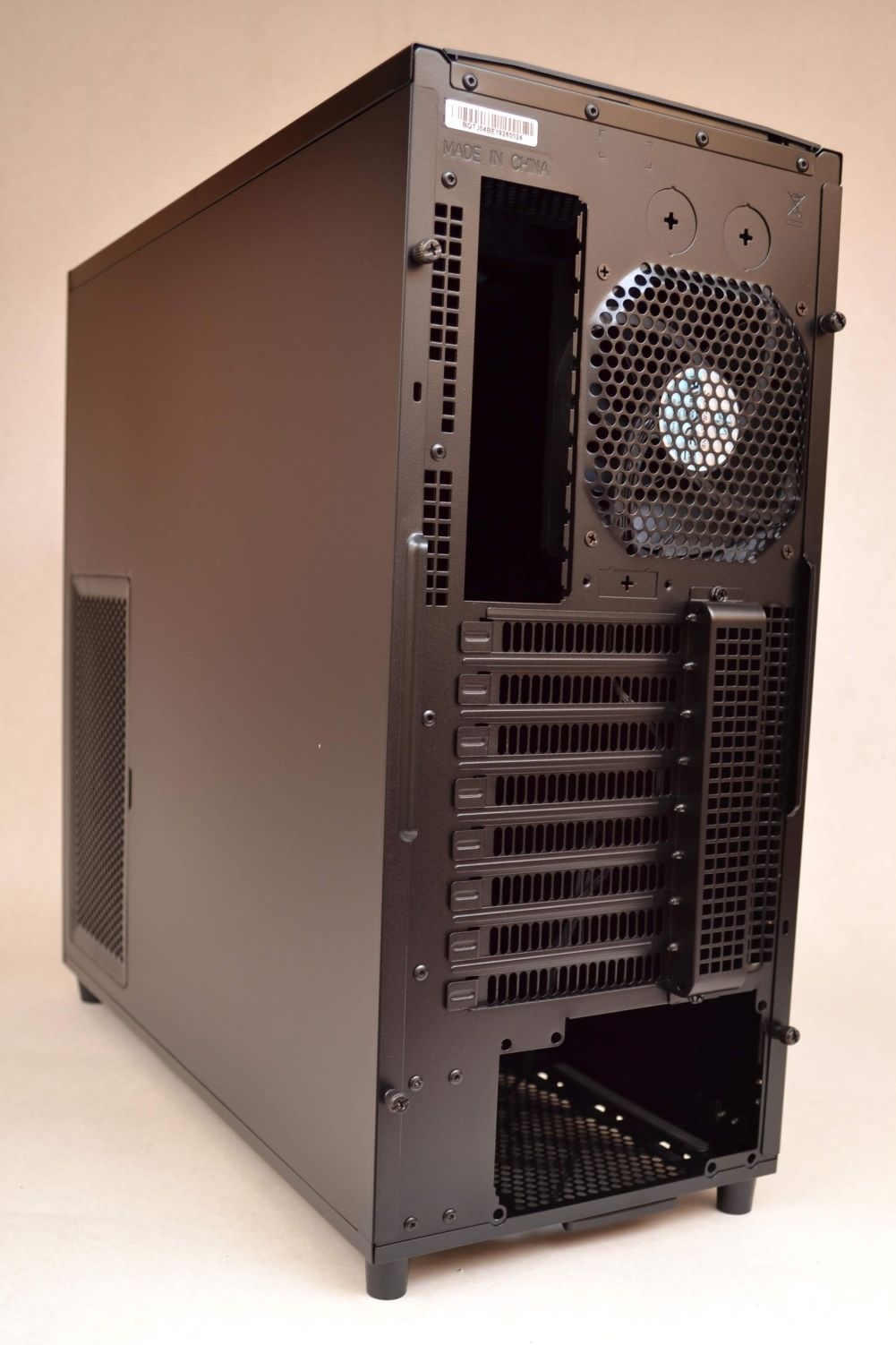 At the bottom of the casing there are a couple of dust filters, as you can mount a fan here at the bottom in addition to the power supply. It provides good airflow from the bottom to the top, rather than from the front to the rear, which is otherwise more standard.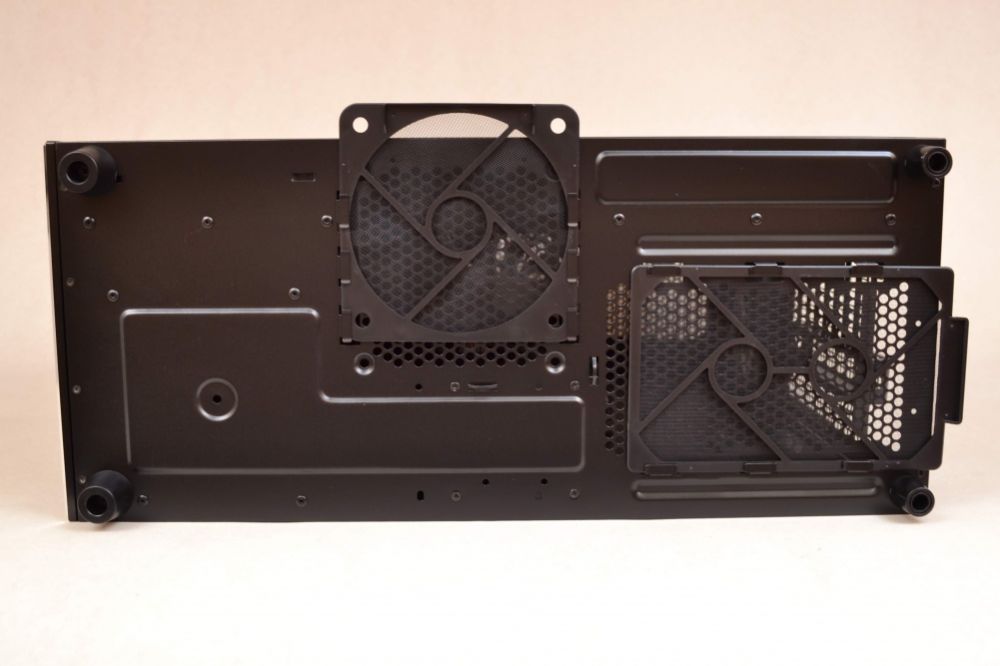 At the top of the casing we find the front panel ports in the form of a pair of USB 3.0 connectors and audio connectors. There is also a dust filter that can be easily removed, under which you can install fans or radiator for CPU cooling.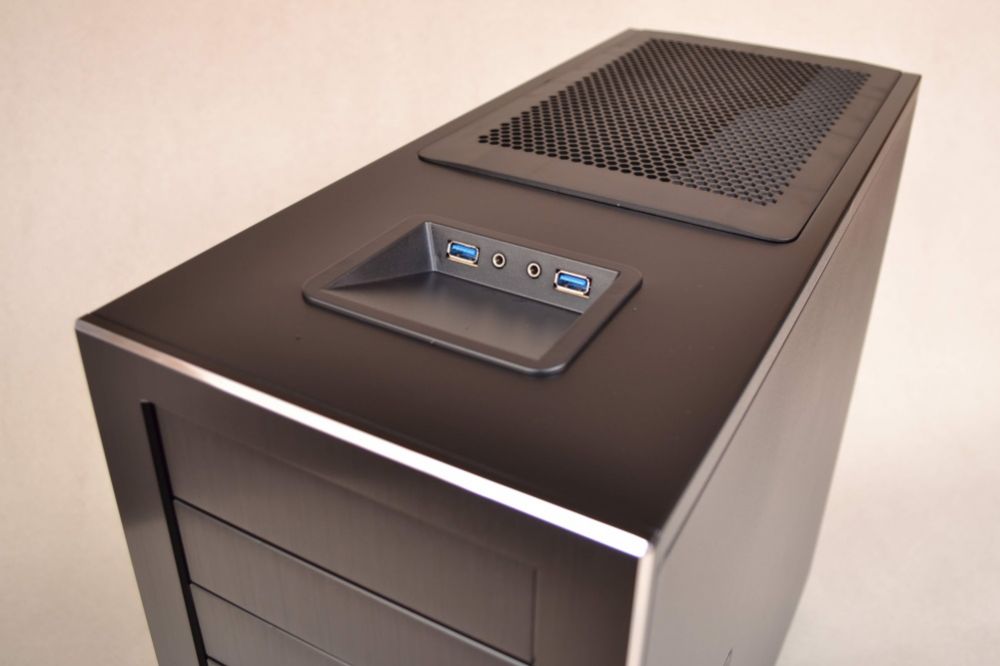 On the front we have a nice SilverStone logo along with a power and reset button and LEDs for power and drive activity. Simple discreet and stylish design.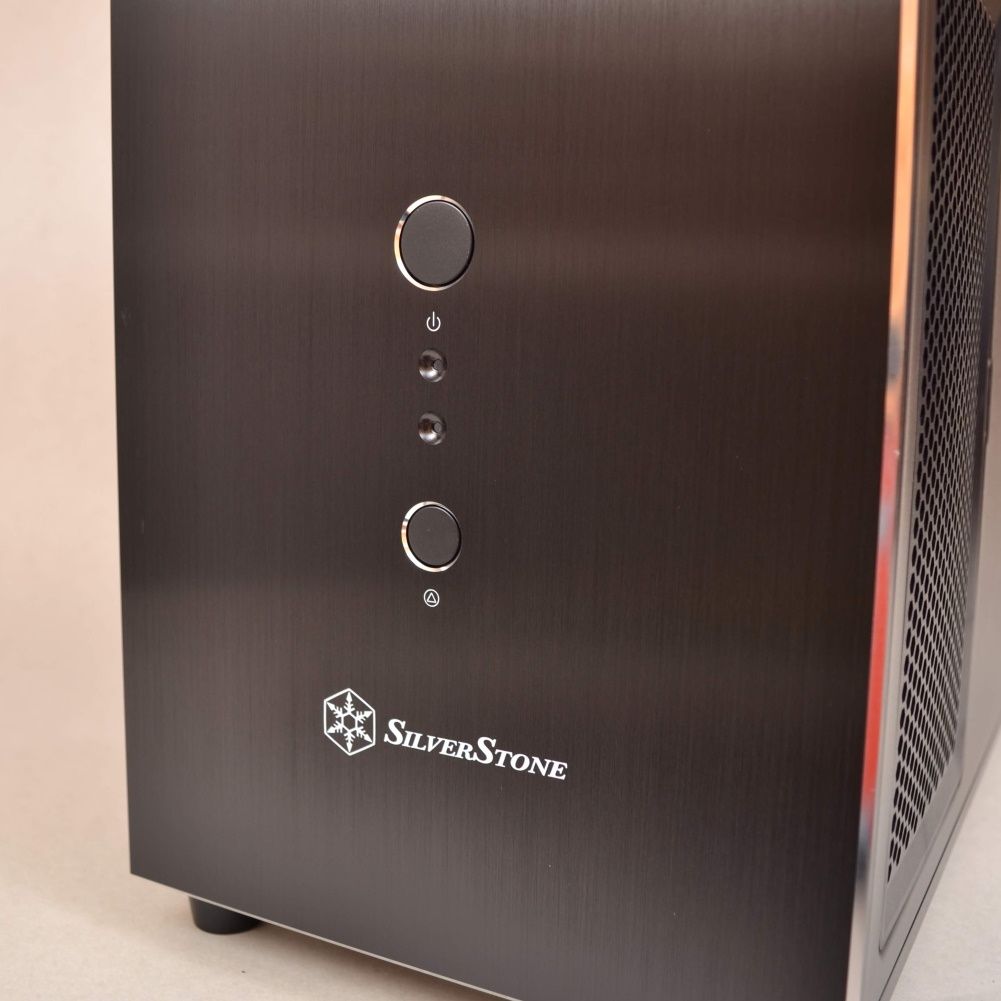 When the side panel is removed you can see that there is plenty of room for hard drives. This enclosure is intended for server use and not for a simple gaming setup. Above, there is space for 4 x 5.25" drives, which can be accessed externally. Below there we have a holder for 8 3.5" hard drives, and at the bottom of the casing there is a holder for 5 2.5" drives. So there's plenty of room for a good media / storage server.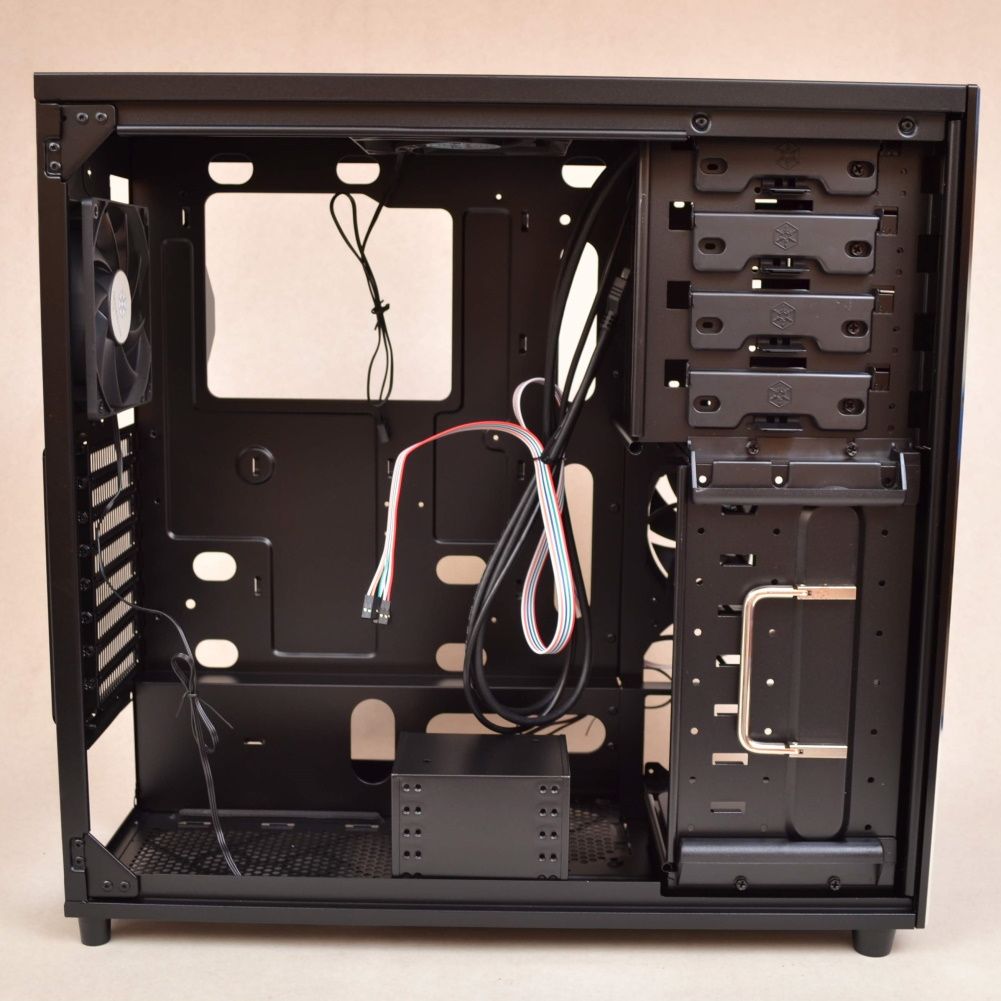 The large drive cage can be easily removed with 2 screws, so that the drives can be mounted outside. It makes it super easy to mount the casing with disks, and possibly fix if there are faults.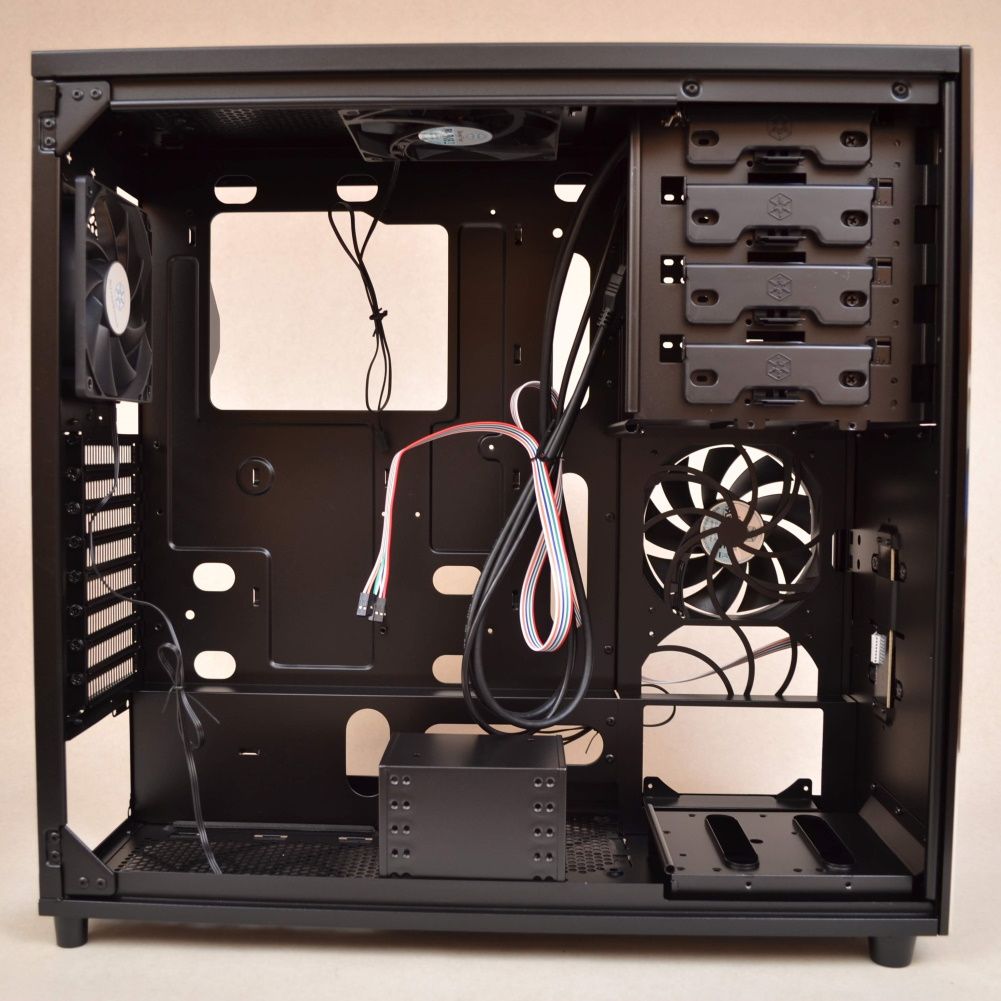 Cooling profiles were included and can be mounted on the side of the drives. These then face the fans on the side so that the drives are cooled and the heat is dissipated. It's a smart and alternative way to fix a heat issue where others would have thrown a bunch of fans in front of the discs instead, but then they can't sit as tight as they do in this case.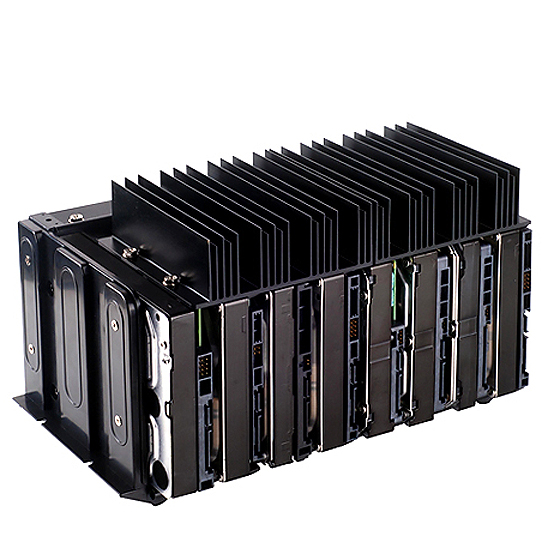 If we look from the back you can see that you can mount an extra fan. There is a fan included here on the side, and one on the back. In addition to that, there is plenty of room for cable managment, so there will be no problems with that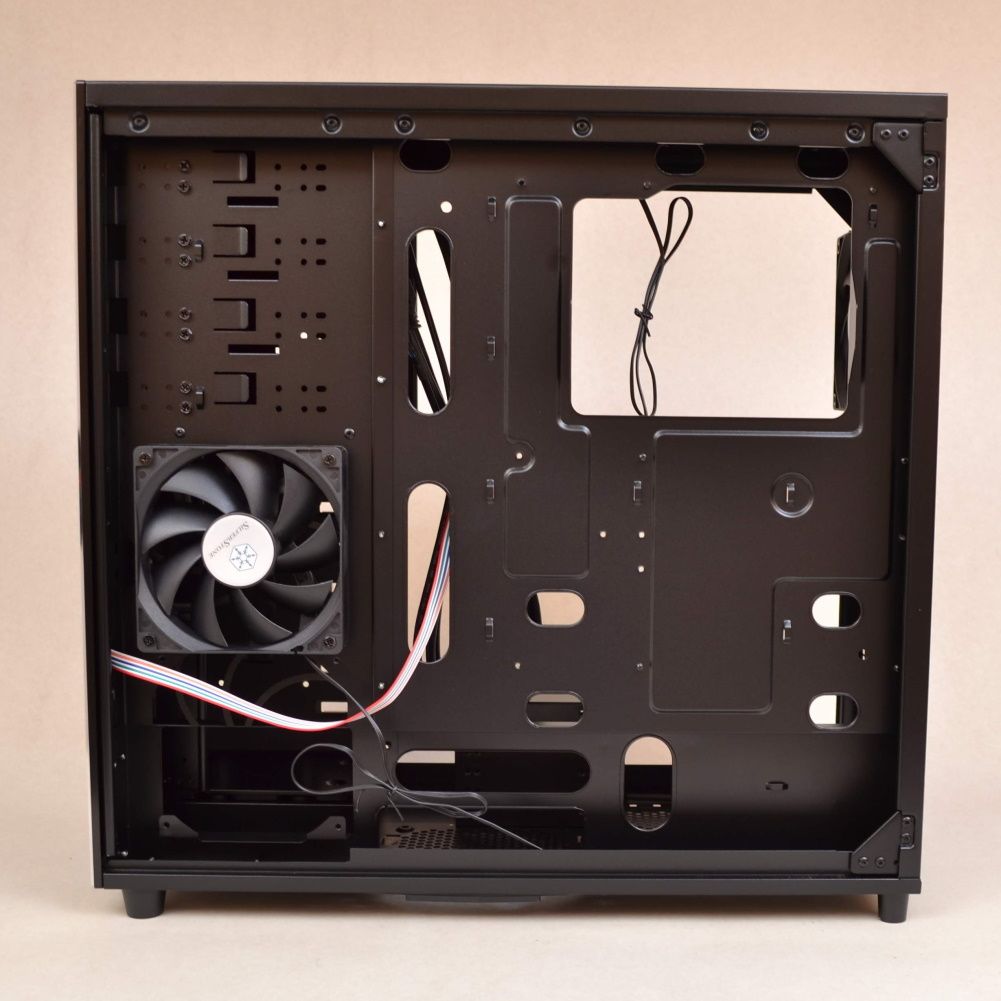 The mounting.
Since I am going to use this casing for a machine for myself, in this review I have done a full setup. It consists of an ATX motherboard with a 1080ti graphics card, ATX PSU and various drives and stuff.
As you can see, there is plenty of room for everything. It is not exaggerated with space in excess, but there is enough space. The mounting went easy and hassle-free and the cabling is easy in this casing.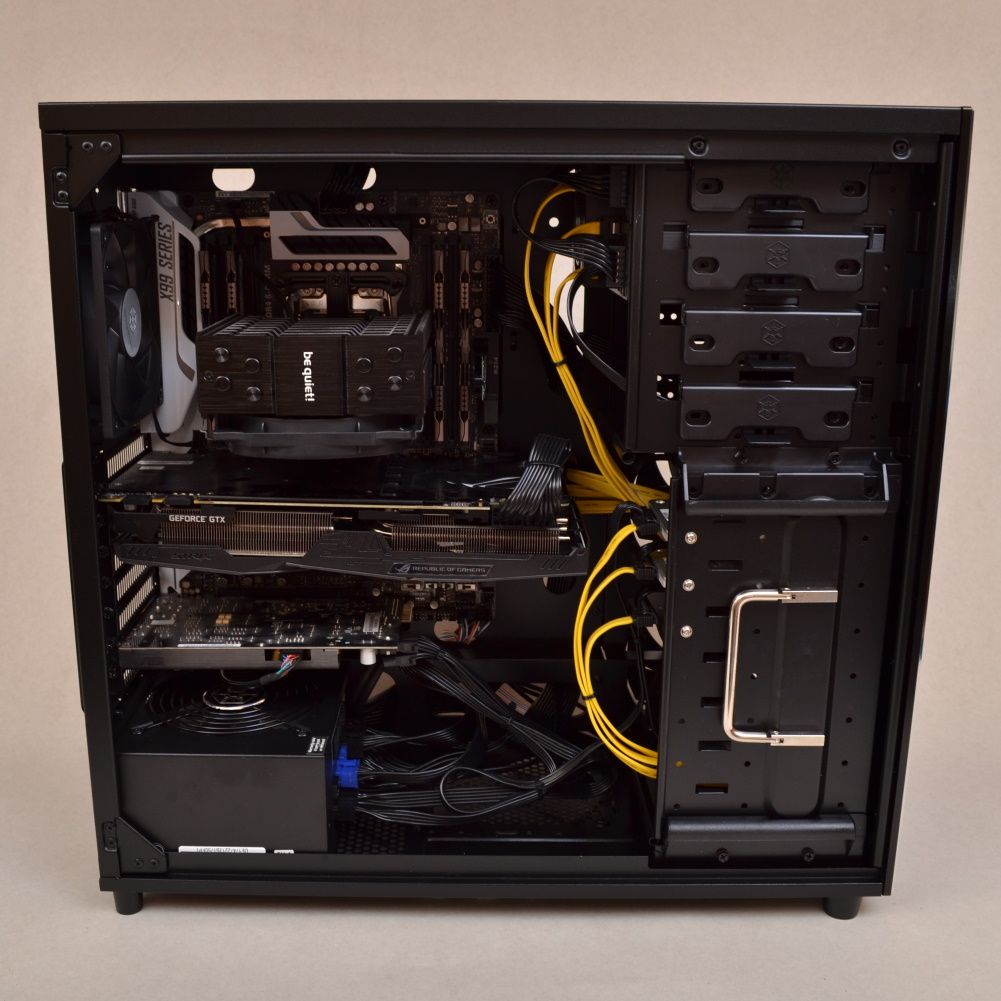 At the back of the casing there is plenty of room to pull cables back and forth.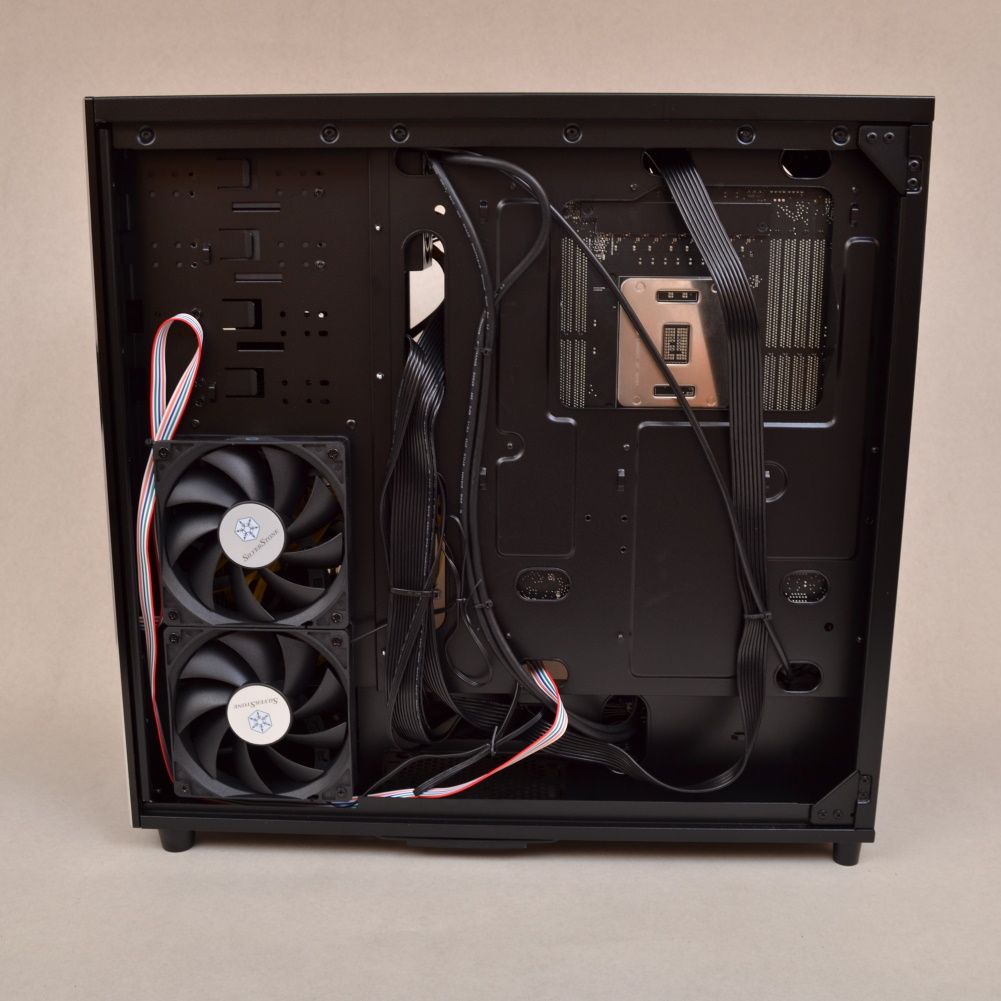 What is my assessment.
Basically, I think it's a cool casing. It seems to have some problem in getting the right airflow, and thus getting rid of the heat.
The fans that are included are not the quietest model, they actually make some noise, especially if the system gets hot. I have a hard time imagining this setup fully equipped with disks in every slot, and still being able to create a good airflow.
The advantage of the casing is that it can contain many disks, so you can have a lot of storage space in this casing.
The quality is certainly high, the casing is built from solid materials from bottom to top, and it is clear that no compromise has been made.
The price:
With a price of 1000 DKK, you can really get a lot of casing from other manufacturers. However, it should be remembered that this casing is intended as a server casing, and not as a gamer casing.
Overall assessment:
Price and what you get may not be entirely coherent. Time is running from standard ATX casings, used as servers, where most would choose a rack casing, which is designed and built for server use. I know this casing is older, and that also shows. However, the price has not quite followed from what I can see, because it should probably be a little cheaper. It all makes me give the casing a SILVER rating, as price and the rest are not completely related. Time has simply run out of this casing.
Read mpore about SilverStone TJ04-E here:
https://www.silverstonetek.com/product.php?pid=325&area=en