SilverStone RL07 ATX Casing
It's been a long time since I've reviewed a casing on my blog, so I'll do that now. SilverStone has become popular on their cabinets, and they are constantly developing their series.
In this review, we will look at their Redline 7 cabinet, also called RL07. I have received the white model, but it is also made black.

SilverStone has been a sponsor with me from the beginning, where I have reviewed a number of different products from them. They make all kinds of computer accessories as well as casings and power supplies. SilverStone is one of the leaders in casings in my opinion.
Let's start with a small video about the product to see in the review.
We are also taking a look at the packaging and the content.
RL07 comes in a plain brown cardboard box with various illurations and specifications printed on the outside.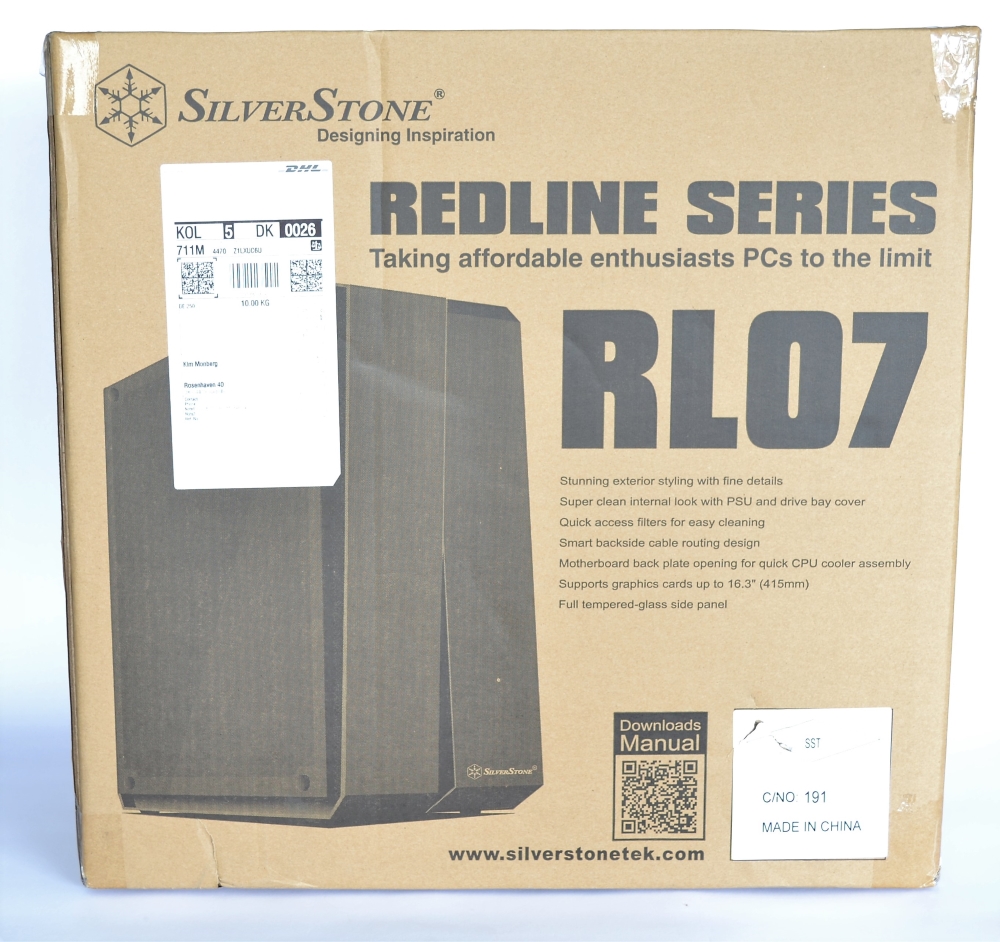 Inside the box, the product is well protected by flamingo and a plastic bag. You must be aware that the whole thing can be a little static. I got some good snap over my fingers when I was unpacking. Plastic bag and flamingo are not a pretty good cocktail.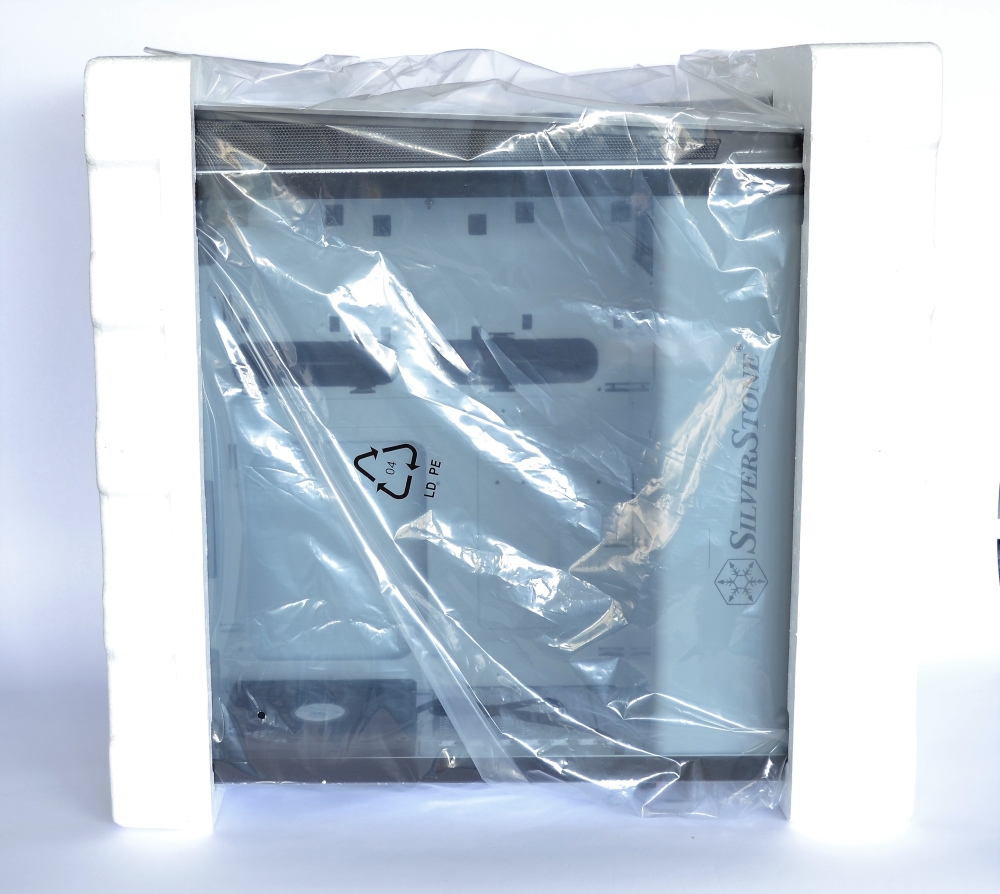 The content besides the casing is quite sparse. A small assembly guide and a bag of threaded rods and screws for mounting motherboards. That is all.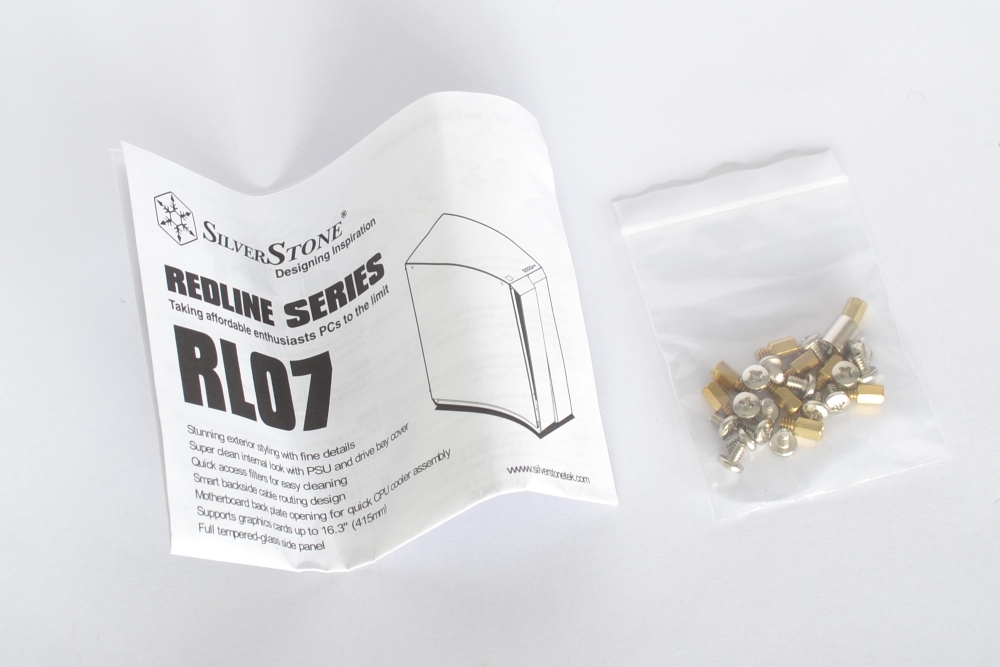 Content:
SilverStone RL07 ATX Casing
Assembly guide
Bag with screws and threaded rods
The technical specifications.
As can be seen, this casing supports full ATX motherboards. There is also room for water cooling and fans of different sizes. There are no drive slots in the front, so you can not have DVD drives in your machine if you choose this casing.
There is plenty of room for large graphics cards of up to 415mm, and a good CPU cooler at 167mm in height if you do not choose to go for water cooling. The power supply can be up to 190mm in length, which is the standard ATX size.
Model No.:
SST-RL07B-G (black + tempered glass window)
SST-RL07W-G (white + tempered glass window)
Material
Steel front panel, steel body, tempered glass side panel
Motherboard
ATX ( up to 12" x 11") , Micro-ATX
Drive bay (Internal)
3.5" x 3 (compatible with 2.5") , 2.5" x 3
Cooling system
Front
3 x 120 / 140mm fan slot
Rear
1 x 120 / 140mm fan slot (1 x 140mm exhaust PWM fan included)
Radiator support
Front
120mm x 2 ; 240mm / 280mm / 360mm x 1
Rear
120mm / 140mm x 1
Expansion slot
7
Front I/O port
USB 2.0 x 2
USB 3.0 x 2
Audio x 1
MIC x 1
Power supply
Optional PS2(ATX)
Expansion card
Compatible up to 16.3" (415mm) in length, width restriction –6.57" (167mm)
Limitation of CPU cooler
167mm
Limitation of PSU
190mm
Net weight
8.2 kg
Dimension
226mm (W) x 488mm (H) x 465mm (D), 51.2 Liters
8.9" (W) x 19.21" (H) x 18.31" (D), 51.2 Liters
Let's have a look at the casing.
The SilverStone RL07 is very stylish in the design. It is made entirely of metal, so even the front with the skew angles is covered with a nice sheet of metal.
The side is made of hardened glass and only fitted with screws at the top. At the bottom of the glass plate, a metal bracket is glued on the glass, so you flip the glass off when you have loosened the screws at the top. It's great thinking.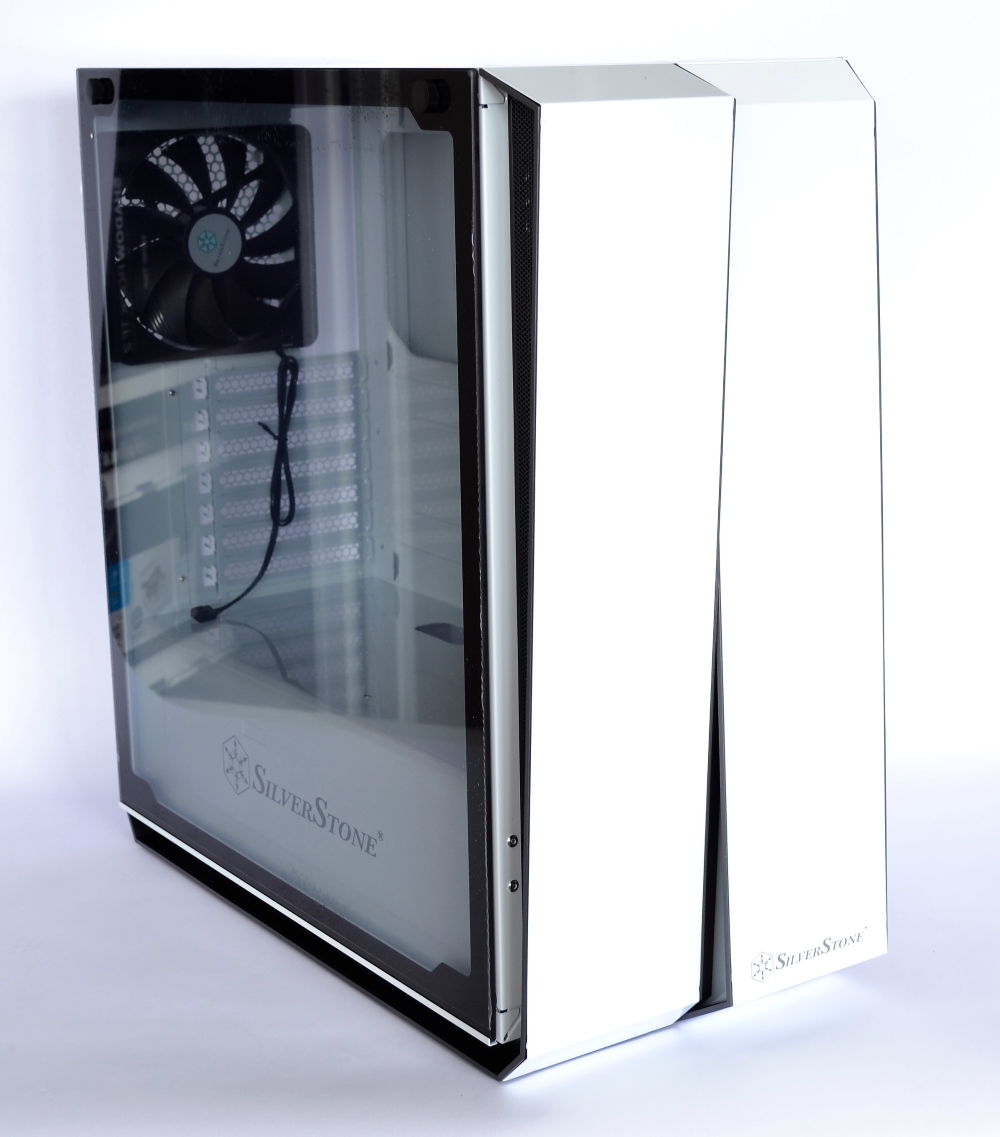 At the top of the casing we find the plugs and power button. There is no reset button on this casing, but it is also becoming unnecessary to have.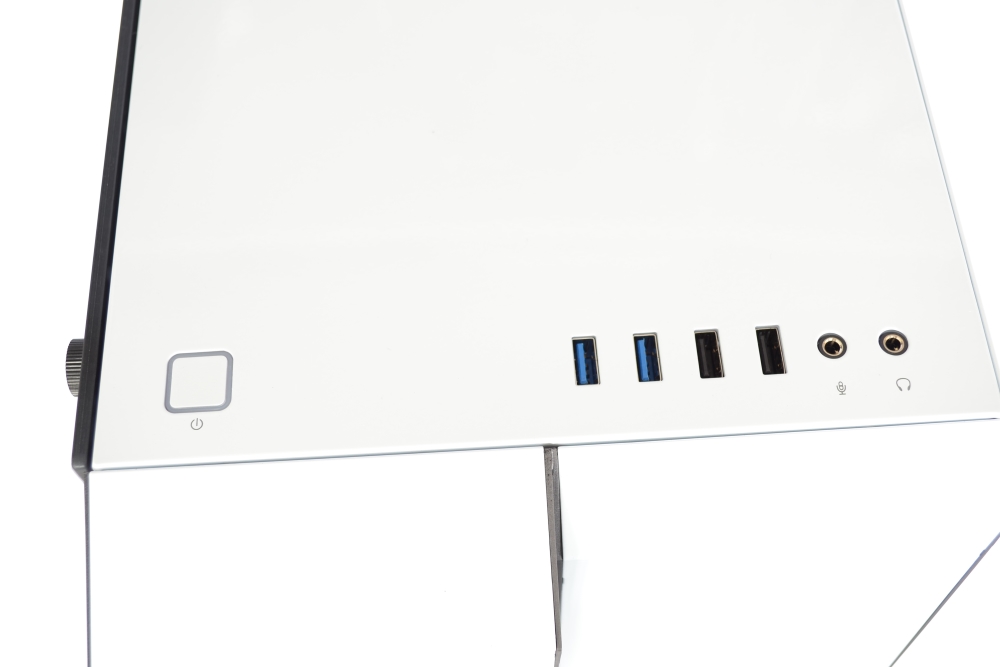 On the front we find a beautifully printed SilverStone logo at the bottom right.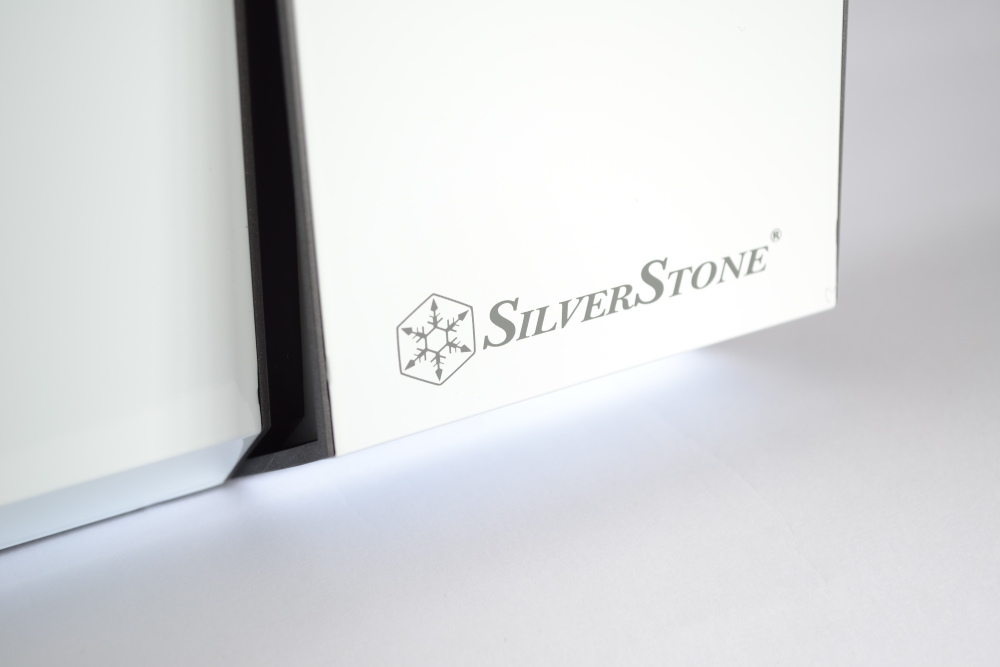 At the back of the casing we can see that there is room for a 120 / 140mm radiator or fan. The covers for the expansion cards are very open so they provide a good airflow, and at the bottom is the mounting hole for the ATX power supply.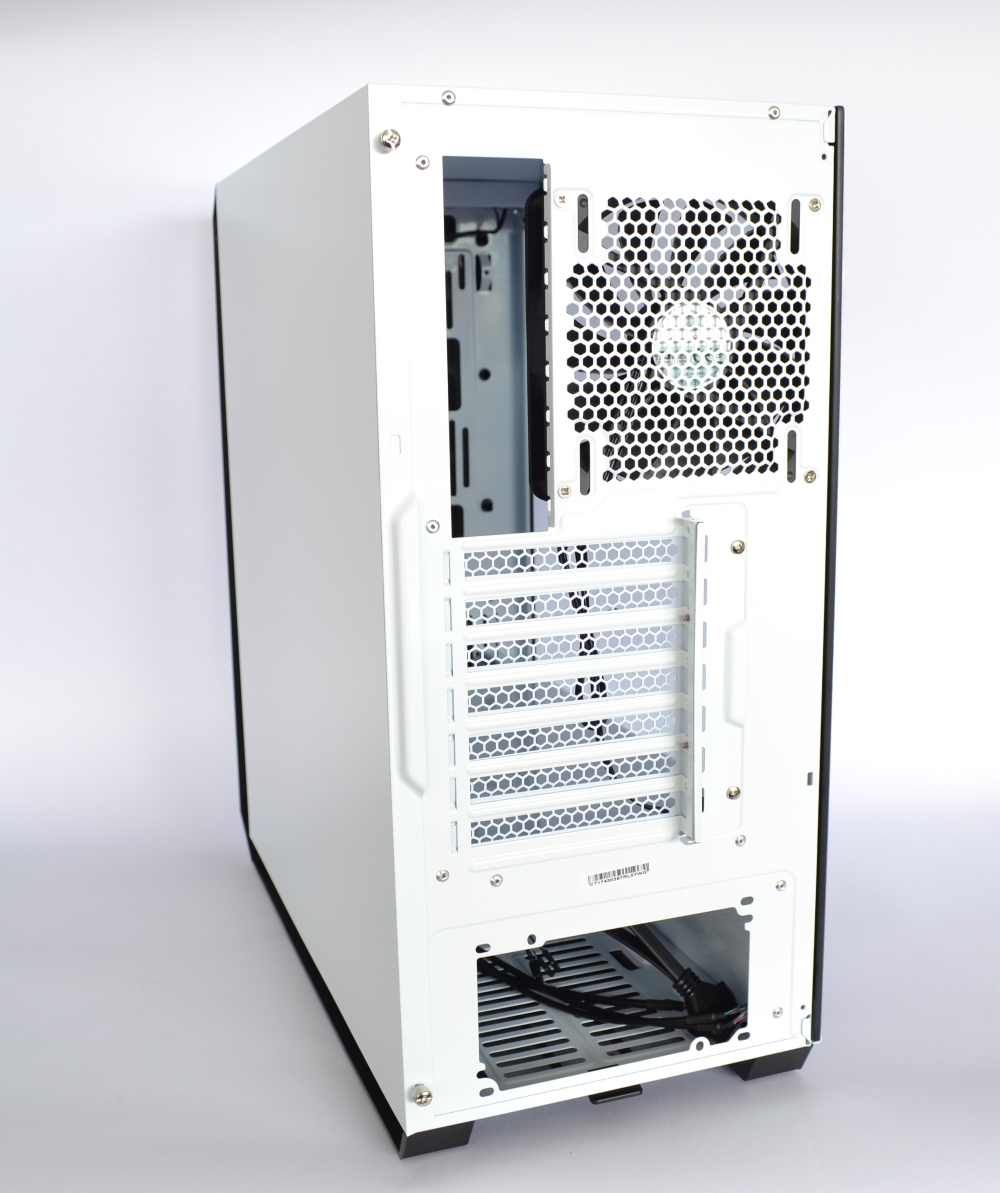 If you pull off the metal side, you'll get access to everything 'messy'. It is on this side all cables and drives are mounted so that it is completely hidden and stylish in front. There is room for 3x2.5 "drives and 3x3.5" drives which should be enough for most people if you just need a workstation or gaming machine.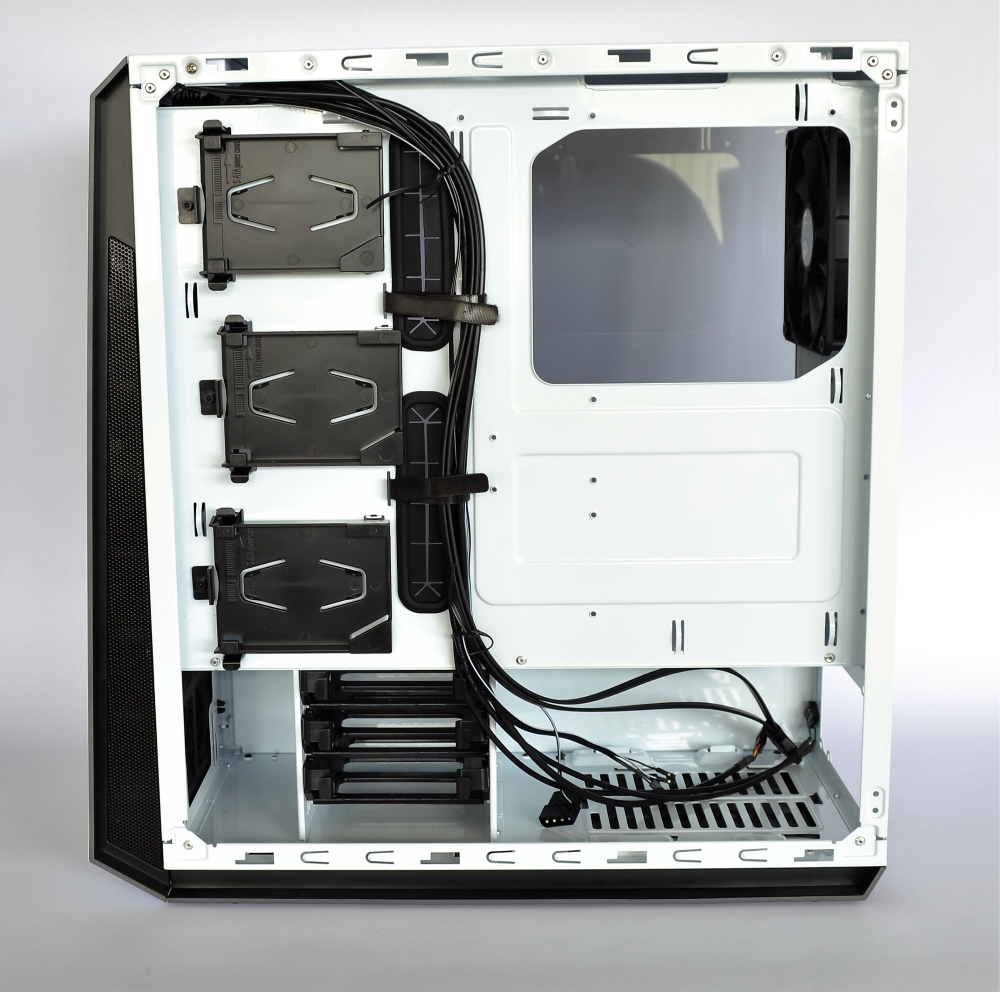 The 2.5" drive mounting trays are attached to the casing. Simply push the drive into the tray and lock it in place.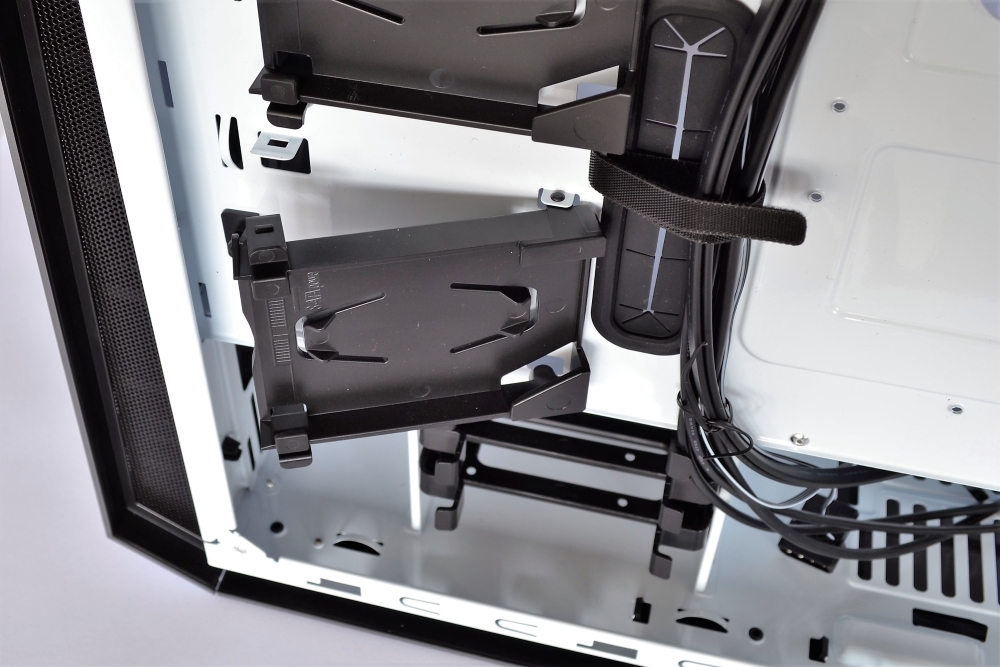 The 3.5" drive mounting trays are standard trays where you mount the drives without the need for tools. There are some staples that fit in the screw holes and hold the drive in place.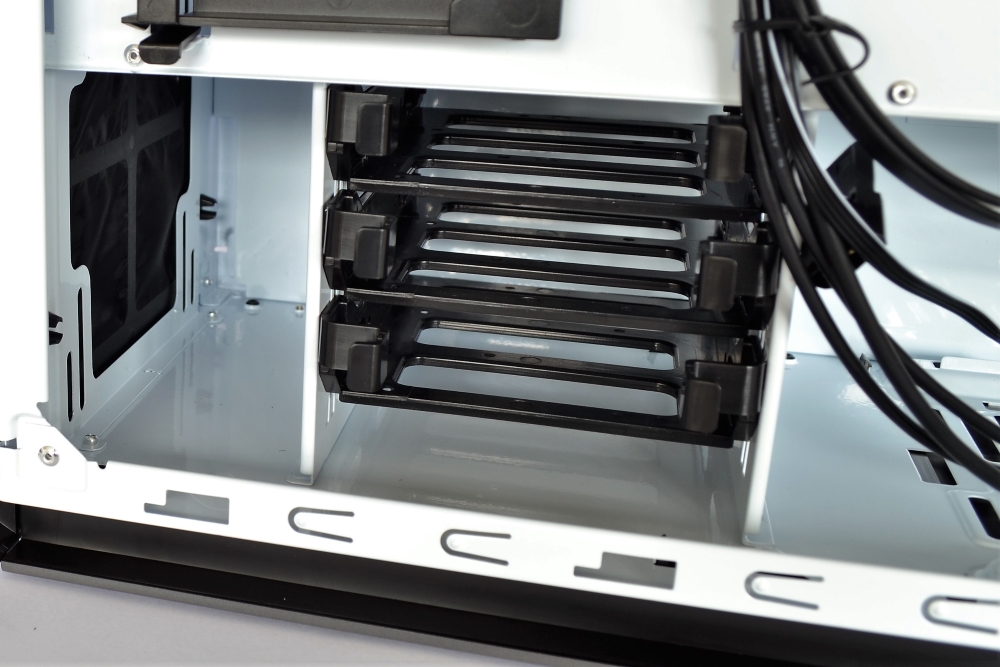 On each side of the front there is a metal mesh that provides airflow for fans and coolers in the casing.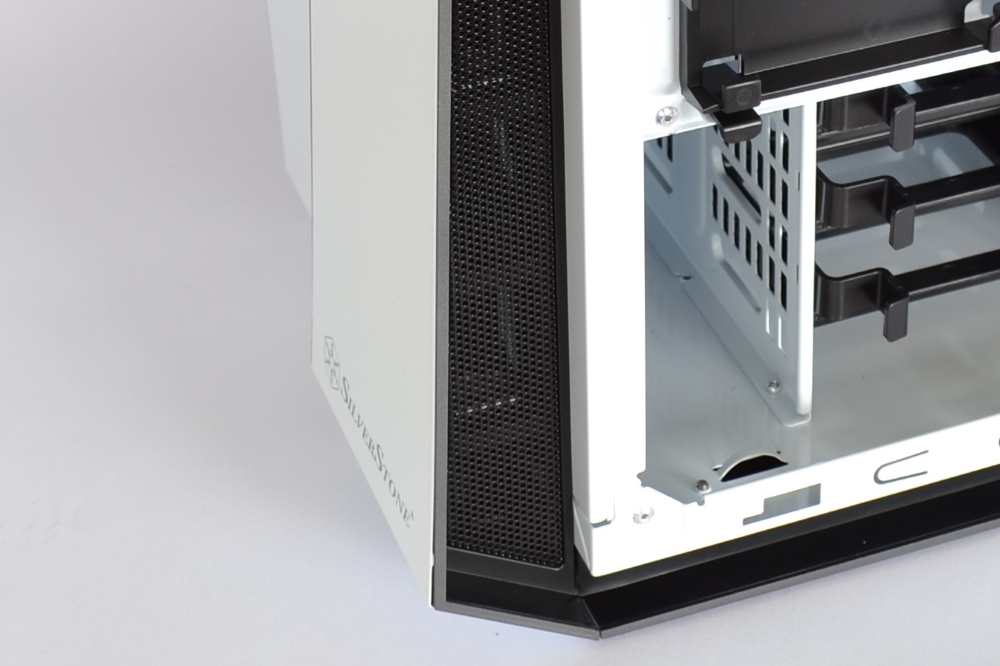 If you pull off the front, you can see why there is a need for the mesh from before. There can be mounted quite large and many fans in the front. They can be mounted on a radiator so you can have a 360mm high radiator in the front. It is a good option for cooling.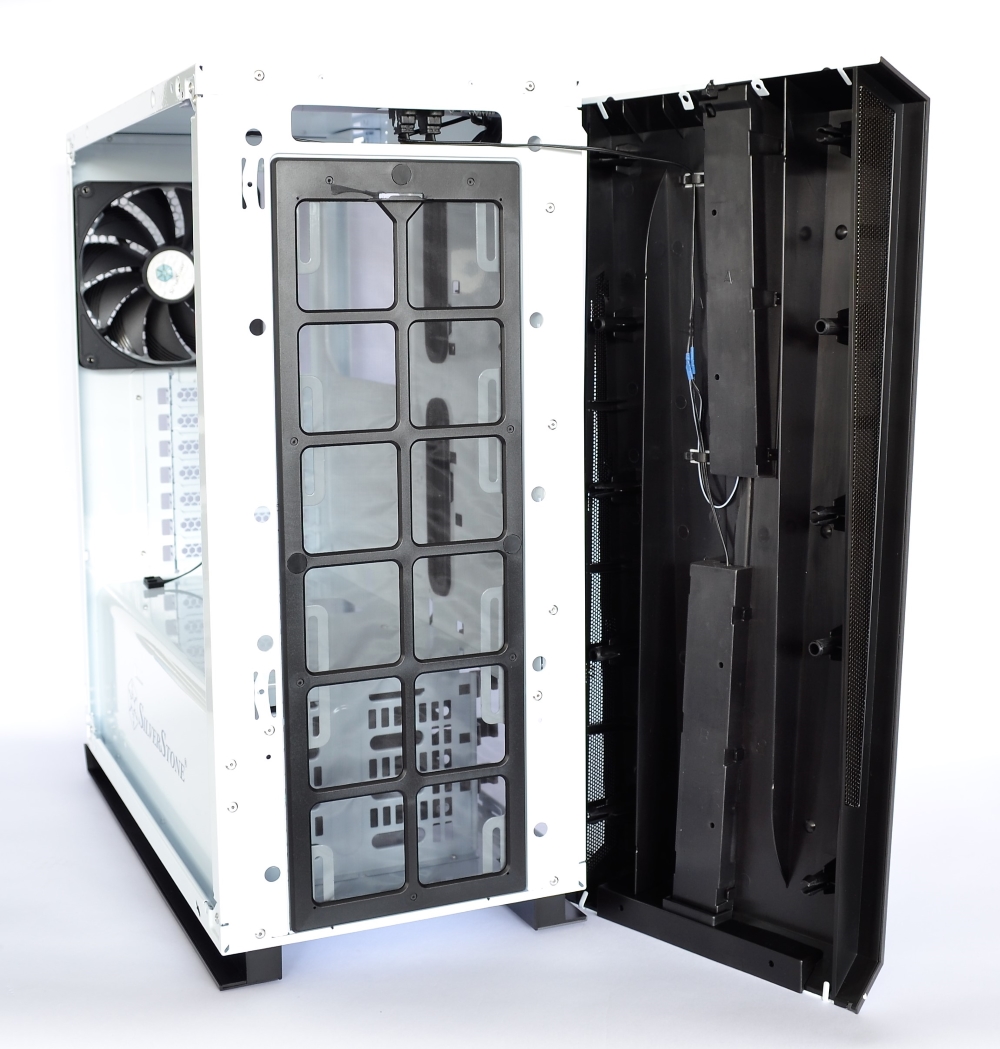 In the back of the casing is a 140mm SilverStone fan.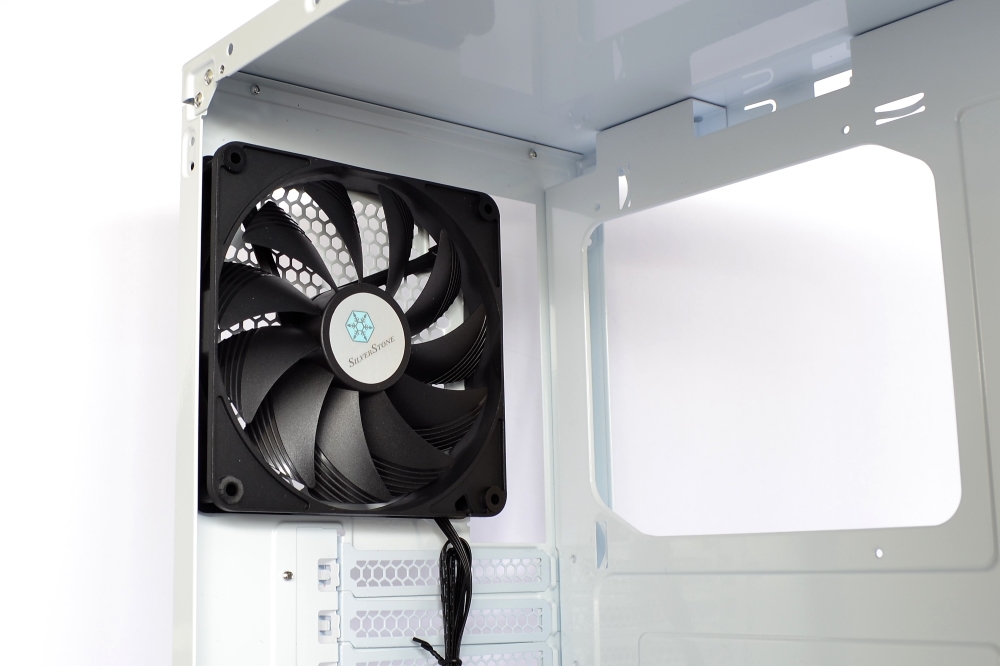 The cover for power supply and drives is beautifully lacquered and with a printed SilverStone logo. It looks really nice.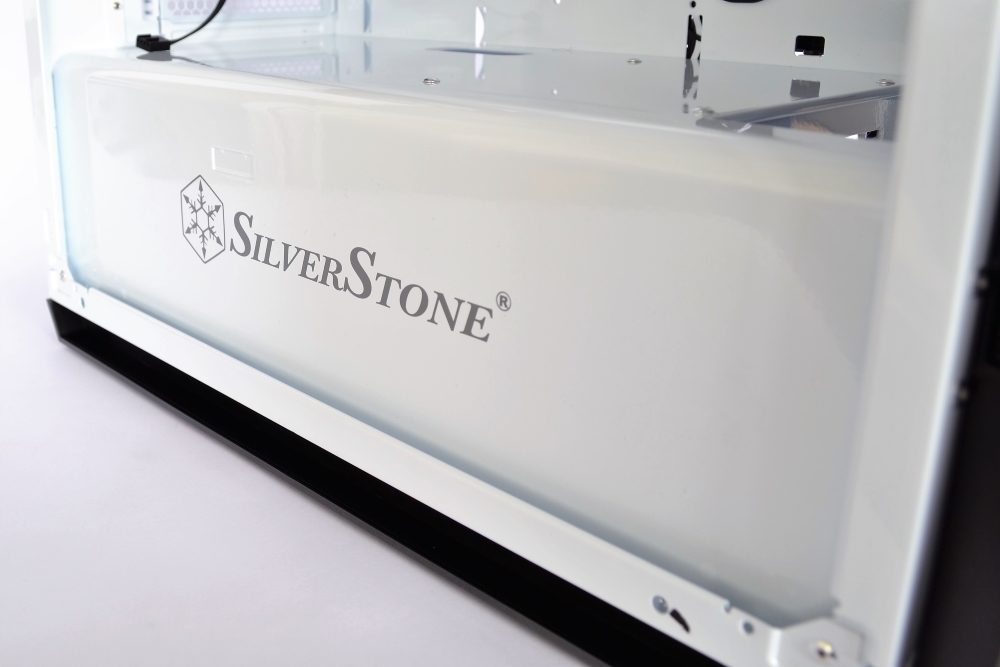 Under the casing there are some fairly high feet. They allow for a filter in front of the power supply, which draws air from here.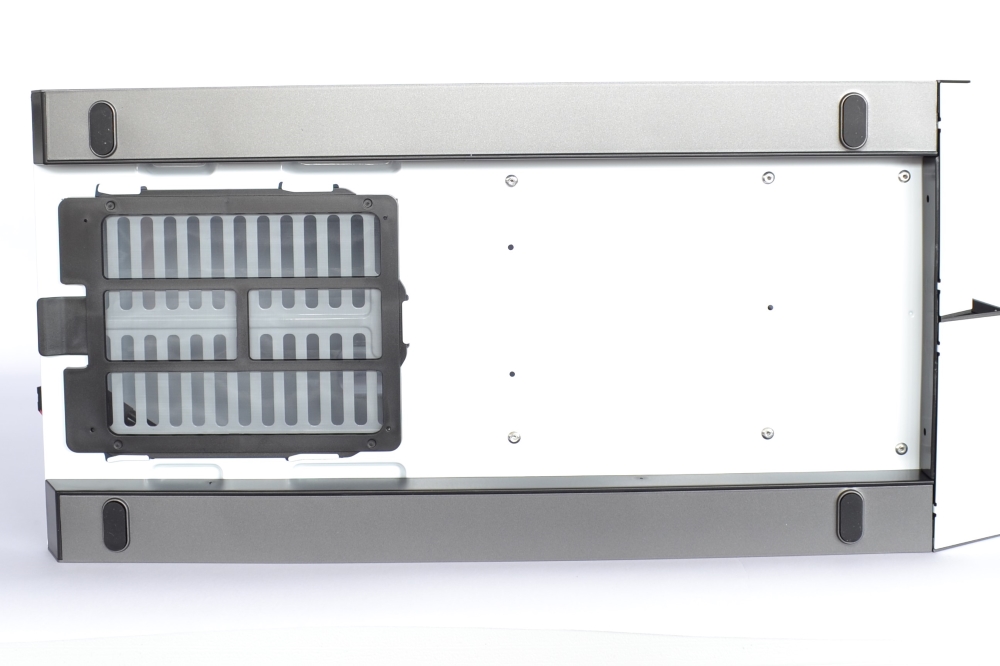 Here you can see the height of the feet measuring about 2cm. It is good space for plenty airflow for the power supply. It can only pull air from behind, as the feet close all the way around the casing.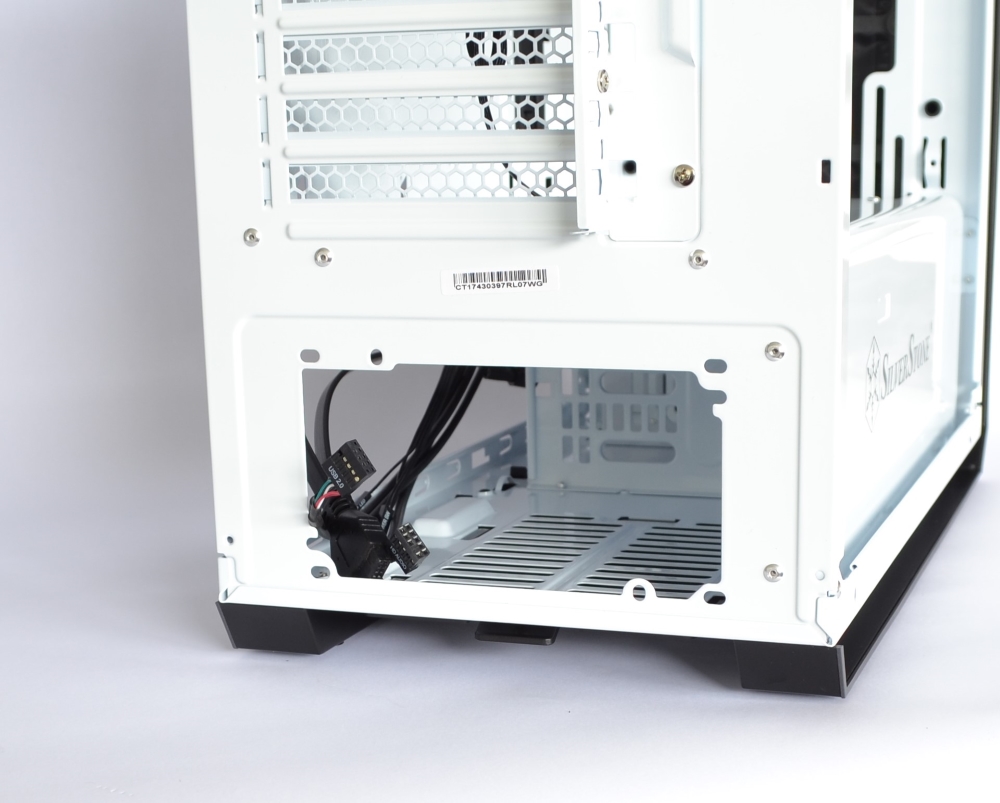 One more place where you need tools is here when mounting the expansion cards. But again a kind of fitting has been made, so you do not have to tighten every card. You open the bracket, mount the cards, and close it again with a pair of screws. Then the cards are actually fixed. However, you have the option to use screws if you do not think it will hold.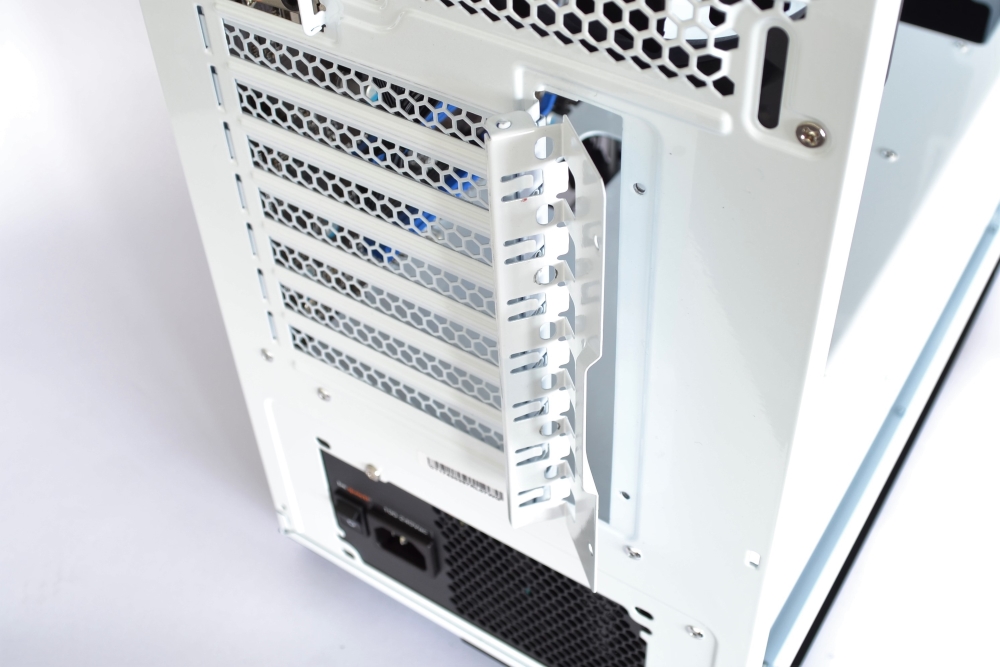 Test and mounting experience.
I have mounted some hardware and gained some experience with the casing. There are some things to be aware of before mounting the casing.
The only tool you need is a PH2 screwdriver. It should be long and magnetic. In the bag of screws you will also find a small tool that you can mount the threaded rods with.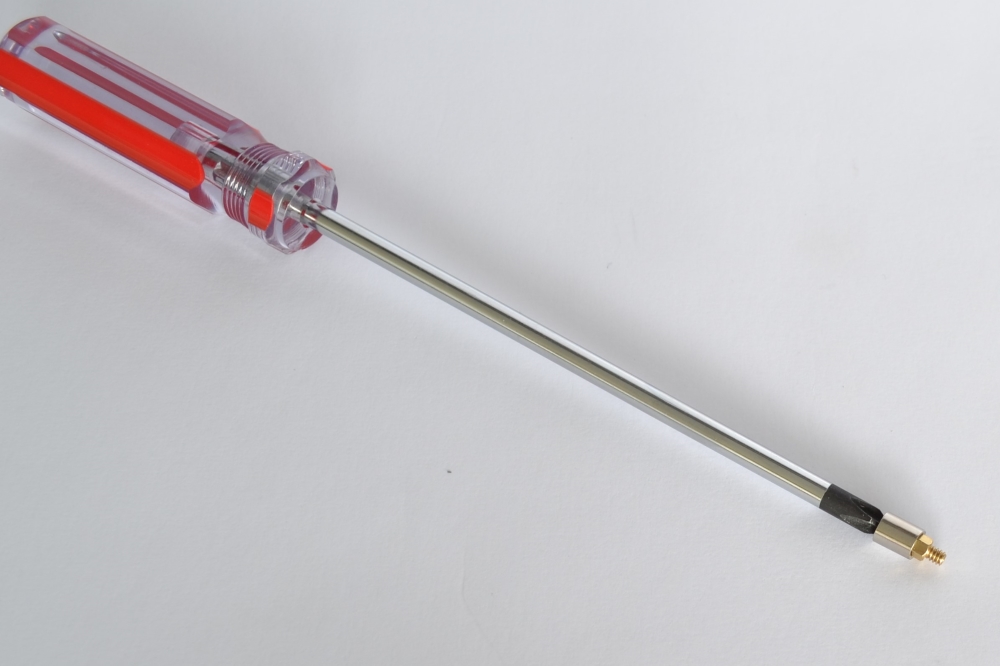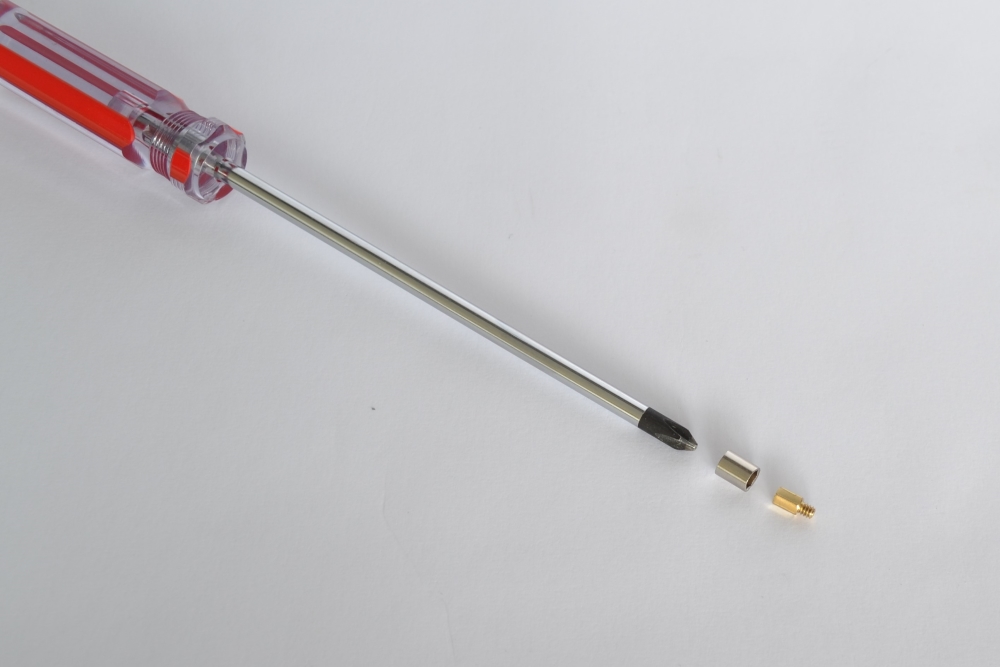 I have installed a full ATX motherboard. As can be seen, all holes and rubber grommets fit well according to the connectors so that the front can be made very nice. There is plenty of room for fans and radiators in the front, so the space will not be a problem. Note, however, that there are no holes or fittings for Custom Loop as I see it. So you're a little tied to an AIO set, otherwise you have to make fittings and holes.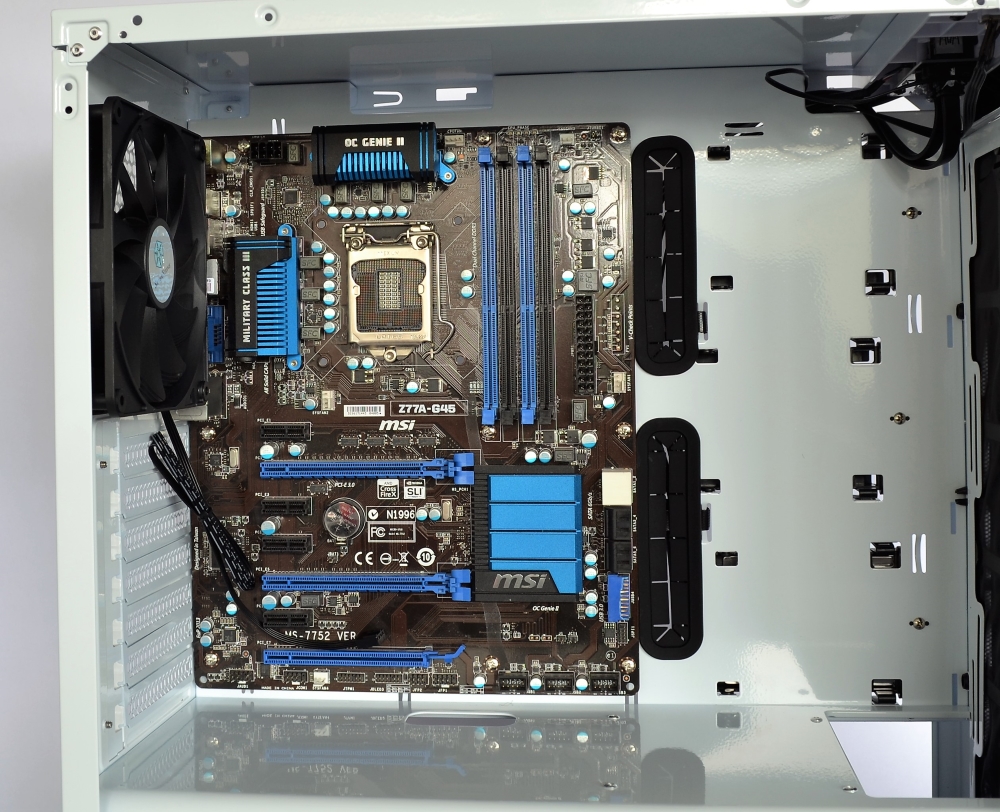 There is plenty of room around the CPU on the back, so you can easily mount the motherboard first and cooler afterwards. It is no problem.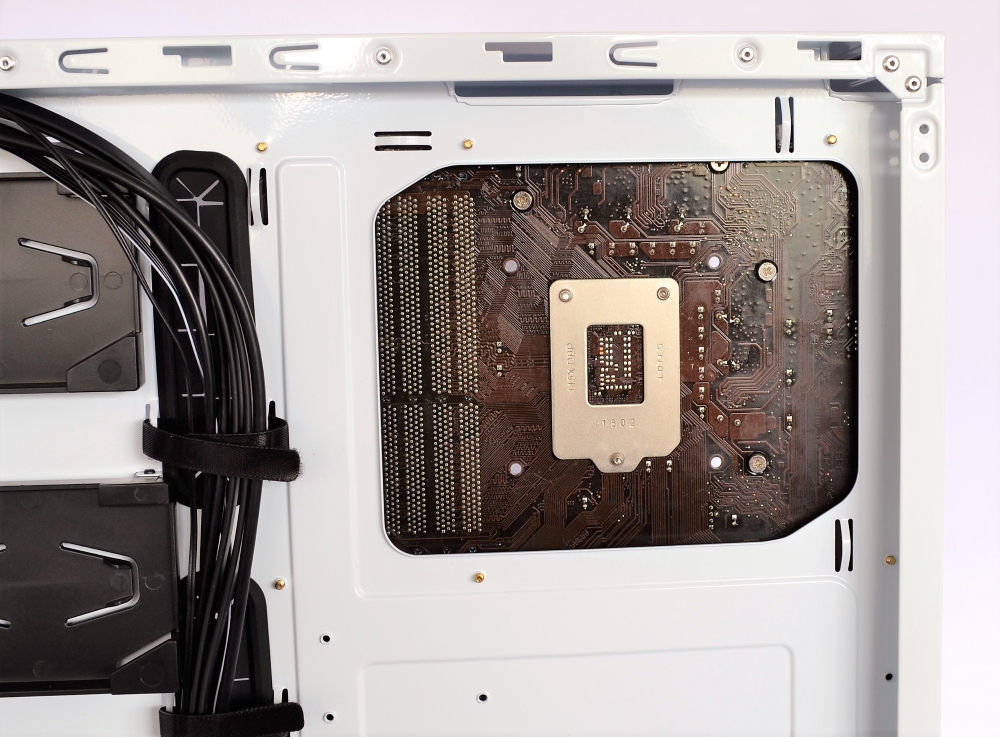 When installing a 2.5" drive, make sure that you use the correct power supply plug and make the cable routing properly. As you can see here, there can be problems with the location of the cables. You should mount the cables in the cable tie to the right and do not use both. It also provides better space for the cables through the rubber grommets. There is a lot of space here on the back for the cables between the bottom plate and the side panel, so that should not be a problem.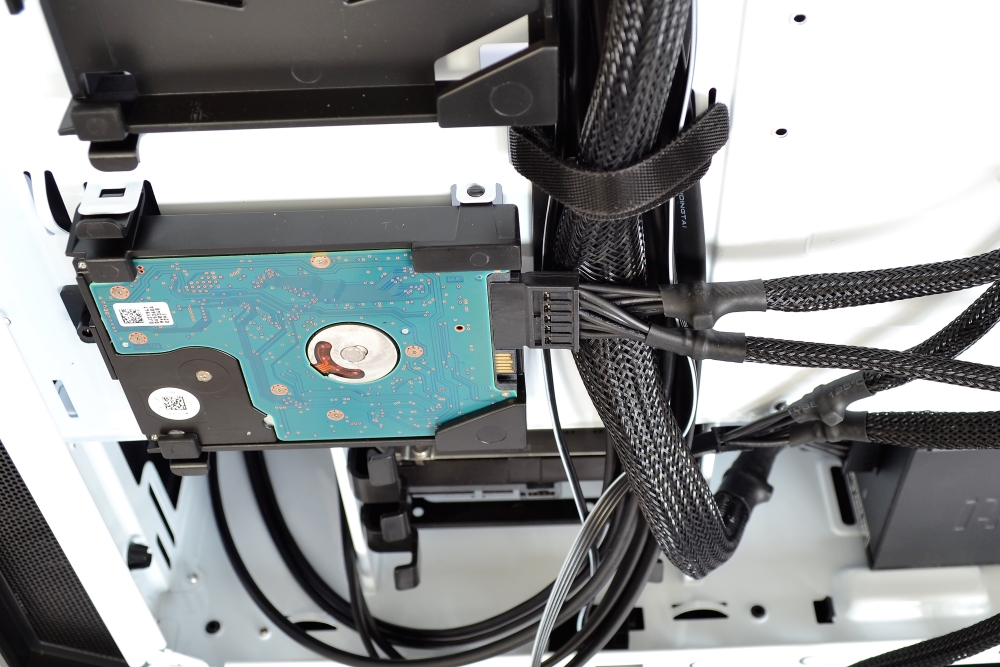 Personally, I think SilverStone has been a bit tacky here. They could have done such a way that you could use a bigger supply and should not pinch the excess of cables into such a small space as this. The power supply I have is a standard ATX supply. Do you want to make a power gaming setup with a bigger supply, you're in trouble.
You can not remove the holder to 3.5" drive as it's riveted. I think that's bad because there are actually many gamers who do not use that type of drive anymore. So you need to replace and modify the casing so you make the space and remove the plate. It is possible, but a bit difficult.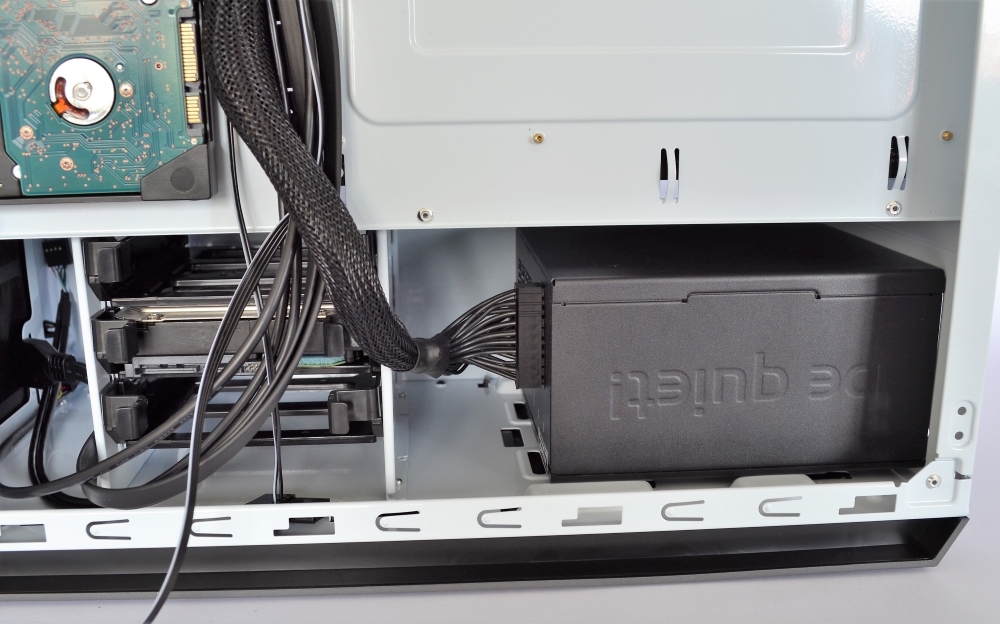 The light in the casing has a soft light blue color. When you consider how complete the casing is, I'm a little surprised that SilverStone has not chosen to just cover the button with a thicker layer or a small metal sheet in one way or another. It would have been nicer that the light did not shine through the button, and only the luminous ring glowed up.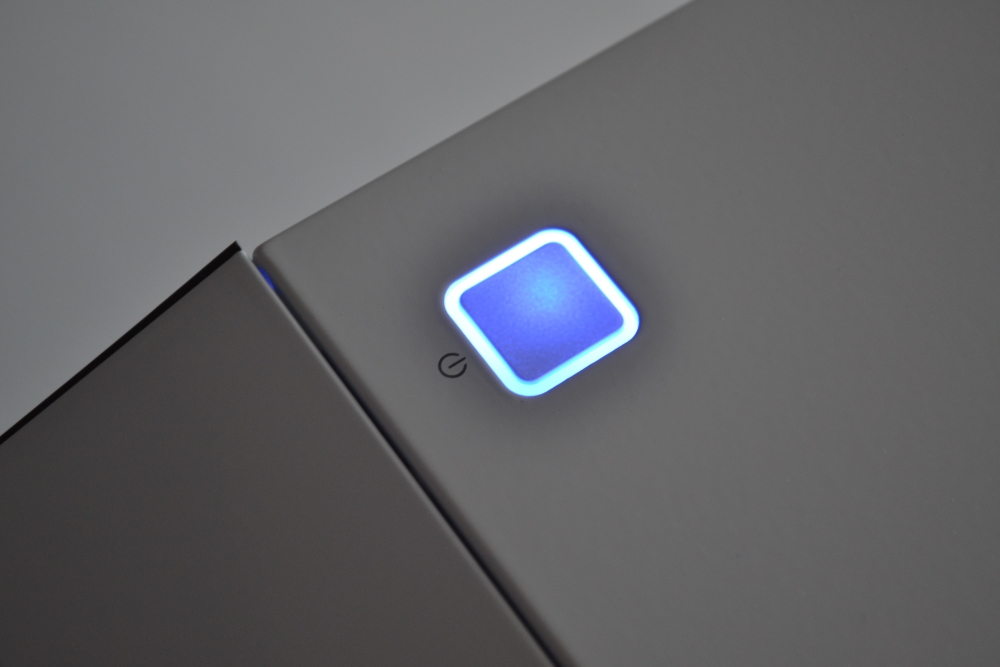 The light in the front is on the other hand super crisp. It glows in the middle and out to each side and illuminates the entire front nicely and softly. I might have liked an RGB solution, or the option to choose from some different colors, but unfortunately you can't. Maybe SilverStone is making that on the next edition.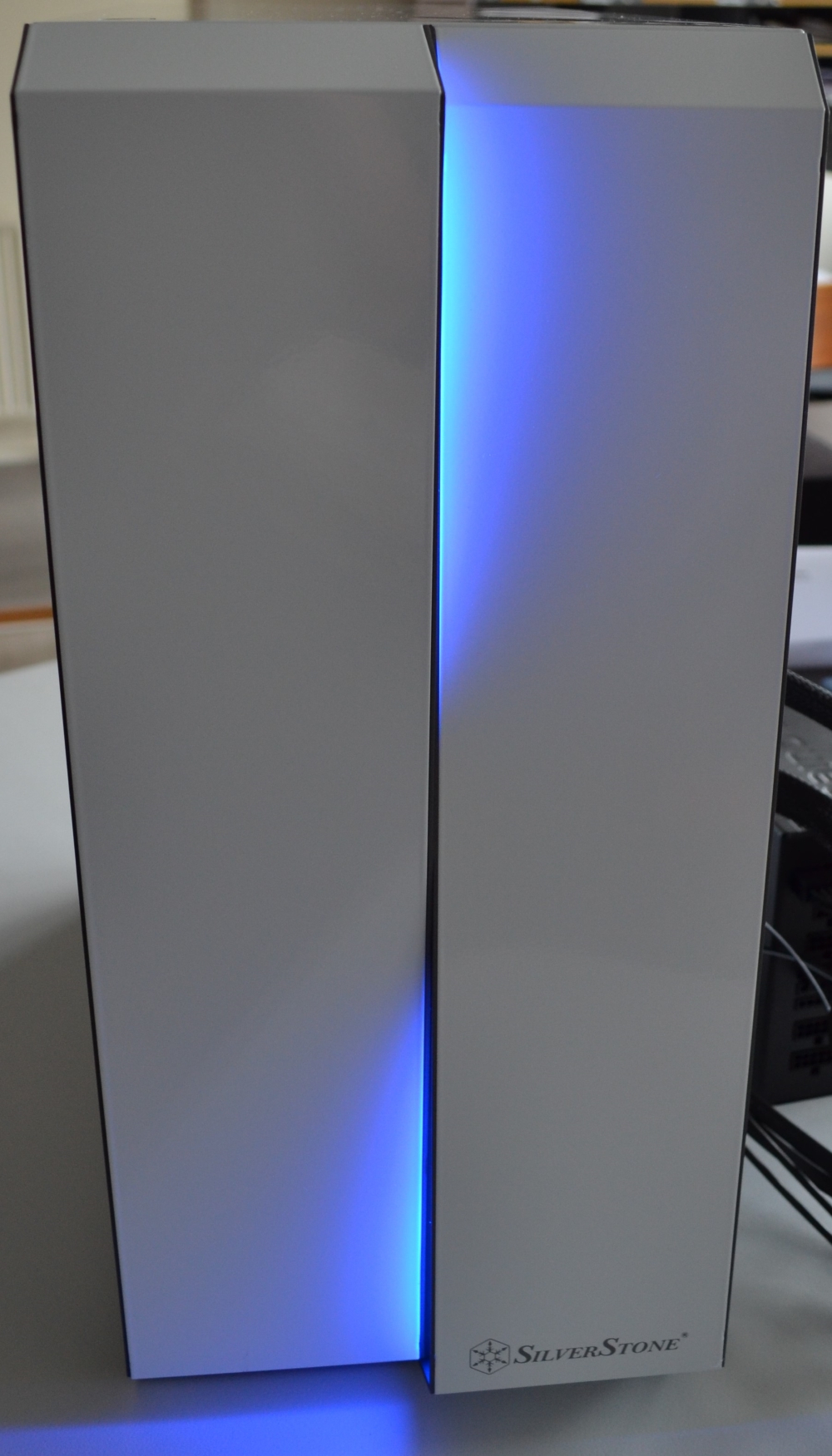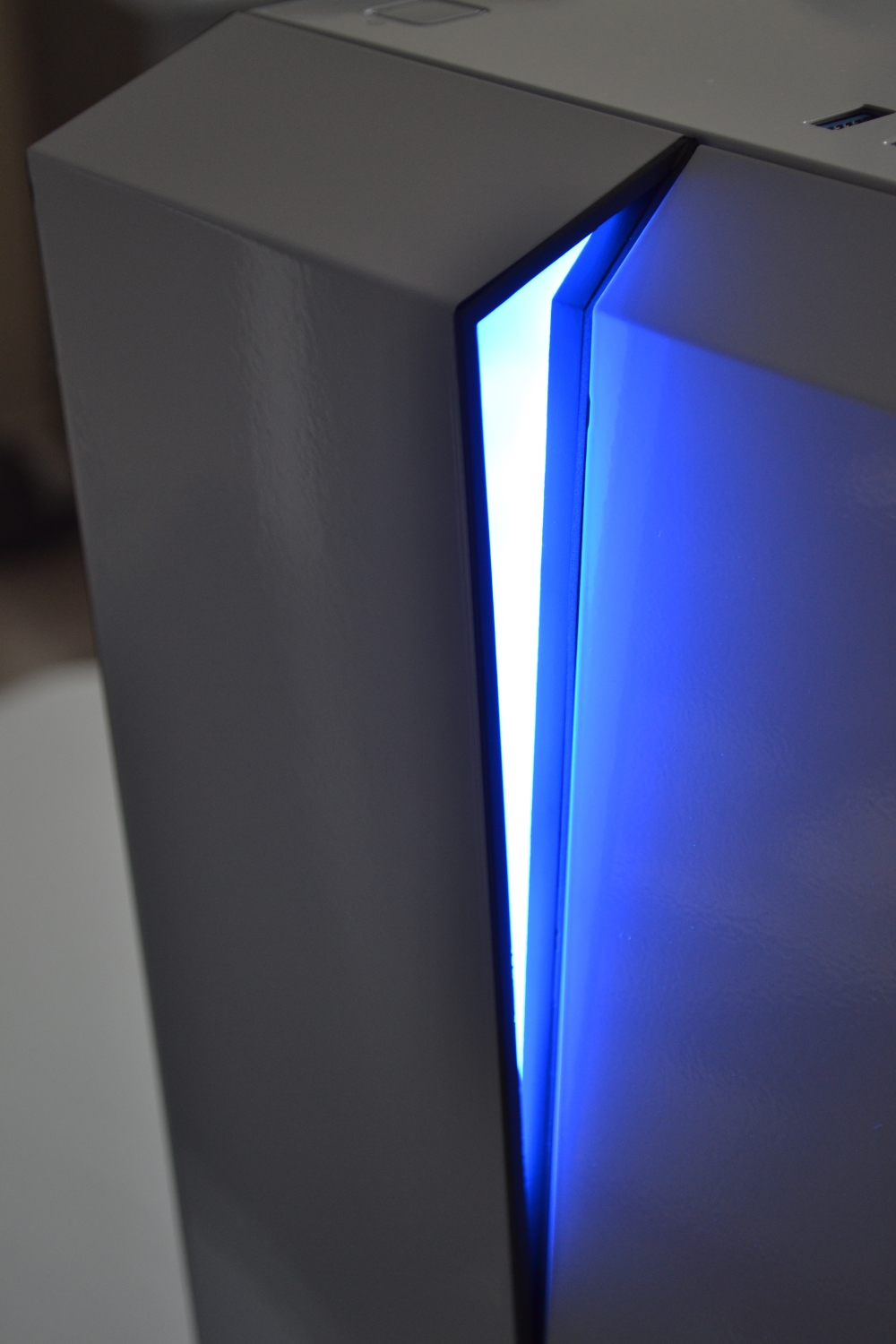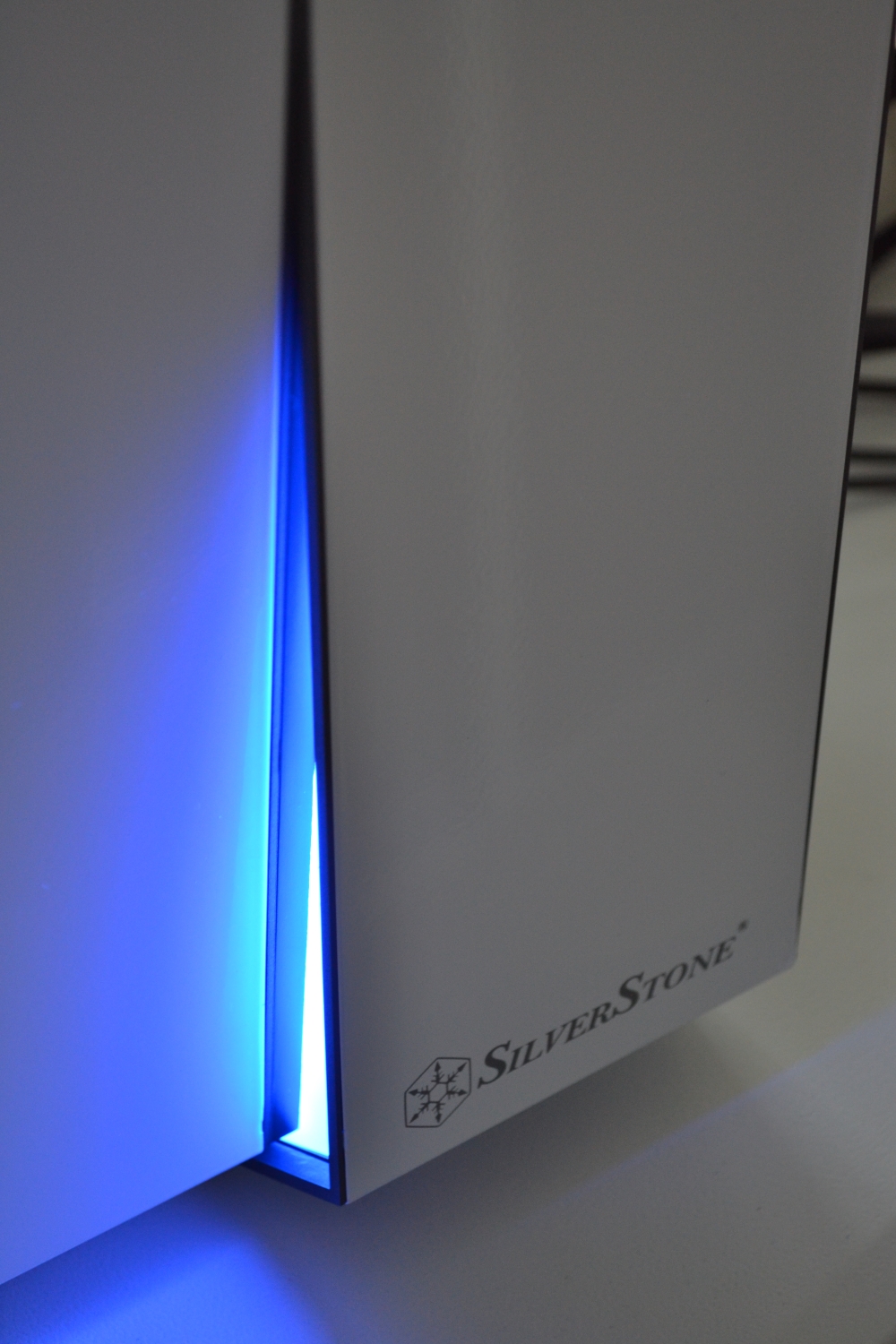 Oh my, that was a lot of pictures. What is the verdict then.
SilverStone has once again shown that they are good at making casings. They have made a super nice casing with some really great details.
There are good options for water cooling of the hardware components, though apparently only with AIO cooling solutions. If you have to make a custom loop, you have to make your own bracket or drill holes in the casing.
You have ample opportunity to create a good airflow in this casing. If you mount 3x140mm fans in the front, the air is blown straight through the cabinet, as the expansion card covers are as open as they are. It is a good solution for those who use powerful graphics cards.
There are some things that you should remember before you buy this casing. You must have a good overview of your build before purchasing the casing, so you know all the components can fit.
Personally, I am very pleased with the casing, and I think it shows very well how far we has come. The fact that there are no drive slots in front. Who uses an optical drives anymore? and that everything should be as discreet as possible, so it looks nice and tidy.
The price is also good at this casing. You can buy it for 800-900DKK in Denmark, which is actually a good price. You get good quality for your money.
Although SilverStone is good at making casings, they are still not completely flawless in my opinion. I find that they should have a beautifull shiny SILVER star. There is some things that I could have wished a little different, and that could have made it easier to build in this casing. But it's a nice casing and you can easily live with these little things if you just had them in consideration when buying.
Read more about SilverStone RL07 here:
http://silverstonetek.com/product.php?pid=772