ROCCAT Khan AIMO USB RGB Headset
ROCCAT has just released a new headset in their Khan series. I had the pleasure of reviewing their Khan PRO last time and now I've got my hands on their Khan AIMO, which is with RGB light.

ROCCAT makes gamer products of very high quality. They are doing their best to improve the products and to be up-to-date.
Let's start with a little trailer for this new headset.
Now, let's have a look at the packing.
The box is quite beautiful with photo realistic print on the outside. It is also listed what features and specifications the headset has.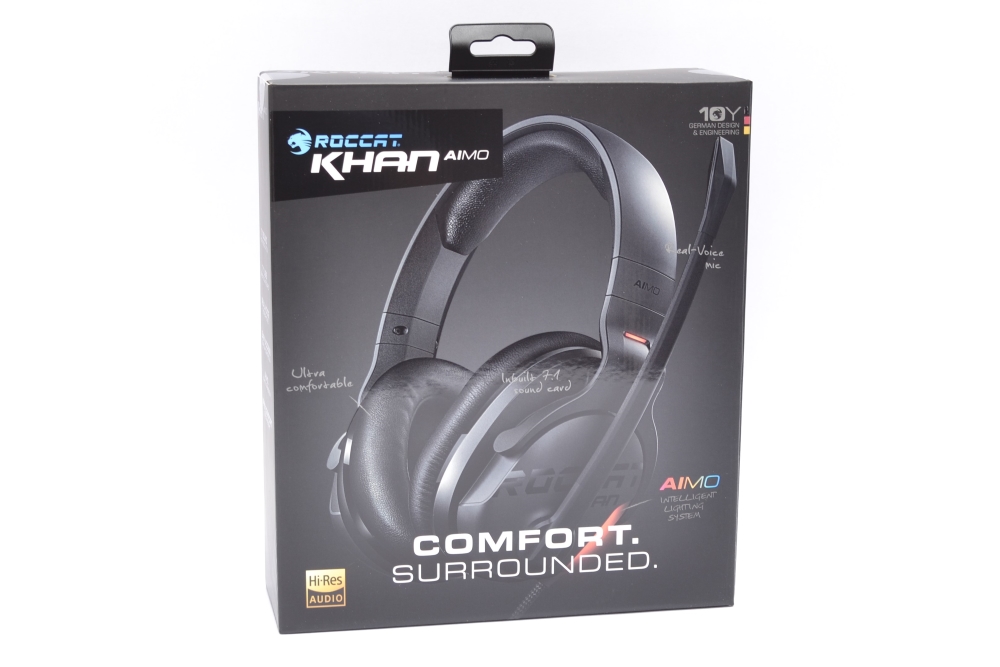 The contents of the box are very limited, since in addition to the headset there is only a warranty description. So I do not really want to make a definite list.
Let's move on to the specifications.
As you can see, the headset is built around a pair of 50mm speaker units. It has a microphone and a USB sound card built-in.
The weight of the headset is only 275 grams, and the cable is a fabric cable in 2 meters. It should be able to cover most needs.
DRIVER UNITS
Measured Frequency response: 10 - 40000Hz
Impedance: 32Ω
Max. SPL at 1kHz: 99dB
Driver unit material: Neodymium magnet
Drive diameter: 50mm
MICROPHONE
Measured Frequency response: 100 - 10000Hz
THD% @ 1kHz: 2%
Sensitivity at 1kHz: -40dB
Signal-to-noise ratio: 60dB
Impedance: 2.2kΩ
SOUND CARD
Resolution: 24-bit @ 96kHz (max)
DAC/AMP combo

DIMENSIONS / WEIGHT
Weight 275 g
Cable length 2m
SYSTEM REQUIREMENTS
Windows® 8, Windows® 7, Windows® 10
Internet connection for driver installation
USB 2.0 Port
Let's look at the headset.
ROCCAT Khan AIMO comes in a quite nice, though, a bit discreet design. As you can see, it can be folded for easier transportation.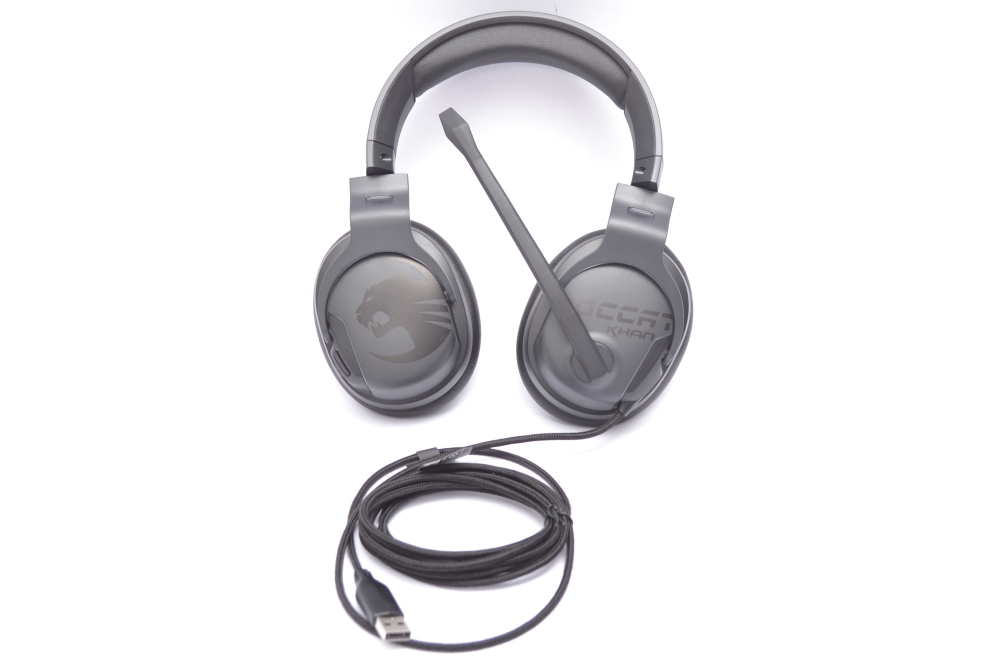 The ear pads are good thick and covered with leather. The same applies to the cushion on the headband. The hole in the ear pads is about 6cm on the high joint, and I did not seem to have trouble fitting my ears in them.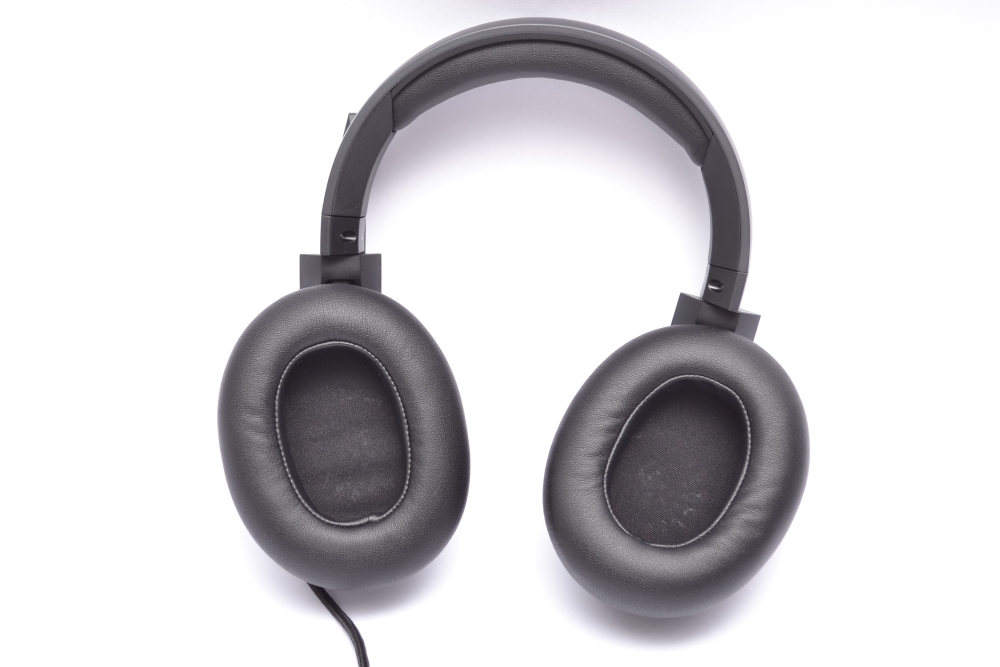 Then there is the fabric cable, which is also quite nice. It is not so stiff, but stiffer and thicker than on my Sennheiser. Sometimes it may cause a lot of noise in the headset when the cable scratches up and down the clothes or the table. That is not the case with the ROCCAT Khan AIMO headset, which is nice.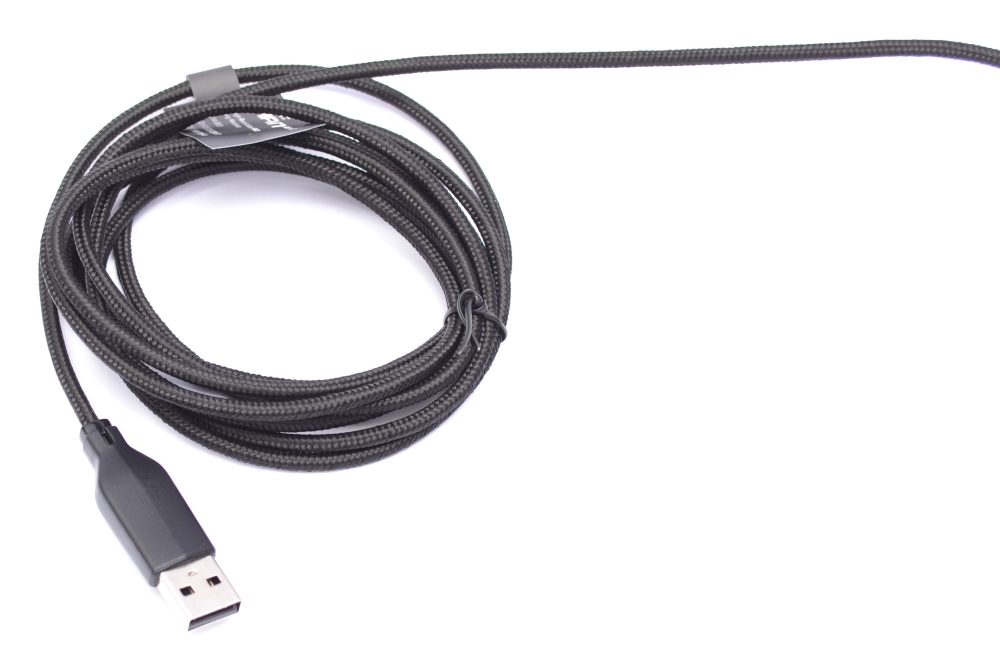 This is how the headset looks like on a head.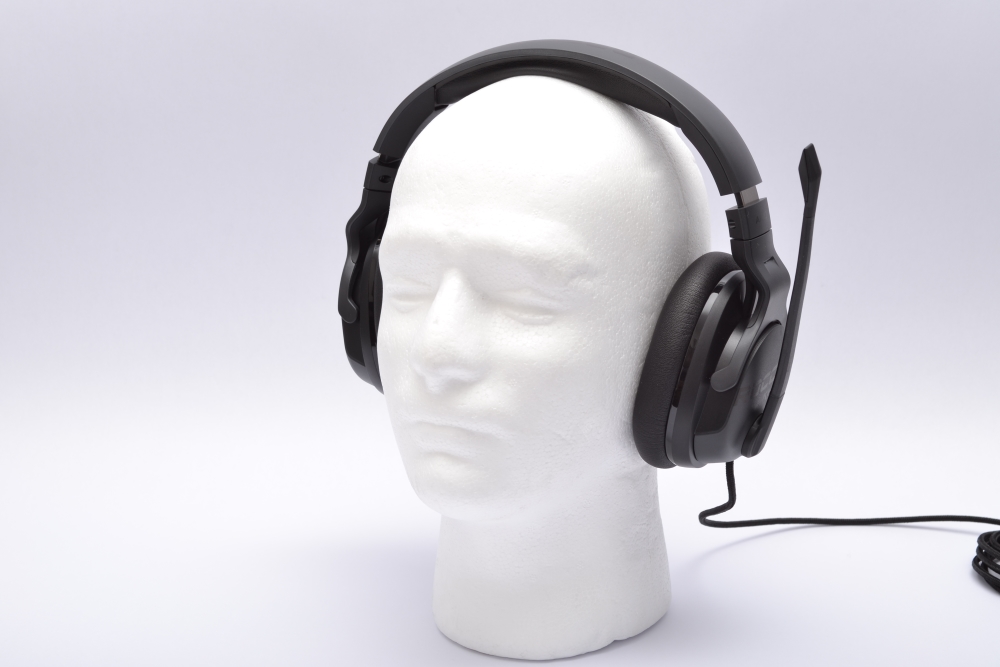 And from a different angle.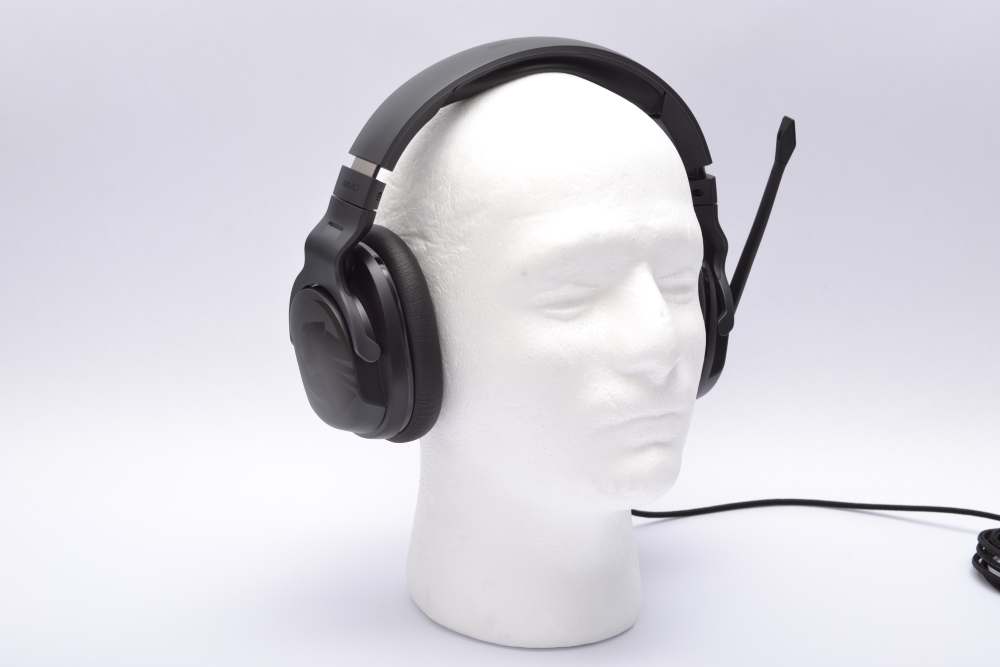 The microphone can be tilted up and down. There is a switch in the arm that turns the microphone off when you tilt it up. That is quite convenient.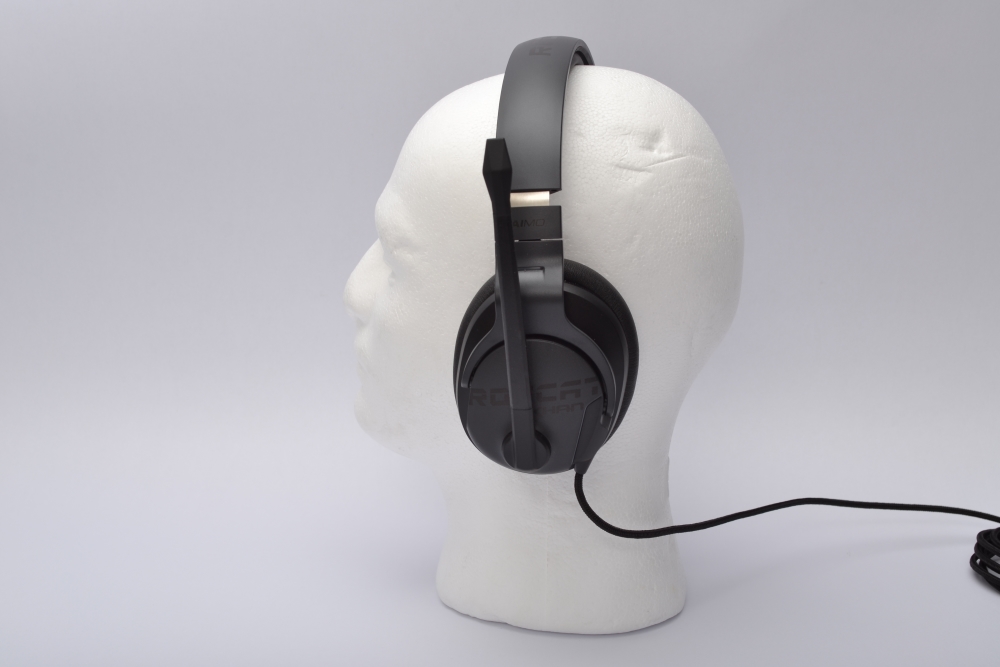 The arm can not really be adjusted to the sides, but if the microphone is of the same quality as the ROCCAT Khan Pro I have tested. Then it doesn't matter.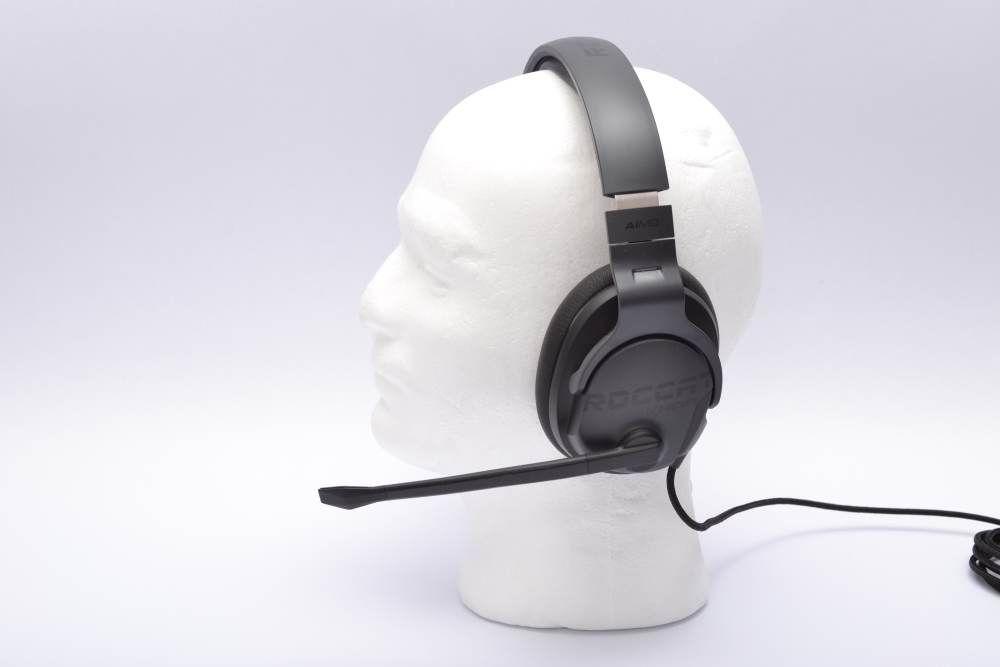 At first, the headset may seem a little cheap due to its low weight, but here we can see that there are durable materials like steel built into the headset. It's good to see.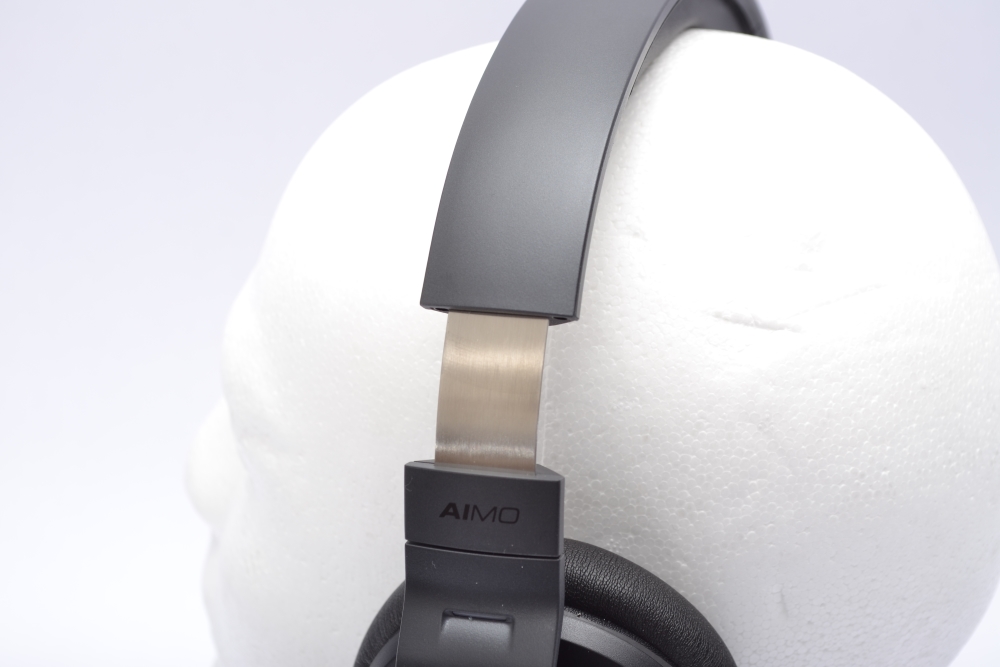 On the left ear cup, you can see that it is a ROCCAT Khan AIMO you're wearing, as it is printed on the ear cup and just above the turning point.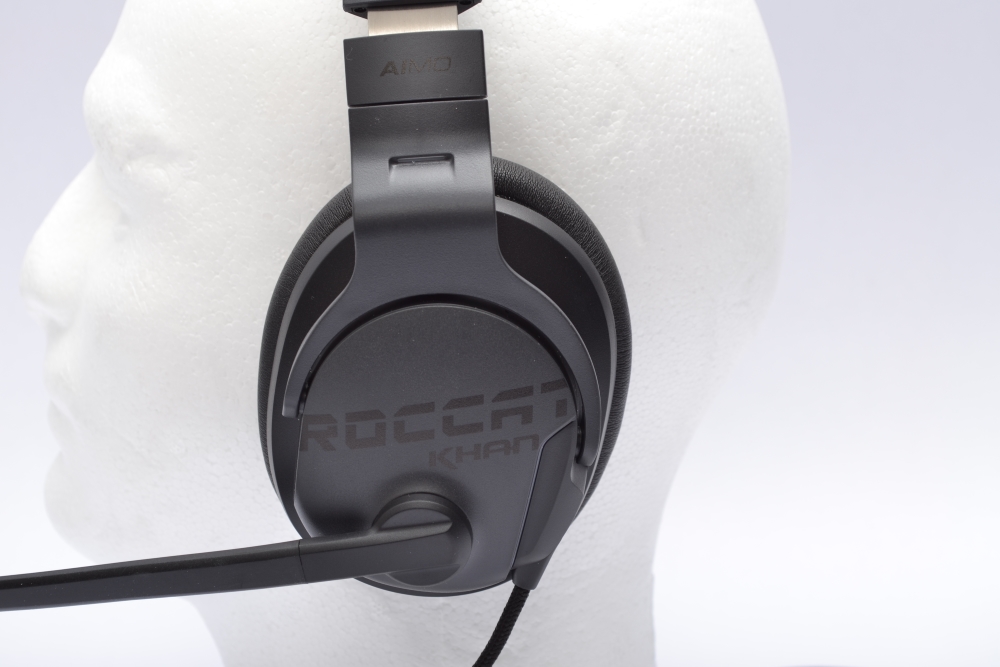 On the right ear cup you can see the well known ROCCAT lion.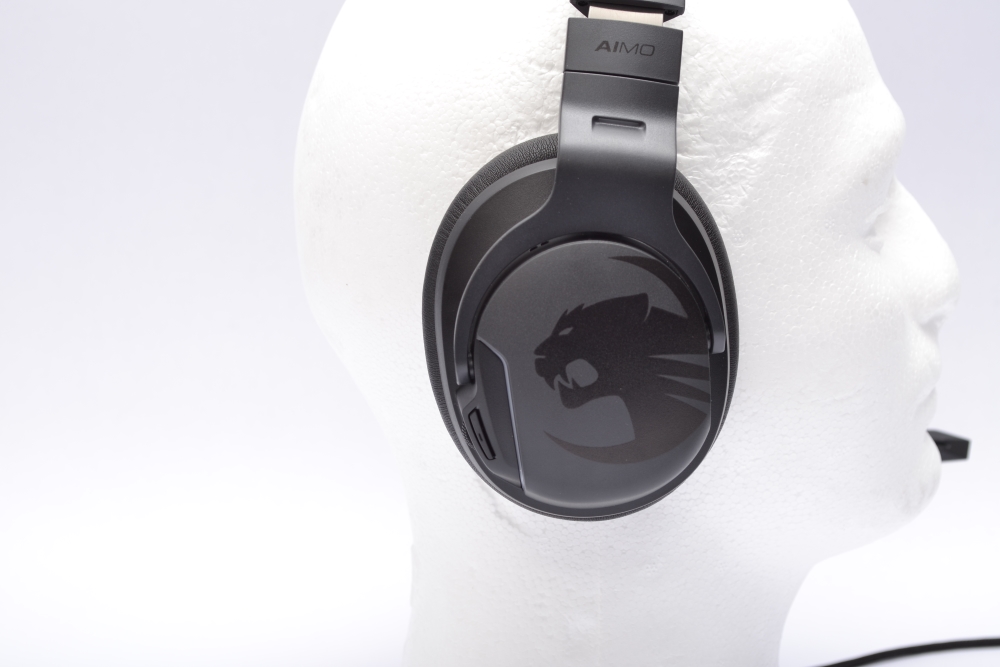 On the right ear cup there are some controls. There is a volume control for turning up and down the sound. This is digital, not a potentiometer, so it controls the sound card directly. It's pretty awesome.
Then there's a button where you can turn the Surround on and off.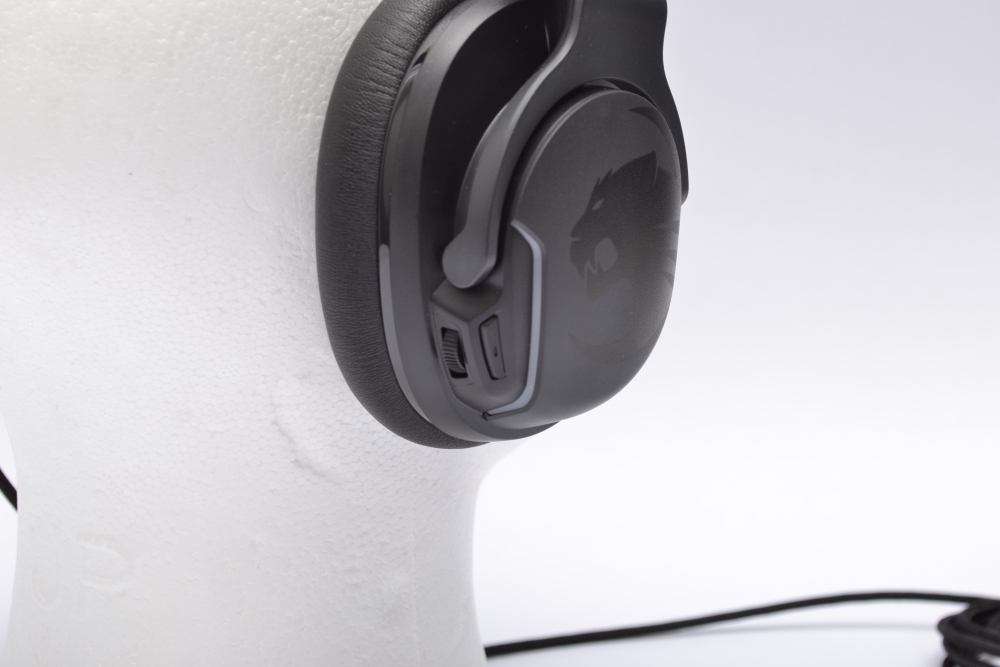 ROCCAT Swarm Software.
ROCCAT has made a common software for all their products, which they call SWARM.
As you can see, you have a wealth of options for adjusting the sound in the headset. There is equalizer with a lot of presets. It is possible to turn the surround on and off as well as adjust it, and then there are options for impacting on the microphone. It's quite funny.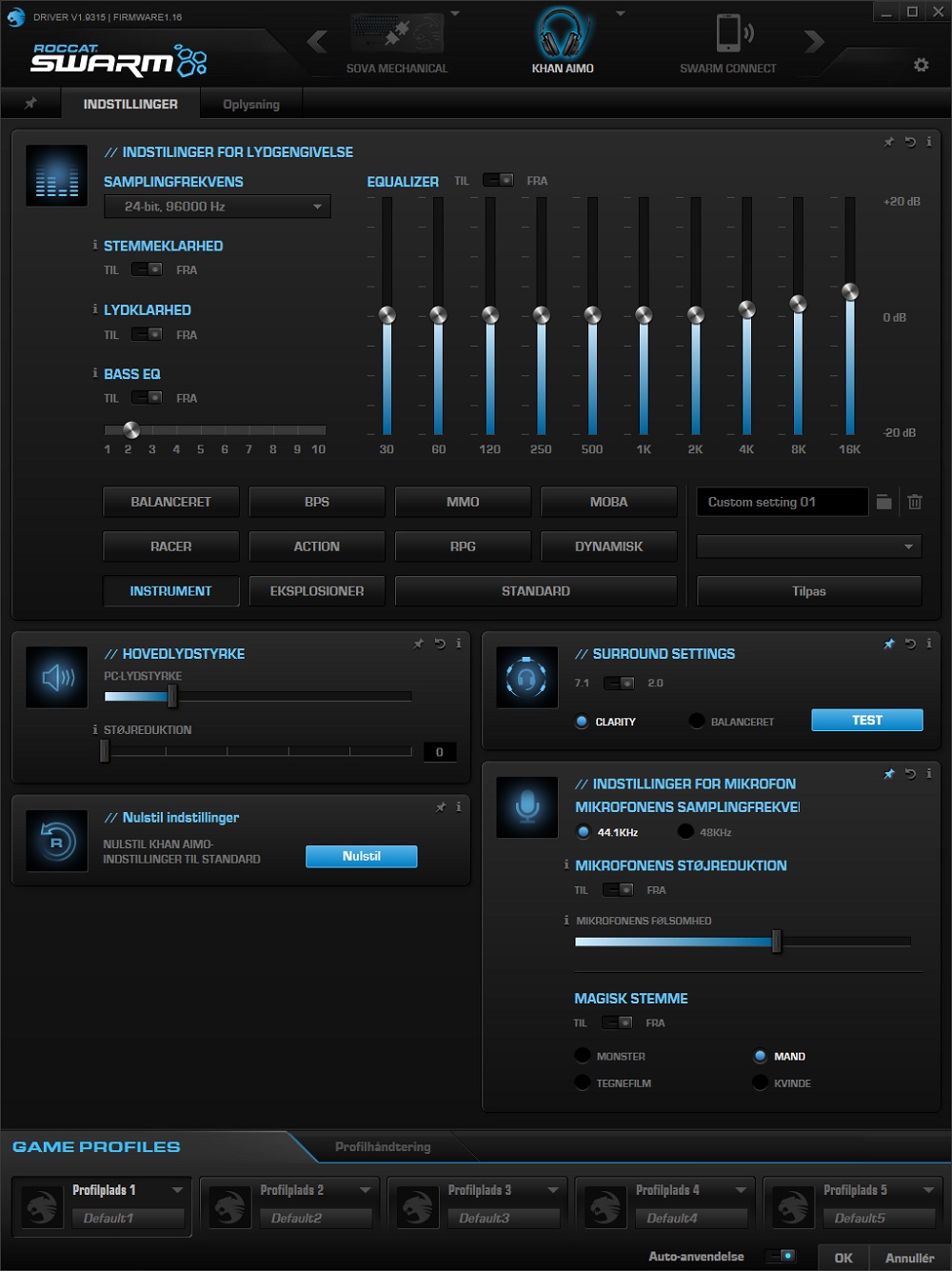 In the light settings you have the option to choose several different effects. This headset is specially built around the new system AIMO, invented by ROCCAT. But you also have several other options.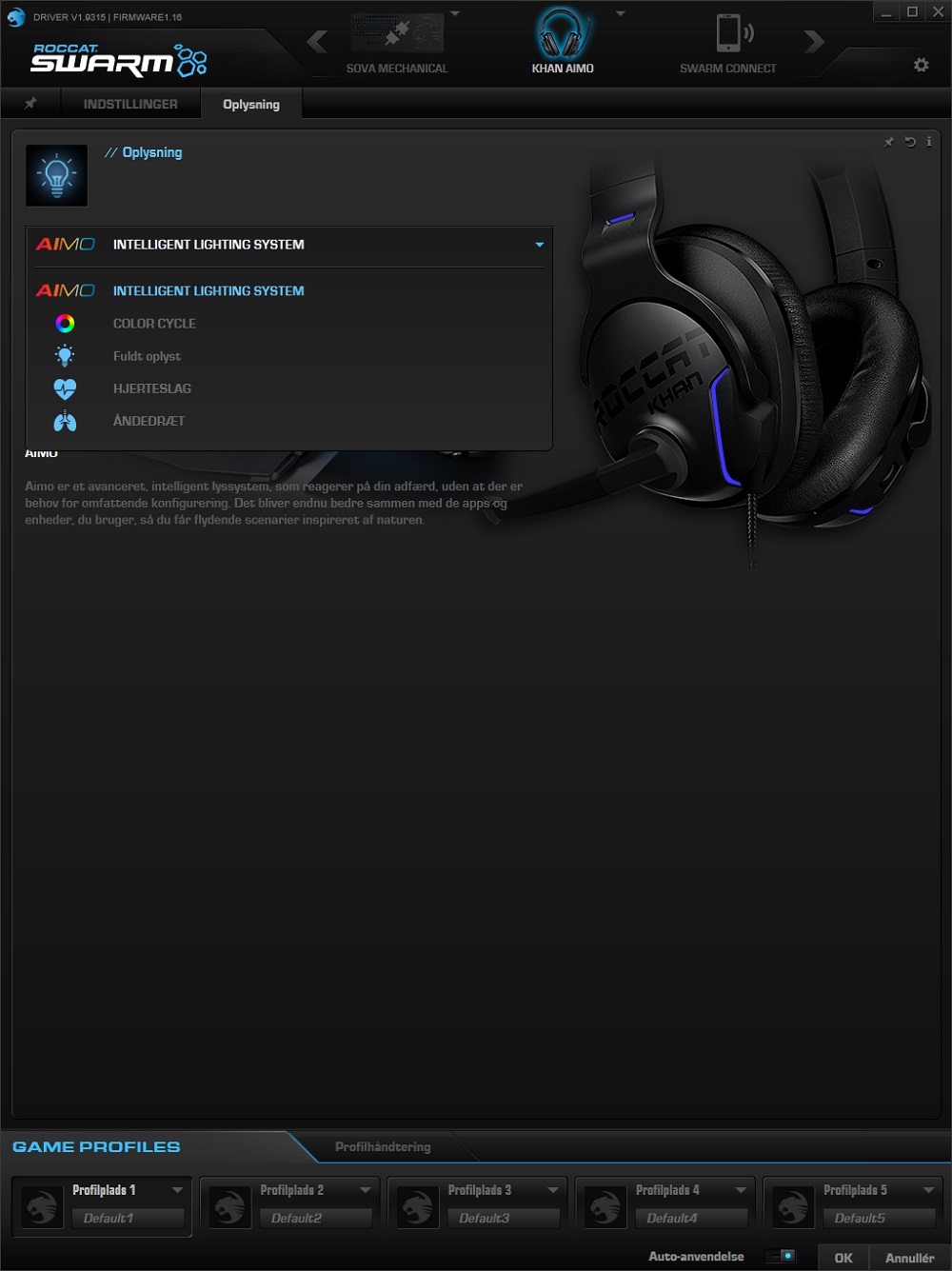 AIMO is an automated system that analyzes how you use your AIMO products. Then it adjusts the light effects so that you constantly get a new look from your products. It sounds pretty clever.
The light in the headset.
When I have just written about AIMO, you should see where the light is in this headset. There is a small line up above and one on the back of the headset.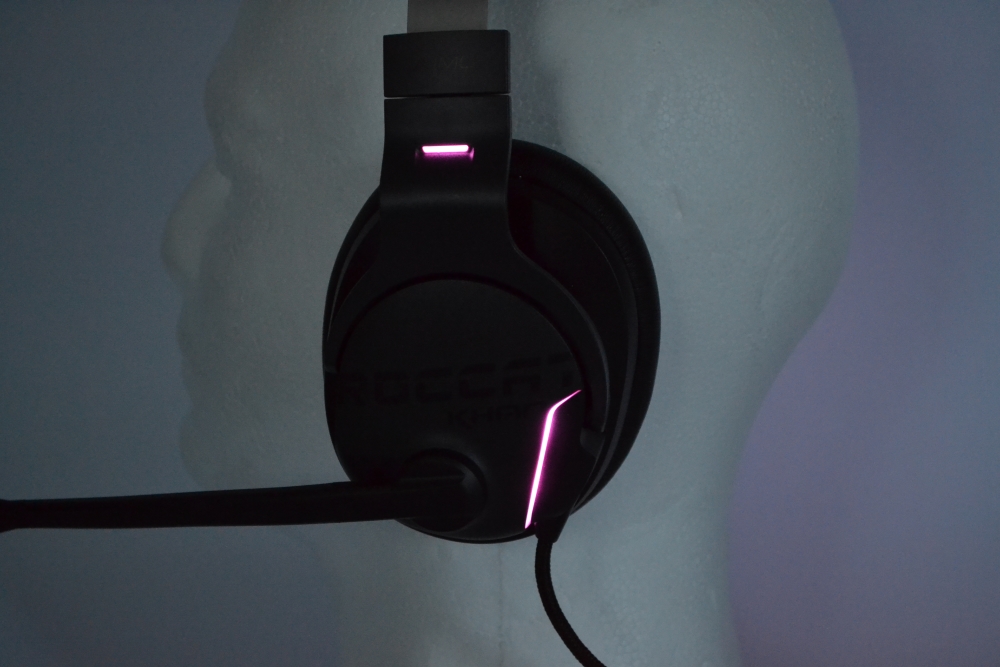 The light is placed alike on both ear cups, where it might have been great if it had been different? That idea is free of use if ROCCAT reads my review.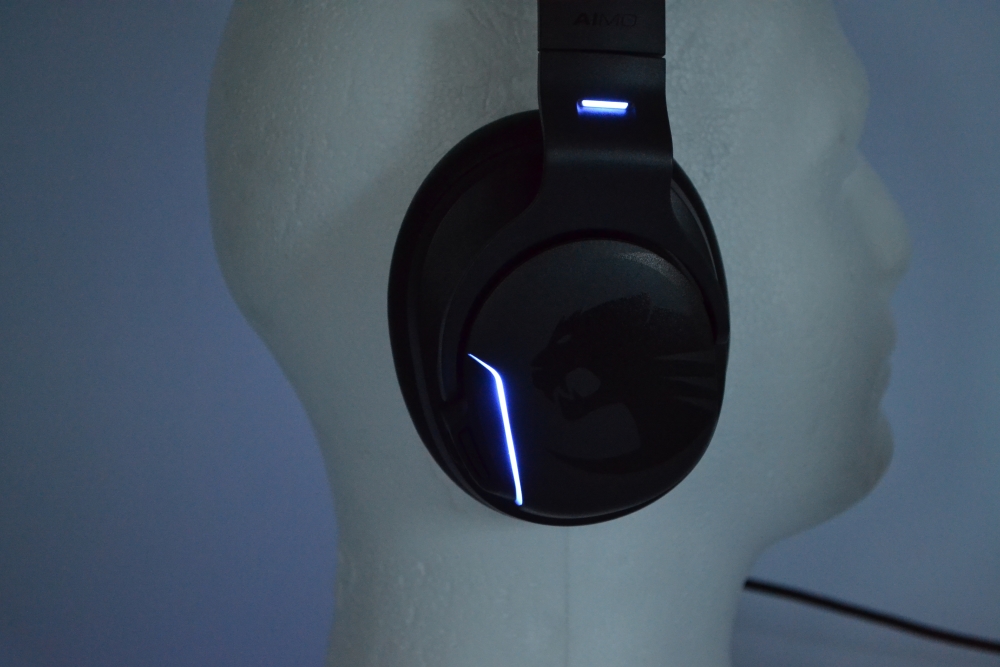 You can not control the different light zones individually, it all runs the same color at the same time.
Below is a picture where you can see how it lights up. It should be said that the picture is taken in complete darkness, but with a long exposure. So you just have to look at the profile on the background, not take in matter how much it lights up. It cheats a bit.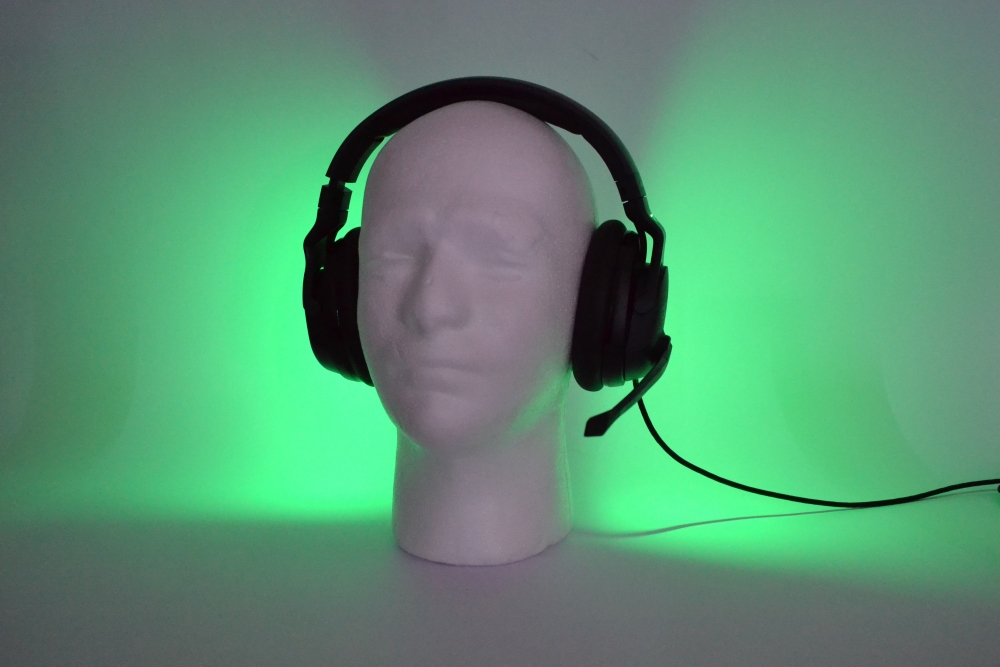 Read more about ROCCAT AIMO here:
https://aimo.roccat.org/en/Overview/
Time to listen and test.
I have used the headset over a few days and tested it against my Sennheiser PC-350SE.
The Comfort.
The ROCCAT Khan AIMO is a great headset. I've had it on for some hours while I've played and edited this article. There have been no problems squeezing too much when using glasses or other discomfort. So the comfort is quite nice on this headset.
The sound.
I like to test the headset with the basic sound, where I turn off all features and listen exclusively to how the speakers are playing. ROCCAT has selected some excellent speaker units for this headset. It may not be as good as my Sennheiser, but we are very close.
I think there is a good depth in the headset, and it also get most of the nice audio details. This applies both when listening to music and when playing.
Having said that, I can with the included software and equalizer. Adjust the sound exactly as I want it. With a bit of fine tuning, the headset can play really well. There is no doubt that ROCCAT Khan AIMO will fully satisfy most gamers.
The microphone.
As you can hear, the microphone records my voice perfectly. There is no static noise, which is really good.
If you record with a little background noise, you may notice it is there. But it is not something that disturbed the voice in my opinion. If there is a lot of noise, it may be bad, but there are almost no headset microphones that can do that anyway. The ROCCAT Khan AIMO microphone does it quite well.
What is my opinion about this headset.
With their Khan AIMO, ROCCAT has made a great headset.
I think it plays really well in the basics, and since you have a USB sound card, you can adjust the sound completely as you want it. That way, you're not limited by the onboard sound card.
As we have seen with ROCCAT Khan Pro, the microphone in their headset is quite good. It does not record anything it is not intended for, and it records clearly. There is nothing to complain about.
Also, the software ROCCAT SWARM can not be complained about. It offers a wealth of options, where you can adjust the sound and light of this headset. It's great that ROCCAT have gathered the driver of all their products in one software.
Then we come to ROCCAT AIMO, which this headset is launched with. I think it sounds like a smart feature, but on a headset I do not know how much benefit it has. Then it should be because you're going to a lot of LANs, or playing a lot with your friends. Because you do not have the great pleasure of it yourself when you wear your headset.
And when it comes to announcing it with light control, I might think they should have given it a little more light in the ear cups. It's quite subdued, so I'm not sure you would notice the special effects.
Then there is the price. ROCCAT has given me an price of 949 DKK, which they think it is worth. It's a pretty good headset so I can actually accept the price and maybe hope that the Danish stores sell it a little bit lower, but just a bit. That would be perfect.
I choose to give ROCCAT Khan AIMO a nice Gold star. ROCCAT has managed to make a good-looking headset with its own sound card and great comfort. The headset has discrete light effects, which looks great. If AIMO belongs to a headset or not, is a matter of opinion.
Read more about ROCCAT Khan AIMO here:
https://www.roccat.org/en-GB/Products/Gaming-Sound/Khan-AIMO/