Antec VSK2000-U3 TFX Casing
Time to look at a small-scale casing. In this review we are going to look at a small casing from Antec called VSK2000-3U.

Antec is primarily known for their casings, coolers and power supplies. They make products in all price ranges.
Let's look at the packaging and the content.
You receive the casing in a brown cardboard box with illustrations and specifications on the outside.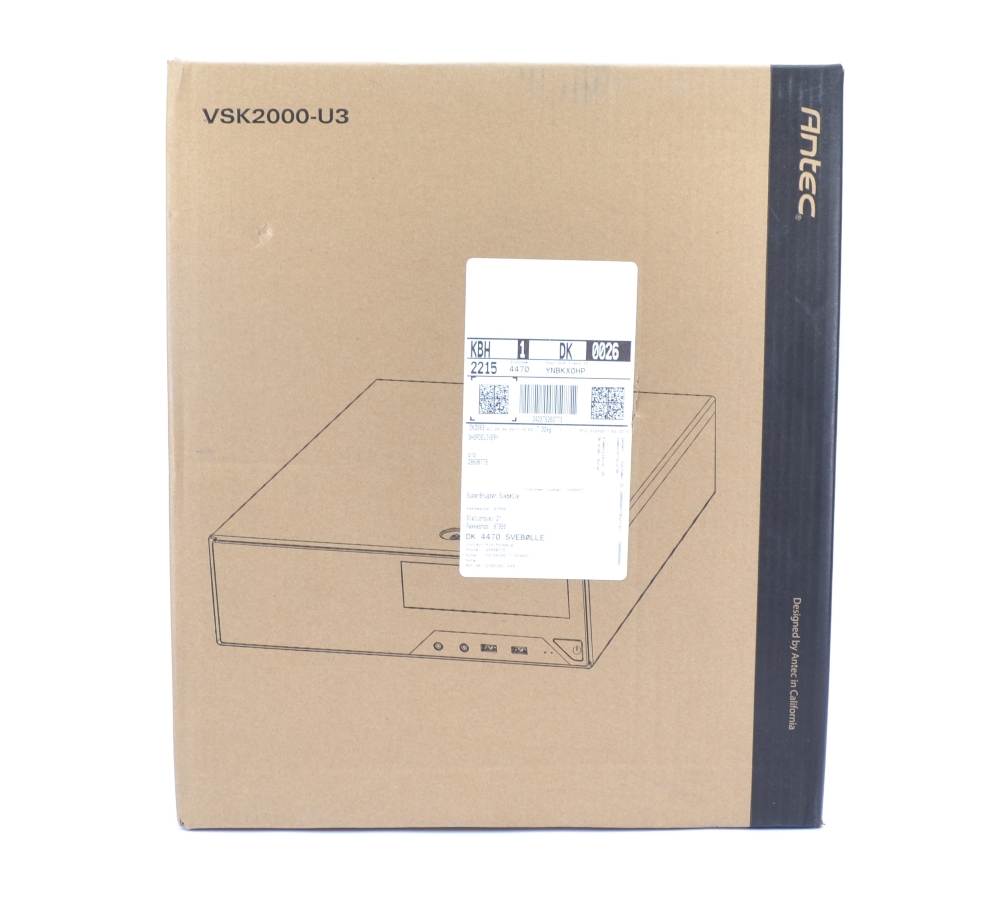 Inside the box, the casing is well protected in a plastic bag with flamingo sides.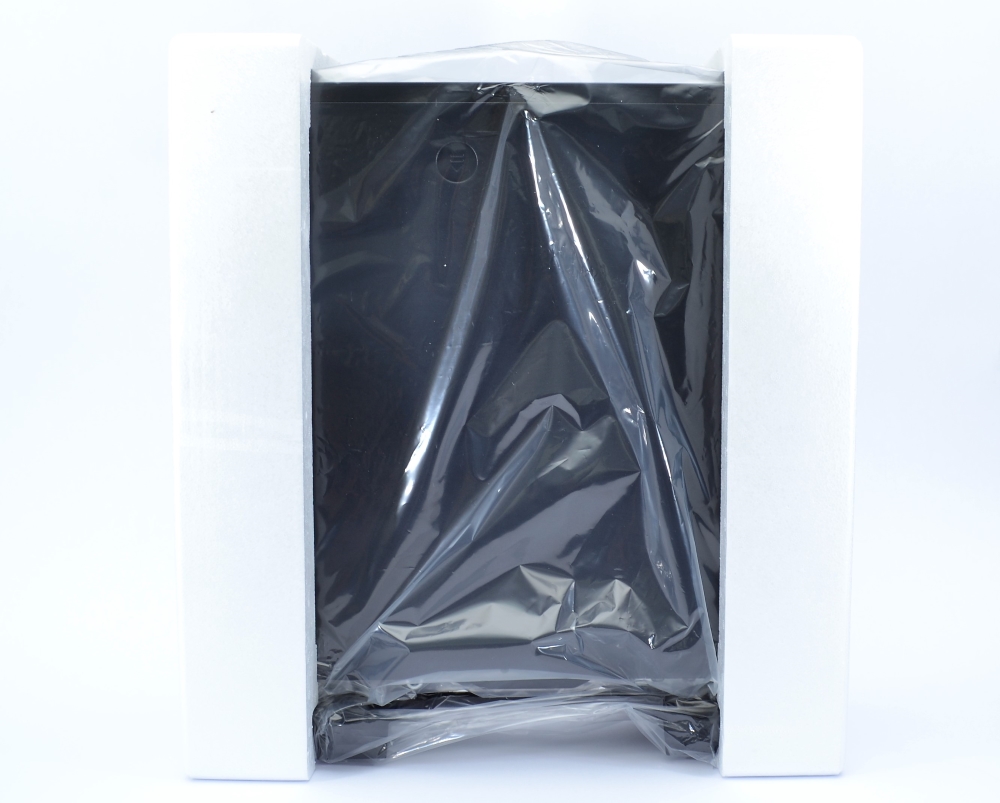 There is a bag of mounting instructions and a power adapter.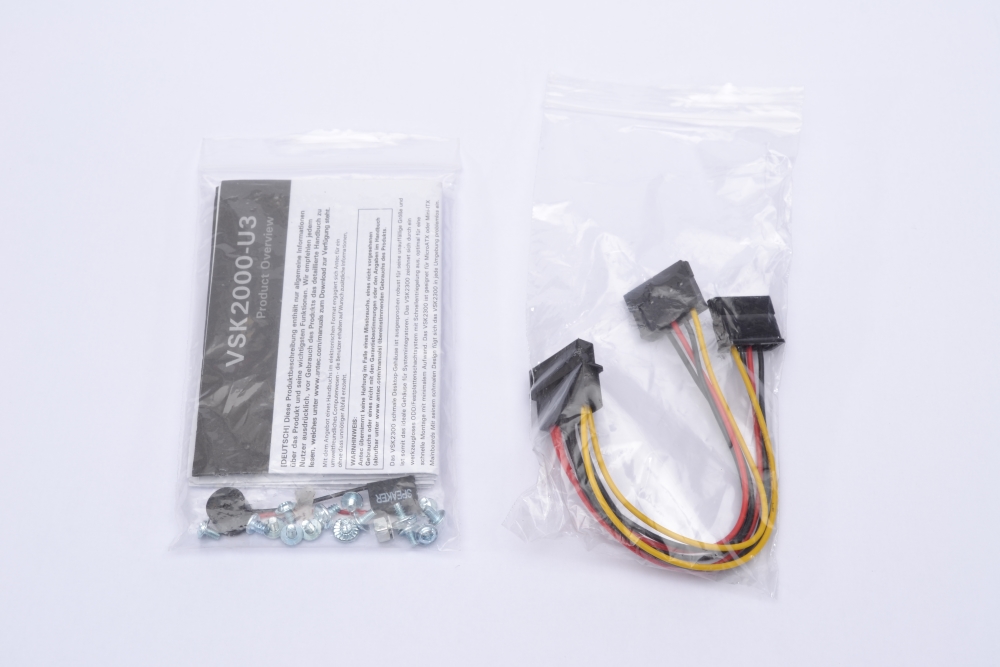 Indhold:
Antec VSK2000-3U casing
Vertical stand
Various screws
PC Buzzer
Power adapter (Molex til Sata)
Mounting instructions
The technical specifications.
As you can see, there are mounting options for various drives and USB 3.0 as well as a reasonable size of graphics card. There is a 92mm temperature controlled fan in the casing, which is the only kind of fan for airflow.
Also note that the power supply to be used must be a TFX supply.
3 Total Drive Bays:
1 x 5.25" tool-less drive bay
1 x 3.5" HDD
1 x 2.5" SSD
4 x Expansion Slots
Motherboards: microATX, Mini-ITX
Maximum graphic card size: up to 200 mm long
Maximum CPU cooler height: up to 65 mm
Cooling system:
92 mm temperature controlled fan included
Front I/O ports:
2 x USB 3.0
Power Supply: not included
Power Supply Type: TFX
Unit Dimensions
14.0" (D) x 13.3" (W) x 4.0" (H)
356(D) x 338(W) x 102mm (H)
Package Dimensions
15.6" x 7.3" x 17"
397 x 185 x 432mm
Net Weight: 7.7 lbs / 3.5 Kg
Gross Weight: 9.0 lbs / 4.1 Kg
Let's look at the casing.
The casing is a nice looking little casing in black design. It comes with a foot for vertical mounting, so you can put it on the table or a shelf.
It is stylish and has no reset button. So you do not need to mount it.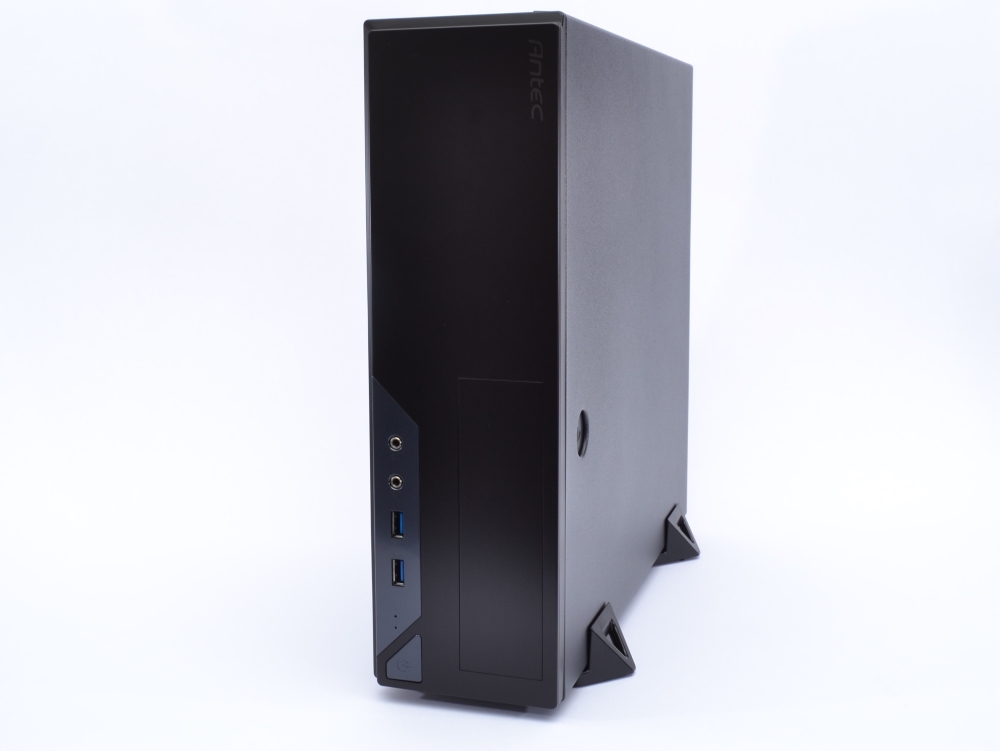 At the bottom of the casing is 4 good rubber feet, if you want to place the casing horizontally on a shelf or the table. Otherwise, the casing will fit well in the enclosed stand.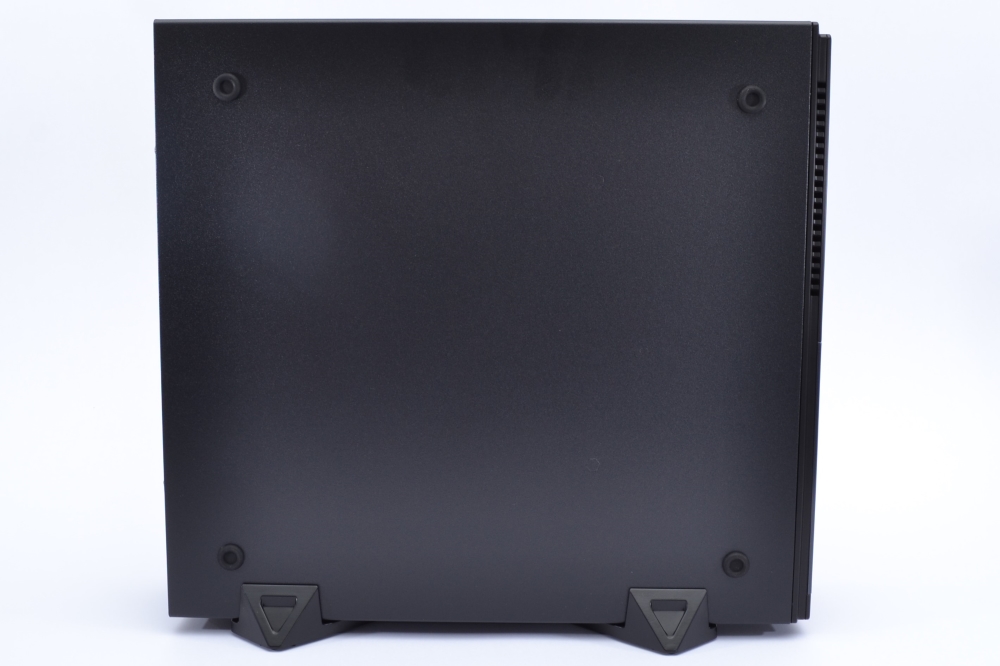 Looking at the back of the casing, you can see that there is room for 4 pcs. low profile input card. There is no room for fans here, so you can only use the 92 mm fan in the front.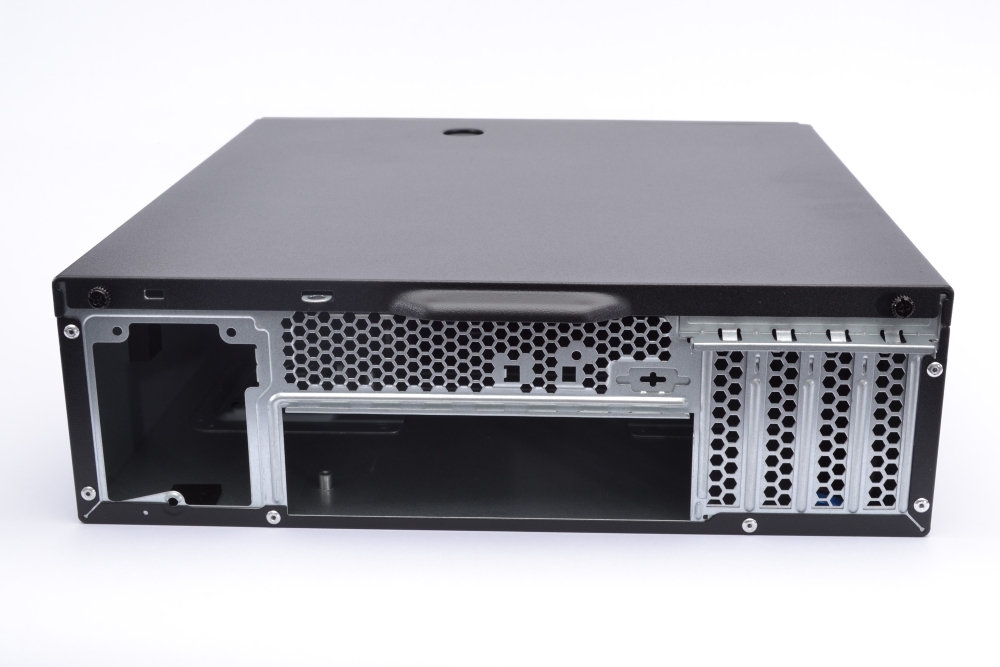 The front is nice and discreet. There is room for an optical drive and audio jacks as well as USB 3.0.
There are two small discrete LEDs that show power and drive activity as well as a power button. You can not find a more discreet casing than this.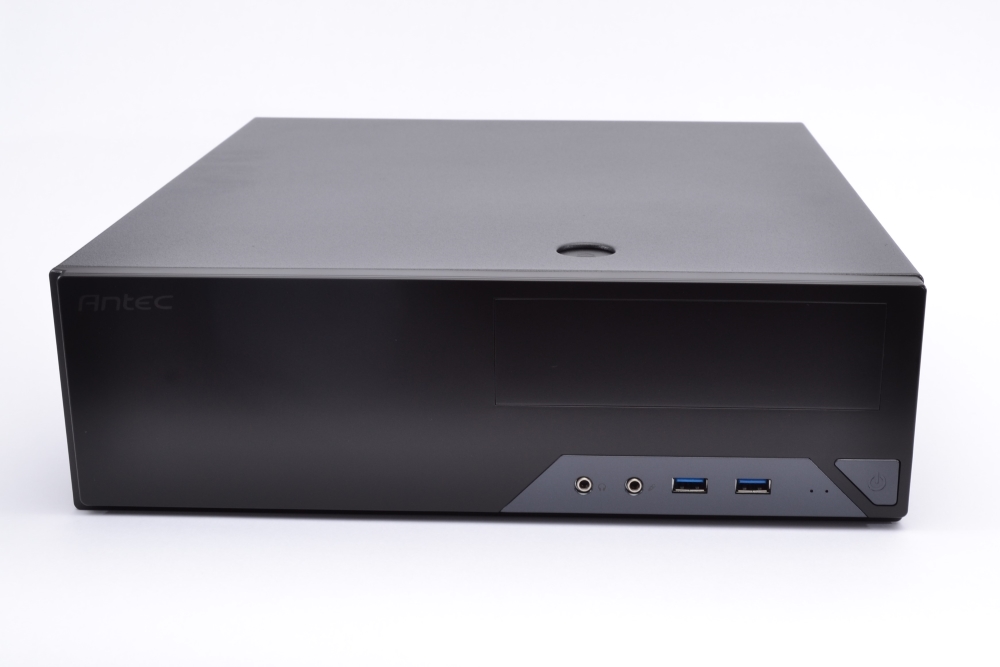 After removing the two finger screws at the back of the cabinet, you open it by pressing the button and slide the lid backwards. If you do not need the protection against tamper, you do not need to reinstall the finger screws again, as the lid is locked with a click system.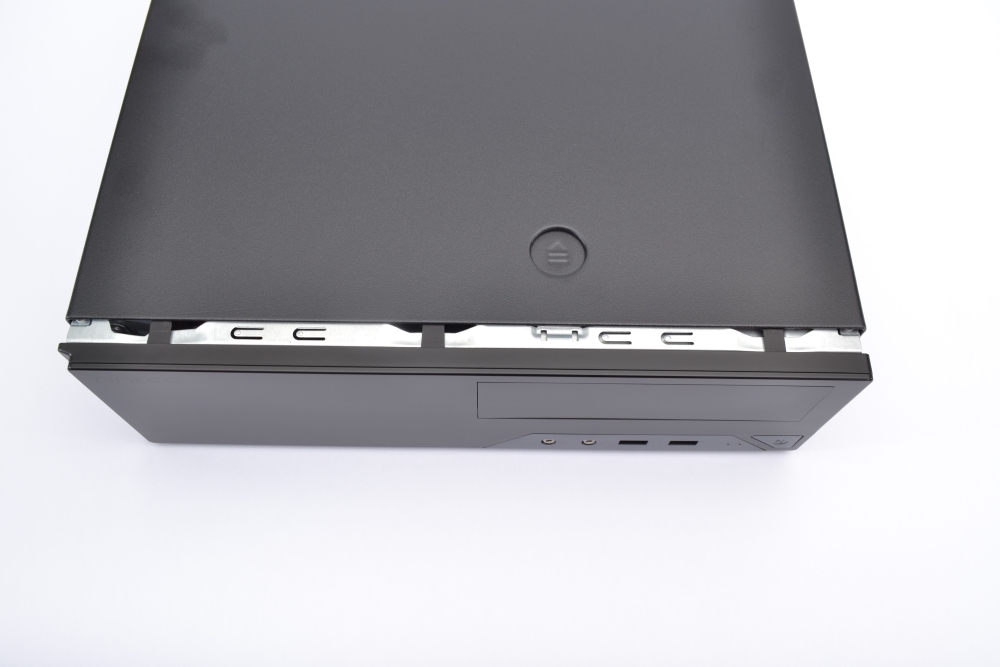 The entire casing can be mounted without tools. In fact, you only a screwdriver to mount the motherboard.
Everything else is mounted by a click system.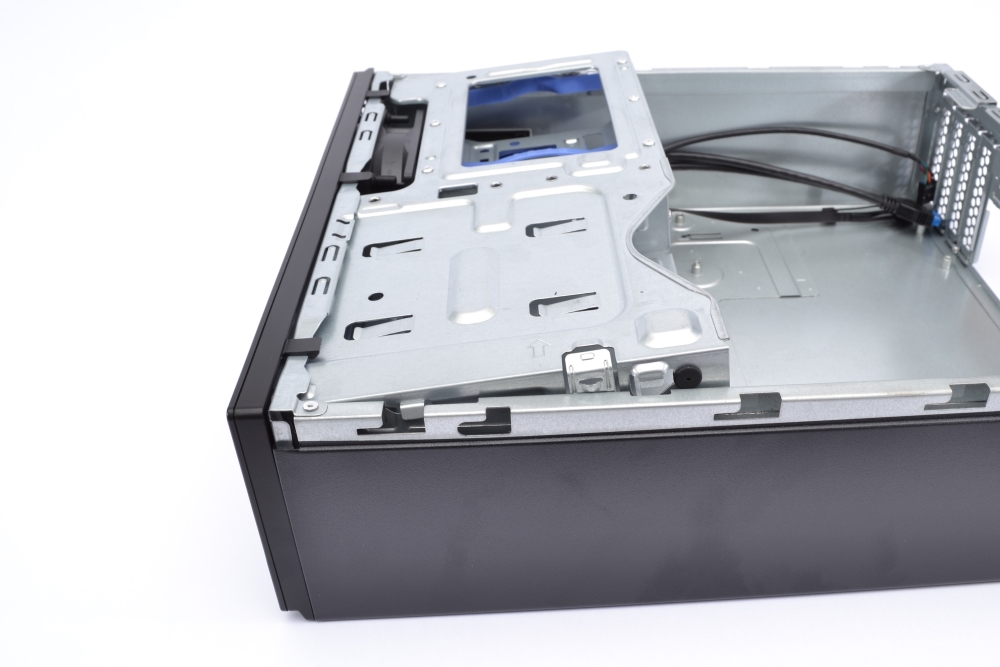 The drive holder can be tilted vertically and clicks into vertical position. That way you can work with it without collapsing all the time.
Click the locks are marked with blue stickers, so you know where to tap to trigger them.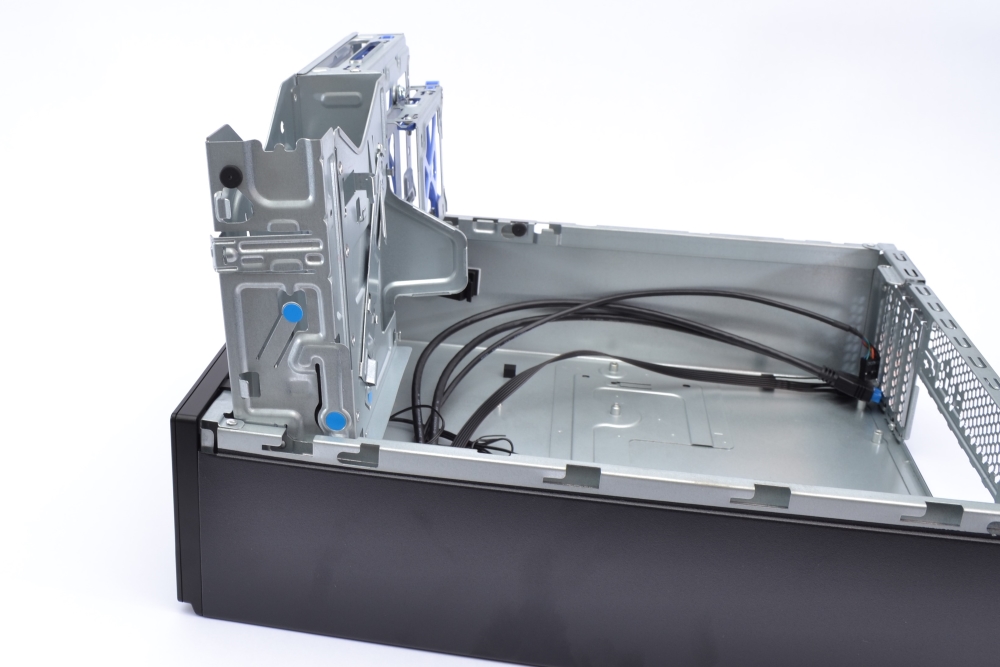 Several cable holders are fitted in the casing, which makes cable management much easier.
As you can see, there is an Antec fan in the front. It is controlled with a small temperature sensor and is supplied directly from a Molex connector. So you can not control this fan with the motherboard.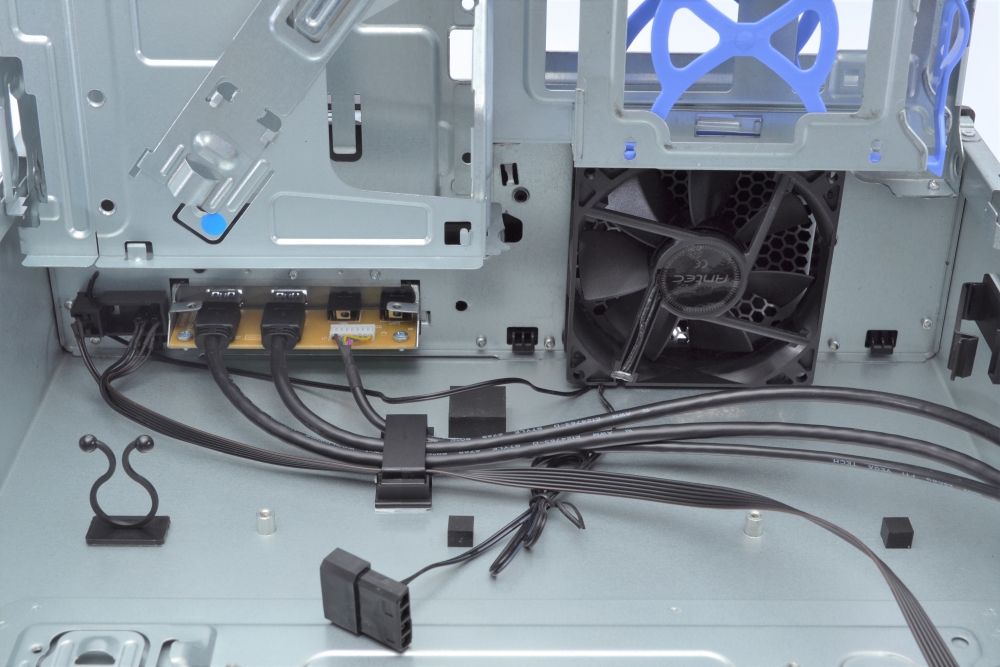 Hard drives are mounted in trays and there is room for a 2.5" and 3.5" drive. Easy mounted and without tools. I would have liked to be able to install a 2.5 "drive in the 3.5" tray, but unfortunately you can not.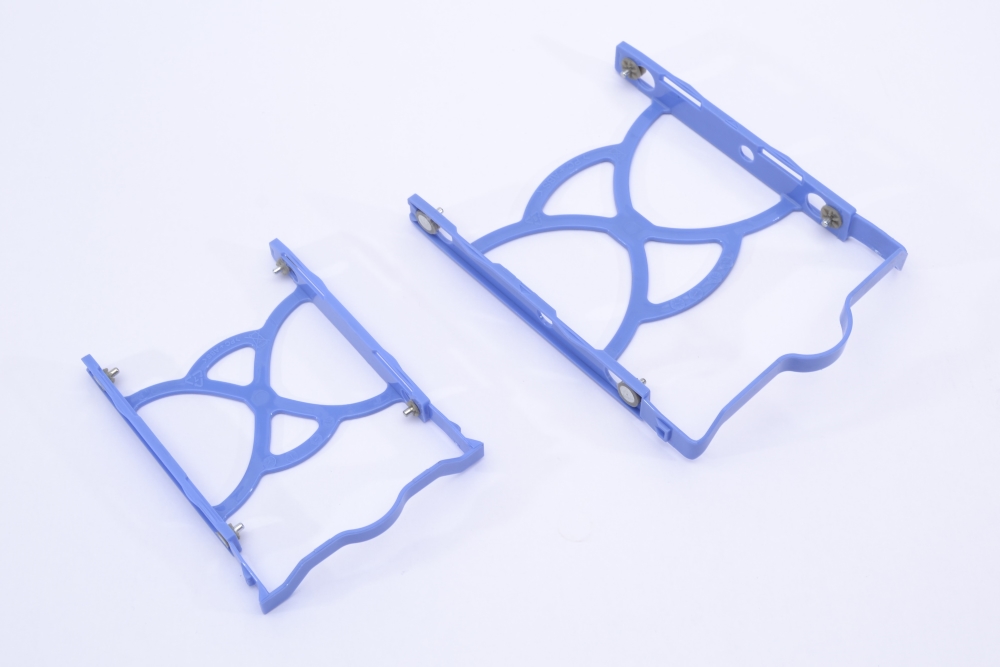 The installation.
Should we see if we can mount some hardware in the casing? I have found a bit so I can test how easy or difficult it is.
We start with the optical drive where a holder sits underneath the actual drive hole. It is clicked out by pressing the blue spot, which is simple and easy.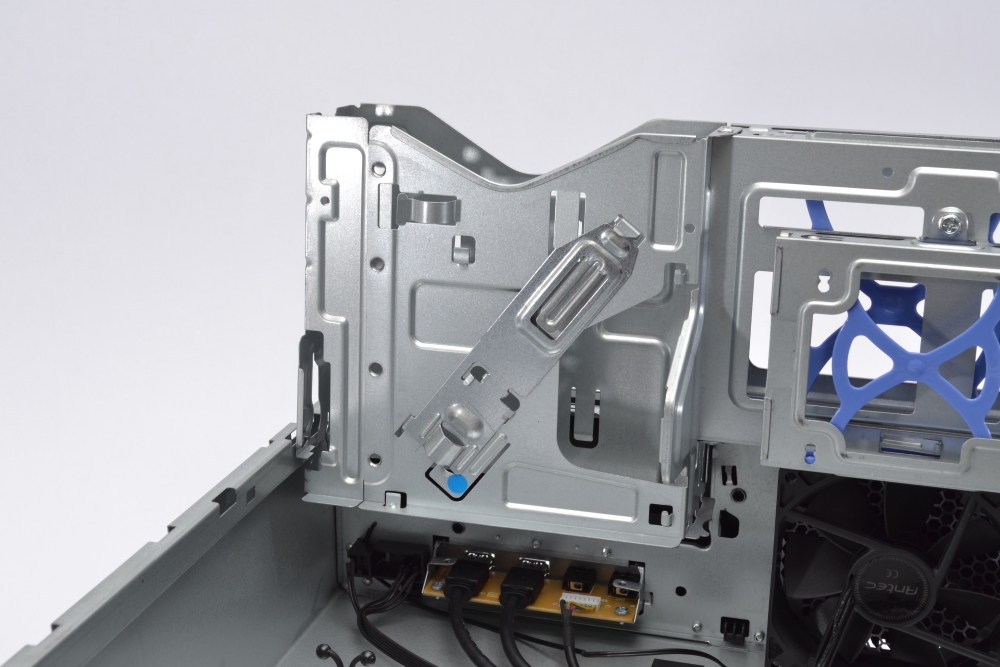 This is then mounted on the drive itself, which is then slid into place from behind.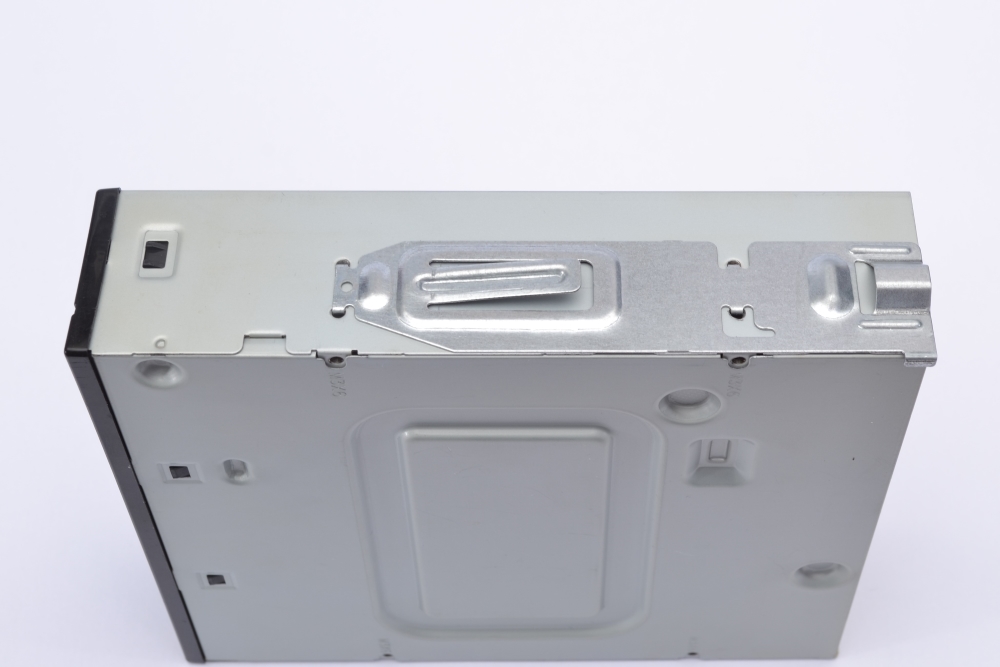 It will not get much easier to mount a casing. Everything is easy and straightforward.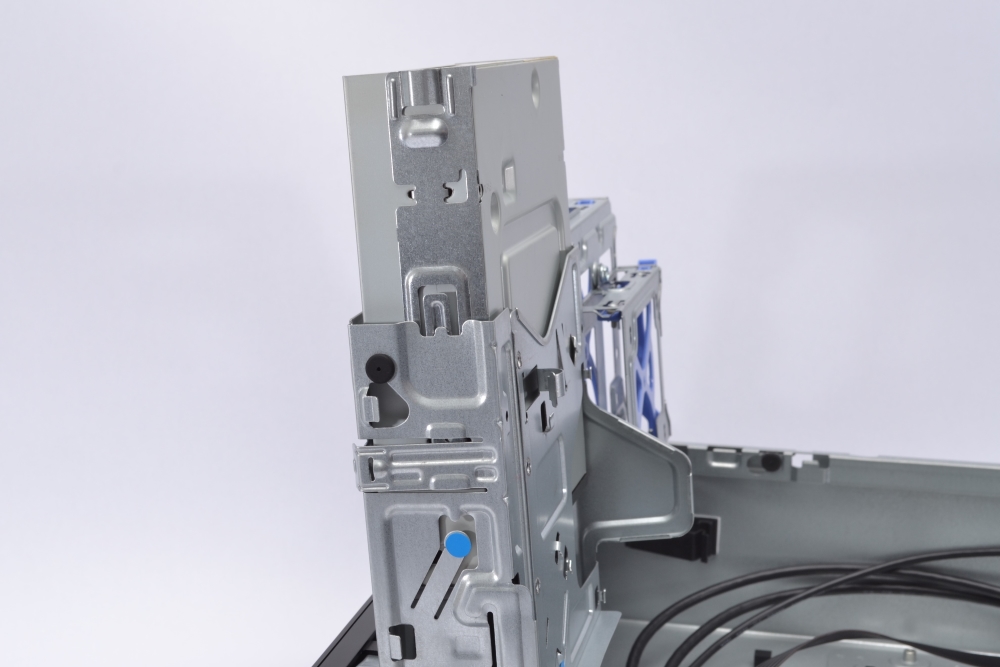 TFX is a special mounting system where you also click things together. This keeps the power supply in place, as it is a slim long model. So it's not just hanging in the screws.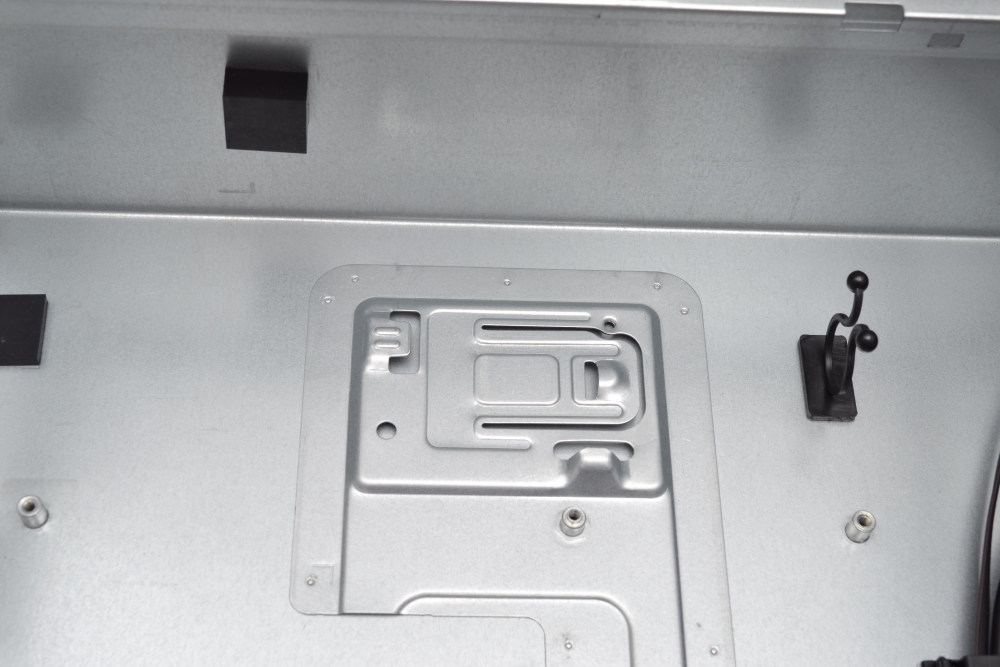 The cable holder securely holds the wires from the power supply in place. It seems as if the options in this casing were well thought out.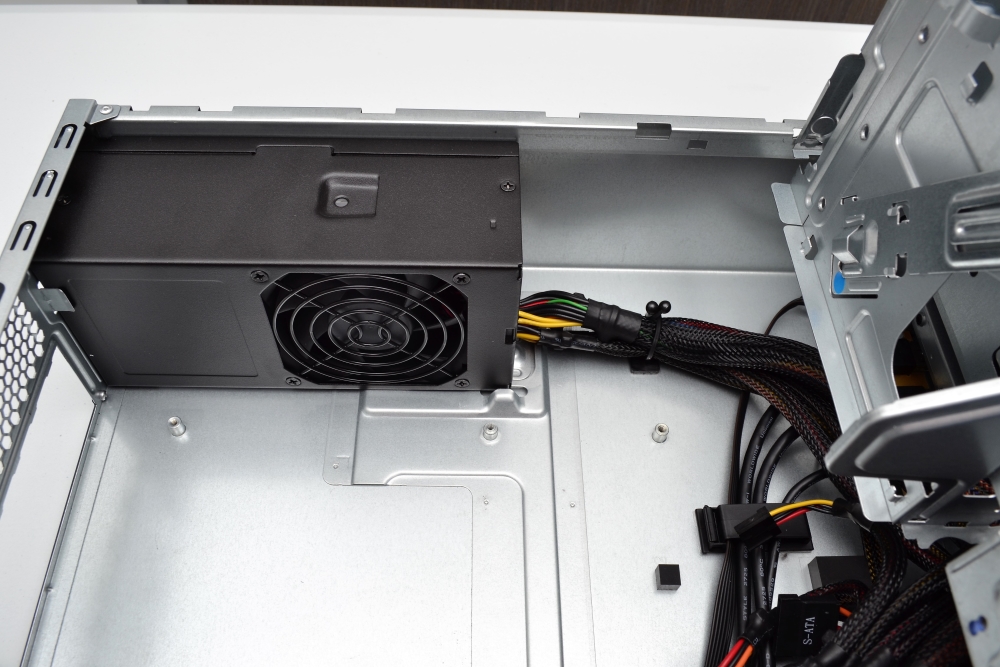 Also the input cards are mounted with a click system. They are kept well in place and assembled completely without tools.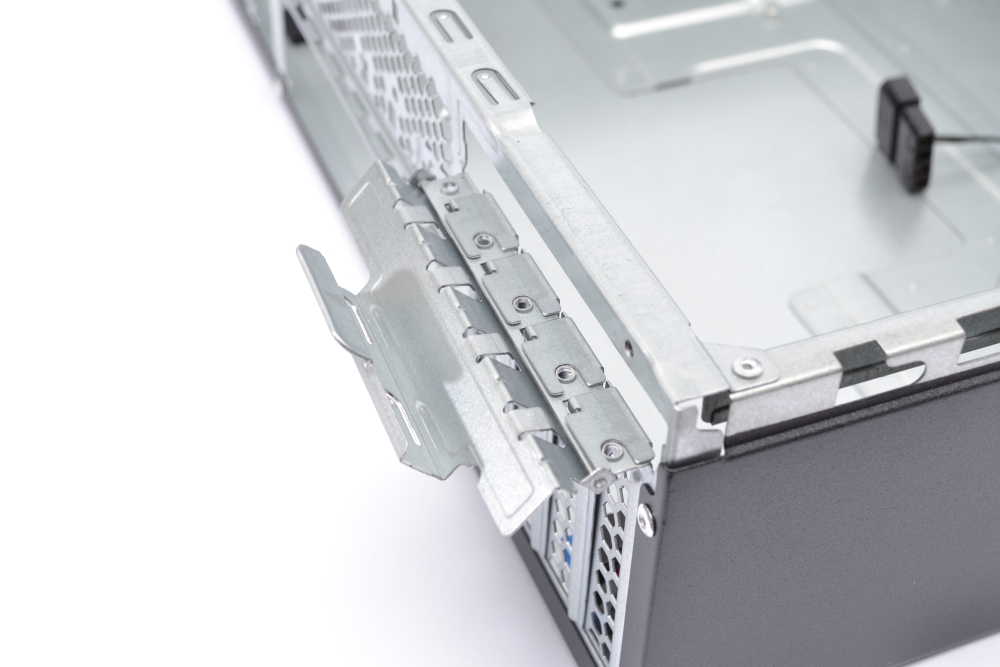 Then we got to the hard part in the casing. Because it turns out that it's not easy to fit the cables. Not only do they have to be in place when you tilt the holder down into place. But you should also be very careful with the power cables for the drive connectors. I would suggest you find a power supply where the wires run perpendicular to the connectors, and not just straight like on mine. It certainly made it all more difficult to mount.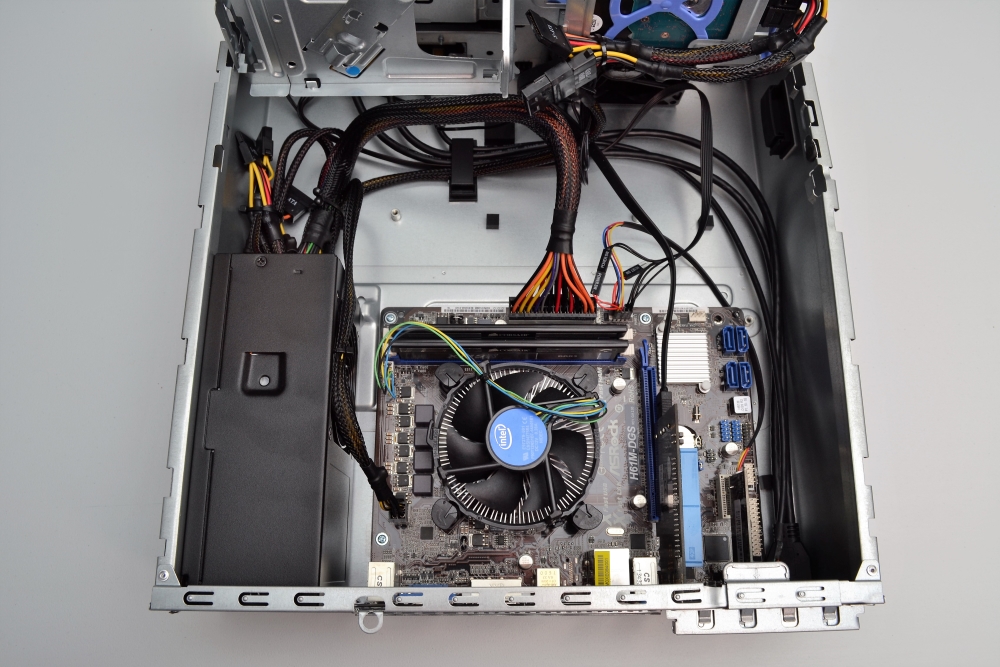 But it all ended well, you just have to be a little patient. There is no room for huge graphics cards in this cabinet, and certainly not big coolers. You have to think about which hardware you want installed in the casing.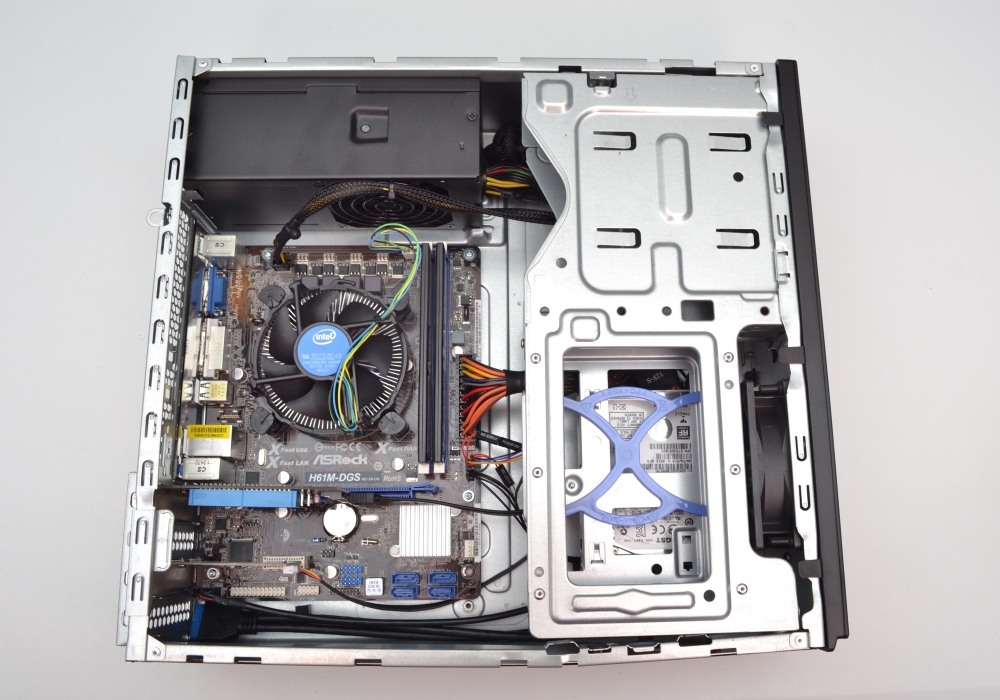 The conclusion.
This is the first time I assemble a small casing as this. There is no doubt that Antec has thought about things in this casing. You can easily make a good office setup in this casing, but it's not for the gamer.
However, I can not get TFX power supplies, which is well over 300W, which in itself sets the limitations.
Antec has made a nice discreet casing that can be used for media center or office machine. You will be able to mount a large HDD and a small SSD as well as an optical drive. It meets virtually all the needs of both the media center and office.
You should be aware of the cooler and power supply you buy for your build. I would definitely recommend a power supply where the wires are perpendicular to the connectors. This will make them much easier to mount and provide more free space.
The casing can be purchased for less than 300 DKK, which is a very fair price. This allows you to build a fairly cheap media center.
Since there is a lot to consider and investigate before purchasing this casing, I give this casing a SILVER star rating. You get a great casing for a cheap money. But you just have to figure out what accessories to buy for the best result.
Read more about Antec VSK2000-3U here.