Sandberg Touch RGB Mousepad
It is time for a new review and this time we are goin to take a look at a colorful mouse pad from Sandberg.

The Danish producer Sandberg stands for good quality at good prices. They make products in most price ranges which allows everyone to buy cool products at great prices.
Should we take a look at the packaging.
You receive a relatively flat box with nice illustrations on the outside. The box is decorated with a lightning design, as several of Sandberg's other products in their EsportsEquipment are.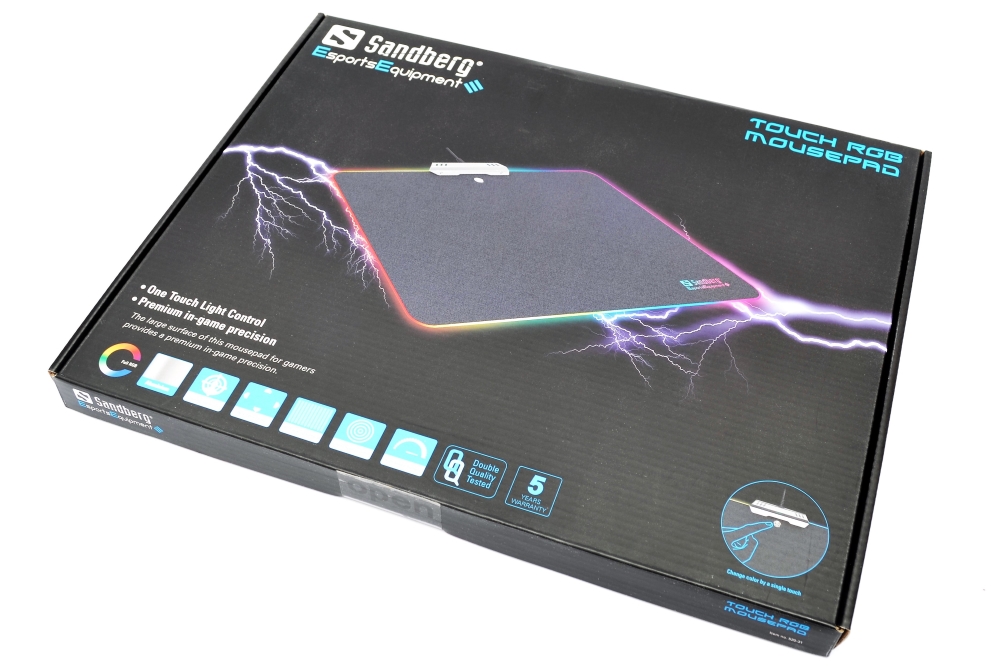 Inside the box, we find the mouse pad firmly attached to a plastic holder and it is well protected by a plastic bag.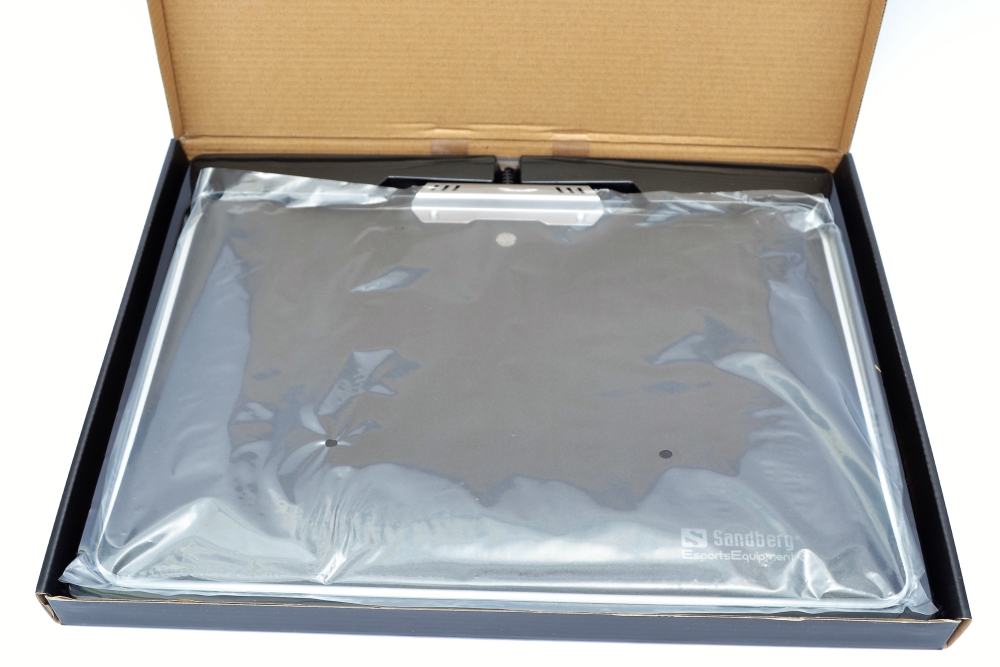 The technical specifications.
As you can read in the specifications below, the mouse pad is only 2.5mm thick, which is not very much compared to various other mouse pads on the market. It is built up of an aluminum core and has 7 different light modes on the edge (I'll tell you about it later), which is controlled by a touch button.
Black coated aluminium
Anti-slip rubber on bottom side
Dimensions: 340x245x2.5 mm
7 LED lights
Touch button
175cm fabric cable
5 year warranty
Let's go ahead and take a look at the mouse pad.
The mouse pad measuring 34cm in width and 24.5cm in depth is made of a base of aluminum with hard structured plastic surface.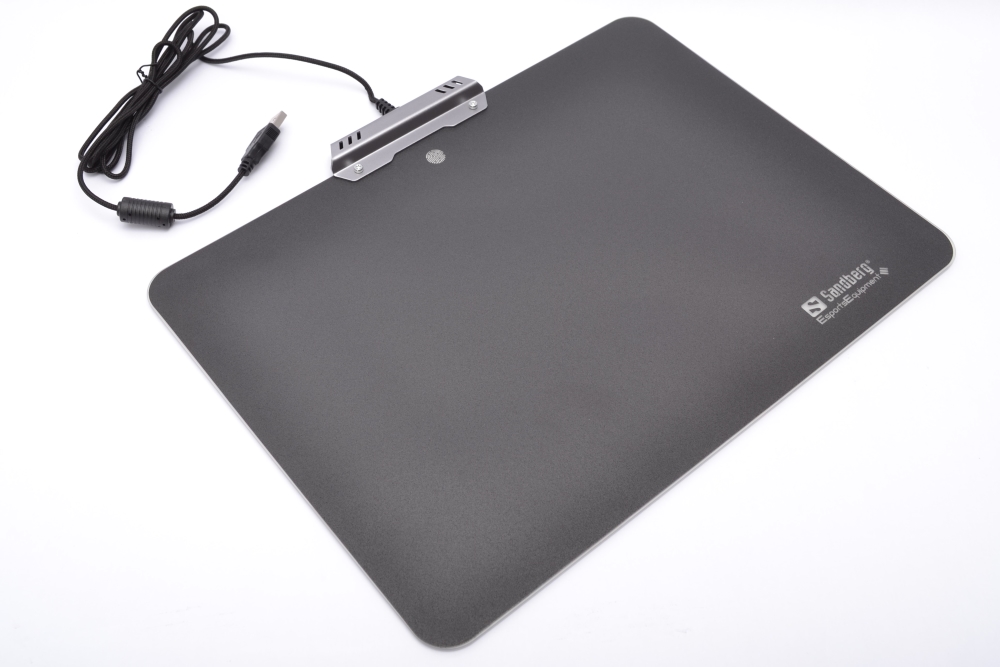 On the back we find 5 large rubber feet that make sure to hold the mouse pad firmly to the ground. This mouse pad does not move anywhere when it's on the table.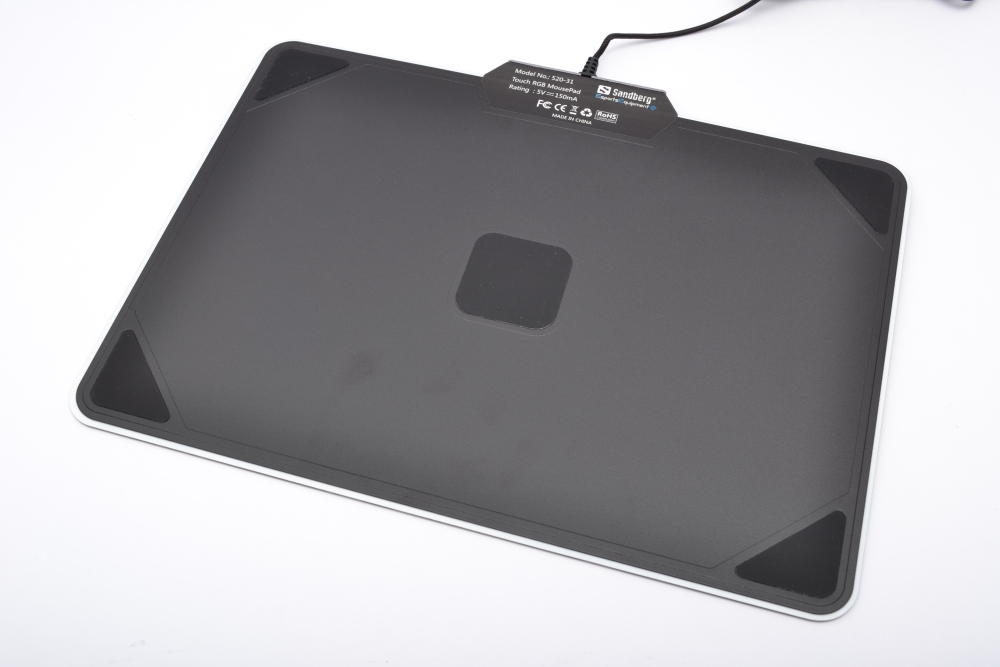 In the lower right corner you will find a Sandberg logo that lights up together with the rest of the mouse pad (I will show that in the test section)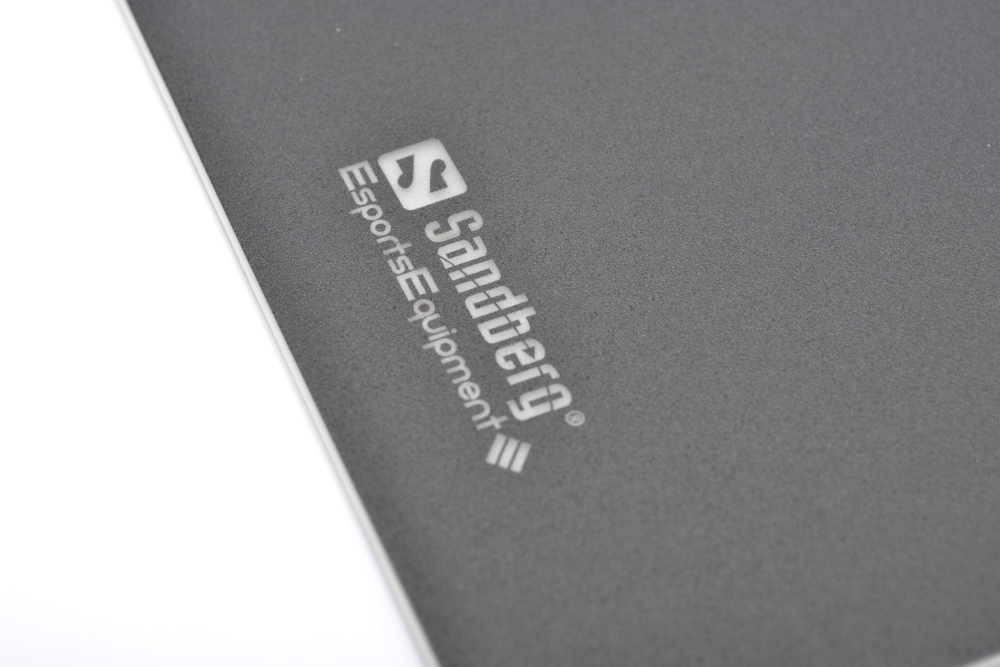 At the top of the mouse pad we find a solid bracket for the cable, as well as a small mark that looks like a fingerprint. This is where the touch button hides where you change the color of the light.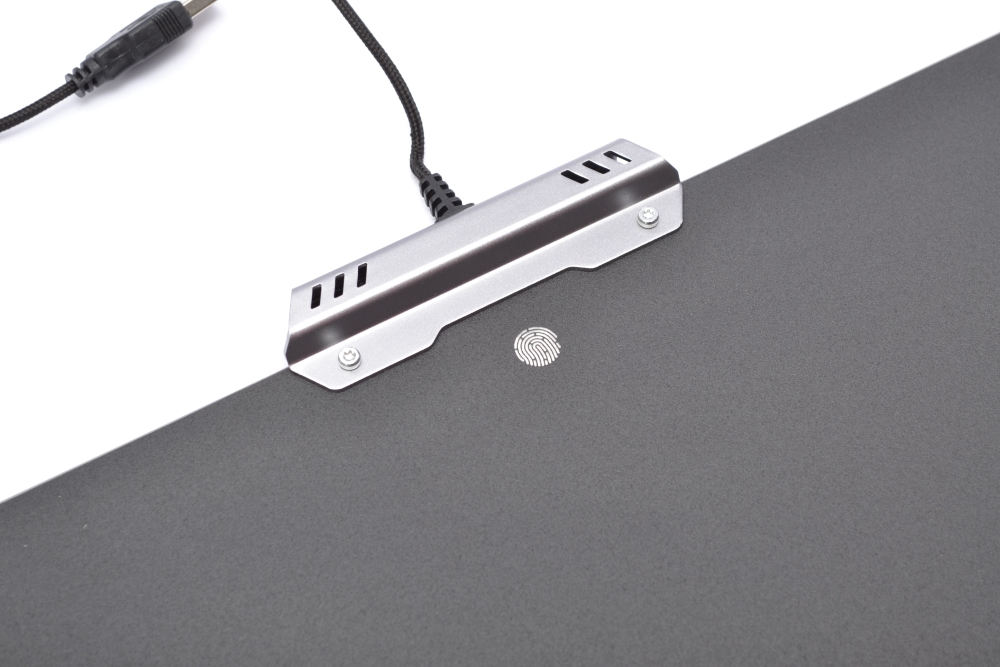 Finally, the thin USB fabric cable, which is 175cm long. It is an ok length for most purposes.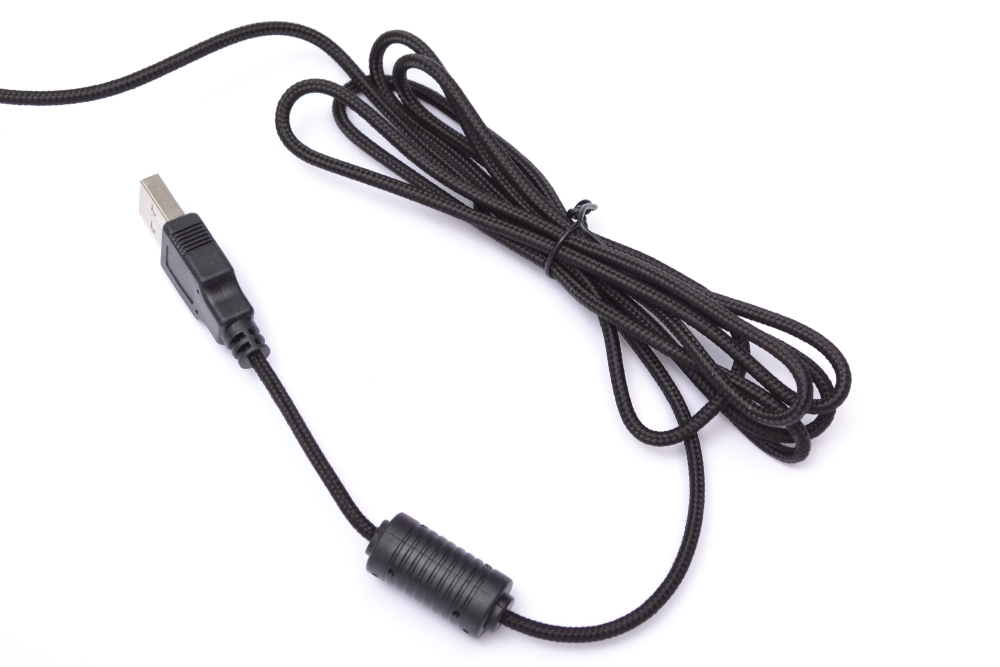 The test:
Now it is time for a test of the mouse pad. This pad is with a hard plastic surface, giving a completely different feel than a fabric mat.
Normally I use a fabris mouse pad , which I have been very pleased with. I have also had various other mouse mats with plastic, glass and aluminum surfaces.
The surface:
This mouse pad definitely makes it feel like the mouse almost flies over the surface. There is virtually no friction on the surface, as you notice very quickly. Especially if you go from a fabric pad to this one.
I'm using an older mouse from Logitech called G9, and it was very happy with the surface on this mouse pad.
Ergonomics:
The mouse pad is not very thick, which gives a very small gap between the mouse and the table. So if you sit with your wrist on the table and your hand on the mouse on the mouse pad, this is an excellent mouse pad. However, many have their hand lying on the mouse pad, which they usually are big enough for. It also applies to this one, and it has a nice size for gaming.
What you should note about this type of mouse mat is that it is hard. So if you're used to a good thick and soft mouse pad, where you rest your wrist. Then this may feel a bit hard, which demands some getting used to.
The light:
As mentioned several times, this mouse pad has built-in light. You may know about other products like this, such as Razer Firefly and Corsair Polaris.
Sandberg Touch RGB mouse pad is Sandberg's corresponding mouse pad for these.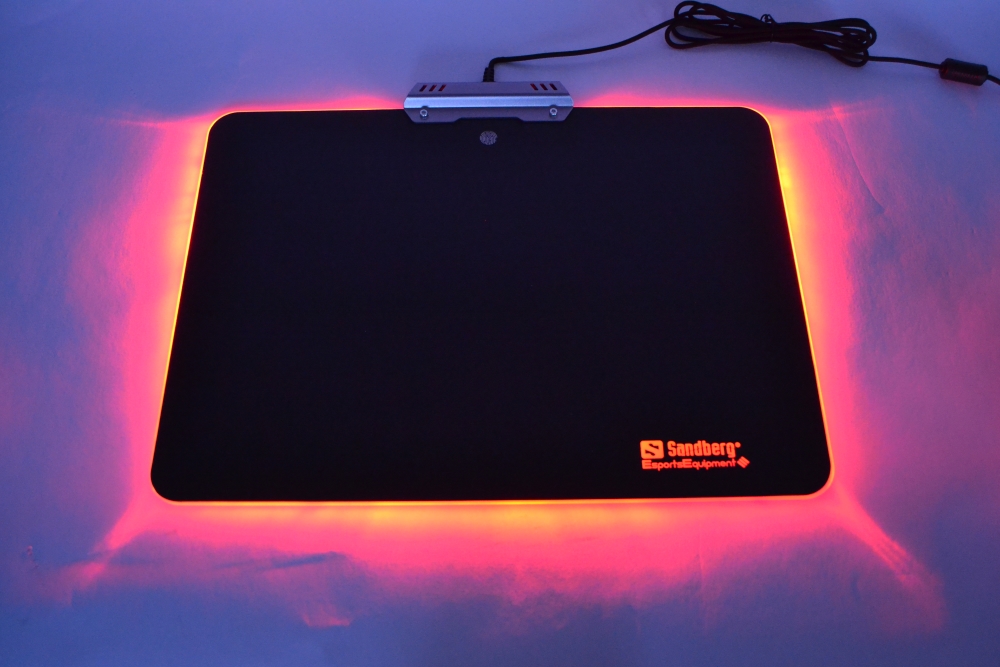 The mouse pad can not be programmed using software, but you can switch between the different light settings on the touch button. The Sandberg logo lights up nicely, along with the edge around.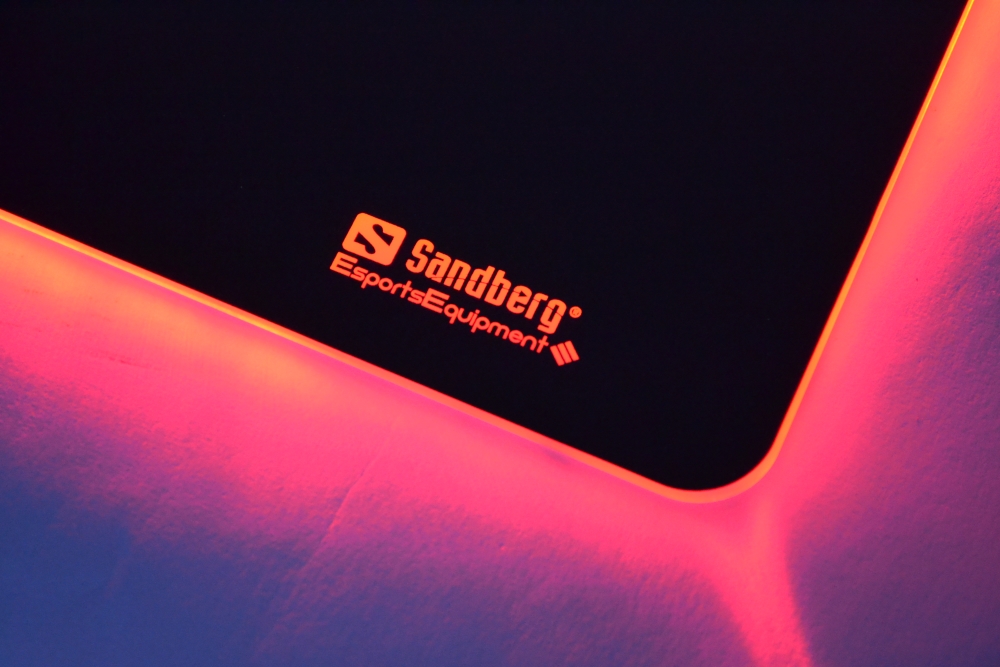 The mouse pad, of course, also has RGB, which changes color around the edge. There are several different color slide settings, which is quite nice.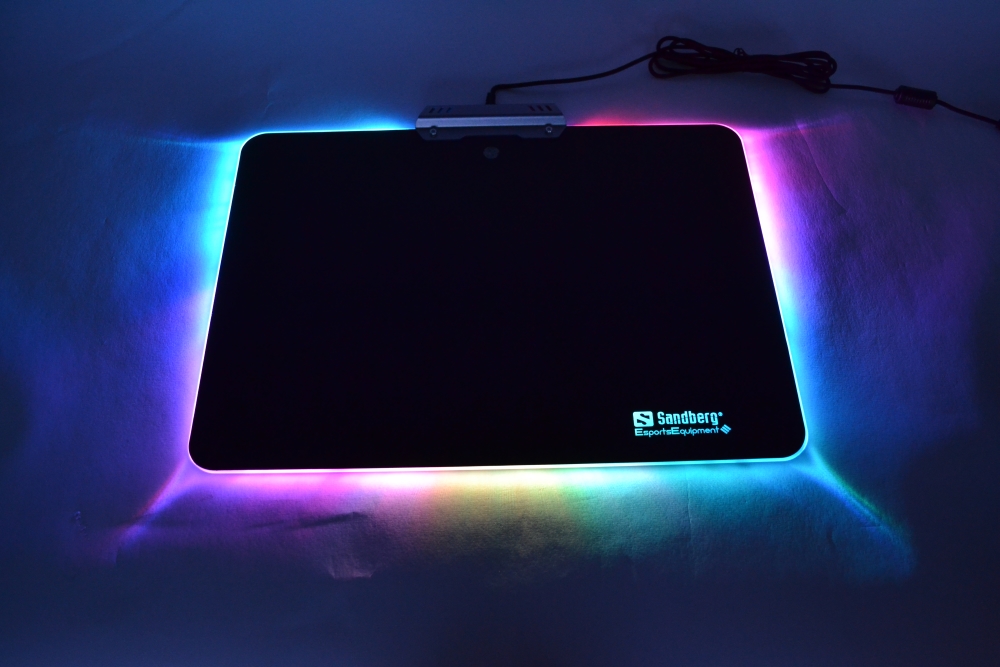 What is my conclusion:
I have tested the mouse pad for a while, and I think it's really good. Sandberg has made a pretty nice product with this mouse pad.
I'm amazed at how easily the mouse slides over the surface. This mouse pad is really for those who need speed over the pad. I guess that it will be optimal for FPS games, where fast and accurate movements are important.
The thickness makes the mouse pad close to the table, which is great. A thick rubber mat can provide some sad angles in the wrist if you place your hand on the edge of it.
Then there is the light, which has some cool effects. I would have liked a little software to make my own light, or customize the color to just the one I wanted. Unfortunately, you can not do it with this mouse pad.
Finally, there is the price, and here it is Sandberg's force. Not only does Sandberg provide an impressive 5 year warranty on all their products, but this mouse pad can be purchased for less than 250 DKK online. It is an impressive low price, and you save at least 200 DKK compared to the Corsair and Razer competitors. It certainly makes this mouse pad attractive.
The Sandberg Touch RGB mouse pad is geting a nice and shining SILVER star. rating It's because it's just missing the last thing about software and the ability to choose the color you want. Otherwise, it's a VERY nice product for the price.
Read more about the Sandberg Touch RGB mouse pad here.