Reeven KIRAN RGB Fan
Reeven has jumped the wave of RGB products. In this review we are going to look at their first fan with RGB light, KIRAN. It will be exciting to see how it looks and sounds.

Reeven is not so famous in Denmark, but personally I think they are making some super cool products. Unfortunately, you have to go abroad to buy their stuff. However, they can sometimes be bought in Germany, and since it is within the EU, no customs duties etc. should be considered.
Let's take a look at the packing and content.
The box you receive is a nice little box with illustrations and specifications on the outside.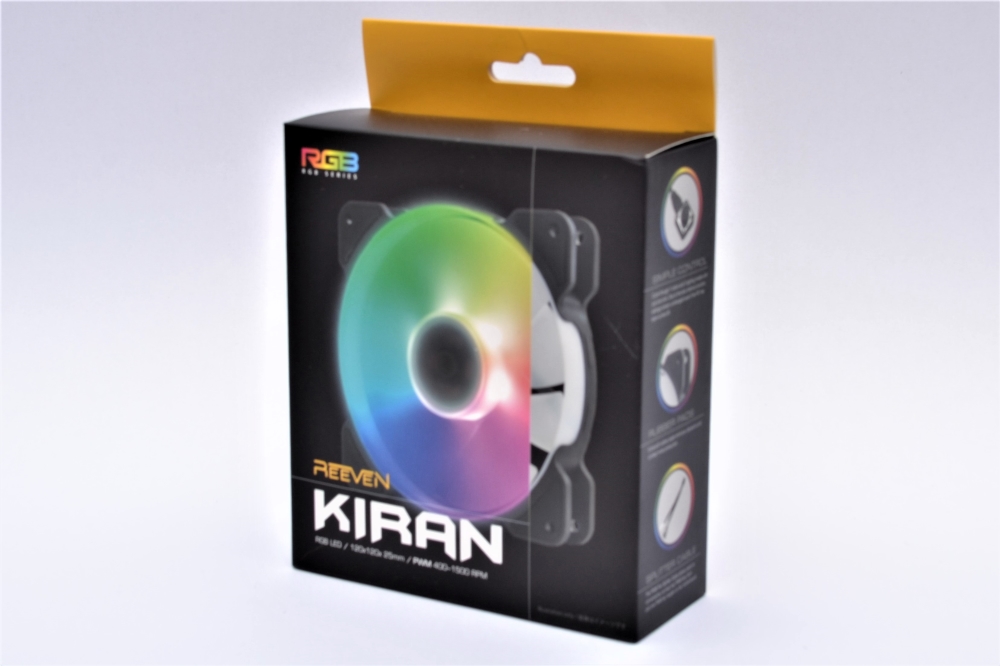 The content counts screws, a splitter and a user guide.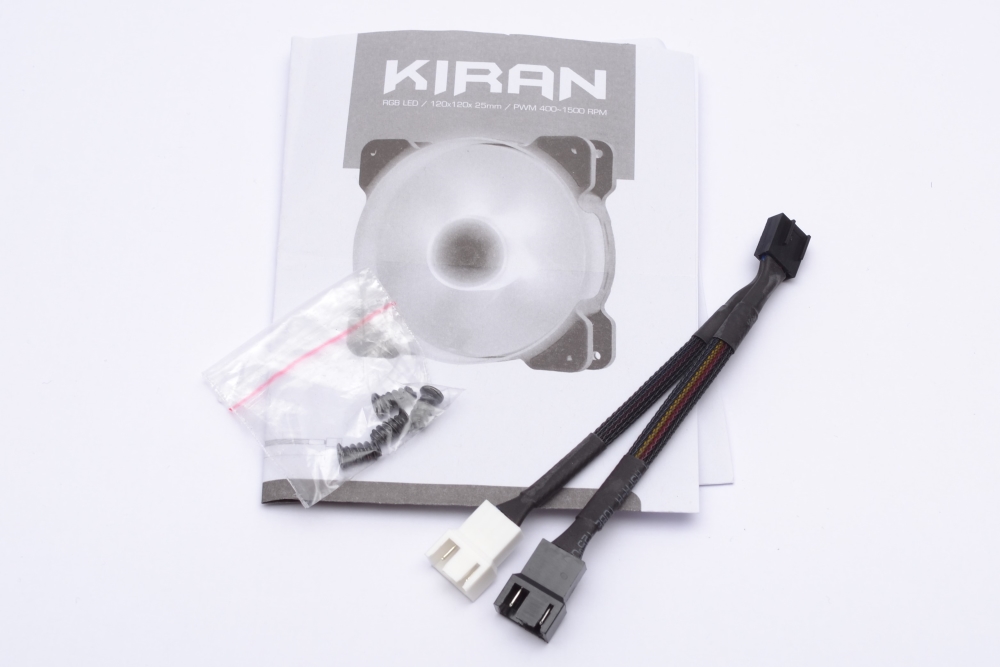 Content:
Reeven KIRAN 120mm RGB Fan
Black screws
fan splitter
User manual
It's time to check the technical specifications.
As you can see, it is a standard 120 mm size, with a standard thickness of 25 mm. It runs up to 1500 RPM, delivering a reasonably high airflow. The static pressure is also good, so I can see this fan being used for everything. However, note the relatively high noise level of just over 33 dBA.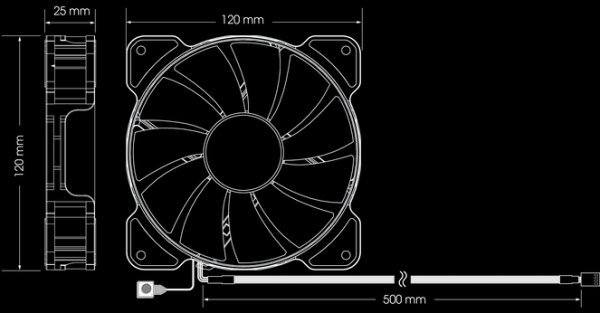 Product Number: RE1225FD15EW-RLSP
Fan Dimension: (W)120 x (H)120 x (D)25mm
Bearing Type: Fluid Dynamic Bearing
Voltage: 12V
Current (A): 0.20
Fan Speed (RPM): 400(±200)-1500(±10%)
Air Flow: 14.0~64.8 CFM / 24~110 M3/h
Static Pressure: 0.004~0.116 inch H2O / 0,102~2.946 mm H2O
Noise Level (dBA): 6.0~33.6
Function: Color Memory Function
Connector: 4-Pin (PWM)
MTTF: 120.000hrs
Weight: 150g
Let's have a look at the fan.
Wings and the frame are partially milky white, which looks quite nice in my opinion.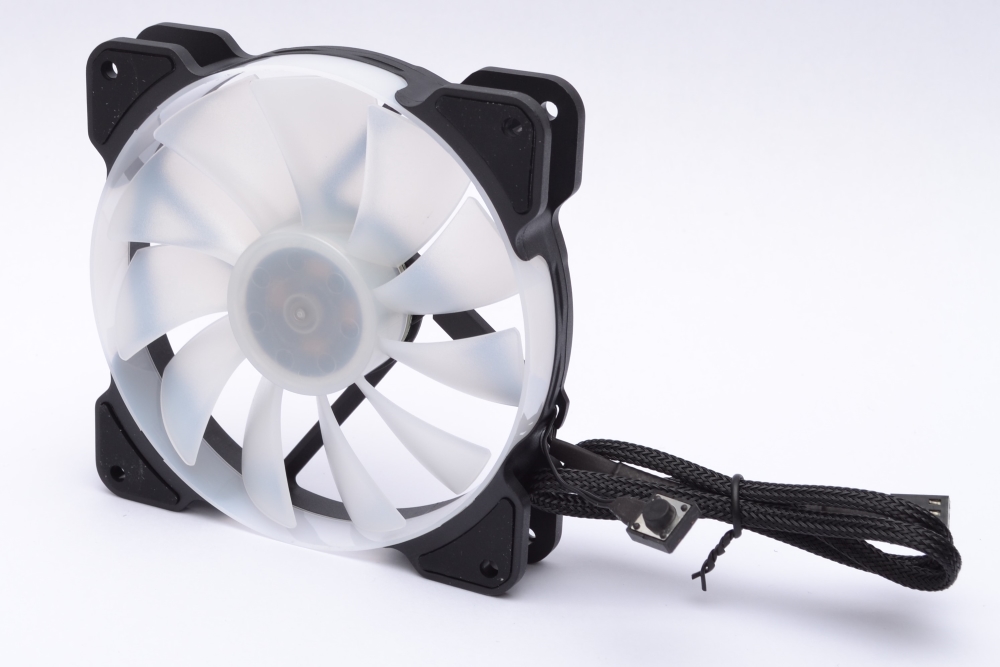 At the rear of the fan we have a label that clearly shows who the manufacturer is and model are.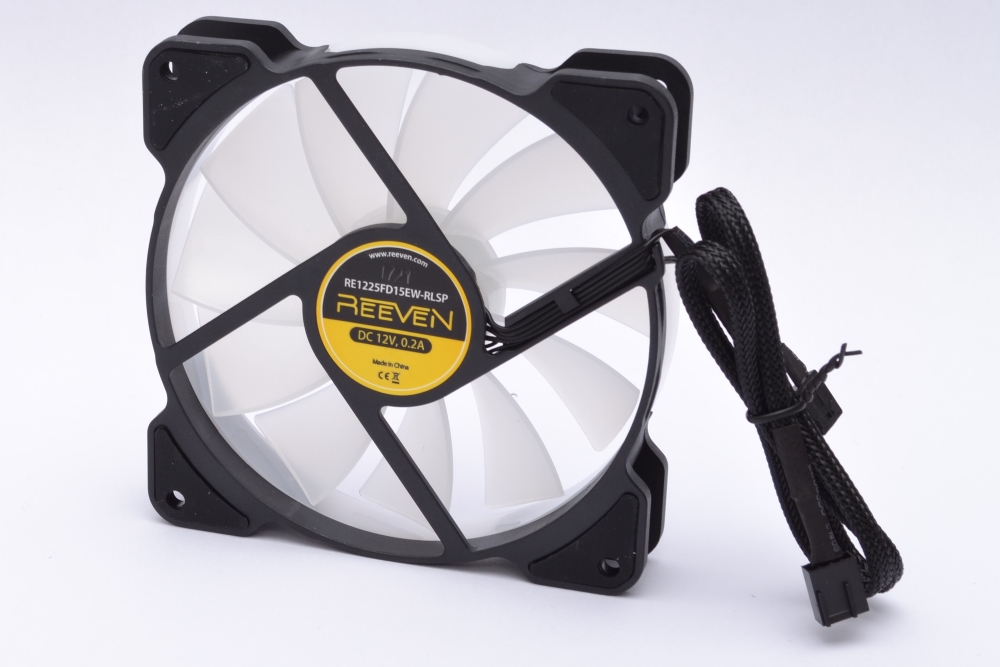 You can see that light can come out of the side frame, so this fan might light up pretty well.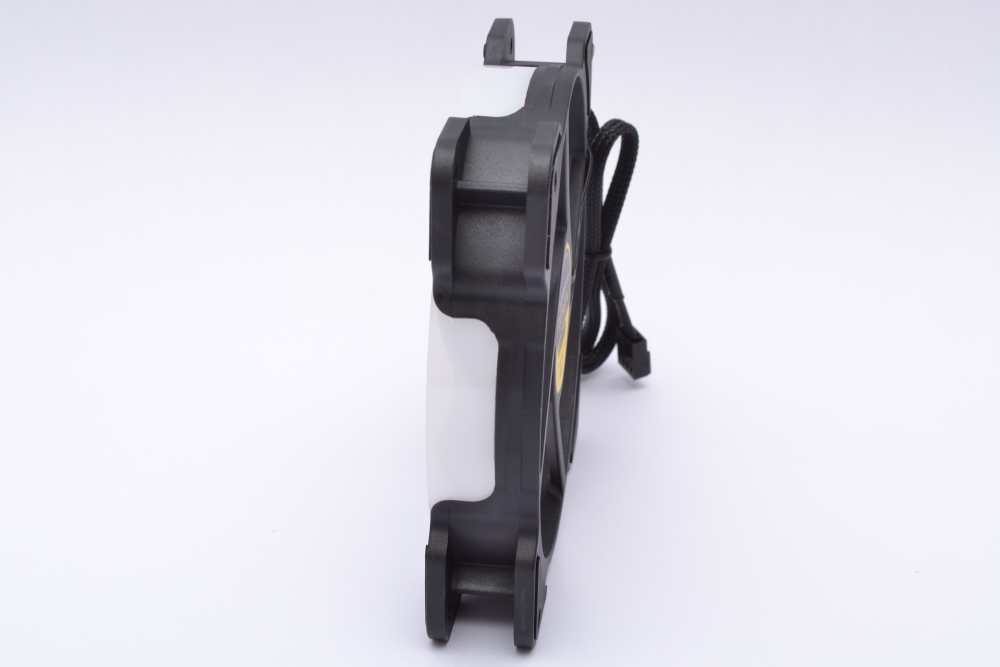 The PWM cable is sleeved, and the small connector you need to press is right out of the fan. It is easy and straightforward to operate this fan.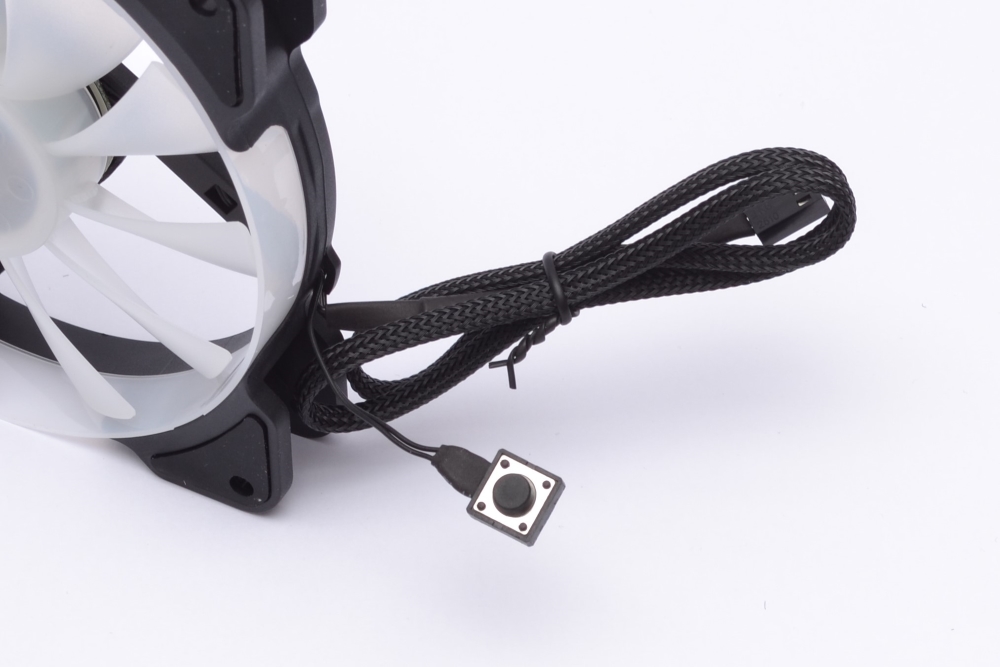 Finally, a picture of the corners of this fan. They have put on rubber pads so they dampen vibration when fitted. It's always nice.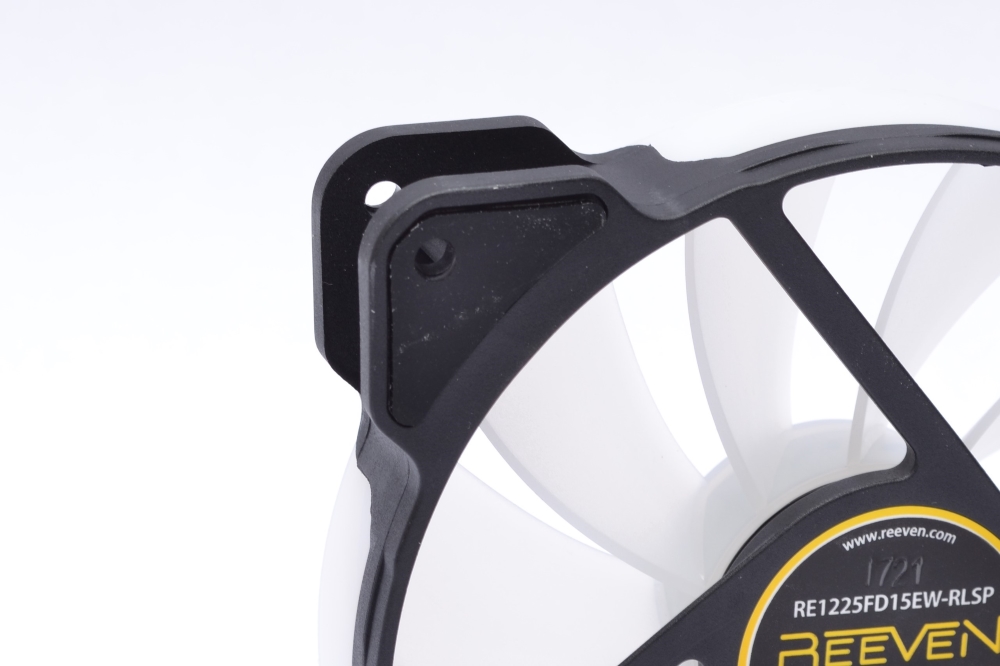 Video is better (Test).
It's a bit easier to show the noise level using a video. So I've made a recording of how much noise it makes with a DB measurement. The measurement has been done with my cell phone, but since I have made the same measurement on all the fans I have tested, you can compare that way.
The Sound:
This fan makes guite a lot of noise when at full speed. However, it's not very often a fan needs to run so fast, so it does not matter so much. However, I think the noise itself is not an annoying type of sound, as some fans may be. So all in all a nice noise from this fan.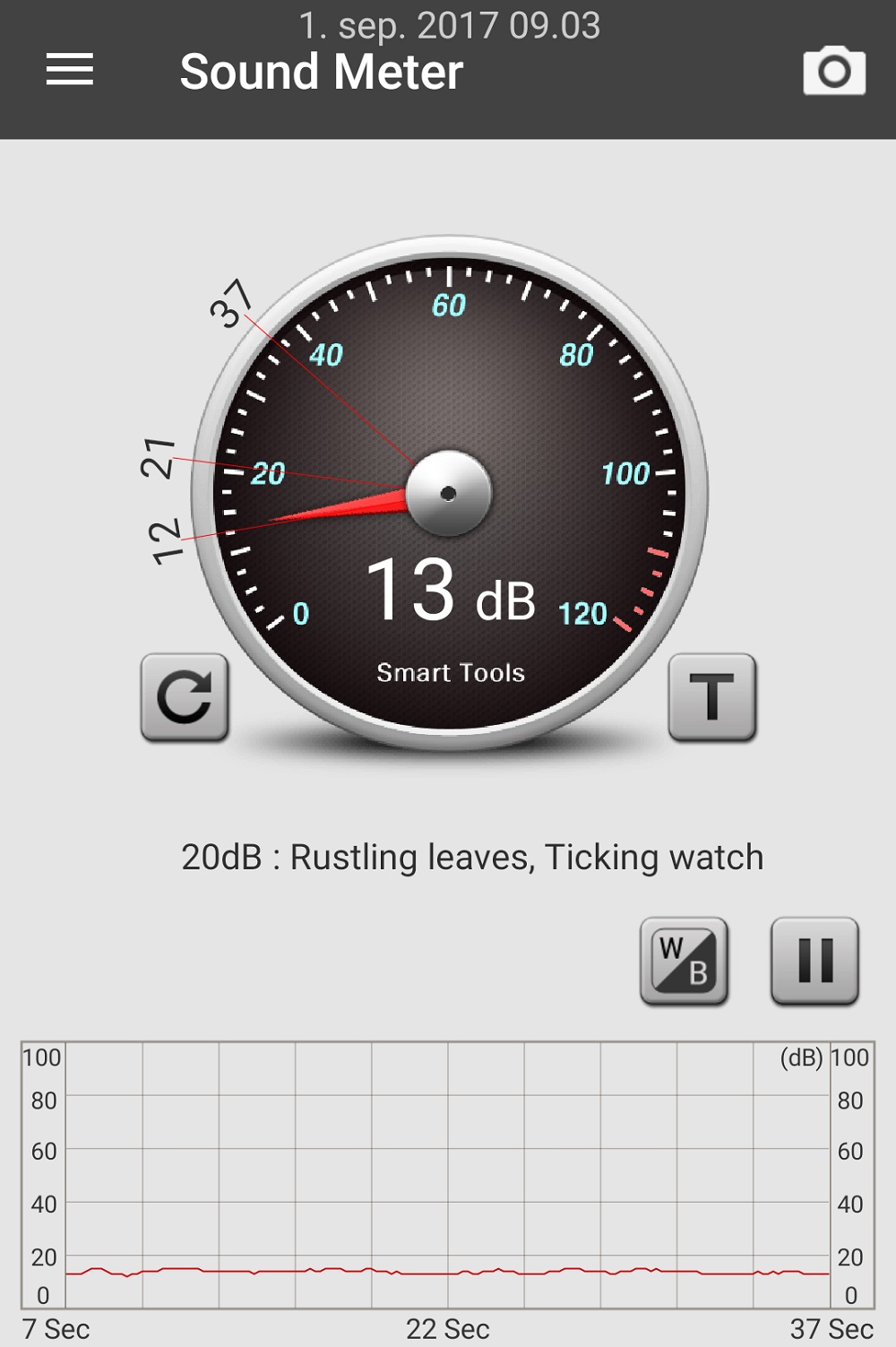 The Light:
I've put together a small video of the different possibilities of light in the fan. Personally, I think it looks really good. There are 6 different colors to choose from. First, it passes through all the colors steplessly, then you can choose between Red, Blue, Green, Pink, Yellow and Turquoise. Finally, there is a cycle where it changes directly between the different colors. You can of course also turn it off.
Can I recommend this fan?
I generally think Reeven makes some really good products, and this is also true for this new fan. I am looking forward to seeing more RGB products from them.
Reeven gives the users a good choice between colors, but it would be great if you could program the fan in one way or another so the color fits the one you want it to. It could be with USB or otherwise you could just connect it, program it, and then disconnect it.
Unfortunately as with other things from Reeven, they are not easy to get here in Denmark. You actually have to go abroad. It's a bit a shame as I think Reeven offers a good range of already existing products in the European market. You can only hope someone is reading my reviews of them and start importing them to Europe / Scandinavia.
The only thing I can find as a criticism of this fan is that it can not be programmed. It would have been nice if you could connect USB or something else to it, so you could give the fan the color you want now. It is not everyone who will use a standard color. It's small, but a little criticism.
I choose to give this fan a nice Gold star. As usual, Reeven has thought about a lot of benefits in the package. The fan performs very well, and it indicates that it could be used for both the casing and a radiator. So a really good and nice all-round fan. I am looking forward to see if this fan also comes in a 140mm edition. It could be cool.
Read more about Reeven KIRAN here.