SilverStone TP01-M2 Cooling Pad
It's time for a small review on the blog. This time I'll show you a SilverStone cooling pad. It's their TP01-M2, which is a cooling pad for an M.2 SSD.

Let's have a look at the packing and content.
The box itself is a small flat box with print and specifications on the outside.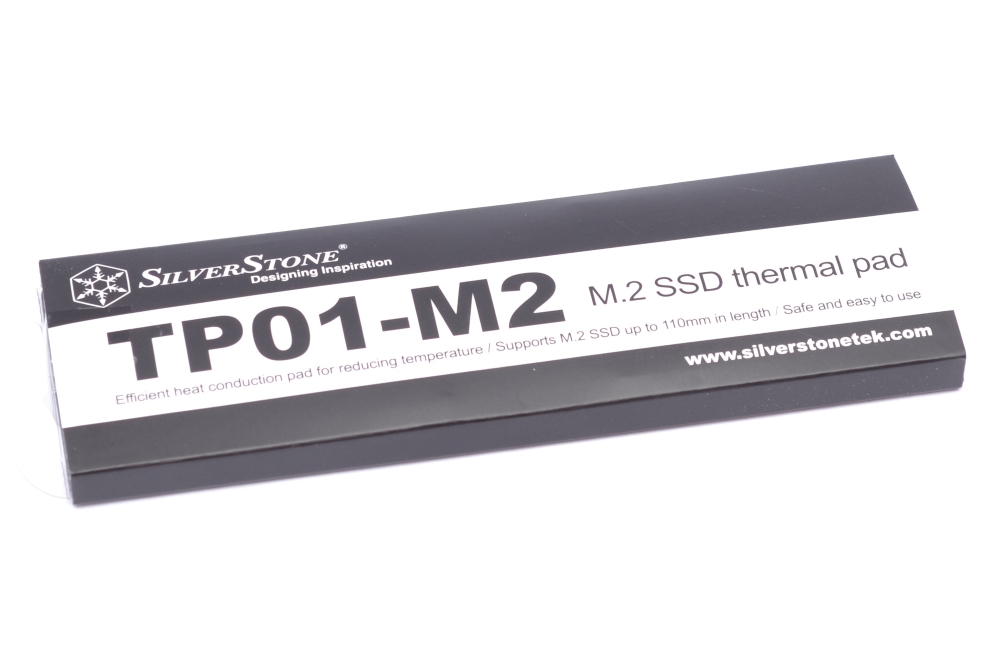 Inside the package we find the two cooling pads and a user guide.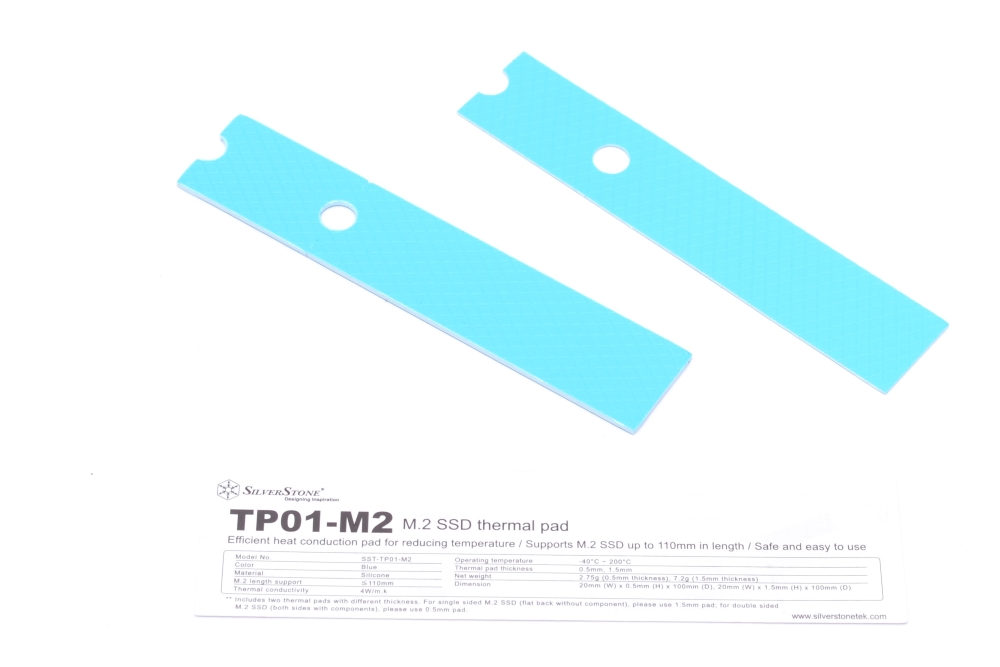 Content:
Cooling pad 1.5 mm thick
Cooling pad 0.5 mm thick
User guide
The technical specifications.
As you can see, the cooling pad supports modules up to 110 mm in length. Most modules are 80 mm in length, so there should be plenty for most.
One thing to note before buying this set is that the maximum distance to the motherboard must be less than 2 mm. If there is more distance, the cooling pads do not get contact and therefore you can not cool your module extra. If this is the case, you should refrain from installing the cooling pads.
Model No.: SST-TP01-M2
Color: Blue
Material: Silicone
Max M.2 length support: 110mm
Thermal conductivity: 4W/m.k
Operating temperature: -40°C ~ 200°C
Thermal pad thickness:
0.5mm
1.5mm
Net weight:
2.75g (0.5mm thickness)
7.2g (1.5mm thickness)
Dimension:
20mm (W) x 0.5mm (H) x 100mm (D) / 0.79" (W) x 0.02" (H) x 3.94" (D)
20mm (W) x 1.5mm (H) x 100mm (D) / 0.79" (W) x 0.06" (H) x 3.94" (D)
Let's have a look at the set.
You might think that it is quite limited what I can show and tell about this set.
There is the option to cut the pads to fit 80mm modules. That way, you do not have to measure or anything but just cut to fit.
There are two pads, and you can put them together to achieve a maximum thickness of 2 mm.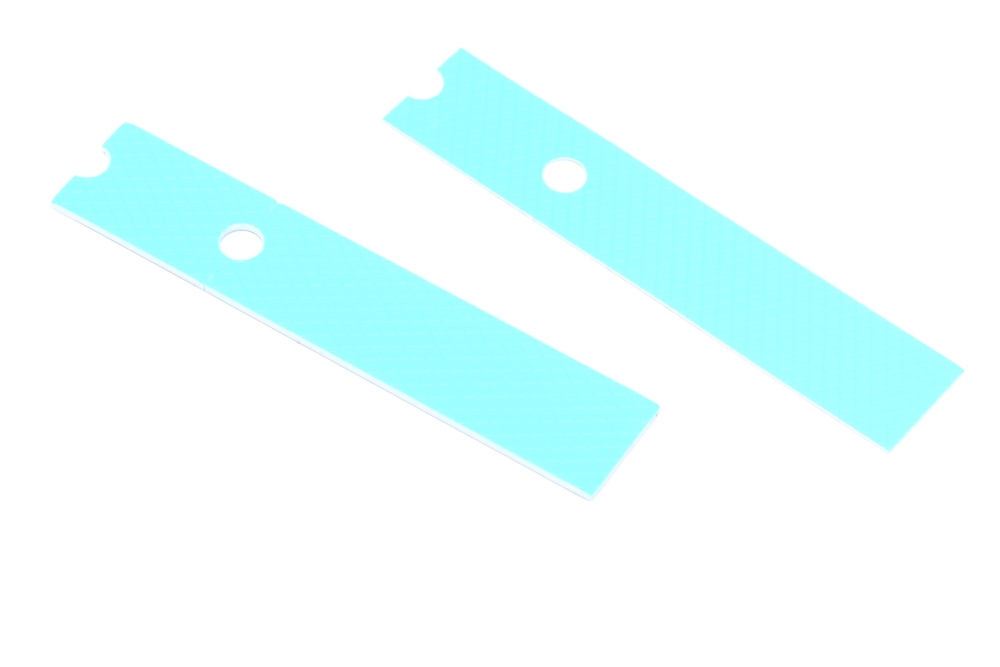 SilverStone has made a test on an add-on card, which gave a temperature drop from 86 to 71 degrees. I understand that since an add-on card can emit heat on both sides and can have airflow on both sides. Unfortunately, it's not an option when the module is installed on a motherboard, which my test will show later.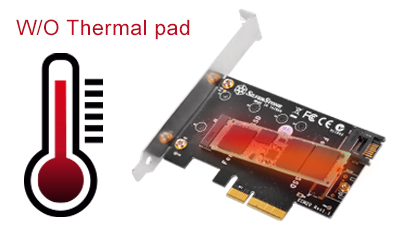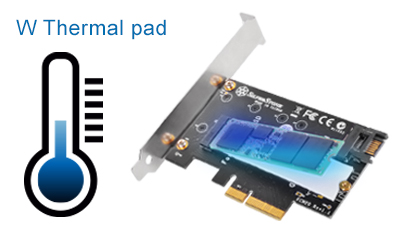 Let us test the pads.
I have put the pads on my SanDisk Single Sided M.2 SSD to see if they work properly. Because the distance on my motherboard I had to mount both cooling pads on my module. Be careful of this as air bubbles easily occur between the layers.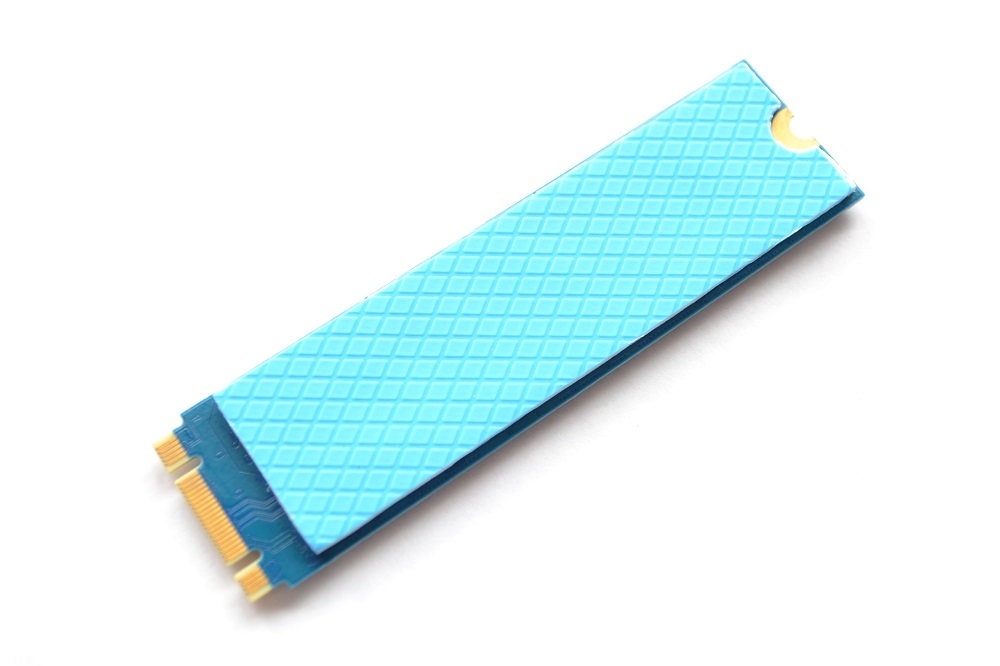 For my test I have run Crystal Disk Mark with the following setup: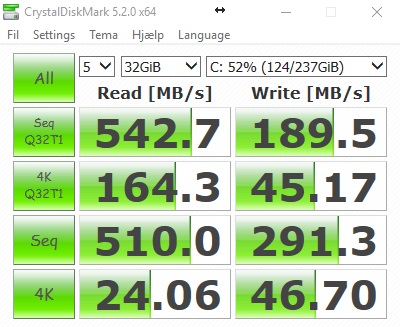 It gave the following graphs in HWinfo64:
As you can see at the test, the graph rises quite quickly without the cooling pad, where it is more flat with the cooling pads.
Since the heat is not diverted to a cooling profile and there is no airflow around the motherboard, it is quite natural that this warms up quite quickly, thus reaching the maximum temperature. However, it is a few degrees below the one I get without the heat pads, which is quite nice.
Without cooling pads:

With cooling pads:

What is my opinion of the product.
I understand that you need this product if you use your SSD very intense. Maybe as a cache in a large file server / NAS, or in a powerful machine for editing that uses the disk a lot.
This product is not for the normal office machine, or for the gamer. These types of programs use the disk quite less, and therefore will never or rarely and briefly use the SSD so much that cooling is necessary.
If you start playing with programs that uses a lot of the SSD or expand your NAS with an M.2 SSD, it may be a good thing to get the heat away from the modules so they do not overload and start to throttle because of heat.
You can purchase this cooling function for around 75 DKK at the time of writing, which is an ok price if you need them.
The SilverStone TP01-M2 deserves a nice SILVER star rating. If you choose to use these pads, you need to evaluate yourself, if that is the need. You just have to examine things before buying, including the distance between motherboard and SSD. You can easily do a bad buy, which would not be so good. I would have liked that SilverStone had made more options for ordering. That way, you could buy the pad that matched exactly what system you currently have. Whether the SSD is double sided or single sided, and depending on how many millimeters you have between the SSD and the motherboard.
Read more about SilverStone TP01-M2 here.