be quiet! Pure Rock Slim CPU Cooler
Then it's finally been time for a cooler review. I have been going a long time collecting hardware to be able to review coolers and it seems I'm finally there. I start small, but already have some coolers that I want to review over the next period.
This review will be of the be quiet! Pure Rock Slim, a small cooler with a 92 mm Pure Wings 2 fan. Let's get started right away.

Let's start with the technical specifications.
You will soon see that this cooler is not particularly big. That is despite the fact that it has a great TDP of 120W. It is compatible with most standard sockets, and makes approx. 25 dBA of noise at full speed on the fan.
Overall dimensions without mounting material (L x W x H), (mm): 81.8 x 97 x 124.8
Total weight (kg): 0.36
TDP (W): 120
Socket compatibility
Intel: 1150 / 1151 / 1155 / 1156
AMD: AM2 (+) / AM3 (+) / AM4 / FM1 / FM2 (+)
Fan model, number: 1x silence-optimized be quiet! fan
Overall noise level (dB(A)) @ 50/75/100% (rpm): 13.1 / 19.2 / 25.4
be quiet! Pure Rock Slim full specifications
What is in the box.
The packing is a typical beautiful be quiet! packing. Typical in black with illustrations and technical specifications of the product on the outside. You are in no doubt how the cooler should perform and looks before packing it out.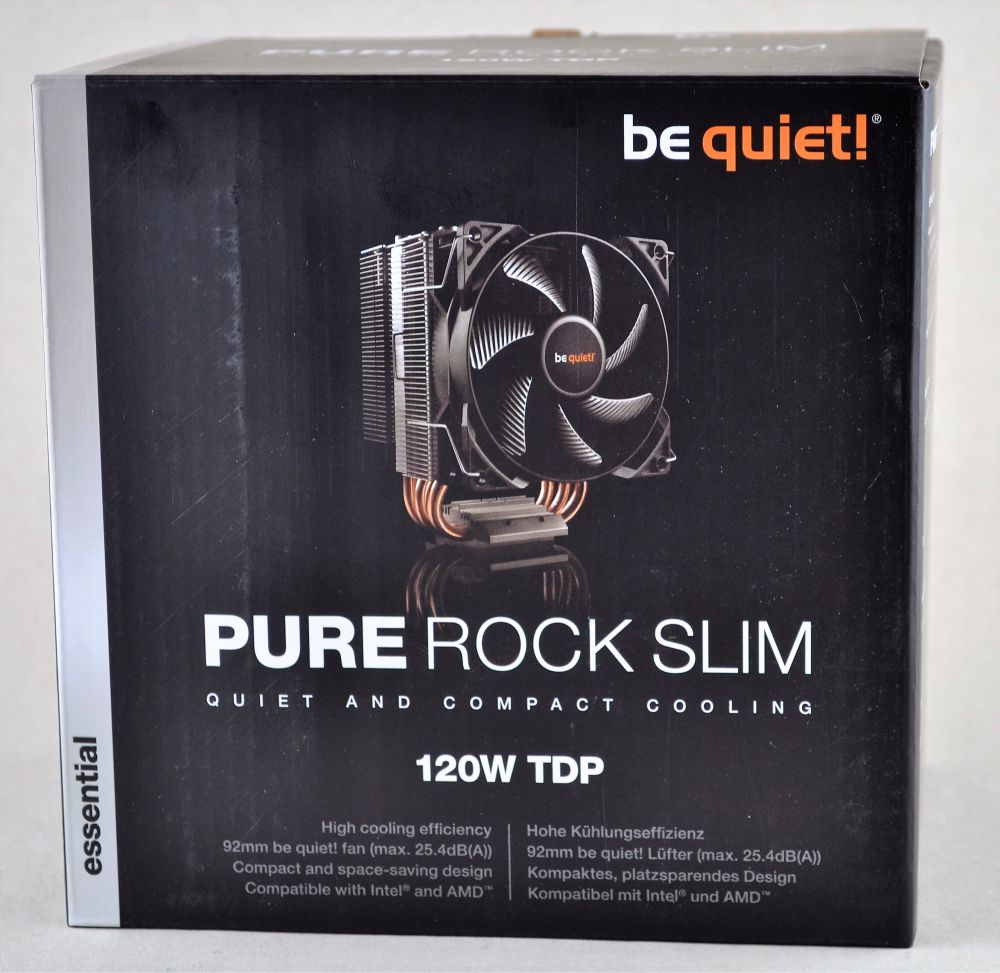 In the box itself we find the cooler and a 92 mm fan. There are fittings for both Intel and AMD sockets, and as you can already see, the cooler is installed like the standard coolers that come with the processors. It's smart and does not require any kind of tool.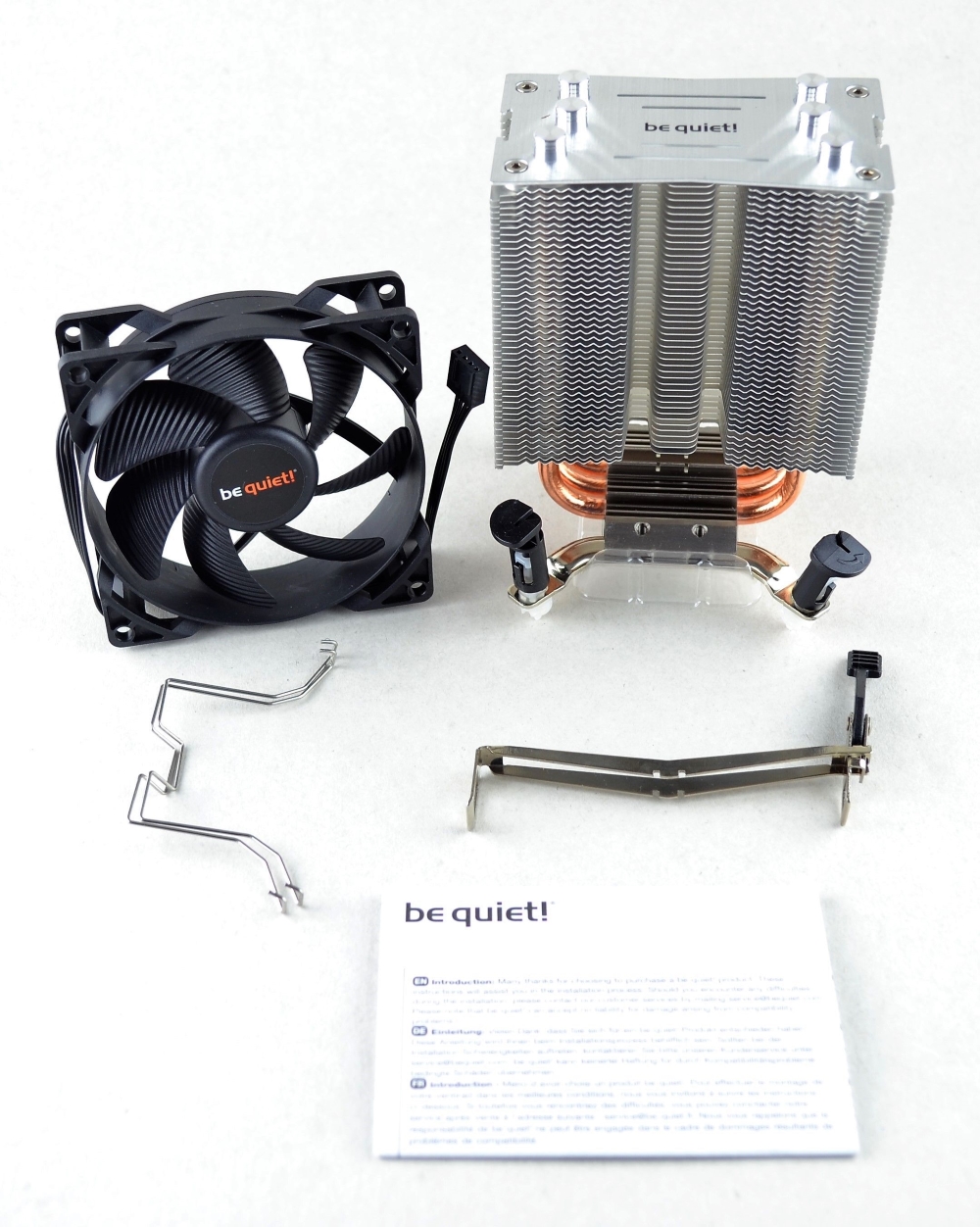 Content:
be quiet! Pure Rock Slim Cooler
be quiet! Pure Wings 2 92mm Fan
Fan clips
AMD Mounting Bracket
User guide
The Pure Wings 2 fan.
Before I assemble and test, I will just show you the few parts that are with this cooler. I start with the fan itself, which is a 92 mm be quiet! Pure Wings 2 fan.
The Pure Wings series is the answer to a static pressure fan. It is designed to push the air through the cooling ribs so that the cooler is as effective as possible.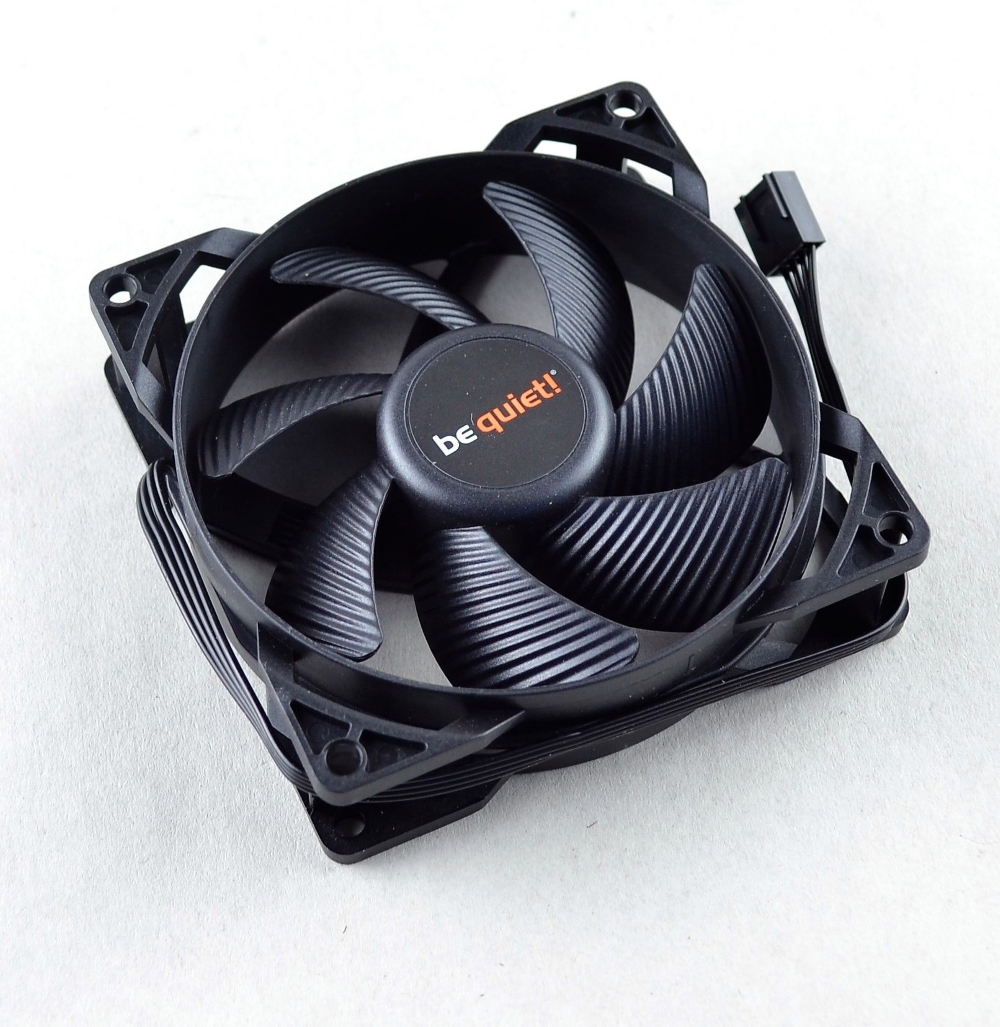 As you can see, the fan has the well-known wings with the specially designed surface. This means, among other things, that the fan should make less noise.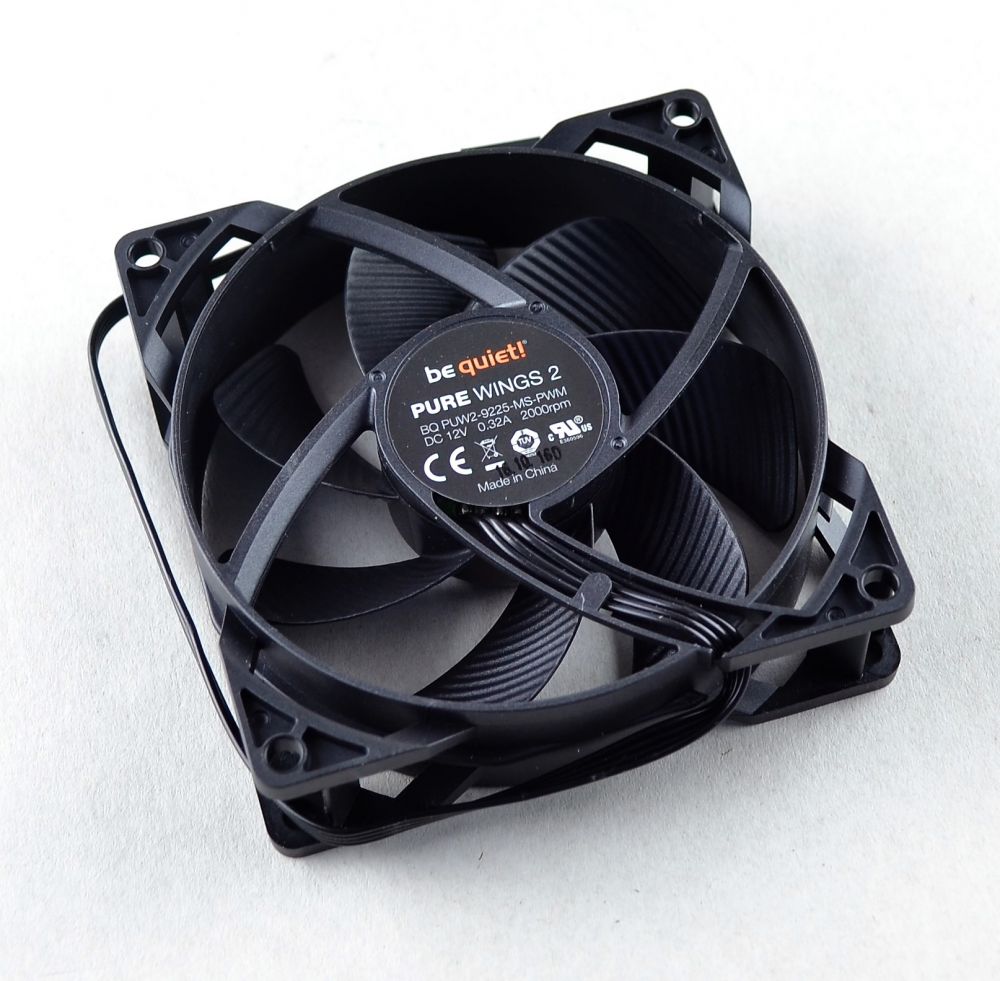 At the back of the fan there is a label with model number and all. Among other things, we can see that it is a fan with 2000 RPM. The fan is further more equipped with a 4 pin connectors, which means it is a PWM control able fan for optimal performance. It seems that there is no vibration dampening in the corners of the Pure Wings fans, but be quiet! use 6 pole motors and very sturdy wings, which means that it is incredibly stable when it is running.
Read more about the fan at be quiet here.
The cooler.
I have always, without hiding it been a fan of be quiet! coolers. I have this because of the appearance of their coolers. They make some of the nicest coolers on the market in my opinion.
The top of the cooler is usually what you see through the case window and on this cooler it is designed with a beautiful aluminum plate that does not have the same shape as the actual cooling profile. It works great. There is a nice be quiet! logo printet on it, and all ends of the pipes are covered with caps.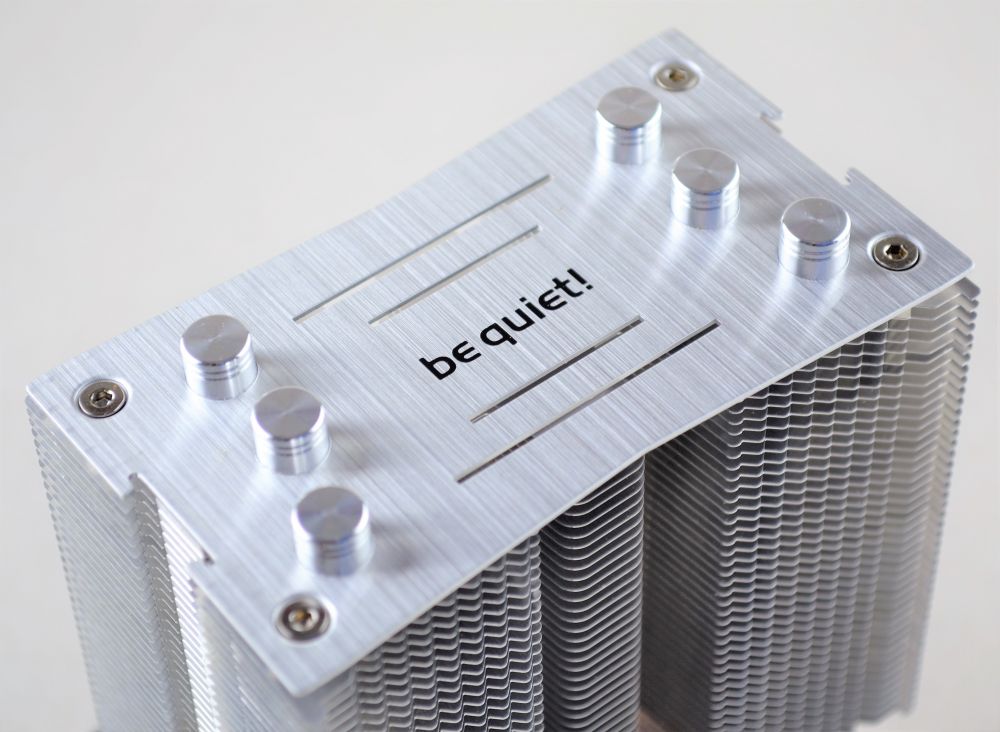 The actual cooling surface has already been applied with cooling paste from the factory, so you know it's the right layer on it. The down side is that you have to go out and buy new if you are going to make a mistake or you need to take the cooler on and off.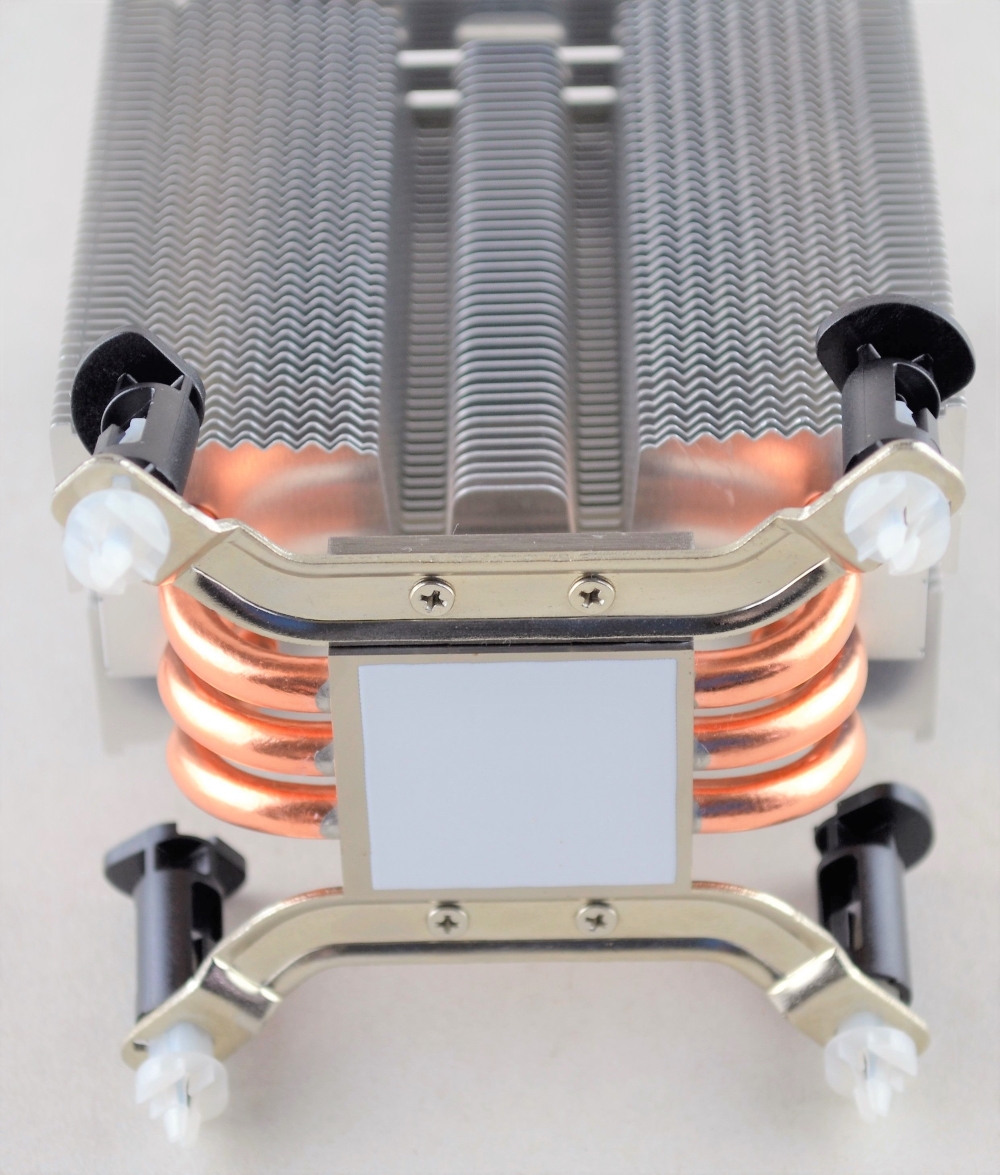 The actual cooling profile is offset relative to the center. This means that when the fan is on, it still fills no more than the footprint of the cooler. So there's nothing else that can get in the way of the cooler, and there should be free and easy access to all RAM and VRM modules on the motherboard.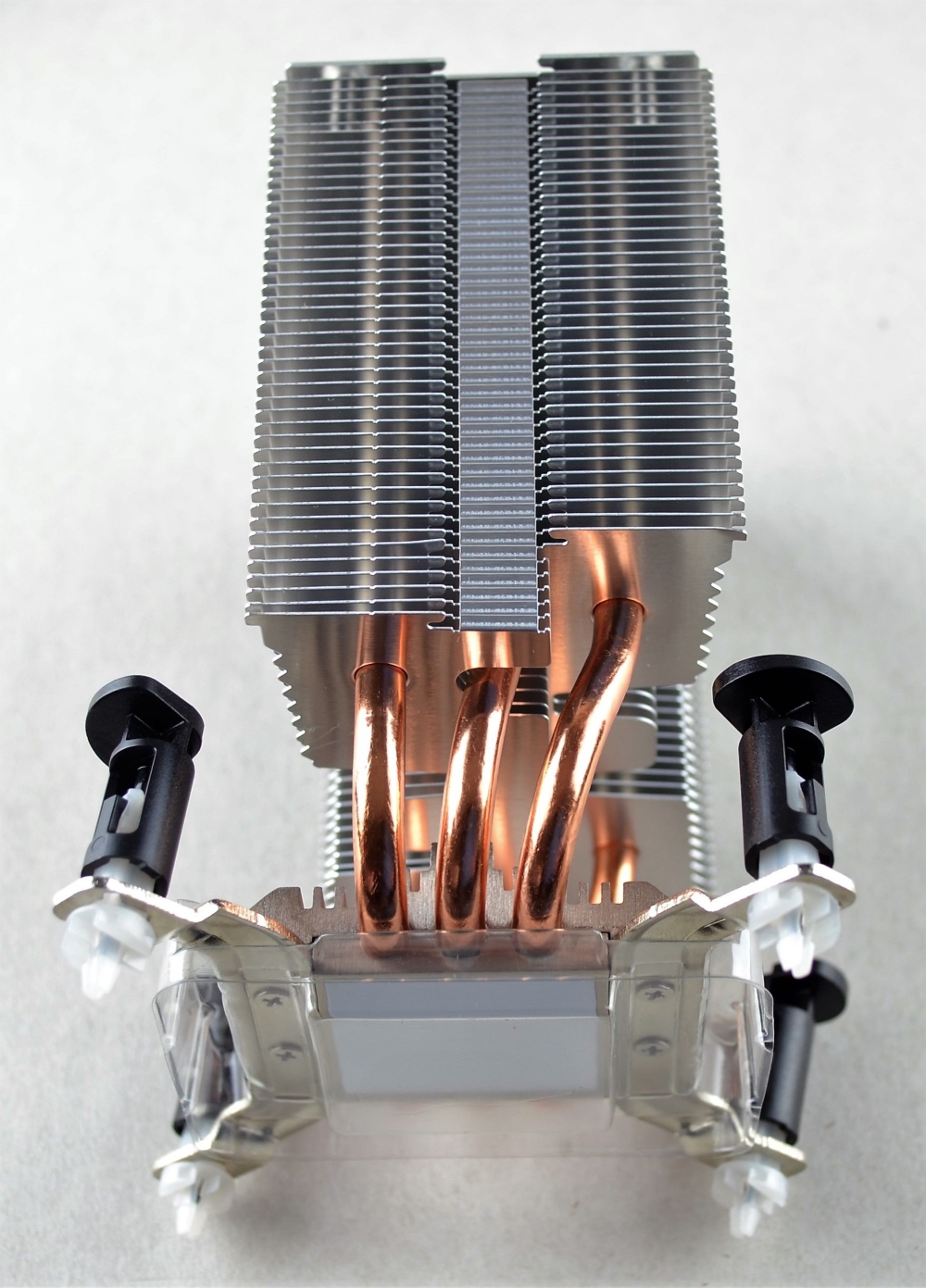 When you receive the cooler, it has a plastic cover mounted so that it does not smear the cooling paste. As you can see, the cooler is mounted with plastic clips, just as we know them from Intel's own cooler. It's super easy to use and the cooler can easily be mounted and removed again. It will not be easier than this.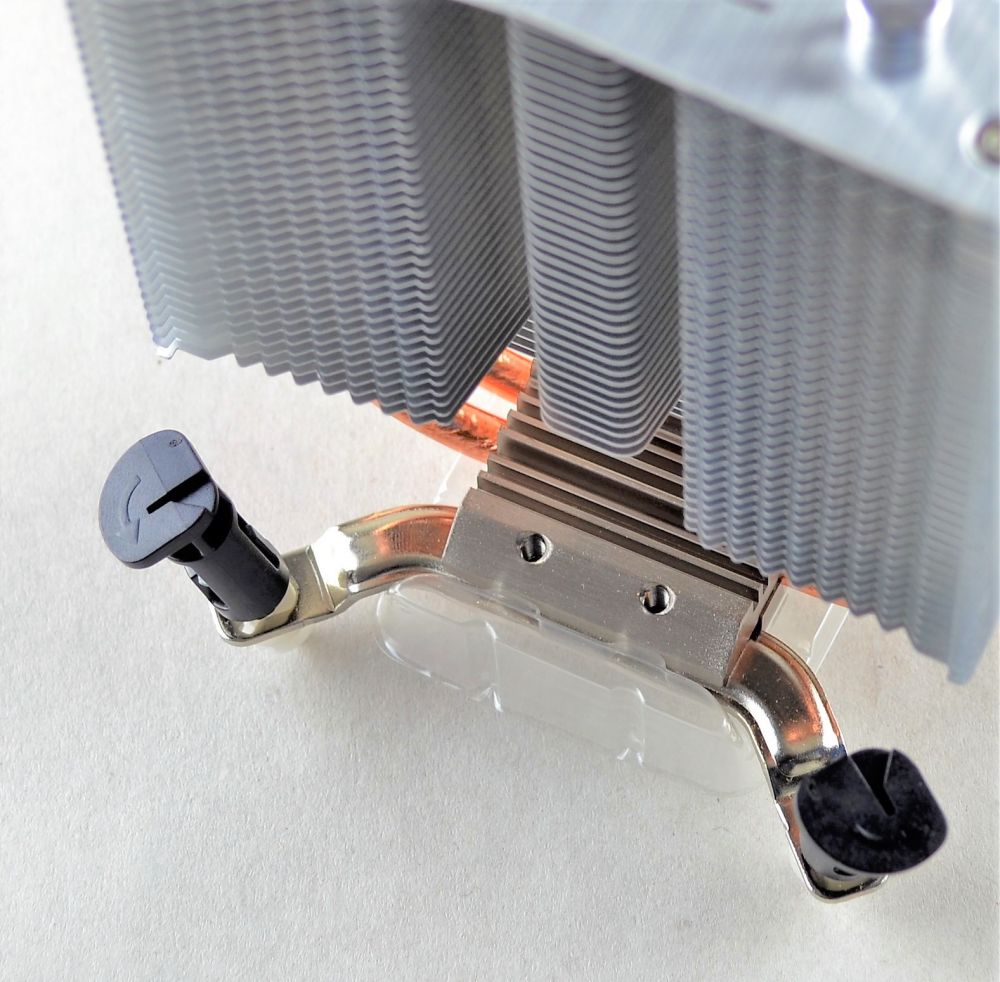 Using AMD, you can quickly remove the pre-mounted Intel clips and lay the AMD clips over the cooling block. It's not as easy to work with, as you get two loose parts, but it's still quite easy, because you do not have to do anything on the motherboard or anything. You use AMD's own solution for cooling assembly.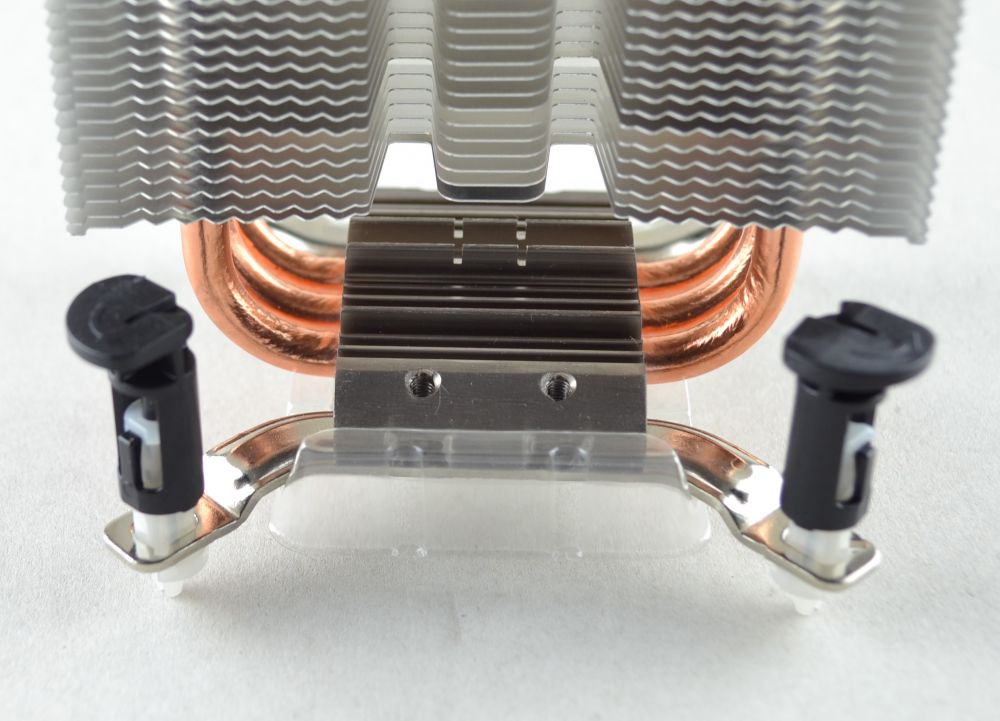 The mounting:
As you can see on the pictures, there is more than enough space around the cooler. Plenty of space for RAM, PCIe card and a possible water radiator towards the back. It's a nice little cooler.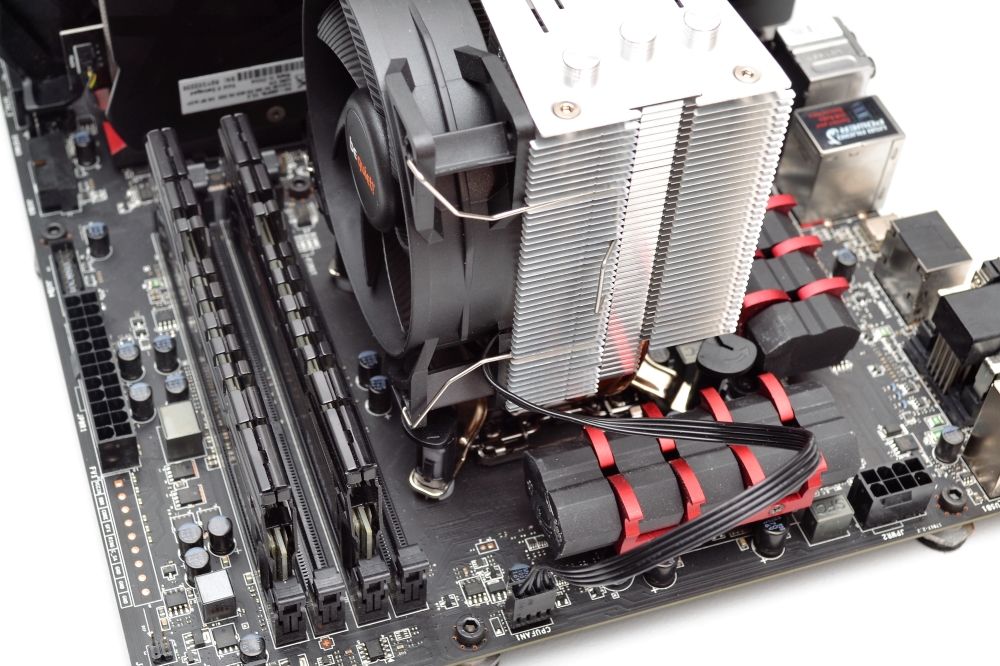 With about 4 centimeters to the first PCIe x 16 port, there is plenty free space for a good graphics card, so it can easily get rid of the heat.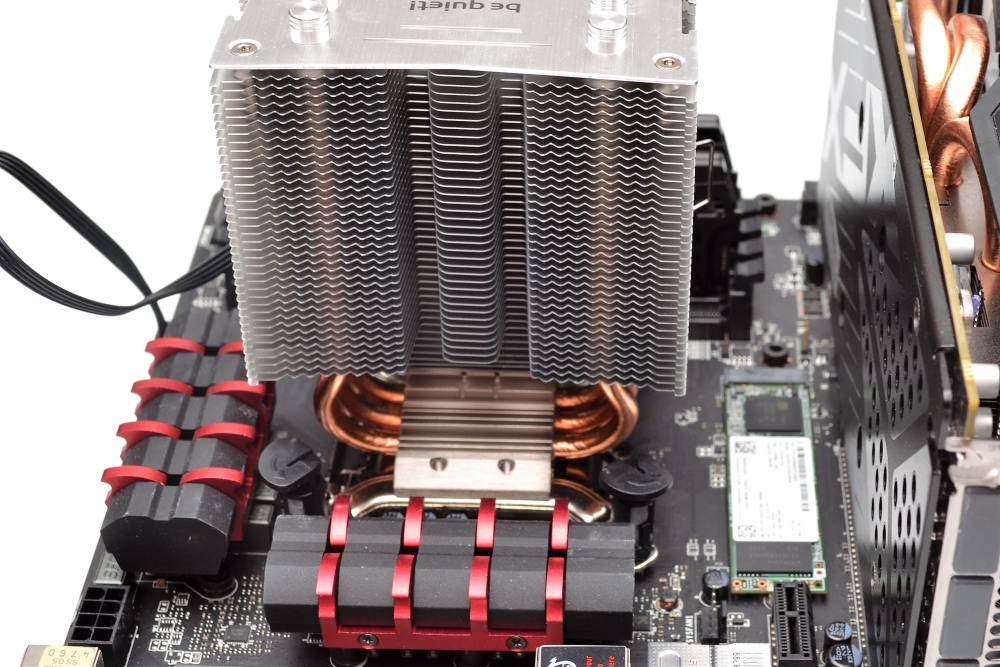 Looking under the motherboard you will notice that there is no need to mount anything here. That makes this cooler incredibly easy to install and you can do it completely without having to remove the motherboard from the casing.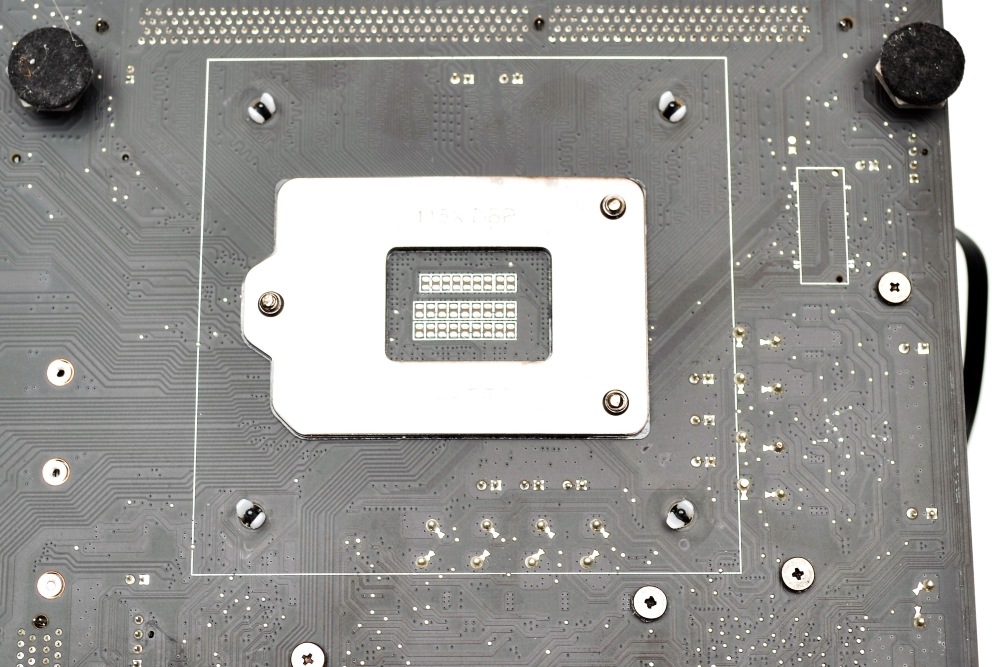 The cooler test.
Before I go to the actual cooling efficiency test, I'd like to show you some videos. These videos are for the sole purpose of judging the noise from the fan and the fan mounted on the cooler, respectively.
If you want to see more videos of this kind, I've made a playlist on my YouTube channel, that way you can hear the difference between the different fans and coolers I'm reviewing on the blog.
The fan does not make especially much noise and it has a fairly comfortable sound at full speed. In fact, the noise is more comfortable when the fan is mounted on the cooler, which is fine.
Now it is time to test how good the cooler is and I have used the following procedure and setup.
The procedure:
All of my coolers are being tested with fans on 100% RPMs. I have chosen this to show my readers what the coolers maximum performance is. I'm aware that it's making more noise, but hopefully you do not have the need to have the fan at 100% under normal conditions.
The setup:
I use the following setup for my tests, and can clocke my processor up to 4.7GHz. All overclocks are done with the auto function on the motherboard, as it actually works quite well.
Processor: Intel i7 4790K (TDP=88W)
Ram: 2x4GB Kingston Hyper Beast
Storage: 240GB Intel M2 SSD
Motherboard: MSI Z97A Gaming 6
The software:
The software I have chosen to use is Prime95 without AVX, as it utilizes the CPU in a more natural way. The new versions of Prime95 can also be used, but remember to turn off AVX to get a more natural load of the CPU.
For measuring temperatures, I chose to use HWinfo64, which is an excellent tool for that. Temperatures are measured after a heat-up time of typically 10 minutes for air coolers and 30 minutes for water coolers. The cooler should then be stabilized and the measurement should be done over a 2 minute period after heating up.
The measurements:
Fan RPM: 2100
Room temperature: 25 degrees Celsius
As you can see, this little cooler performs quite well. Most of all, you can compare this cooler by the size with the Cryorig M9i.
Even with a 4.7GHz overclock, the cooler keeps within what I want to call the limit. As long as we do not reach 85 degrees, we are not near anything critical. My 4790K CPU does not start to get critical before about 95 degrees, so there's nothing to fear here.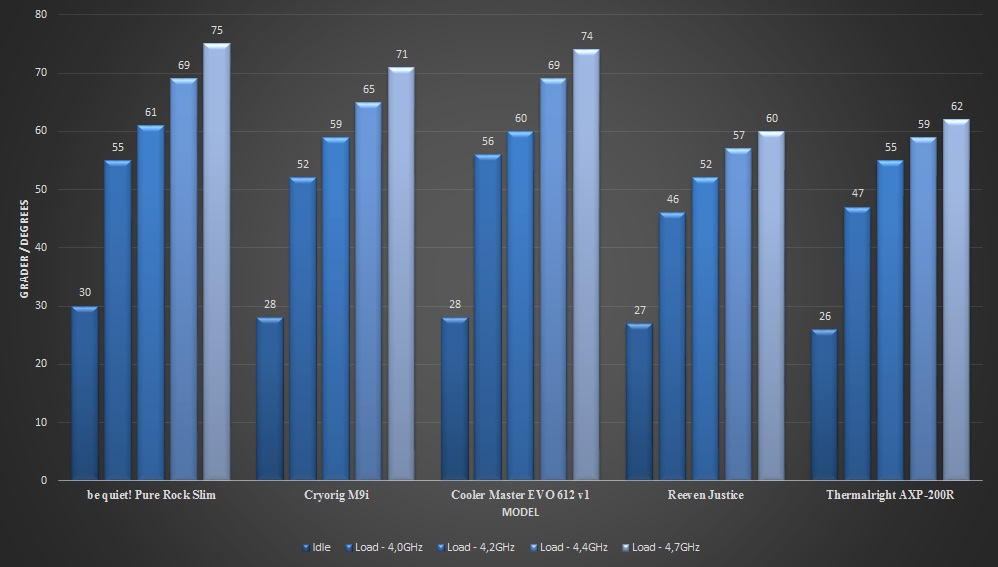 My evaluation:
Be quiet! has managed to push a very good performance into a nice little cooler. It have seen better, but certainly also worse. The cooler is incredibly easy to mount, which is definitely a plus, as I often think the manufacturers make it quite difficult to mount a cooler.
The Pure Wings 2 fan is a great fan that has some cool features. I'm crazy about the design and overall appearance of it, and it performs excellently without the noise of a plane that is on the takeoff, even at 2000 RPM.
You can buy this cooler for just under 200 DKK online as the cheapest, which I think is a nice price. The cooler is not bigger than it can be in most casings, and it performs as if it was much bigger. All in all, a great and beautiful cooler.
My rating on this cooler will be a nice SILVER star rating. The price matches performance and product perfectly, and you get quite a lot for the money. What you unfortunately does not get is extra cooling paste, which I have never been a fan of. So I think that be quiet! should have thrown a small tube in the box.