SilverStone PC remote control
So I've got a new manufacturer in house. This is SilverStone, which is primarily known for their PC casings and power supplies.
They make a lot of accessories for their casings, and it is one of those types of equipment we need to look at this time.

Silverstone ES01 and ES02 are remote controls for computers. The difference is that one is for the USB port, and the other is for the PCIe slot. Otherwise the principle is basically the same.
They are both 2.4GHz remote controls. There is no need for the remote control, to have visual sight to your computer like the old IR remotes has. You can stand up to 20 meters away, and turn on or reset the computer.
The contents of the boxes.
Let's see what the packages contain.
ES01-PCIe:
User Guide
Remote control + CR2032 Battery
Splitter Cable (30 cm. Long)
PCIe cards with large bracket
Extra bracket for low profile mounting.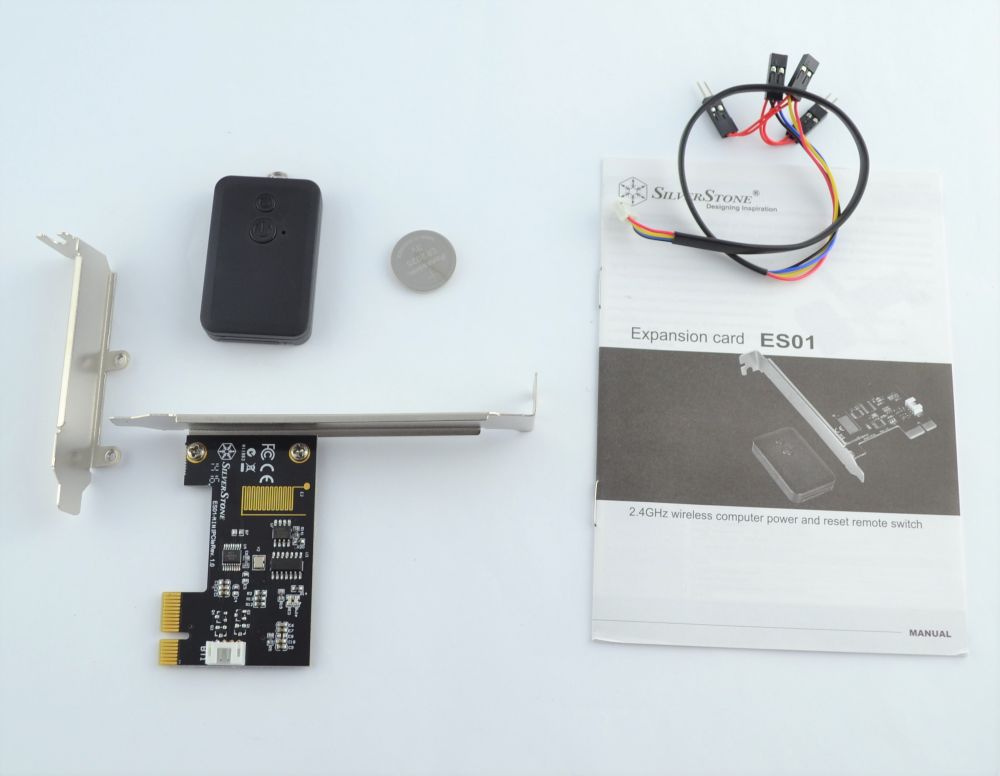 ES02-USB:
Remote control + CR2032 Battery
Splitter Cable (30 cm. Long)
USB angle connector
ES02 USB Print

I wondered slightly that there was no instruction manual for the ES02. But it can of course easily be downloaded from Silverstone website.
The specifications.
ES01:

Model No. SST-ES01-PCIe

Adapter card:

| | |
| --- | --- |
| Card type: | Low profile PCIe x1 |
| Bracket: | Normal & Low profile |
| Frequency: | 2.4GHz |
| EIRP: | 3.76dBm |
| Distance: | 20 meter |

Remote:

| | |
| --- | --- |
| Frequency: | 2.4GHz |
| EIRP: | 3.76dBm |
| Range: | 20 meter |
| Battery type: | CR2032 |
| Voltage: | 3.0V |
| Temperature: | -20?~70? |

ES02:

Model: No. SST-ES02-USB

Adapter cort:

| | |
| --- | --- |
| Card type: | USB 2.0 |
| Frequecy: | 2.4GHz |
| EIRP: | 3.76dBm |
| Range: | 20 meter |
| Net Weight: | 30g |
| Dimensions (BxHxD): | 30 x 10 x 60mm |

Remote:

| | |
| --- | --- |
| Frequency: | 2.4GHz |
| EIRP: | 3.76dBm |
| Range: | 20 meter |
| Battery type: | CR2032 |
| Voltage: | 3.0V |
| Temperature: | -20?~70? |
A closer look at the products.
If we take a look at the actual remote controls, we can see that the princip of both remotes is the same. However ES02 looks little more modern and ergonomic in design. On each remote is a power button and a reset button. Besides that, there is a diode which flashes when buttons are pressed. That way you can see that there is still battery on the remote control. Both remote controls can be put in a keychain.
The other half of these sets are of course the PCB. Both sets are without drivers, so you don't have to think about that.
ES01 pictured on the left is connected directly to a PCIe port. There are two small LEDs on the PCB which is used for diagnostic. The LEDs are also used for pairing with the remote control, which is done by holding both buttons on the remote control for a period of time.
ES02 is a bit different. Here we find a single LED, but in return there is a little button you can press. It is used for troubleshooting and pairing with the remote control. If you have to pair the PCB with the remote control, you hold the button for 3 seconds and the LED lights up, and you then have to press a button on the remote control.
But it all should work out of the box.
Installation of the sets.
It is time for the assembly. It is in principle the same way you mount both sets. The PCB is mounted in the connector as it is now designed for. Hereafter you connect the cable to the PCB, and on the motherboard. Then you are ready to assemble it all in the casing. The two connectors with pins on, are connected with the connectors from the casing. Easy and quite straightforward.
IF you can't get ES02 to be there. Then there is a small print with angled connectors, so you can mount the PCB in 3 different ways than straight out from the motherboard. The manual says nothing about whether you can install any other thing on the 3 way board, so you could run multiple things at the same USB connector. So I guess you can NOT do that. But quite nice to have the option.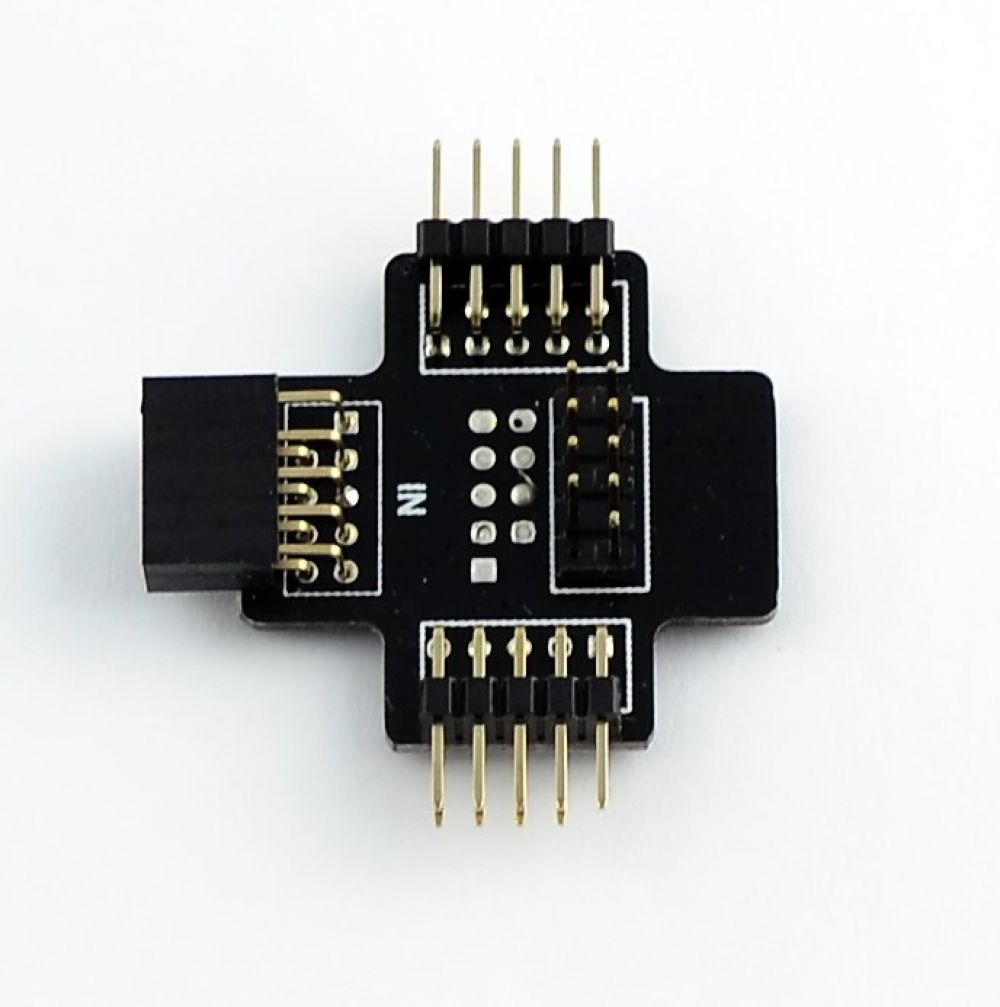 What should I use this for?
There are many that might have a computer, which are not so accessible. It can be an office machine, a HTPC or a server somewhere. So it's very nice to be able to turn the machine on or off without having to get off the couch and open the cupboard. It can also just be the lazy teenager who turn on the computer while getting out of bed. Only the imagination limits the use.
My opinion.
I love this kind of gadgets. To make things that are not standard. Thinking out of the box and do something that maybe not all are missing, but the ones who does are desperately missing it. This is the kind that makes these products worth reviewing. Especially when they are not so known, and people haven't spotted the opportunity.
Now you have the possibility to remotely control your computer. So your HTPC does not always have to be turned on, and the same goes for your server.
Prices:
ES01-PCIe: Can be acquired in Denmark for less than 200 DKK
ES02-USB: Unfortunately I can not find ES02 in Denmark, but I found it on Amazon for 17.20 GBP, which is about 150 DKK + delivery.
I think that these remotes must have a nice SILVER rating. I think they should due to the innovative approach and because of the price. It is not certain that SilverStone sell many of these. But I think it's cool that they make them, and satisfy the desire of the users who need them.
In order to obtain GOLD, you should have the option to connect the connectors from the casing directly on the PCB. And any possibility of a driver where you could program the remote control buttons to something other than just power and reset. That could be awesome.