Roccat Kone AIMO Remastered Mouse
Roccat constantly launches new products and constantly renews their existing product line. In this review we take a look at their latest model in the Kone series, their Kone AIMO Remastered, which has been updated in many areas.

Roccat is a well-known German manufacturer that has been around for many years. They are sponsors for many events and eSport tournaments as well as teams.
Let's see what's in the box.
The box is a nice little black box with nice prints on the outside. A lot of features and specifications are listed around the box and on the front, there is a nice picture of the product. You have no doubt what you buy.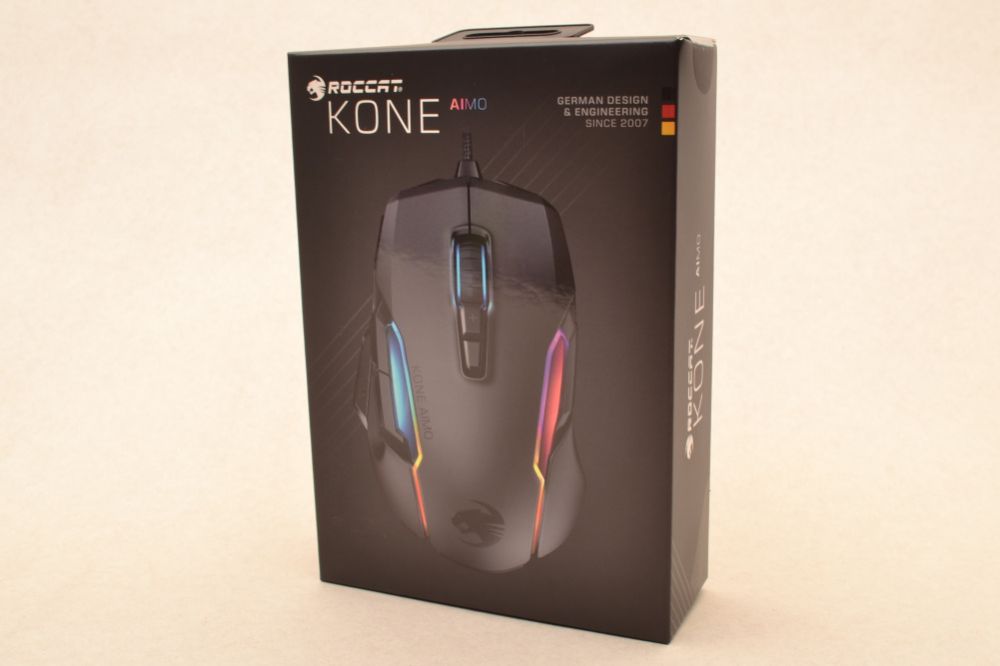 Inside the box, you will find a user manual, in addition to the mouse itself. That is all.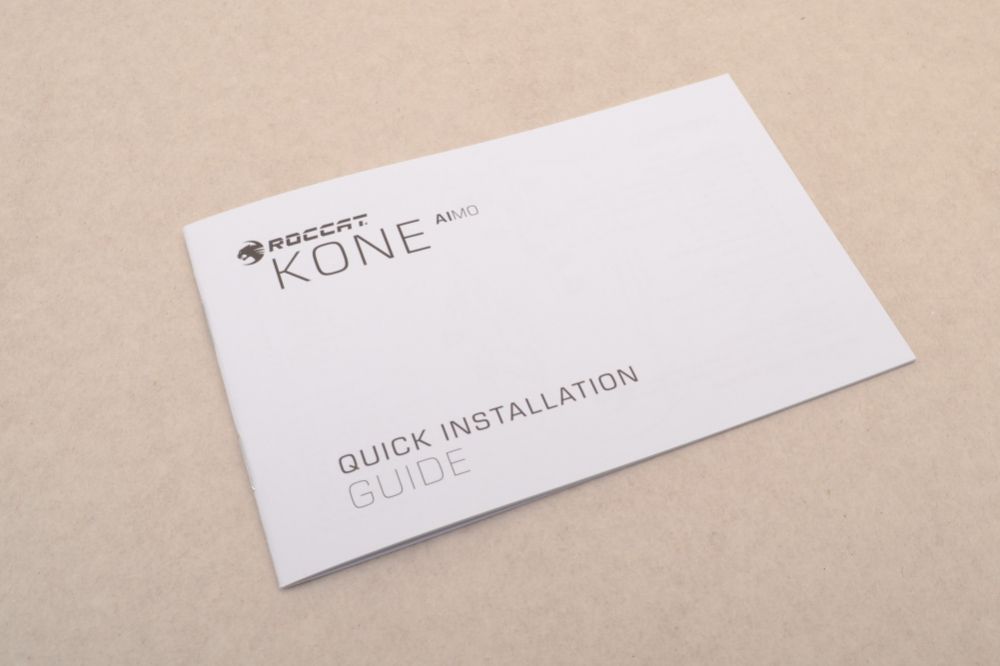 The technical specifications.
In the technical field, the mouse has got a new sensor, so the new version has the latest technology. Of course, this is the new Owl Eye sensor with a full 16000 dpi. In addition, the new model also has Omron contacts, which are world renowned for their durability.
The sensor:
Optical Owl-Eye sensor from ROCCAT® with 16000dpi
50G acceleration
250 ips maximum speed
Museum Acceleration: no
Angle snapping: on / off
Adjustable lifting distance
In general:
Omron® contacts
1000Hz signal frequency
1ms reaction time
ARM Cortex-M0 50MHz
512kB built-in memory
1.8m braided USB cable
Size:
Height: 4.00 cm
Width: 8.50 cm
Length: 12.50 cm
Weight: 130 g
Compatibility:
System Requirements: USB 2.0 Port, Internet connection for driver installation
Operating system: Windows® 10, Windows® 7, Windows® 8
Let's take a look at the mouse.
The new version has a new surface which is more dirt repellent. Roccat Kone is generally a super great mouse with lots of options.
At the top, we find a couple of DPI buttons that easily and conveniently switch up and down the selected DPI settings. There is also a scroll wheel with rubber on the outside so you don't miss a click or switch.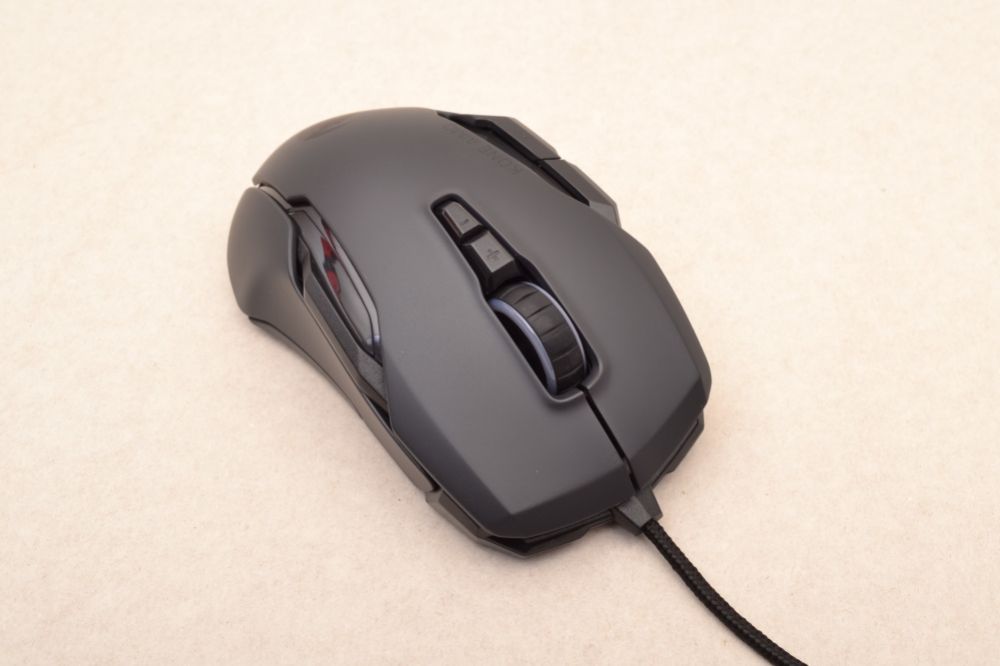 On the left side of the mouse, we find some good big buttons for the thumb, and there is an extra button below, so you have a whole 3 buttons here on the side.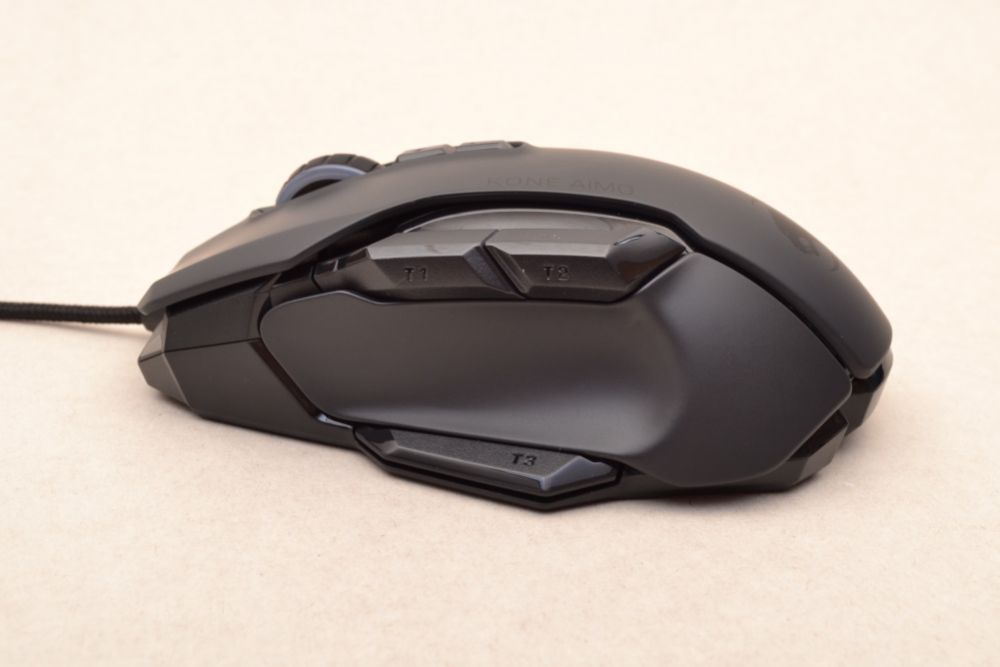 On the right side of the mouse we find nothing, note the mouse goes in and is flat here on the side for optimal grip.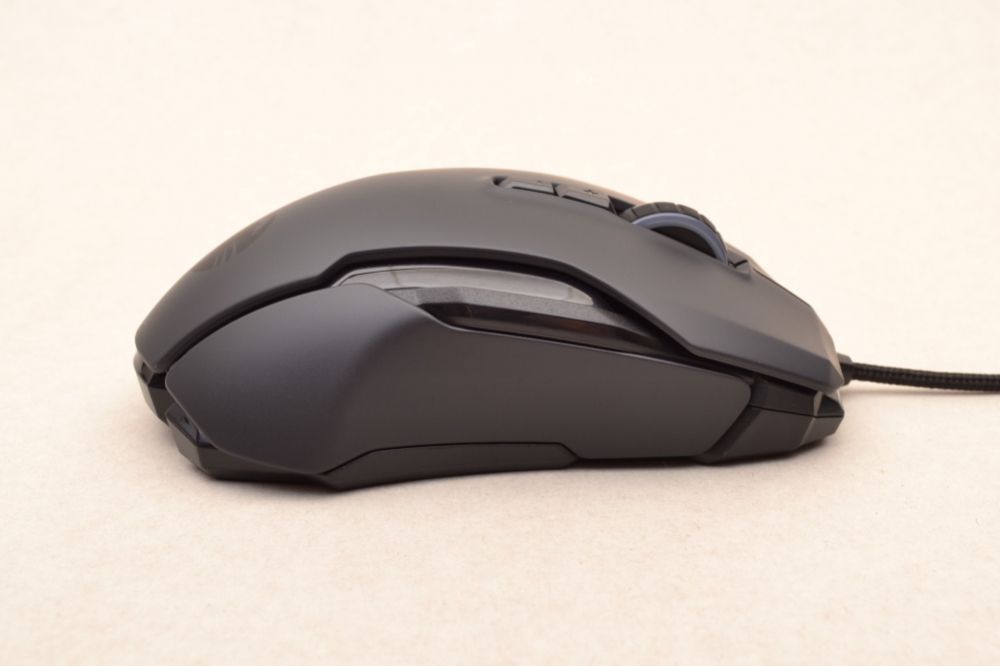 At the back of the mouse, we find a Roccat logo. Unfortunately, there is no light in the logo, but we see later that there is not missing light in the mouse despite that.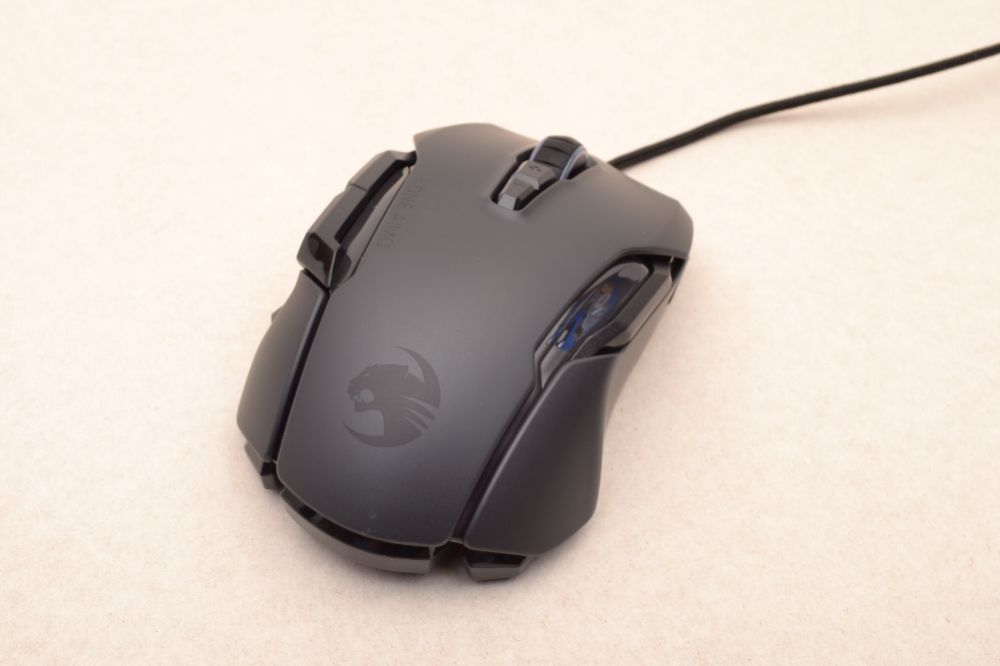 Under the mouse we find 5 large sliding pads, so the mouse flies across all surfaces without any problems. Of course, it is also down here that we find the sensor with 16000 dpi.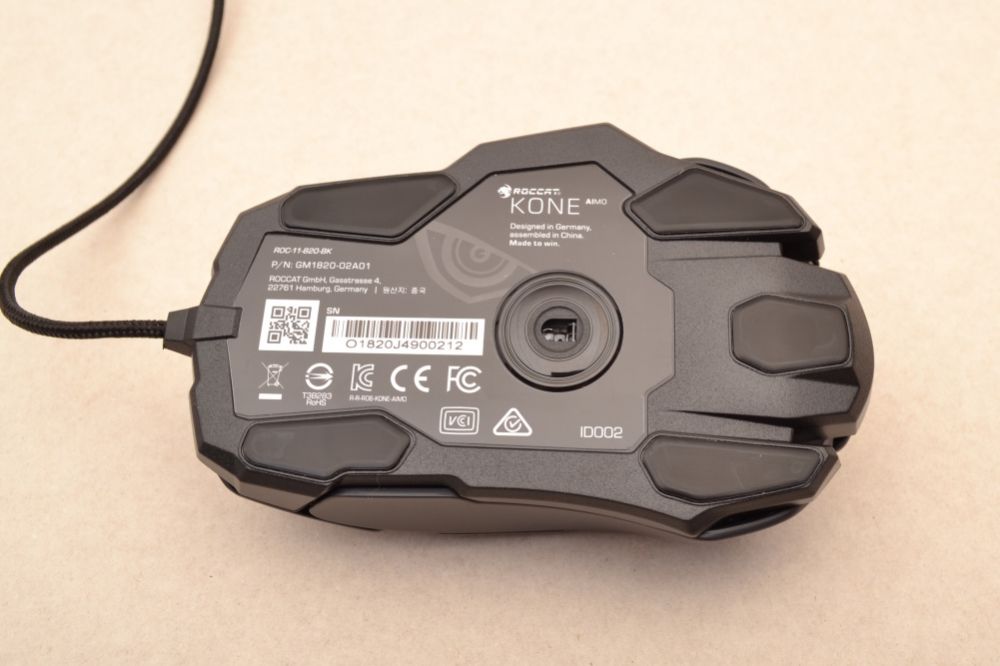 The connector at the 1.8 m long cable is a nice little USB connector. It has printed what it belongs to, so you have no doubt when you pull the connectors out of the computer.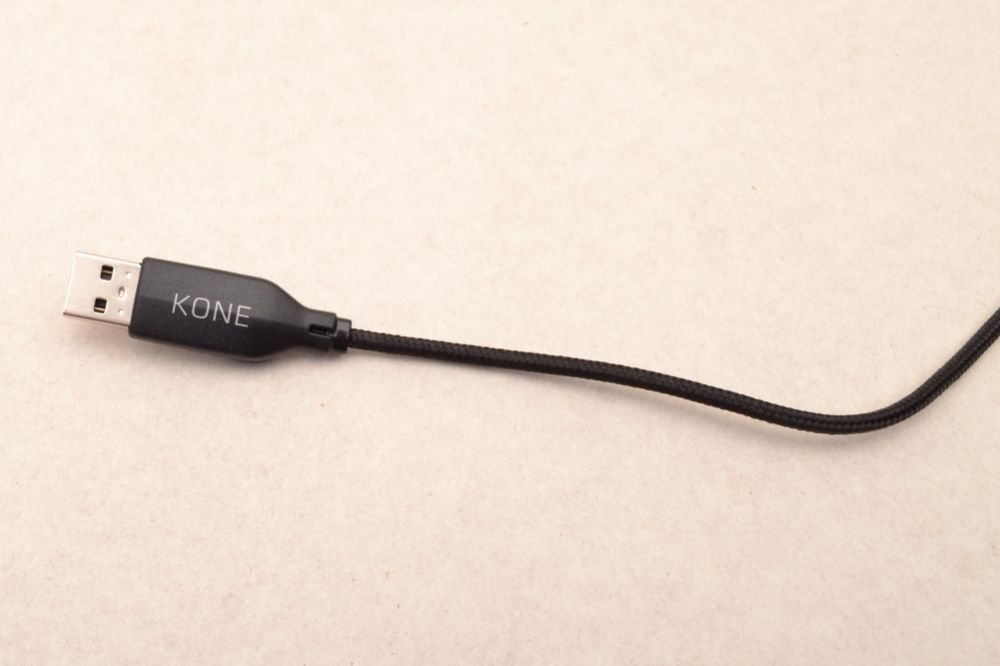 The software Roccat SWARM.
Roccat has created their own driver software which keeps all your Roccat products up to date. It's easy to use.
In Roccat Swarm, you can pin the settings you use most to the first page. Then it's always the ones you have first when you open Swarm, so you don't have to look for them.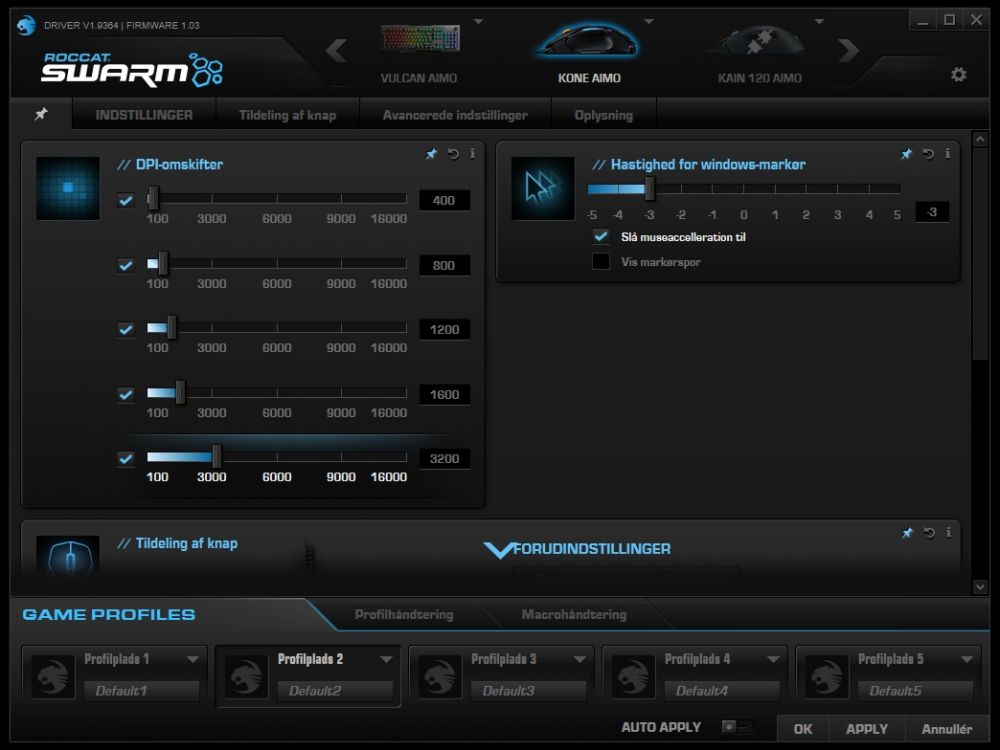 You can set all the technical things on the mouse and choose what different DPI settings to have and much more.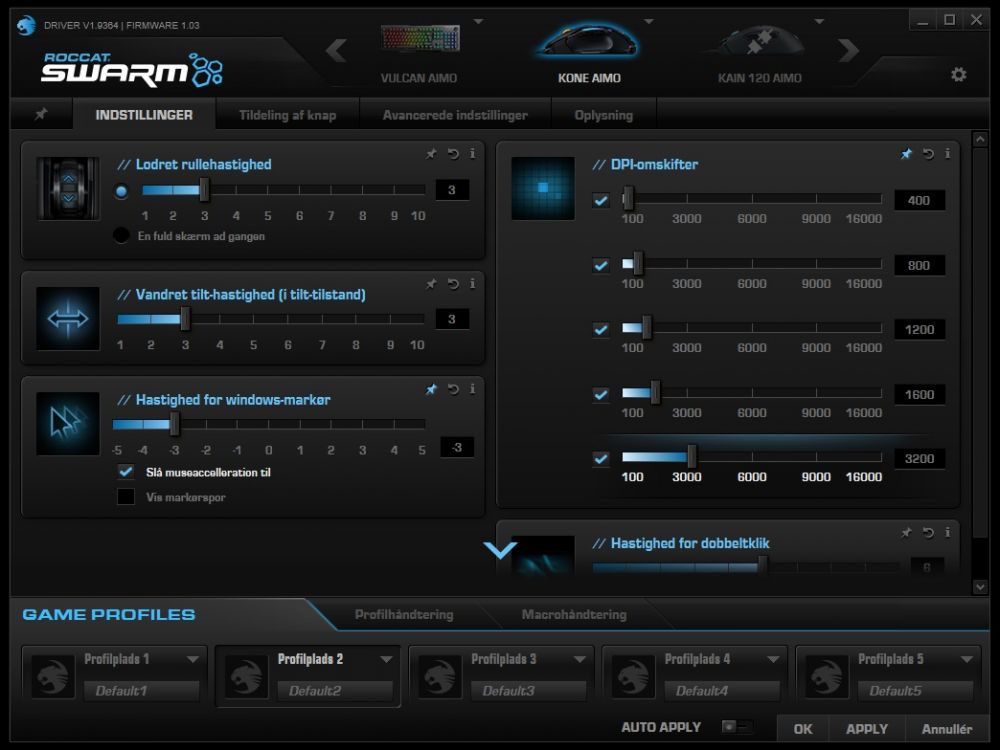 The buttons can be assigned a lot of functions, and you can also create macros and much more. There are virtually no restrictions.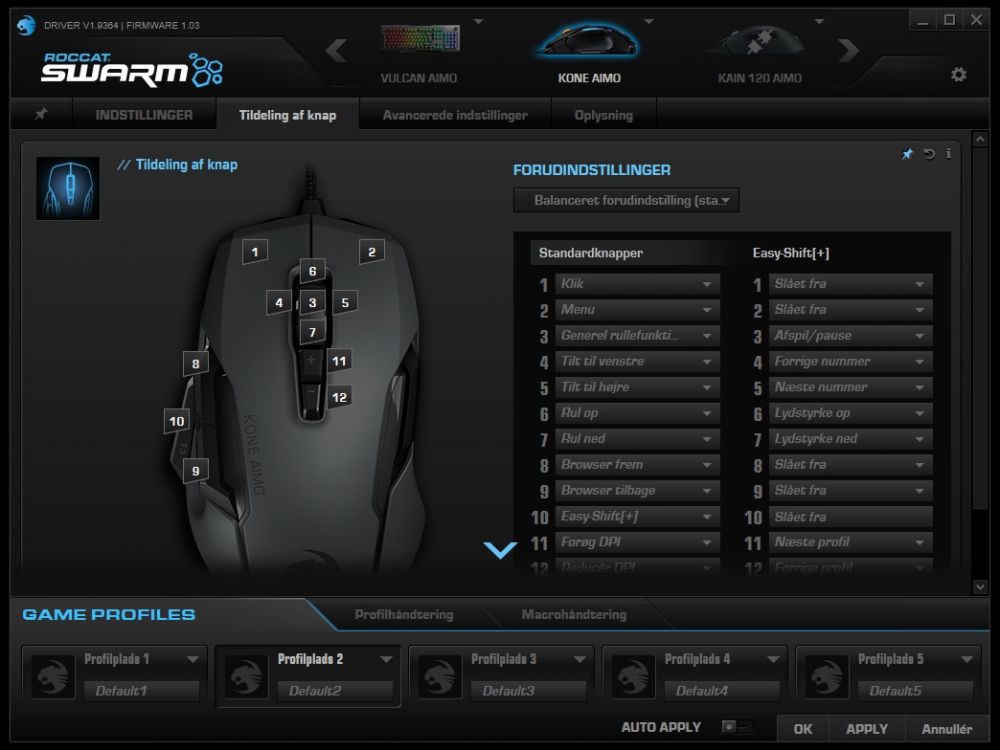 There are also some more advanced settings you can adjust if you need to. Everything is stored in the memory of the mouse, so you do not have to install the software every time you use the mouse on a new computer.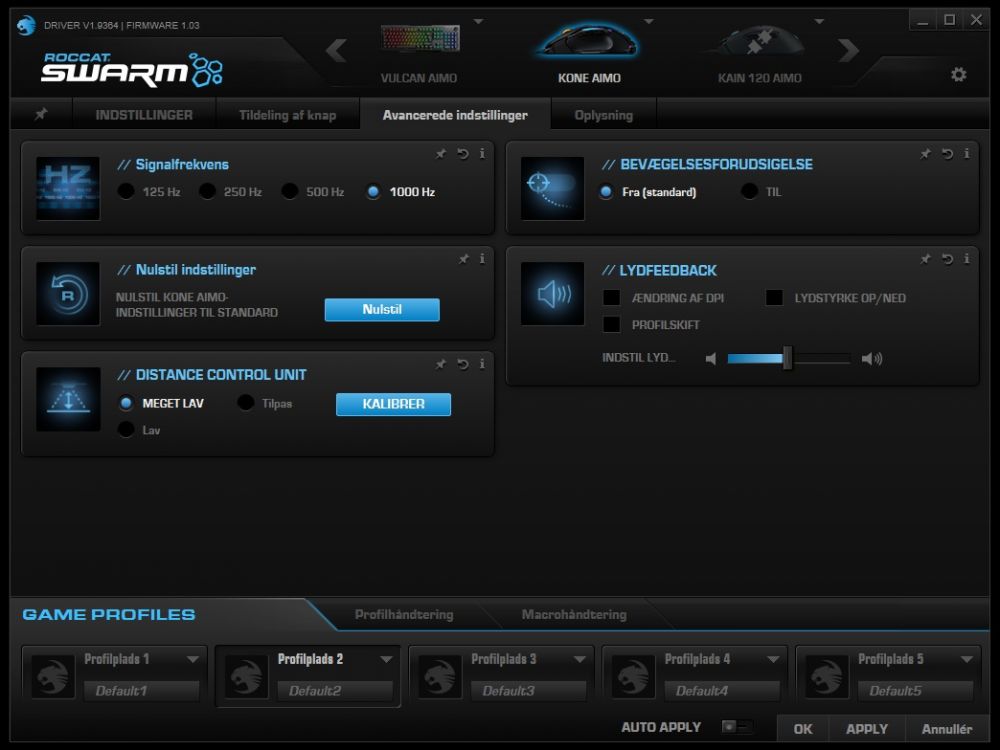 The light in the mouse can also be controlled, or you can let Roccat control it with their AIMO function. It adjusts the light on how you use the mouse and constantly ensures that there is life in your Roccat products. It is quite awesome.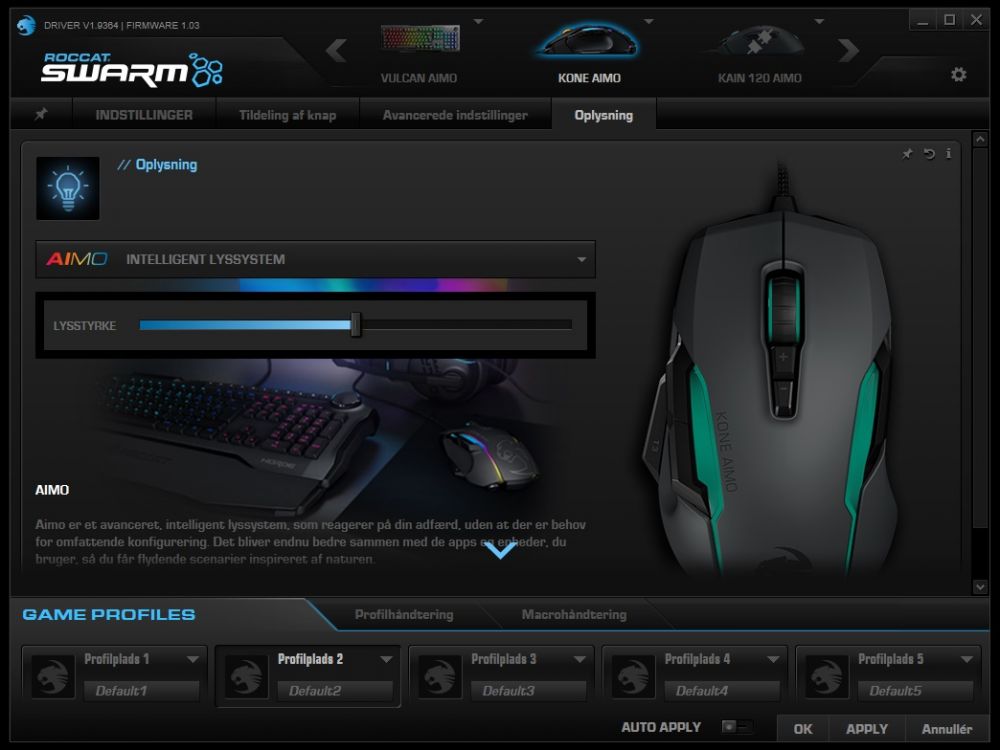 How is the mouse in use?
I've been using the mouse for a while, and actually use a Roccat Kain for everyday life.
Daily use:
There is no doubt that this mouse is good and I also enjoyed it when I used it everyday. All clicks respond as they should and the mouse is also super accurate. You can easily change DPI so you can edit images easily and you can switch up so you can quickly click around websites.
Gaming:
The mouse is definitely made for gaming, and here all the buttons come to meaning. You can customize all the buttons for your favourite function, and there are plenty of buttons to use. The mouse is super precise and you can adjust it to exactly what you need.
Ergonomics:
The mouse is quite large compared to other mice. It is great when you have big hands, but it is something to consider when buying a new mouse. However, it is good that Roccat has a large selection of mice, so one can always find a Roccat mouse that suits your personal needs.
In terms of weight, I found that the mouse is just on the heavy side for me. You should also take this into account if you move the mouse around a lot and if you lift it a lot from the surface to correct the position. I'm not saying it's bad, but you have to take that into consideration when buying the mouse.
The new surface of the mouse, along with its rather high weight and size, caused me to have some trouble with the grip of the mouse. I probably had better grips with rubber or soft touch surface.
The quality:
Roccat makes products of the highest quality, which is certainly noticeable on this mouse. All mouse buttons click firmly and precisely, and there is nothing that rattles or sounds loose in the mouse. In general, it just seems great.
The light:
The light in the mouse can be controlled as needed and given a lot of different effects.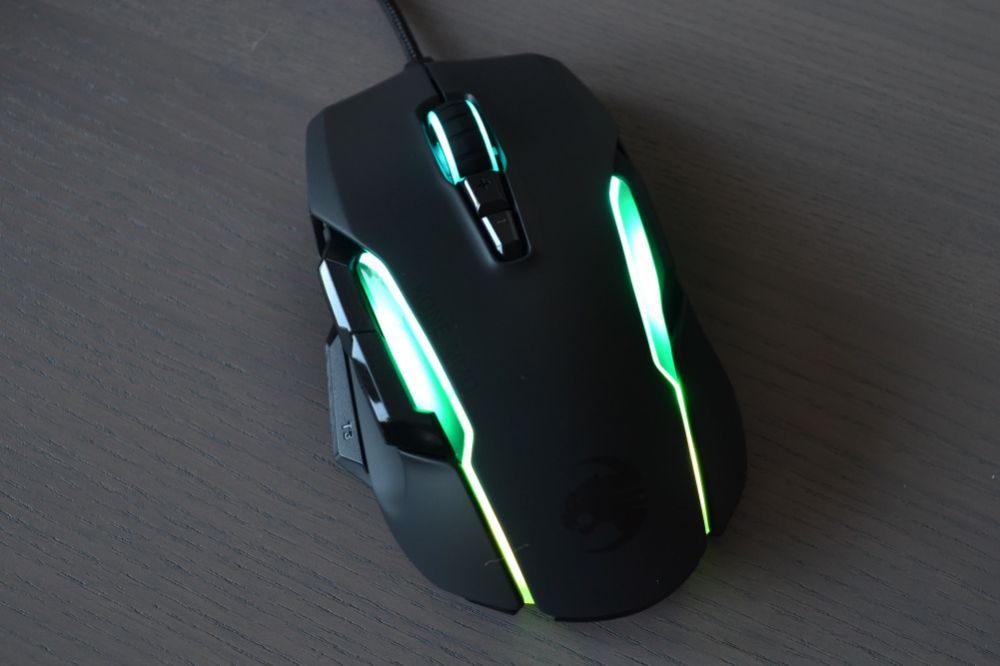 It is fluid and the colors blend beautifully together when you look at the mouse. There is no need for more light in the mouse, therefore there is probably no light in the logo too, as it would have been too much. The strength is also very comfortable and you can adjust it so that the light is clear even in daylight.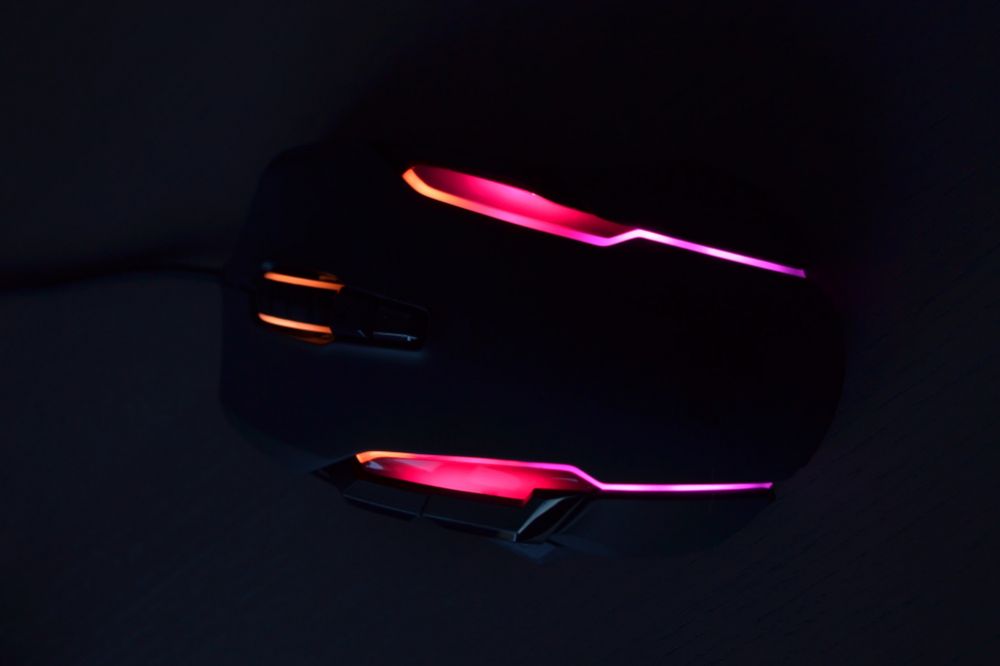 What is my opinion on the Roccat Kone AIMO Remastered.
Roccat is always at the front when it comes to renewing their products. They are constantly developing new things and improving their existing product line.
I also feel that is what they have done here, where they have improved the product both inside and outside.
Roccat Kone AIMO Remastered has received new tech inside in the form of new contacts from Omron, which are world-renowned for their quality and durability, and then the mouse has also received the new 16000 dpi Owl-Eye sensor, which makes the mouse super precise no matter what resolution you play or work in.
On the outside, the mouse has got a new coating, which is extra dirt-limiting and durable. It is also good to hold, though maybe a little slippery compared to rubber or the well known soft touch surface.
Pricing:
Roccat Kone AIMO Remastered costs just under 600 DKK. It's a good price for a great gaming mouse with the features and specifications this one has.
The final assessment.
When comparing Roccat Kone AIMO Remastered with other mice of the same price range and quality. Then there is no doubt that you get a great mouse for the price. I mention some things to be aware of and as long as you are aware of it, I would defend giving this mouse a GOLD rating.
Read more about the product here:
https://en.roccat.org/Mice/Kone-AIMO-Remastered