Cherry MW 8 Advanced Mouse
Then Cherry is back on the blog. They have sent me their MW8 Advanced mouse, which is a great little wireless mouse for travel. Let's see how it is.

We'll just start with an introductory video made by Cherry about the mouse. Then you just get an overview of the product.
The technical specifications.
As you can read, it's a rather small mouse, which doesn't weigh much either. The battery is a 550 mAh Lithium Ion battery which should last for many hours of use. The mouse has adjustable DPI settings from 600-3200 DPI, which should be fine for most.
Mouse:
Scanning: Optical (Sensor: PixArt PAW3805EK-CJMU Track on Glass)
Resolution: 600 / 1000 / 1600 / 3200 dpi (adjustable)
Number of Keys: 6
Mouse wheel design: Scroll wheel with optical tracking and key function
Design: Symmetrical
Weight (product): approx. 92 g (mouse), approx. 3 g (receiver)
Total weight (with packaging): approx. 160 g
Transmission range: approx. 10 m
Interface:
Wireless, optionally using 2.4 GHz frequency with AES-128 encryption (via USB receiver)
Bluetooth® 4.0
Connection sockets: Micro USB socket for charging cable
System requirements:
For connection using Bluetooth®:
Compatible device with Bluetooth® 4.0 or higher
For connection using USB:
Free USB port (type A), Windows 7, 8 or 10
Delivery Volume:
CHERRY MW 8 ADVANCED
SB charger cable
Operating instructions in hard copy
1 nano USB transmission receiver
Built-in rechargeable Li-Ion battery with 550 mAh
Transport pouch
Dimensions (product):
approx. 99 x 62.5 x 33.5 mm (mouse), approx. 19 x 14.5 x
6.5 mm (receiver)
Warranty: 3-year limited manufacturer's guarantee
What's in the box.
The box is in classic Cherry colors, which are white tones with the red logo. There are photo-realistic images on the box, and technical specifications on the back in several languages.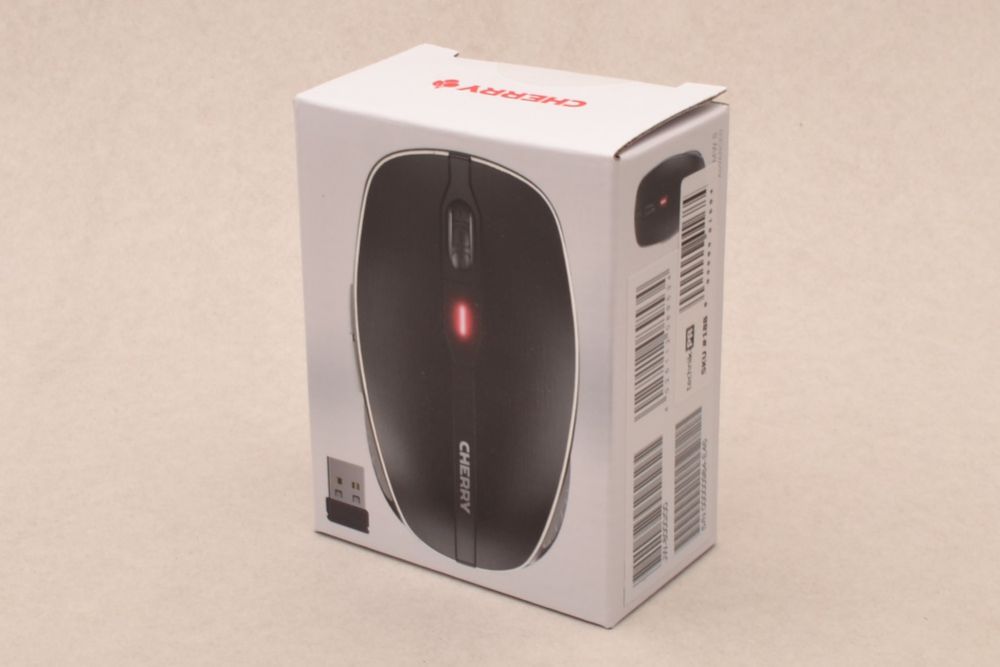 Inside the box we find the mouse pack nicely into a velor transport bag. Besides that, there is a user manual and a charging cable.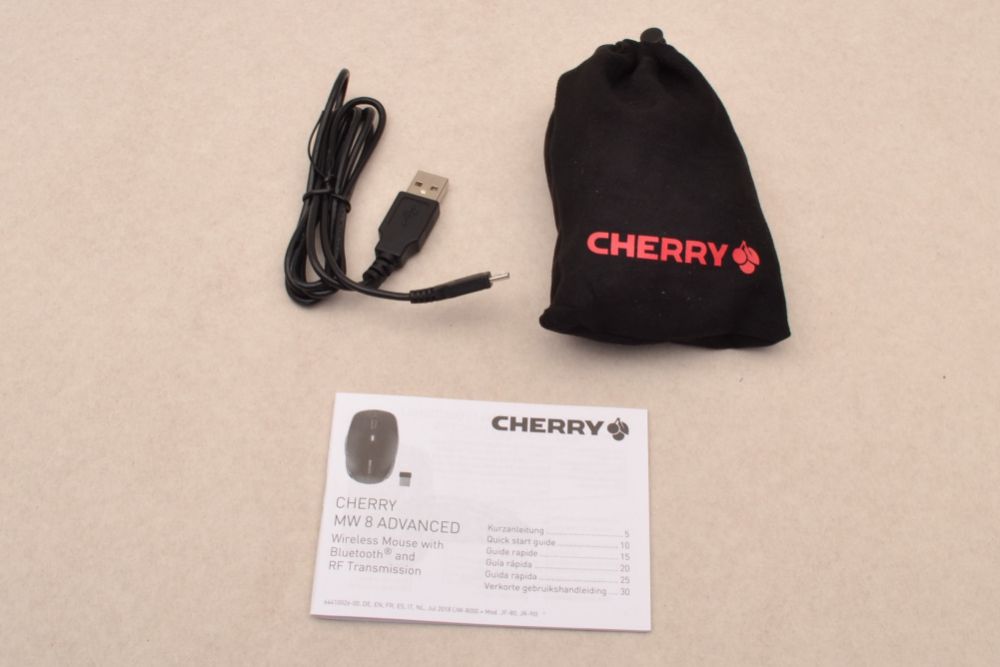 Let's take a look at the mouse.
The surface of the mouse is made of anodized brushed aluminum. It's pretty exclusive. At the top we find the scroll wheel, which also functions as a button, and a DPI button where you can change DPI settings.
The diode in the DPI button flashes the number of DPI setting you have selected, so 1-4 times. Of course, it also shows if you are running out of power and whether you are on Bluetooth or RF connection.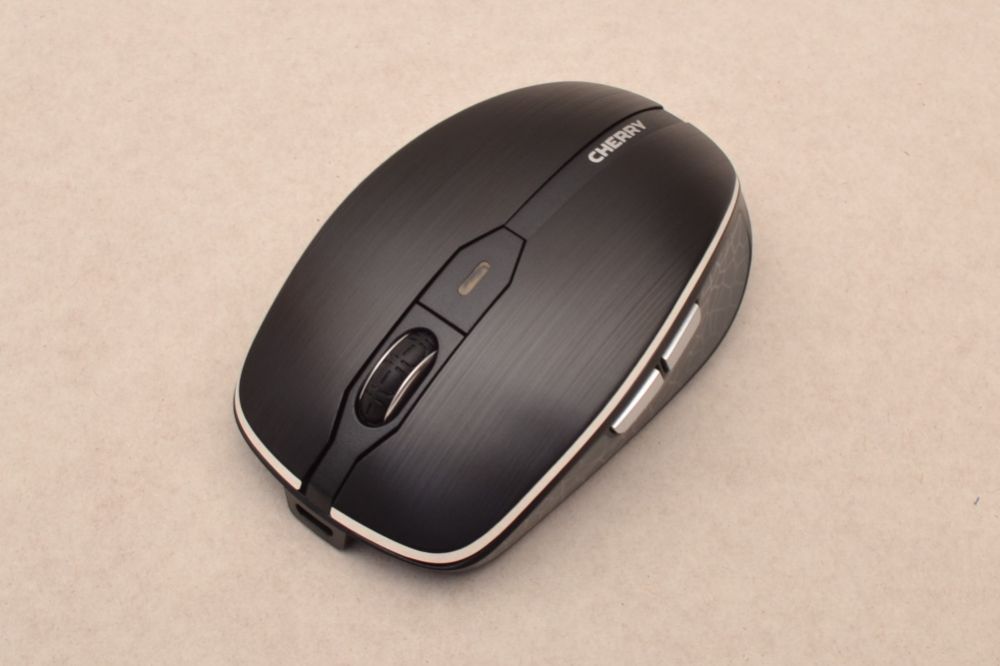 At the back of the mouse we find a discreet Cherry logo, so you can see who made this beauty.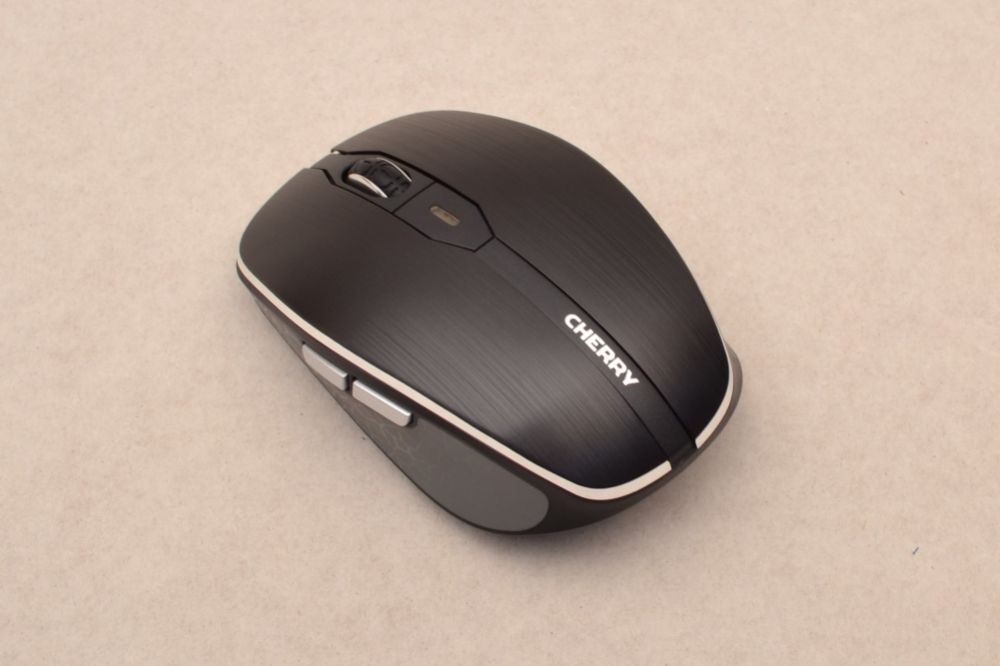 When we look at the left side, you can see the chrome edge all the way around the top. There are buttons for the thumb and the side is covered with rubber, so you have a good grip on it.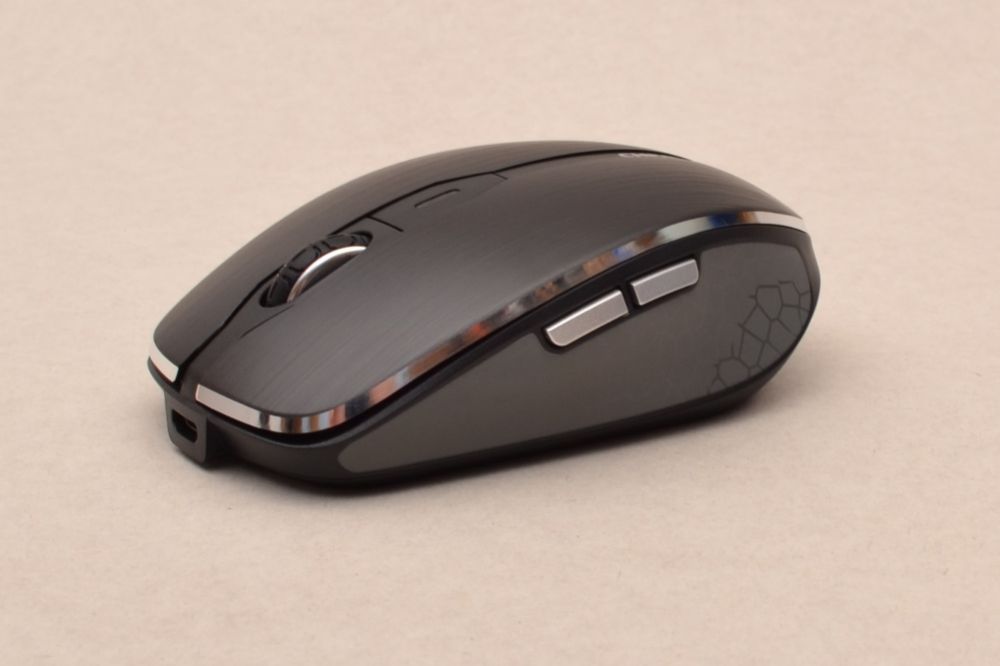 On the right side there are no buttons, but here the side is also covered with rubber. This mouse is not dropped by accident.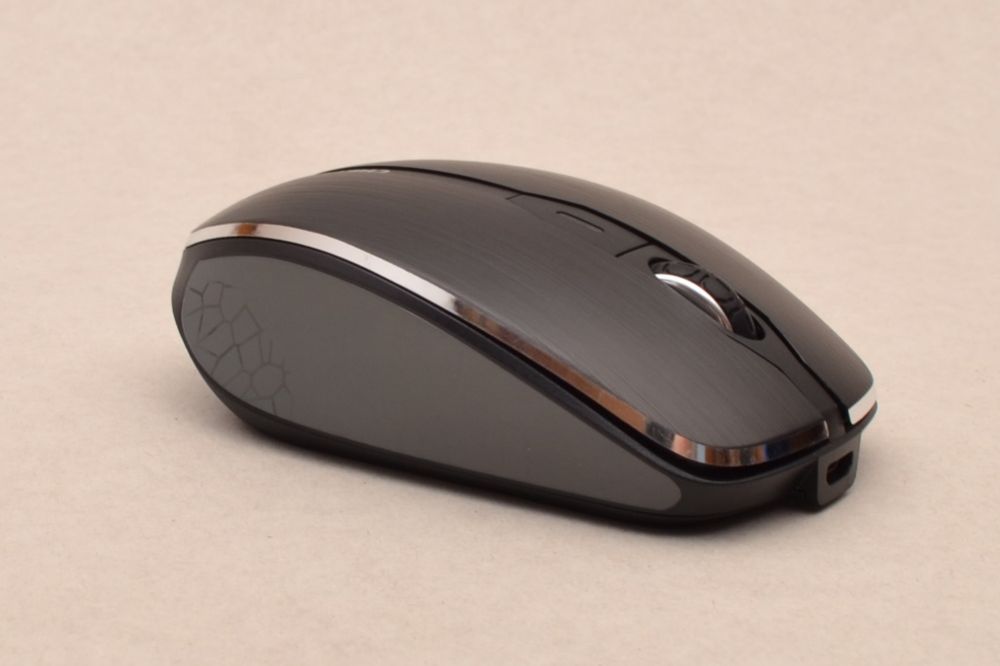 Beneath the mouse we find a couple of large sliding pads that cover the entire mouse. It makes it slip easily over the surface.
Then there is a switch where you can turn the mouse on and choose RF or BT connection. There is a pair button for the Bluetooth connection, and then you can also store the small nano transmitter below the mouse. Then it never goes away.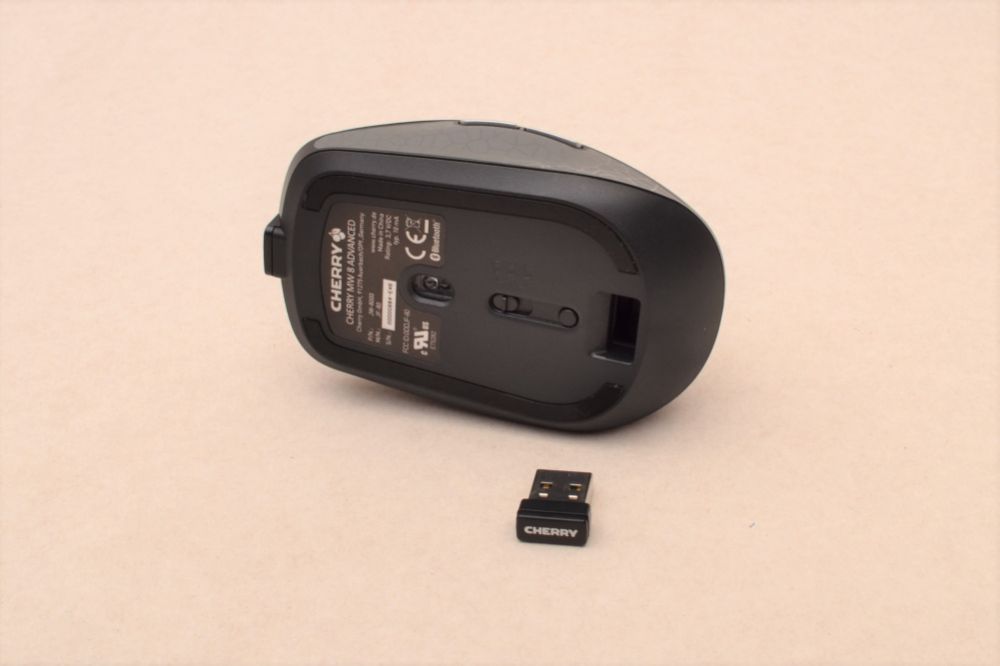 The cable is nothing to write home about. It is a thin plastic cable used for charging and nothing more. But since you can use all micro USB chargers, it is limited how much it is actually used. However, it is nice to have, of course.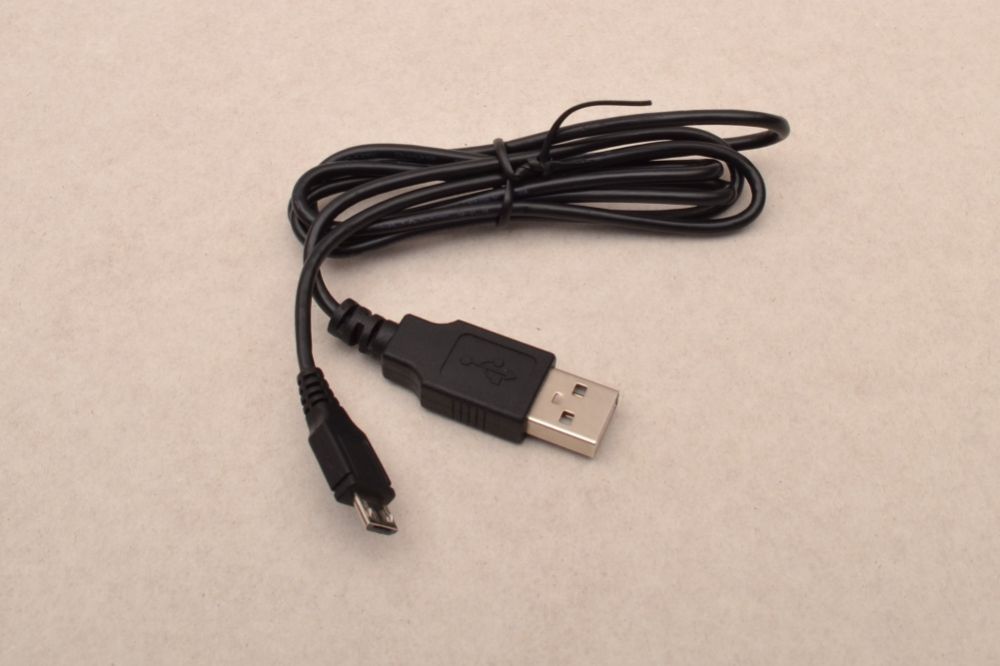 The test.
There is no doubt that the Cherry MW8 Advanced is made for the traveler. It's small and comfortable, and fits nicely into any bag in its small pouch.
Daily use:
I have been using the mouse for a few days and it is actually quite good. I would not recommend it for gaming by any means, but it is perfect for office work.
If you are often on the go and using your mouse all the time, this mouse fits perfectly into your laptop bag when you travel and can easily be connected to your computer with either Bluetooth or RF connection.
Ergonomics:
The mouse is a small mouse, which gives a slightly strained grip on the mouse. I am used to palm grip, where you rest your entire hand on the mouse. You can't do that with this mouse.
If you use fingertip grip for everyday life, this mouse is perfect.


The quality:
There is no doubt that it is in quality Cherry wins. It really is a great mouse and it is built from the best materials. Exclusive aluminum and an PixArt Sensor that tracks on glass, it will not get any better. This product is built to last for many years.
It's time for an assessment.
Cherry has really made a great mouse with their MW8 Advanced. It is also found in an Ergo model, which is a bit more ergonomically designed and a bit larger. More intended for everyday use by a desktop computer.
MW8 Advanced is built in sublime quality with quality components all around. The look is exclusive with chrome edges and anodized aluminum on the wear surfaces.
The rubber on the sides gives a great grip on the mouse, and the weight makes it effortless to move the mouse and lift it from the surface.
The transport bag ensures that you can always carry the mouse with you and it will not be scratched or scratch other things in the bag.


The price:
Just around DKK 350 you have to pay for this mouse in Danish stores. One pays here for exclusive design and superior quality. There is no doubt that the mouse is worth the money.
The assessment:
If you look at all the things, you get a awesome mouse of superior quality with a super exclusive design. You also pay a little for that, and some will probably think it's just over the top for a 'traveling mouse'. However, I think it is fully justified and therefore I give MW8 Advanced a nice GOLD star rating. Do you need to bring your mouse along on the journey, to the business meeting or other places where you need to show it off. Then this is the mouse you need to buy.
Read more about Cherry MW8 Advanced here:
https://www.cherry-world.com/cherry-mw-8-advanced.html