ROCCAT Horde AIMO Keyboard
This time we are going to look at a new product from ROCCAT. They have released a new keyboard in their Horde series with AIMO intelligent light management.

ROCCAT is a well-known manufacturer of great gaming products. They make everything from mice, keyboards to headsets.
Let's watch a video of the product before moving on.
Let's look at the packing and content.
You get a nice box with print of the product on the front and the technical specifications on the back.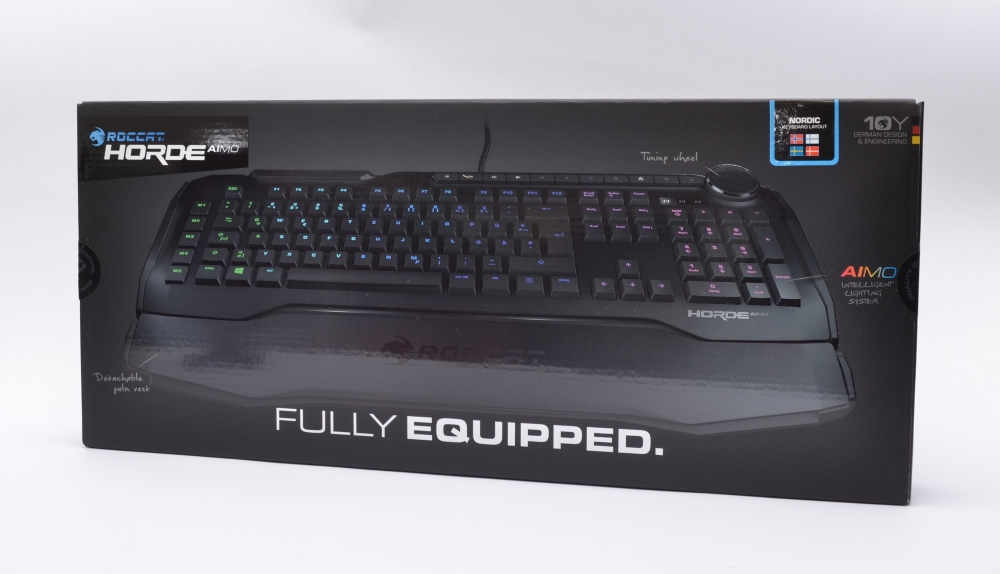 Inside the box, the product is well protected in plastic bags and cardboard. That way, it will not get scratched during transport, or be damaged by bumps.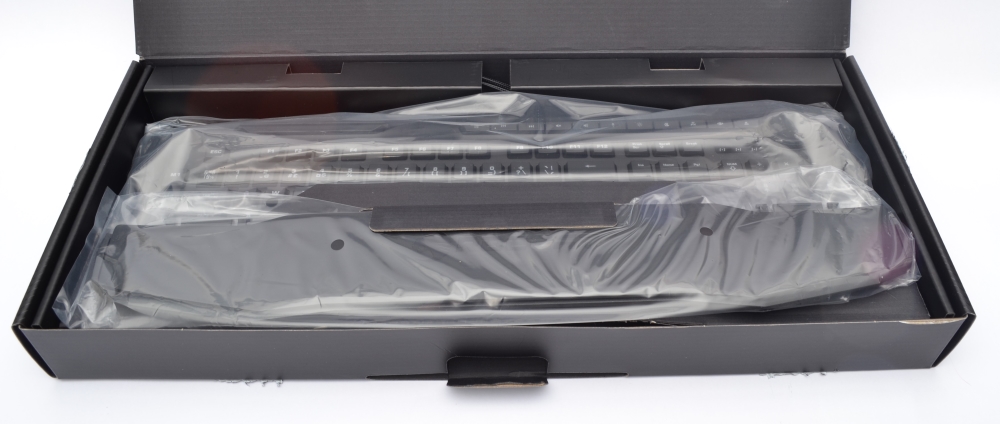 Content:
ROCCAT Horde AIMO keyboard
Wrist rest
User guide
Here is the technical specifications.
As you can see, the keyboard has built-in memory, a good ARM processor to control it and 1.8m fabric-coated cable. It all sounds good.
ARM Cortex-M0+ 50MHz
512kB indbygget hukommelse
1000Hz signalfrekvens
1.2mm actuation point for macro keys
LED driver, 256 steps PWM control
Six-zone illumination with 12 RGB LEDs
Wheel encoder with 20 steps
1.8m flettet USB-kabel

Size / Weight
Weight 1100 g

System demands
Windows® 8, Windows® 7, Windows® 10
Internet connection for driver installation
USB 2.0 Port
Let's have a look at the product.
The set consists of a keyboard and wrist rest.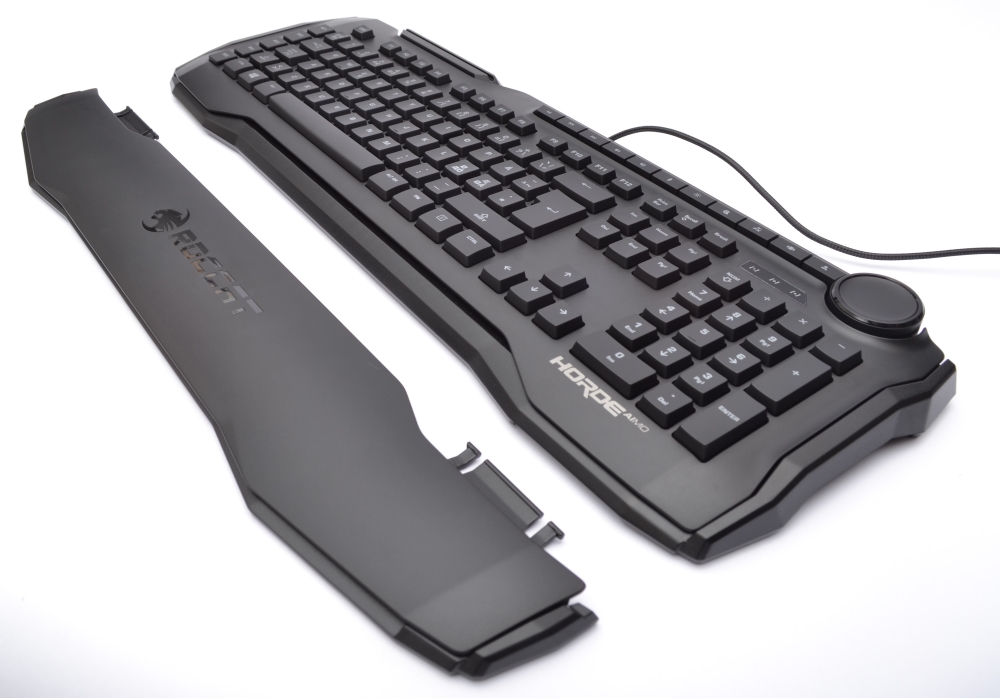 The set is assembled without problems, you put both parts on the table, sliding the wrist rest under the keyboard, and then it clicks into place. Easy and effortless.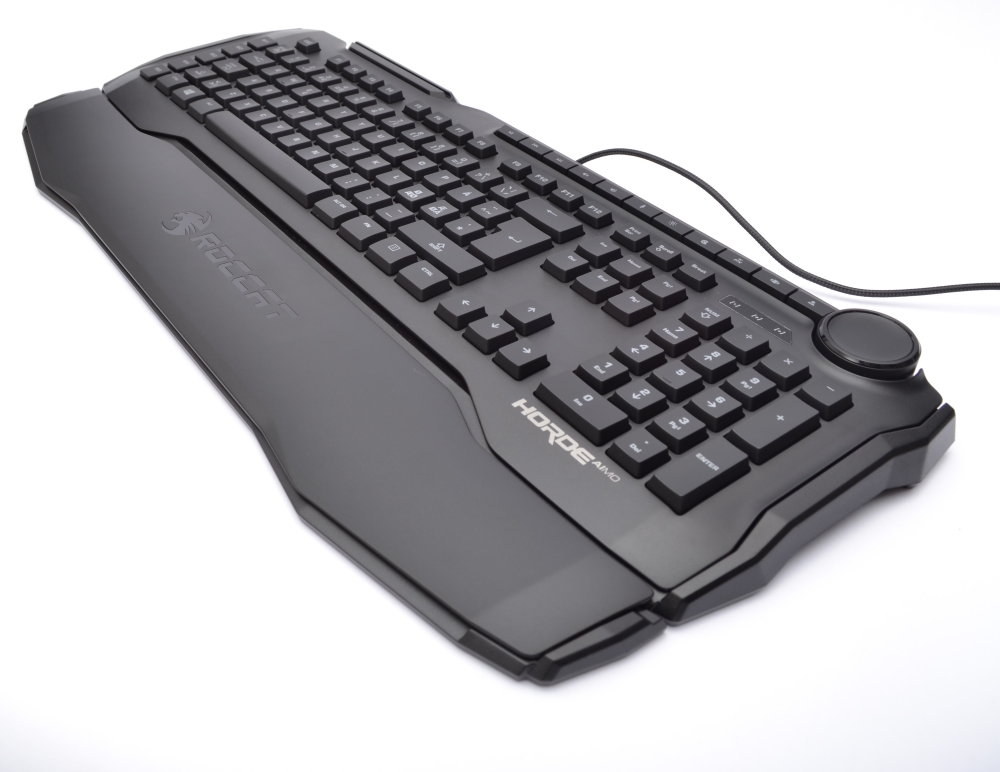 Looking at the bottom of the set we find some good big rubber feet that ensure that the keyboard does not go anywhere.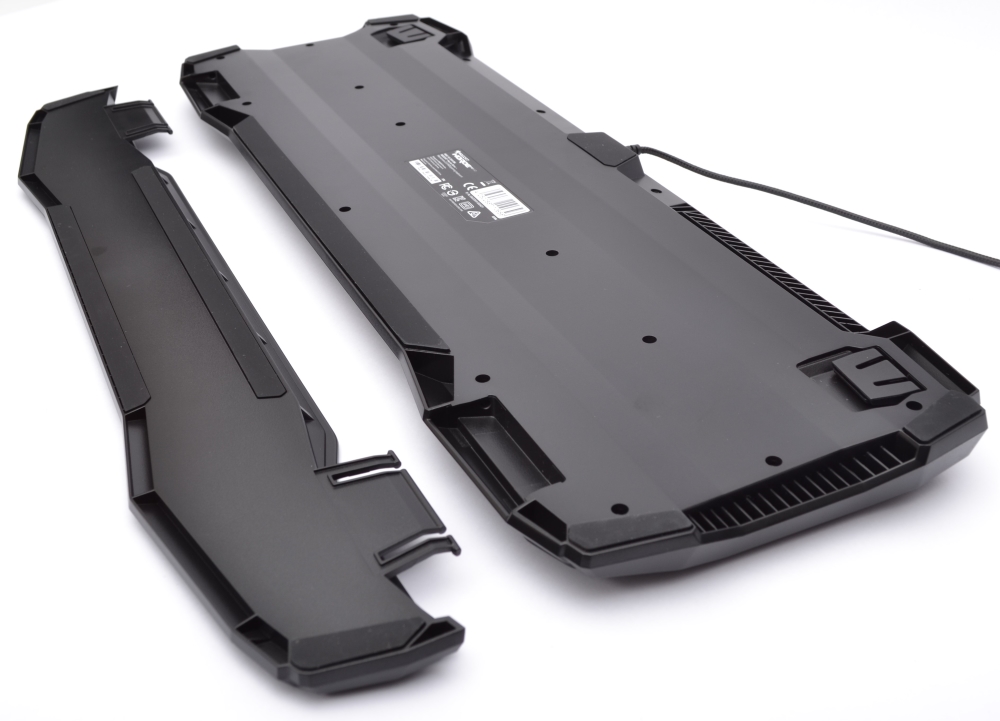 Even the folding feet have rubber, so the keyboard is firmly attached on the back even when they are unfolded.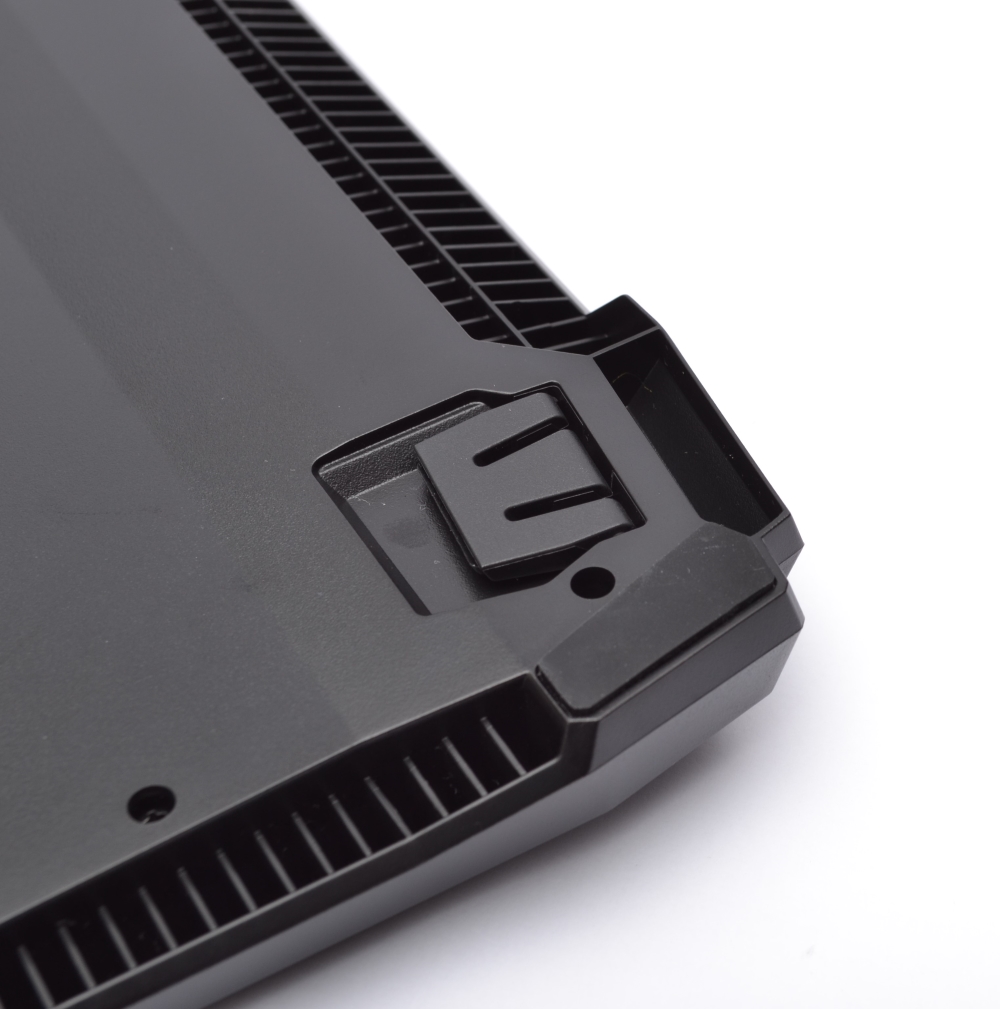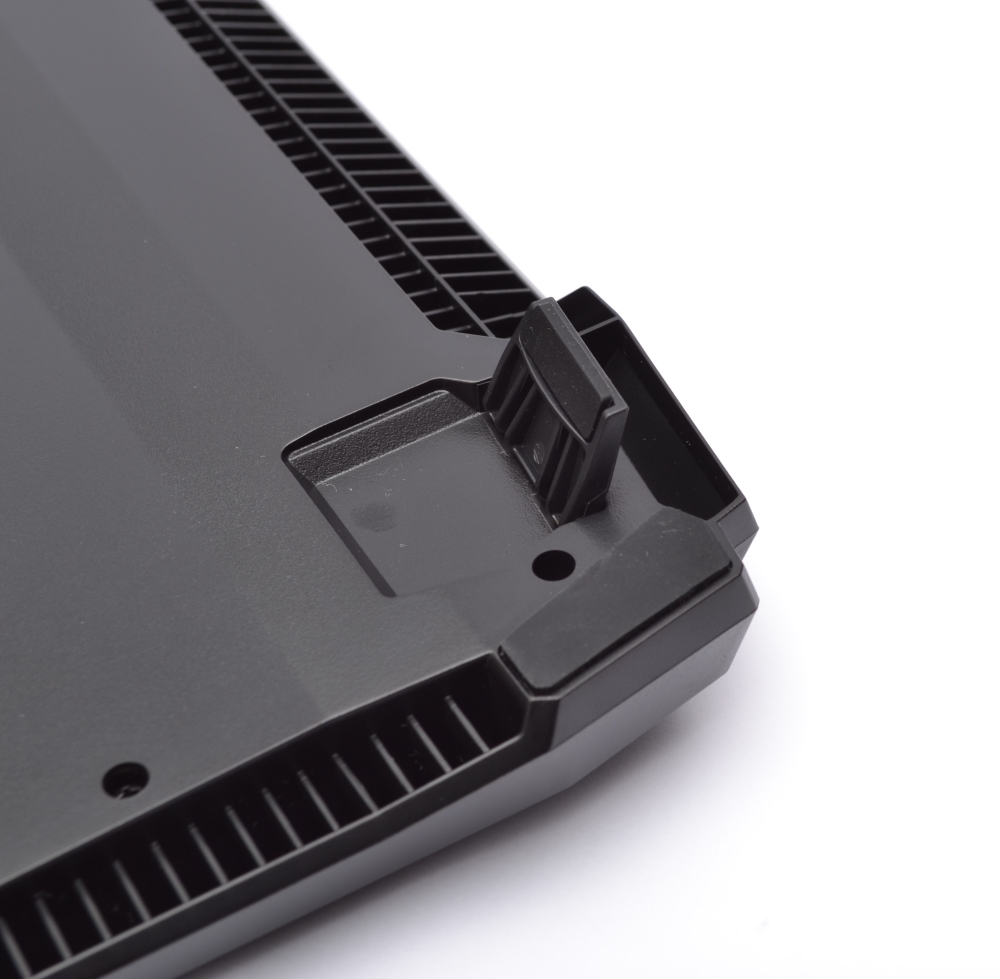 The keyboard generally has a nice design, with the keys lowered below the surface. It gives a nice overall and clean impression. How it affects the light we look at a little later in the test section.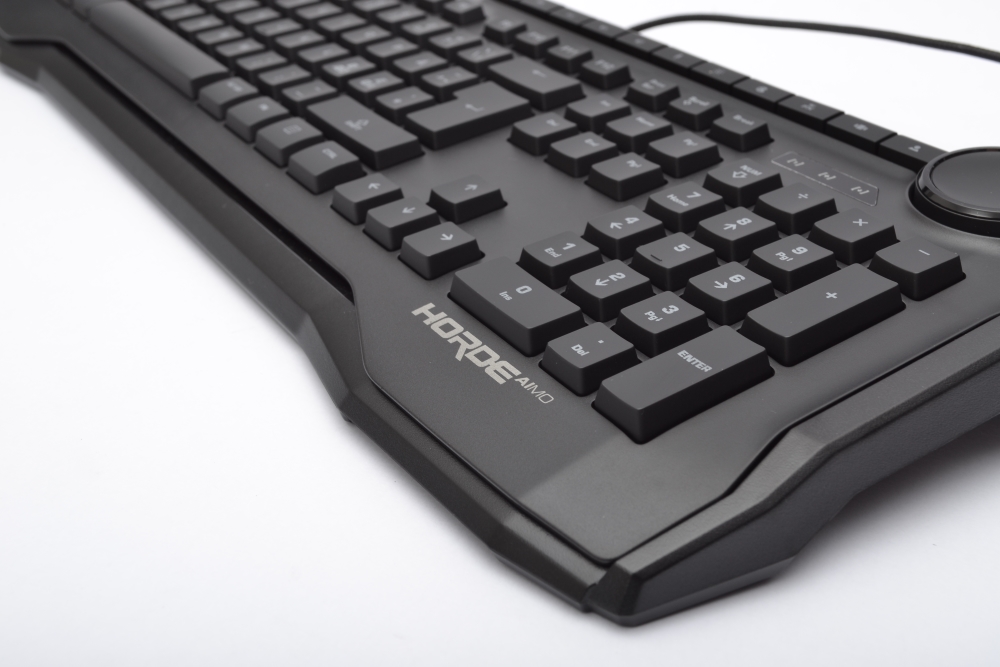 In the top right corner we have a wheel that has several different functions. All functions that can be turned up or down, or otherwise adjusted. They can be adjusted with this wheel. It is smart.
There is a Fn key on the keyboard, but no other Fn features are marked. So I guess that these functions are programmed in ROCCAT Swarm as the software for the keyboard is called. We will also look at it a little later.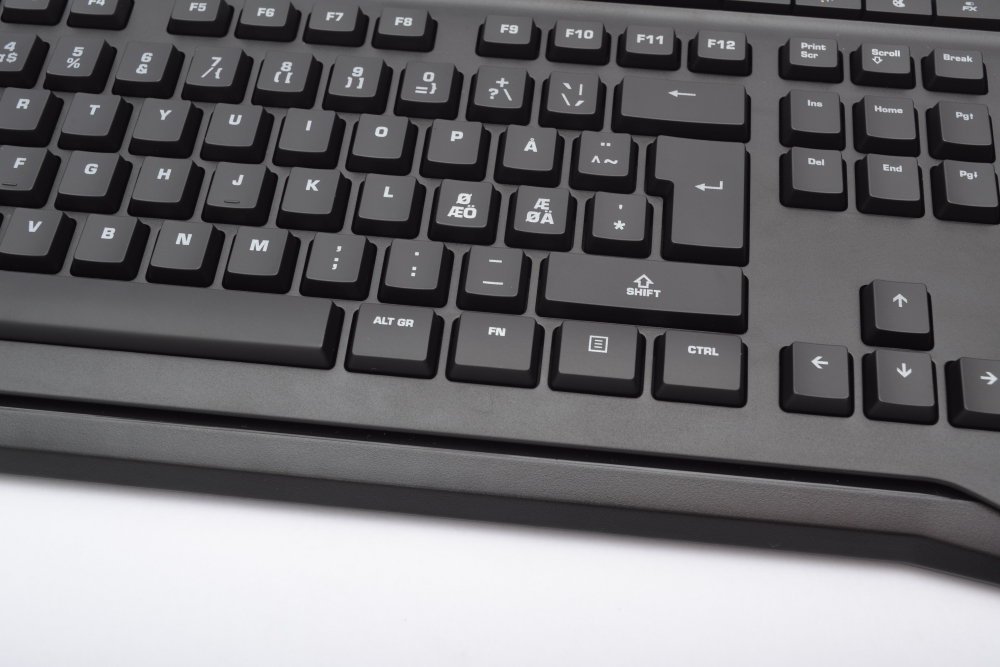 The keyboard has dedicated keys at the top for several different things. There are keys for multimedia features, but also keys for light and microphone sound and several other things. It's great that they're at your fingertips and not hidden under the Fn function.
A thing I have not seen before is, the ability to quickly adjust the microphone level. I think that's really smart.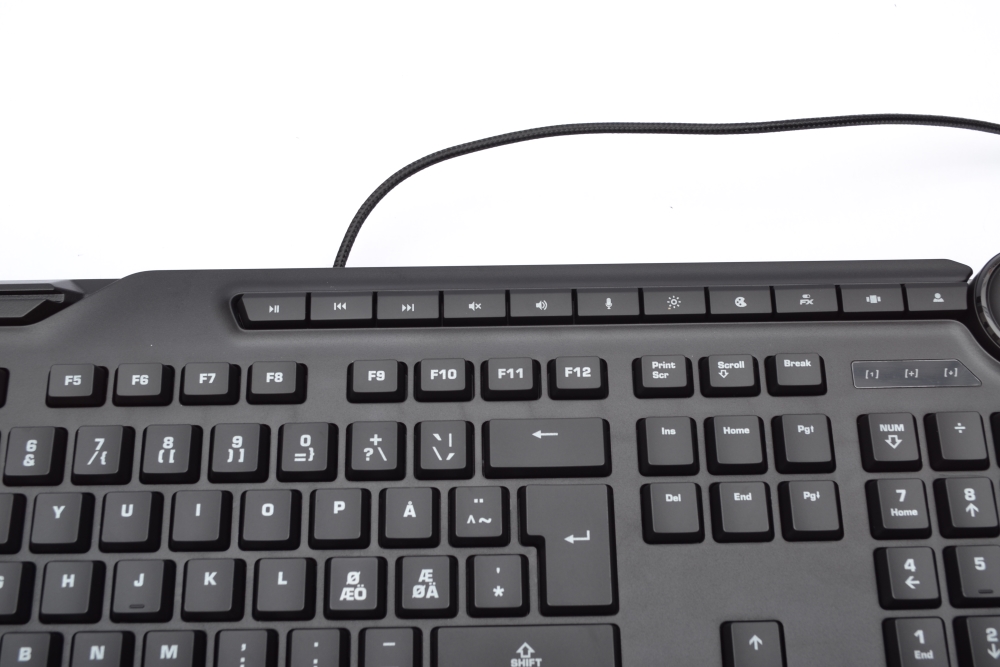 On the left side we have 5 dedicated macro keys, which you can program as needed. Again, great fun that these features are not stored under the Fn function.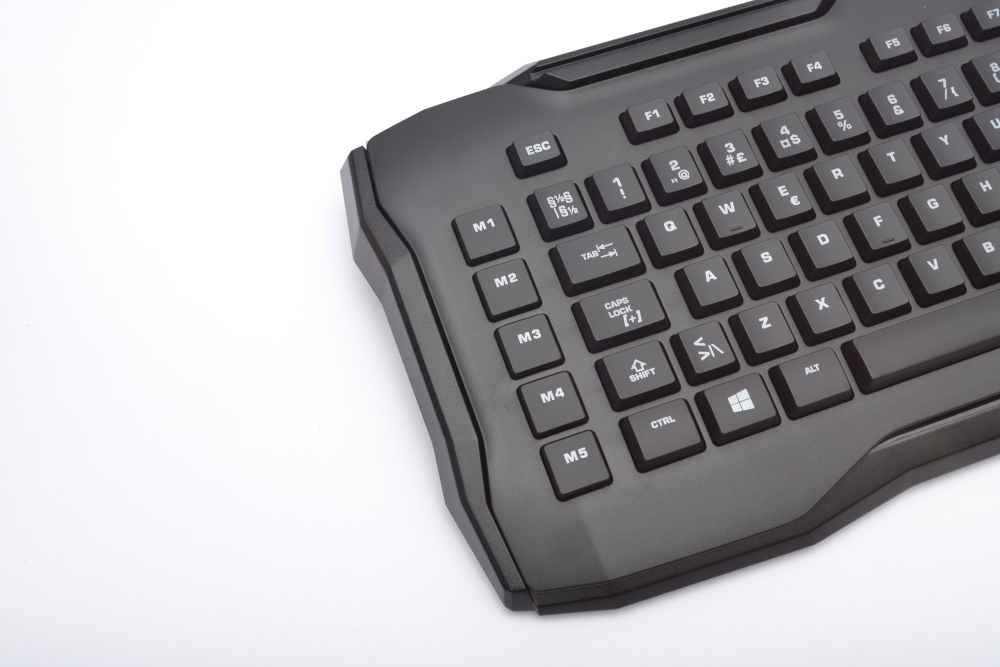 Finally a picture of the plug. You have no doubt what you get when you pull this plug. It is labeled with ROCCAT Horde. The cable is a nice thin fabric-coated cable, so it can be anywhere.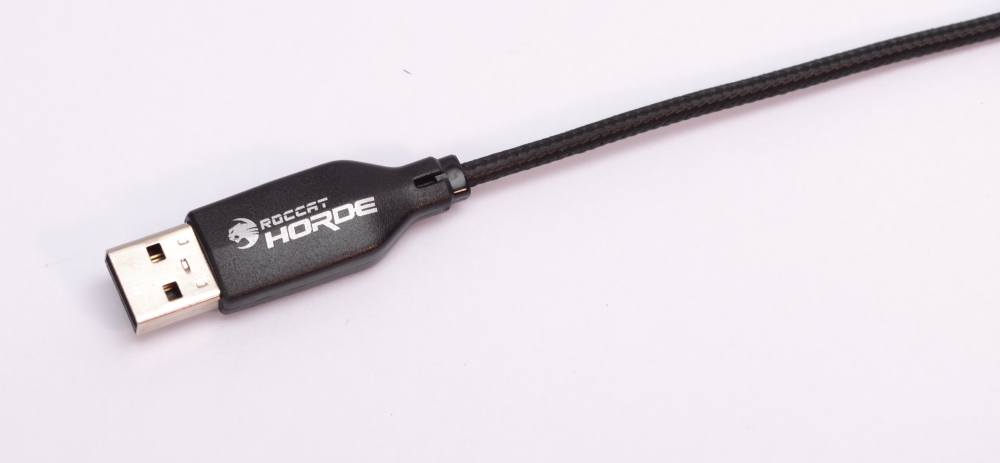 Now we will have a look at the software.
ROCCAT has made a common software for all of their products called SWARM. That way, only one piece of software is required when you have several ROCCAT products.
On the first tab, you can adjust more technical settings on the keyboard. There is speed of repeat and you can set whether the keyboard has sound or not. These are some fun features, and some of them are a good thing to have.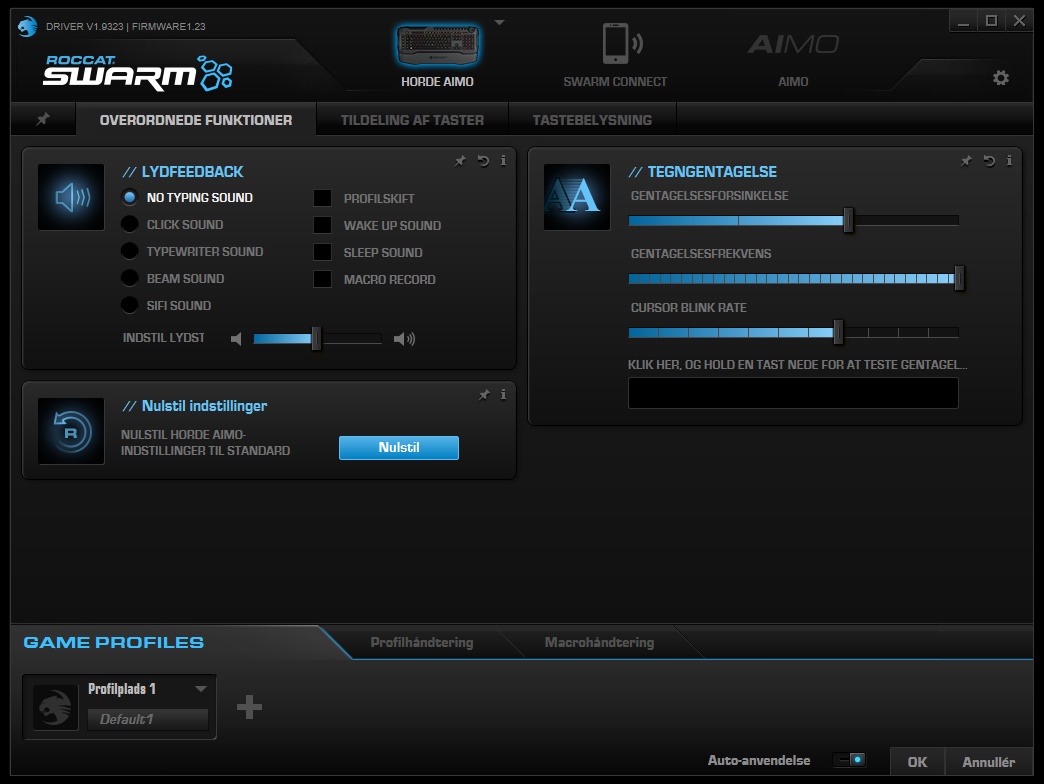 A little more advanced will be on the next tab, where you can program all the keys as needed. You can assign all keys to other functions and macros. It's pretty great. There are a number of different gaming profiles that you can use. These are programmed in advance.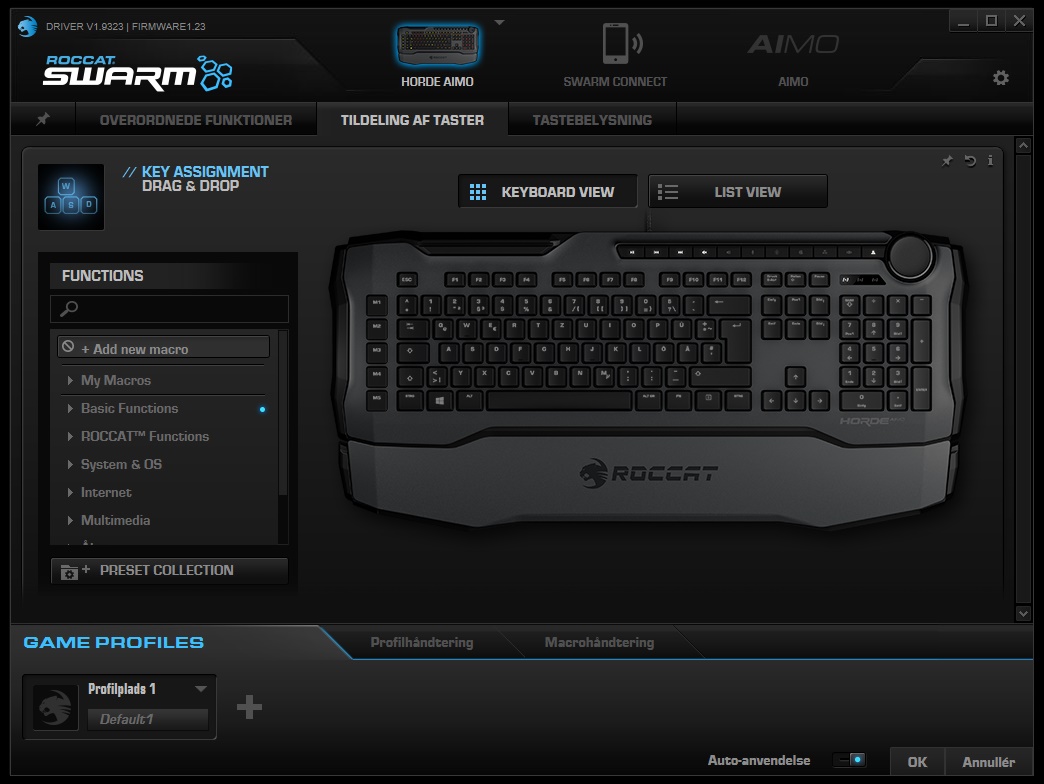 The lighting has 6 different light zones. So you can not program the light in each key, but you do it for each zone. It also works very well, but full RGB control is in my opinion the best.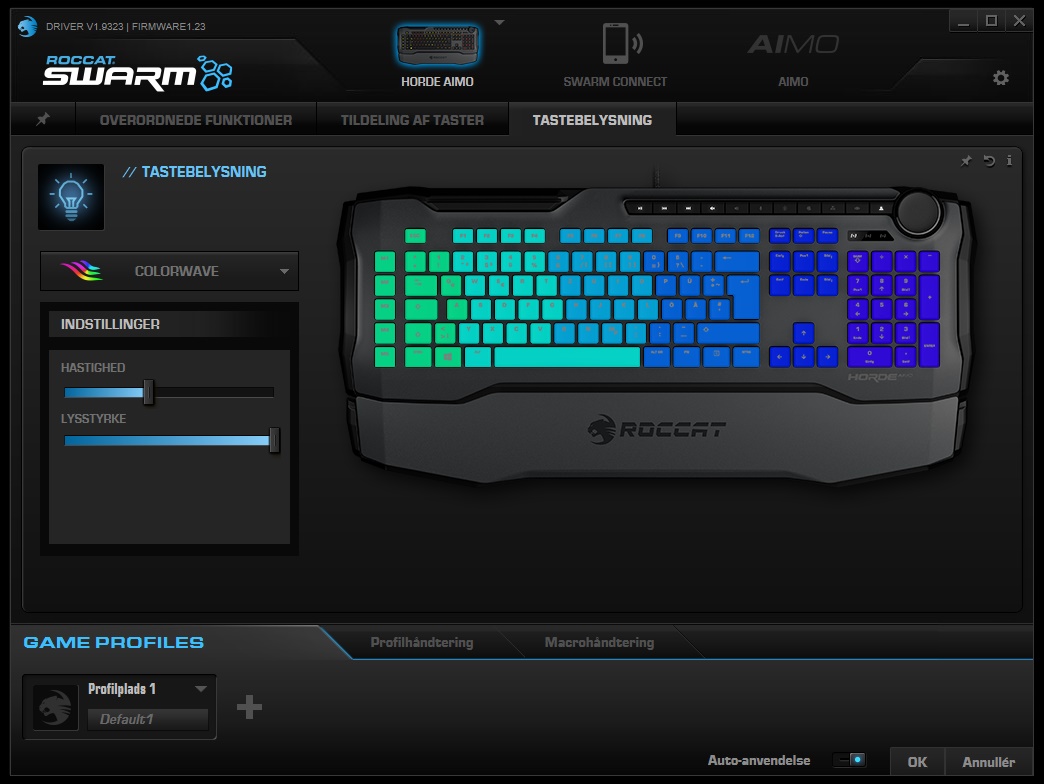 There is also the possibility of using the patented AIMO light control, where the light adjusts its behavior depending on how the user uses their products. It is compatible with all ROCCAT AIMO products, so you can fully control your whole set.
Read more about ROCCAT AIMO here:
https://aimo.roccat.org/en/Overview/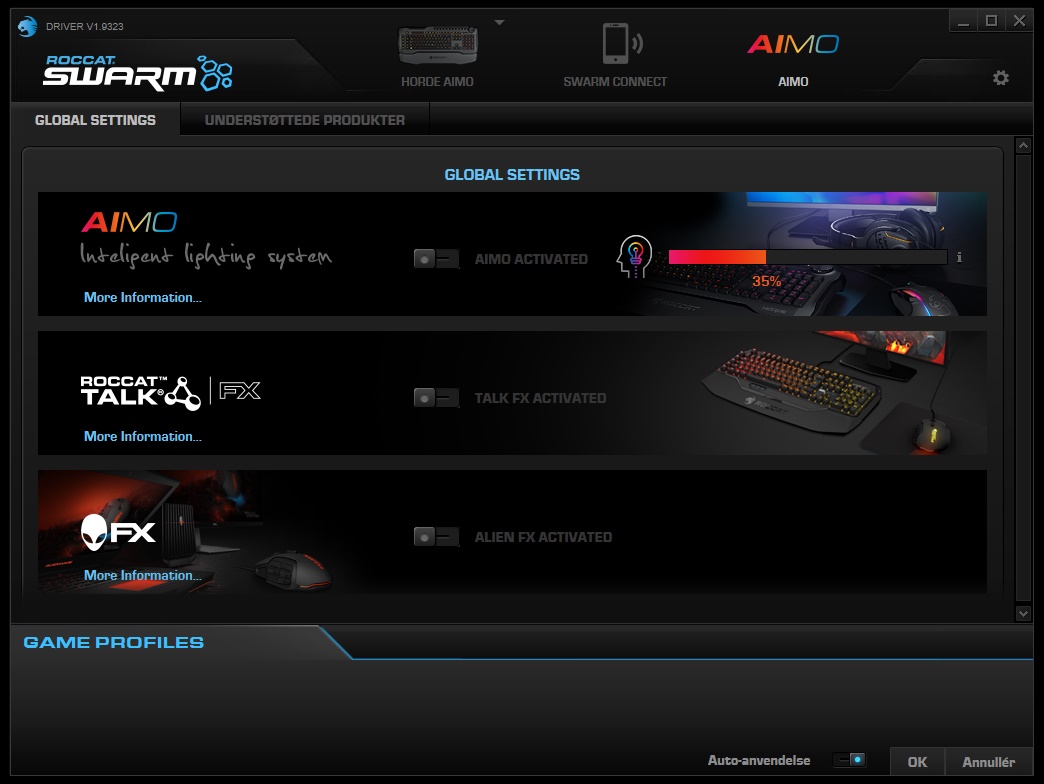 Then it's time to write and test.
The comfort:
This keyboard is great to write on. It has built-in wrist rest that you can take off if you do not need it. I like to use it as my hands relax more, especially at a keyboard that is slightly higher.
The noise:
As this keyboard is of the membrane type, it does not make so much noise. I like that, especially if you're together with others like I am.
The contacts in this keyboard are Membranical, which means they are membrane keys that behave a bit like mechanical. They are doing so as they activate higher up, which means you should not have to press them all the way down each time. It's super smart.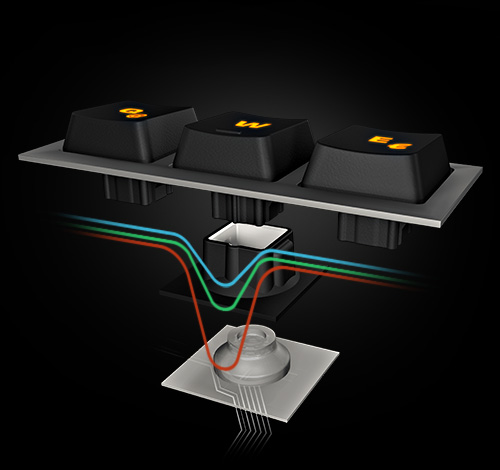 ROCCAT Writes:
Membranical represents the perfect compromise between membrane and mechanical. The quick hotspot midway provides the most accurate and responsive touches ever, providing quick but quiet entry. The design is dirt-repellent, so you get precise gaming with just a little bit of trouble, and the middle and key styling keys to the fingertips greatly enhance the difference in taste.
ACTIVATION SPEED:
Horde macro keys: 5.0 ms
Horde Membranical keys: 7.8 ms
Standard membrane keys: 9.0 ms
The layout:
ROCCAT Horde AIMO has a standard keyboard layout when it comes to placement and the physical size of the keys. It's great that they do not start to differ from that in any way.
I love the dedicated keys for the various standard features, and the smart wheel where you can adjust a lot of practical things. All in all, it is well thought out by ROCCAT.
For the slightly more advanced users, there is the possibility of programming some macro keys on the left side. It's also a cool thing to have these dedicated keys.
The Software:
ROCCAT Swarm is a great piece of software. You have an easy and quick overview of all the features of your products.
You can configure almost anything on this keyboard, whether it's features or lights you want to mess with.
The light:
The light in the ROCCAT Horde AIMO may be quite limited. It has 'only' 6 light zones, which you can adjust as needed. Then it has AIMO, which is automatic customization for how you use the keyboard. So if you use it a lot, it's quite active in the light, and if you use it a little, it becomes more subdued.
One thing that makes this keyboard stand out drastically from the mechanical models we know is that only the letters in the keys light up. You do not sit in front of a sea of light, where light emits under the keys itself, but in a rather subdued and calm lighting. I like it, but it may seem a bit boring and limited to some.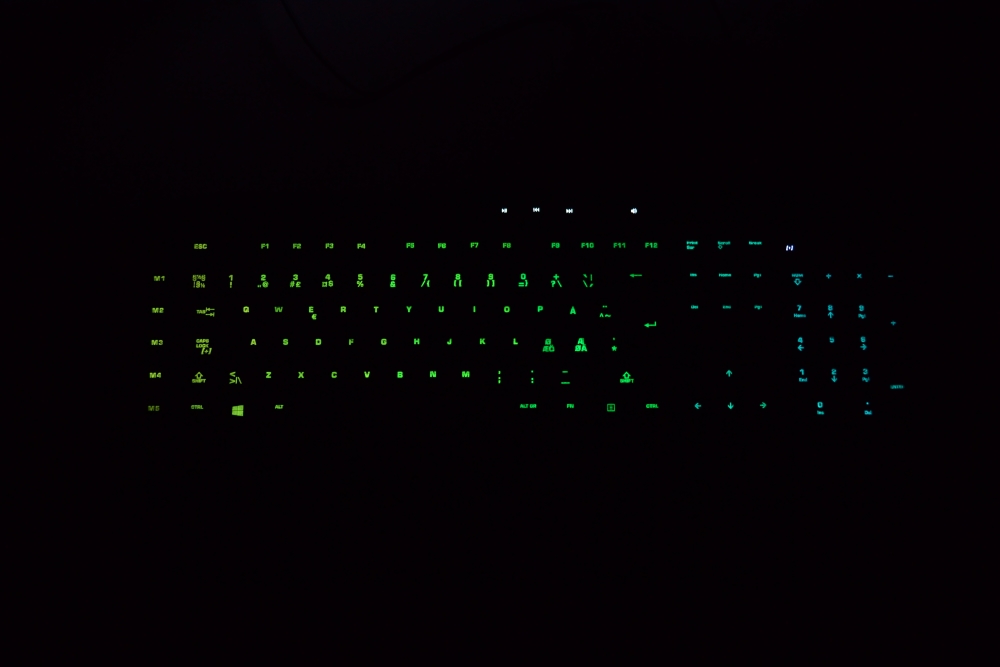 What is my rating.
ROCCAT Horde AIMO is a keyboard just after my temper. I really like it.
It does not sound like a typewriter when you write on it, which is super cool. I (and not least my wife with whom I share an office) likes to avoid the high click sounds and mechanical sounds that even an MX-RED makes. A membrane keyboard is therefore preferable if you have to type or play much in room with others.
The subdued light I think is also very cool. I do not have the need for a sea of light when I sit and play, sometimes it can actually be too much in my opinion. Here the light is very well adjusted because it only comes from the actual letters and the whole key does not bathe in light. I personally do not use AIMO as much as I like to customize the light in my keyboard for my setup. So it's typically a solid red color, but I can see it's smart for the younger crowd. There is no doubt about that.
The function of the wheel and the features that can be gained from it, I think, on the other hand, are super awesome. You can quickly and easily turn up and down the sound, adjust the light and more. It's just pretty smart.
The membranical contacts in this keyboard are also great. I have played and written articles with the keyboard, and it has not failed in any way. The keys are soft to write, but activate fast as lightning, which is cool.
At this time you can purchase this keyboard for less than DKK 600 in Danish stores. If the keyboard keeps the price, I think it's a super deal. Otherwise, the average is below 800 DKK, which is also a very good deal. You get great value.
If gather it all, this keyboard can only get a GOLD star. It's nice to use, there are programmable lights and key features, wrist rest and a good software package. All in all, it's a really good buy for the money.
This article has been created in collaboration with ...

Read more about ROCCAT Horde AIMO here:
https://www.roccat.org/en-DK/Products/Gaming-Keyboards/Horde-AIMO/