Sandberg BlueStorm Wireless Headset
Now it's time to get look at some sound products. In this review, we are going to look at a Bluetooth headset from Sandberg called Blue Storm.

Sandberg is a Danish manufacturer who has been on the market for many years. They make quality products at favorable prices. They have launched a product range called EsportsEquipment, which covers the gaming segment of computer users.
Let's look at the packaging and the content.
The box you receive is well illustrated with picture and specifications on the outside. There is a window in the box where you can see the product through.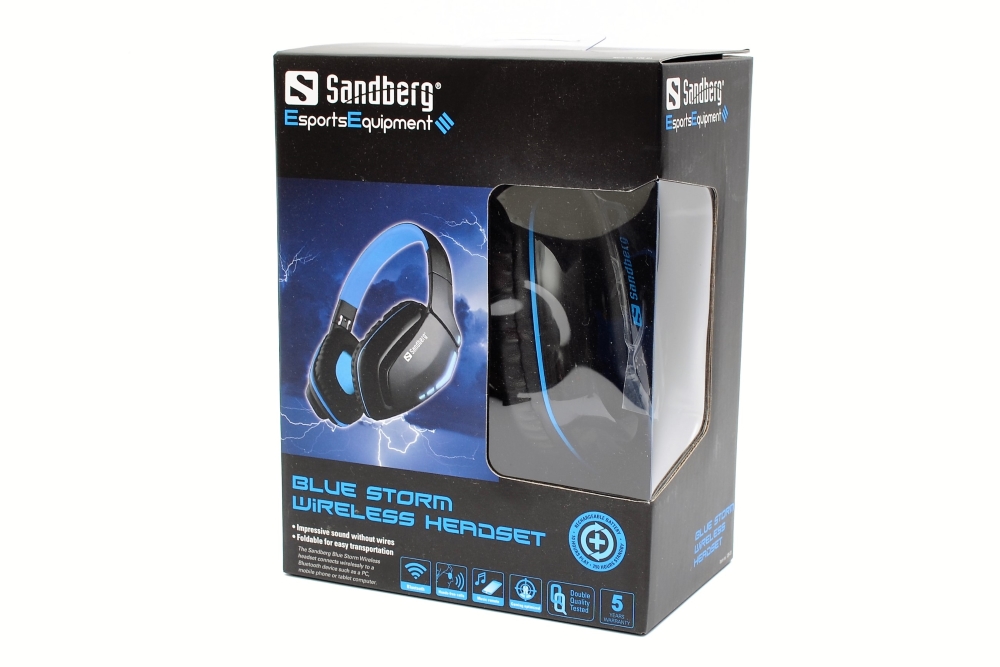 Inside the box we find in addition to the headset itself. A USB charging cable, audio cable and a sticker as well as a user guide.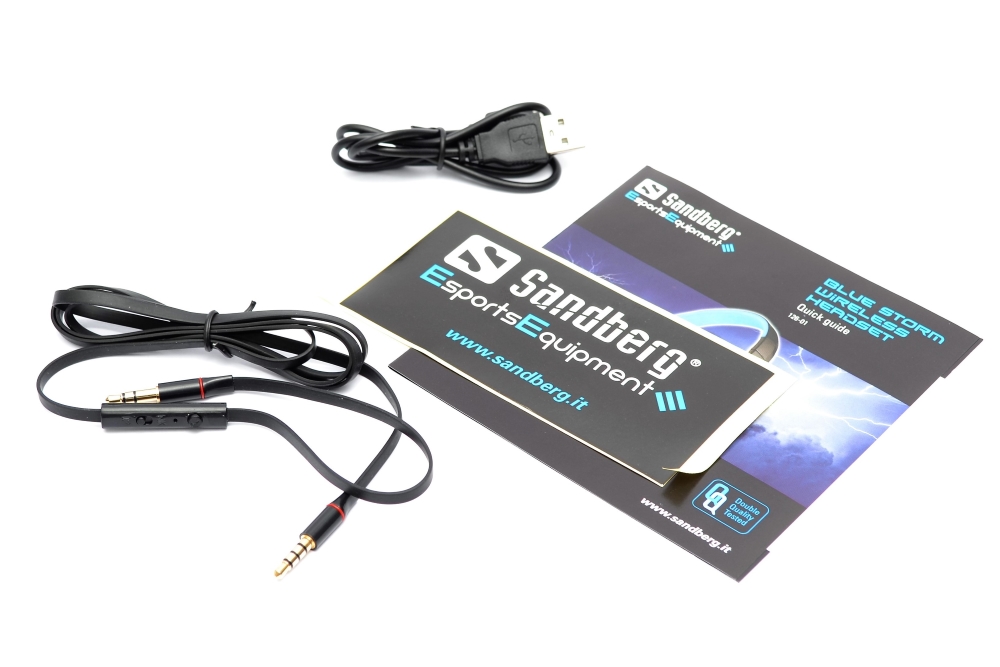 Content:
Sandberg Blue Storm Headset
USB charge cable
Sound cable
Sandberg EsportsEquipment Sticker
User guide
The technical specifications.
The headset is a Bluetooth headset that can play audio for up to 10 hours on a single charge. The speakers are 40mm. units playing in the 20-20,000Hz frequency range, which is quite nice. The microphone is Omni directional, which means it records everything from the surroundings. There is apparently no noise reduction.
Bluetooth & Charging:
Bluetooth 4.1
Supports A2DP, AVRCP, HFP, HSP
10m wireless range
Bluetooth frequency range: 2.4 GHz-2.4835 GHz
Up to: 10 hours playback / 13 hours talk time / 250 hours standby time
Charge time: Approx. 5 hours
Charging input: USB DC 5V
Battery: Rechargeable 380mAh Li-polymer battery
Earphone:
Frequency range: 20 Hz – 20 kHz
Impedance: 32 ohms
Sensitivity: 108 dB
Driver unit: 40 mm
Microphone:
Frequency range: 30 Hz – 16 kHz
Impedance: 2200 ohms
Sensitivity: -52 dB
Directivity: Omni
Let's move on, and have a look at the headset.
The headset is made in quite nice looking shiny black plastic with blue details.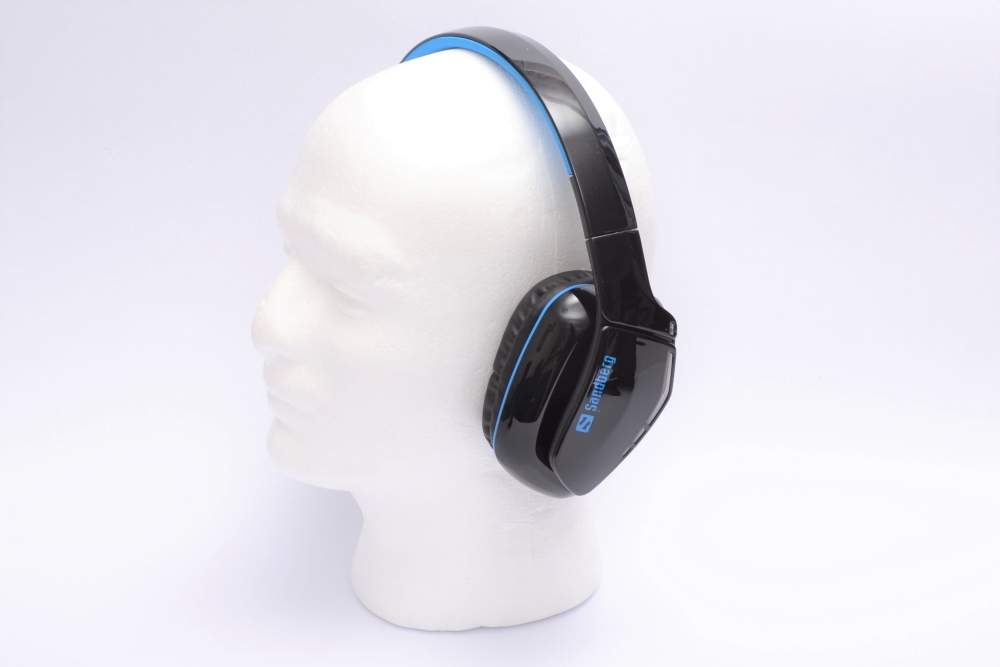 On each ear cup there is a Sandberg logo, so you are not in doubt who the manufacturer is. There is also light in each ear cup, but I will show later.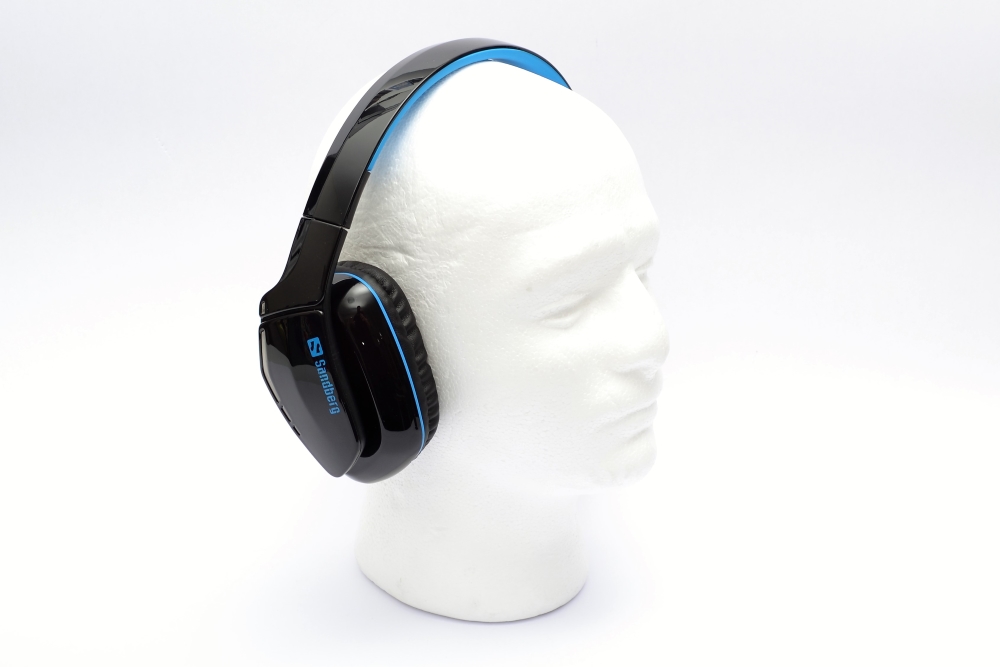 Behind the right ear cup is the operation where the buttons are as follows from top to bottom. Light On / Off, Power-Pair-Play / Pause-Call (Yes, all in one button), Volume Up / Previous Number, Volume Down / Next Number, and at the bottom, we find the USB charging plug.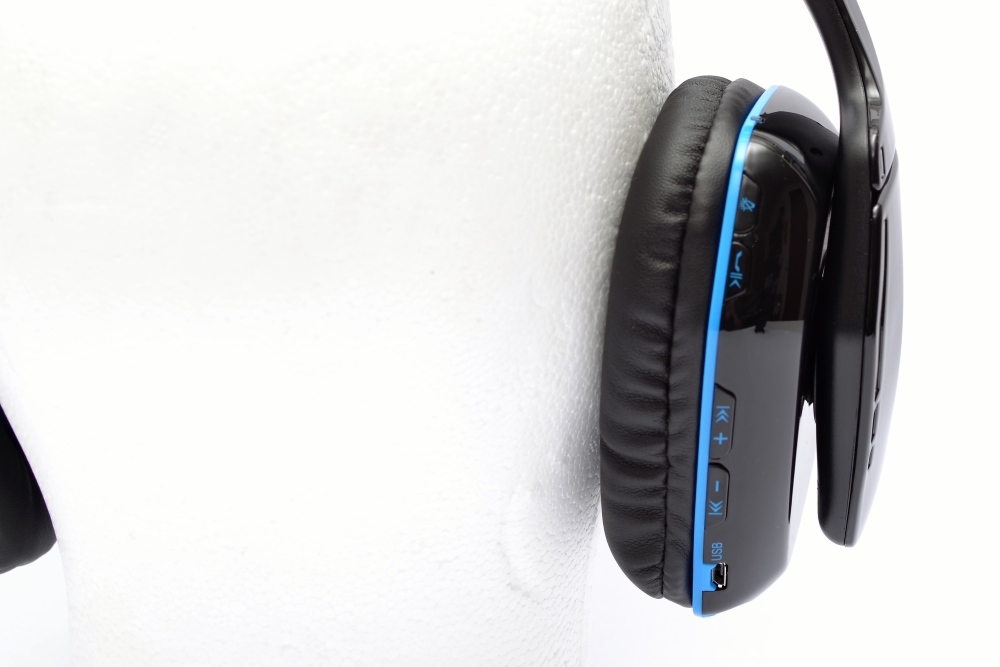 At the bottom of the right ear cup, we find the audio jack, so you can use the headset without Bluetooth. It is an advantage if you run out of power or want to save the power in your headset and just use your mobile phone as a player.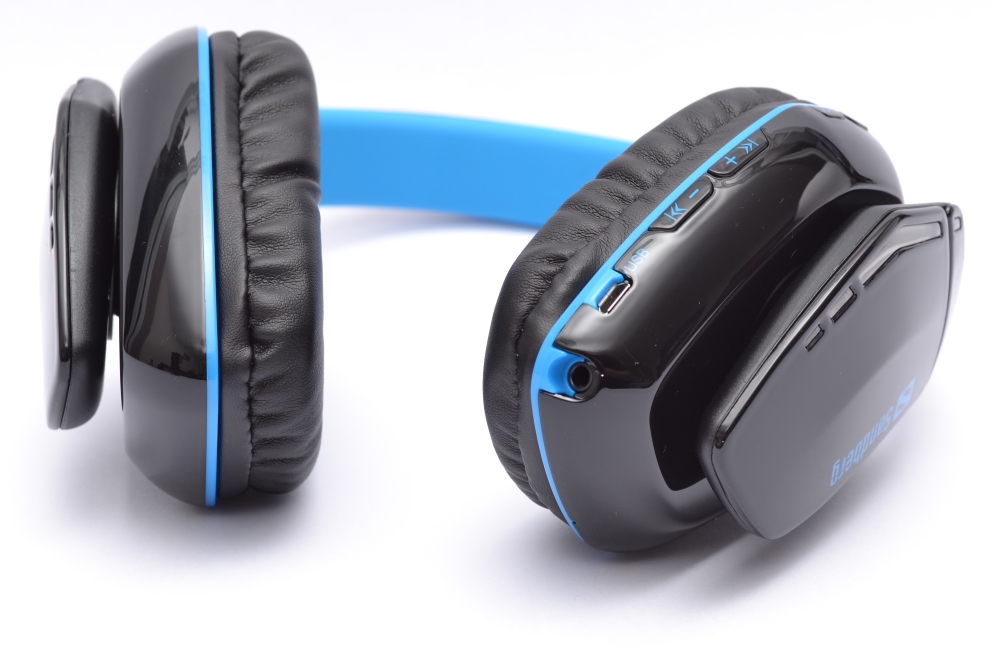 The headband is not particularly thick. The light blue is rubber that is not particularly soft to press. I tell in the test section whether the comfort is okay on the headset.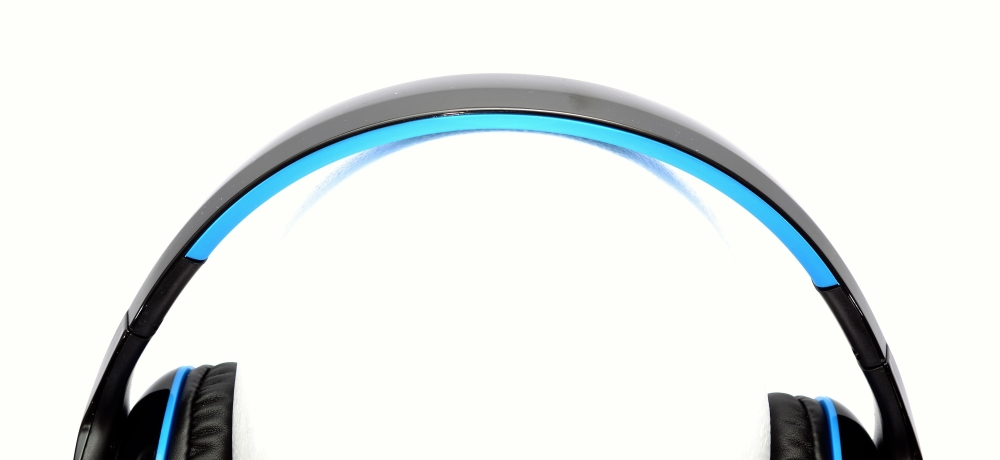 Then there's the hole in the ear cup which is not very large. In fact, it's less than my ear, so I choose to call it an on-ear headset. In order for it to generally be an over-ear headset, the hole should have been a bit bigger. The actual ear cushions are reasonably firm, but appear to be made in memory foam that becomes soft of the heat from the body. So it will be exciting if it is comfortable to wear.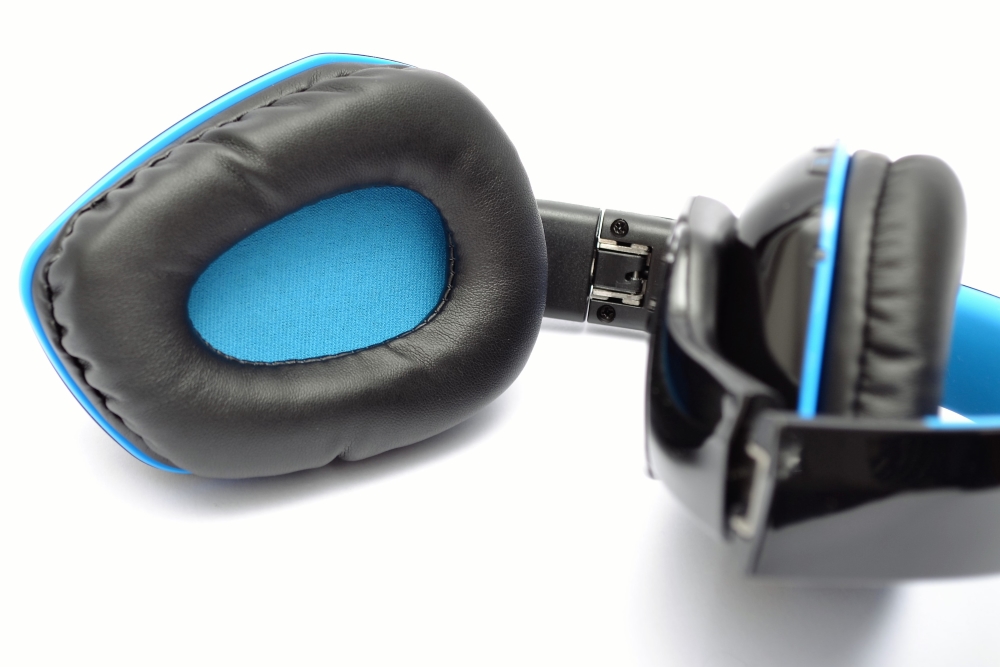 One thing I noticed was that the actual retraction and hinges in the flexible joints are made of metal. I haven't seen that so often and tells you that this headset is built robust and in good quality.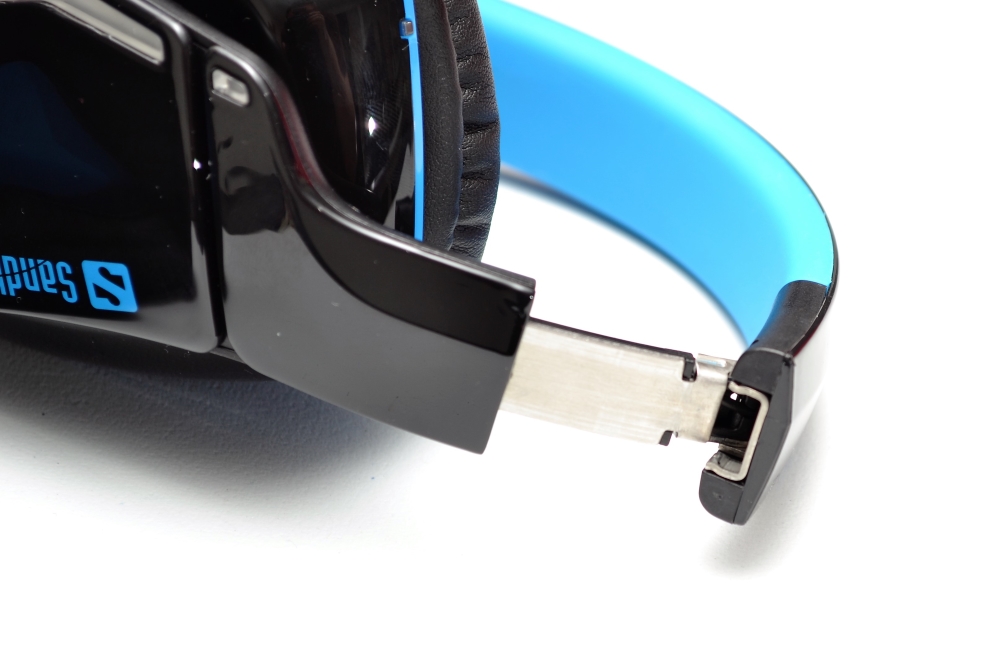 I wrote hinges earlier, and that's because this headset can be folded together. Then you can easily and effortlessly put it in your bag, or even have it in your inner pocket. It's quite practical and you do not fear it breaks or gets damaged because of the solid metal hinges.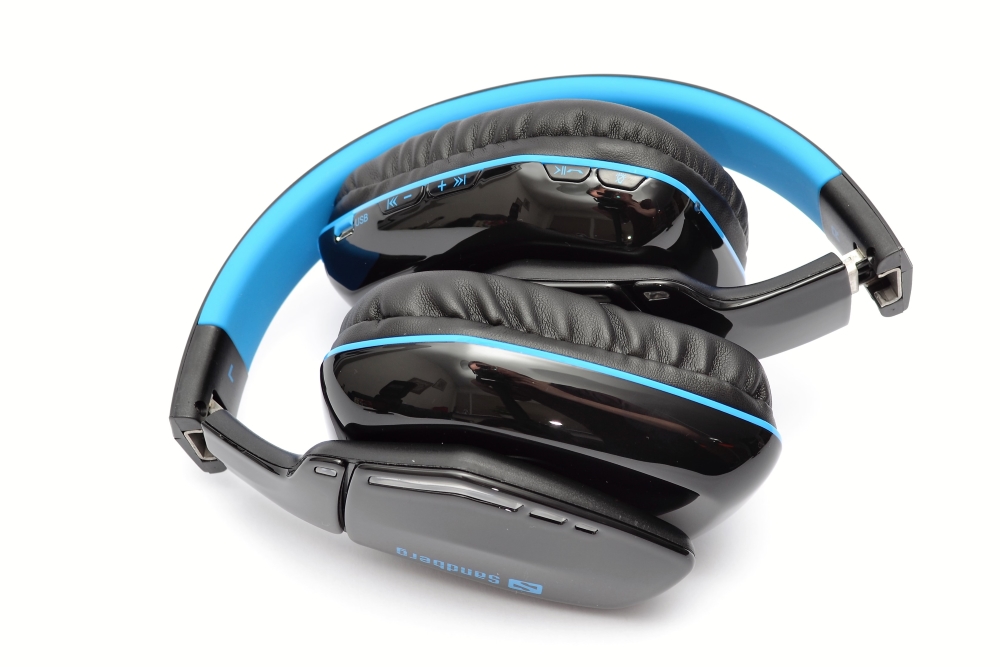 For accessories, you get a charging cable. It's a standard microUSB connector that's in the headset so you can basically use any mobile charger to charge the headset. It's smart, as you do not want to have more chargers and cables on the go. The possibility to borrow a charger is also much larger than if it had been a special plug.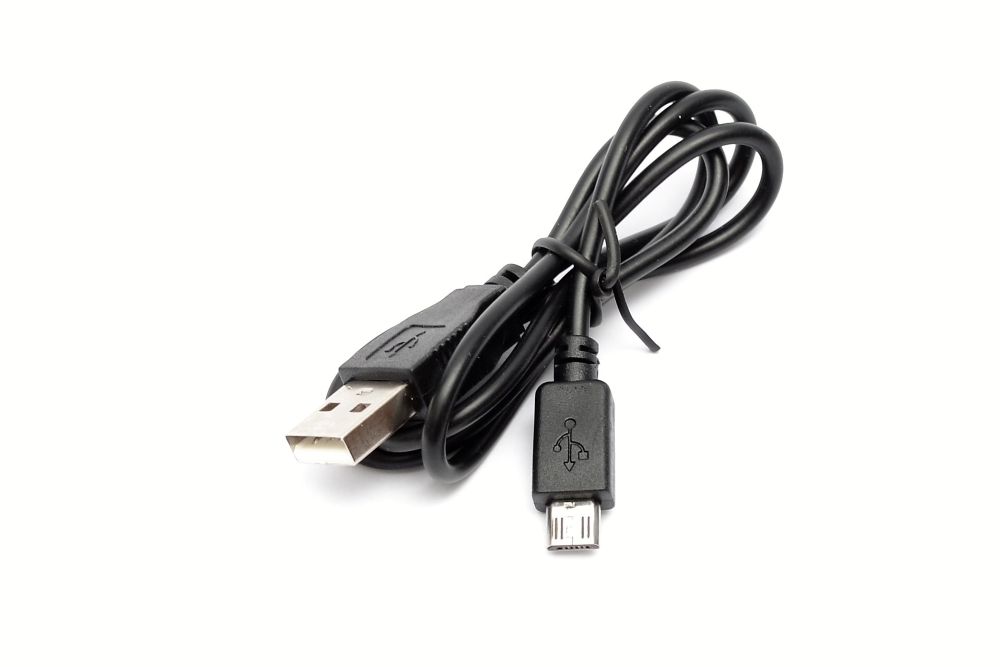 Then there's the audio cable you can use instead of Bluetooth. It's a sleek flat cable, strange enough with red markings and not blue like on the rest of the headset. Both connectors are gold-plated, so you are sure of a good connection every time you use it.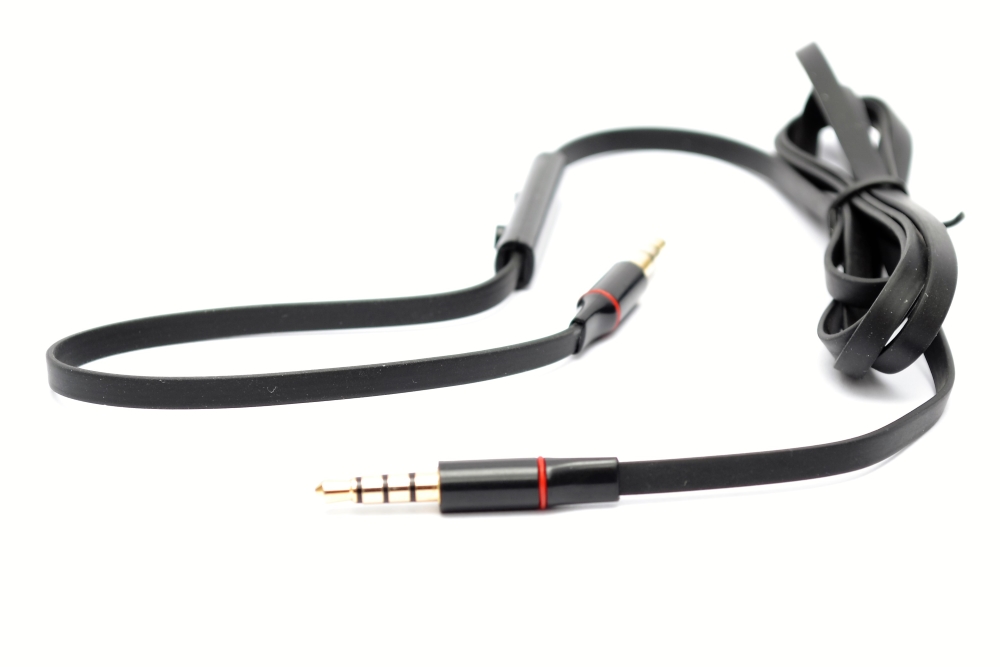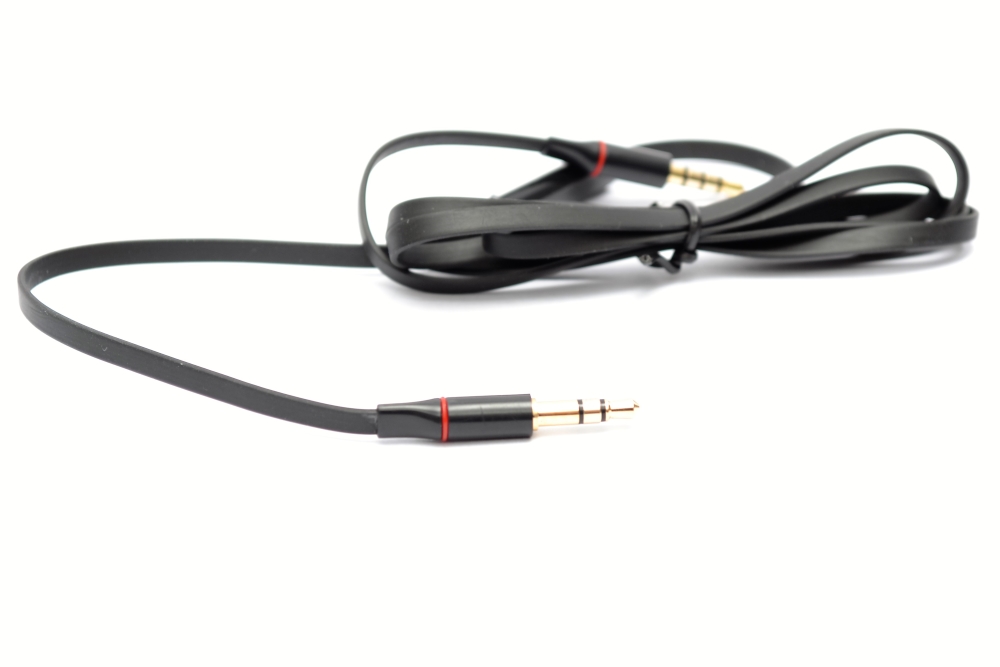 On the cable there is a remote control with a button for answering calls, and a microphone for the calls, as the microphone built into the headset is on the Bluetooth part. Finally there is a switch as the 4 pole connectors are not a standard connection. iPhone and Nokia have different plug connections, where some of the wires are switched. Therefore, Sandberg has chosen this clever solution to make this headset as compatible as possible.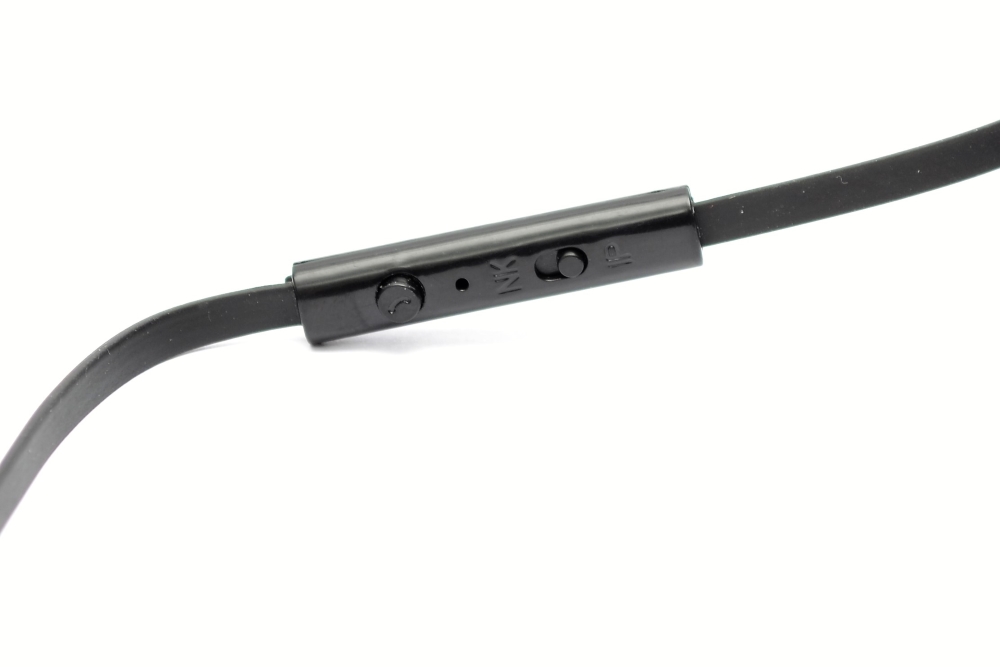 Let's listen to it then.
I have used the headset intensively over the last week to get a good idea of how it is in use.
Comfort:
I have a fairly wide head, and I notice this clearly with this headset. It sits firmly on the head, maybe even a bit too firm.
I have had a little trouble with the ears when I wear glasses. It may be because of many things like wide head, thick temples etc. But that's not a problem I usually have. It may also be because this headset actually has too small ear pads relative to my ears, so the cushion itself presses the ear, which then presses the temples. I felt sore after some hours of use.
Sound:
At first, I actually think the sound was a little stuffy, but the more I listened to it, the more it grew on me. Perhaps the speakers should just be played, I've seen that before.
That resulted in, the bass became more determined and tight, and the treble began to get more details in the music. Also middle tone and generally the whole sound image loosened so it was better to listen at. So all in all, this headset actually sounds quite well for the price.
I noticed a bit of white noise from the amplifier in the headset (especially left ear cup), which is never quite good. But only when there was no music or sound in the headset. It's only under silence, you noticed it a bit.
Microphone:
First, a small picture illustrating the different microphone types. The microphone in this headset is of the Omnidirectional type, which means it records everything around without direction.

Now that we know that the microphone is recording everything, we can start listening to my test.
The first test is a clean voice recording without noise in the background. As you can hear, there is a lot of reverb, and generally the recording is not very good. Keep in mind that the microphone is inside the headset and not on an arm in front of the mouth.
Next listening test is with noise in the background. There is a little music in front of me from a speaker on the table. As you can hear, the microphone records everything, including the music from the speaker.
Light:
The headset has built-in light that can be turned on and off. It looks really nice and cool, but I actually wondered that it did not turn off when turned off the headset itself. This could result in drainage of the battery for no reason if you forget to turn off the light when you turn off the headset. It is not easy to see the light in daylight when playing a computer or listening to music on the trip.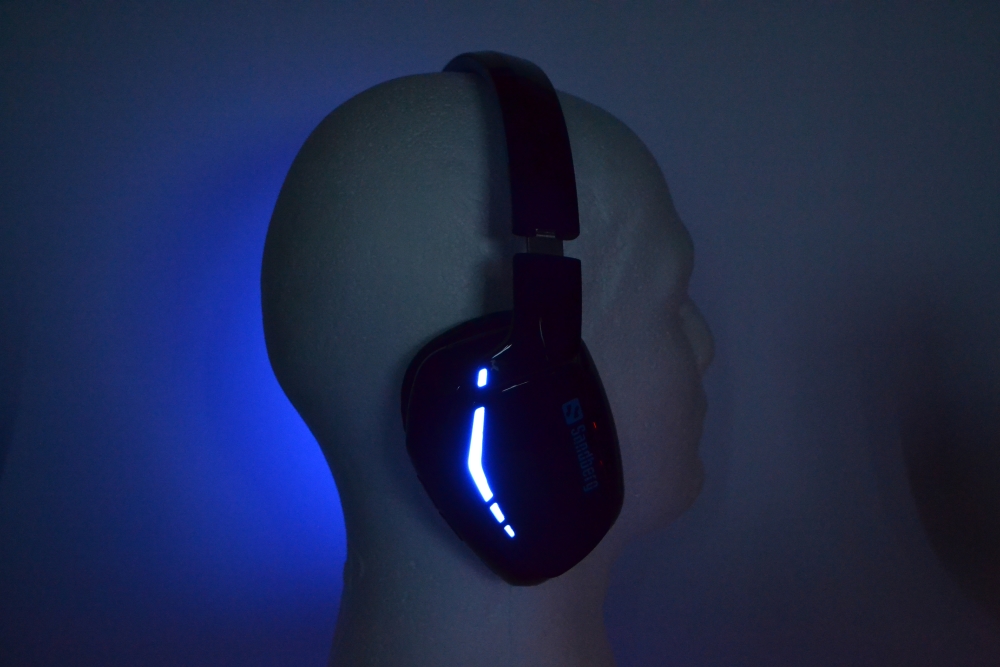 On top of the right ear cup there is a LED that tells the status of the headset. It flashes differently depending on whether to pair with Bluetooth, whether the headset is in use, and if it is charging, etc.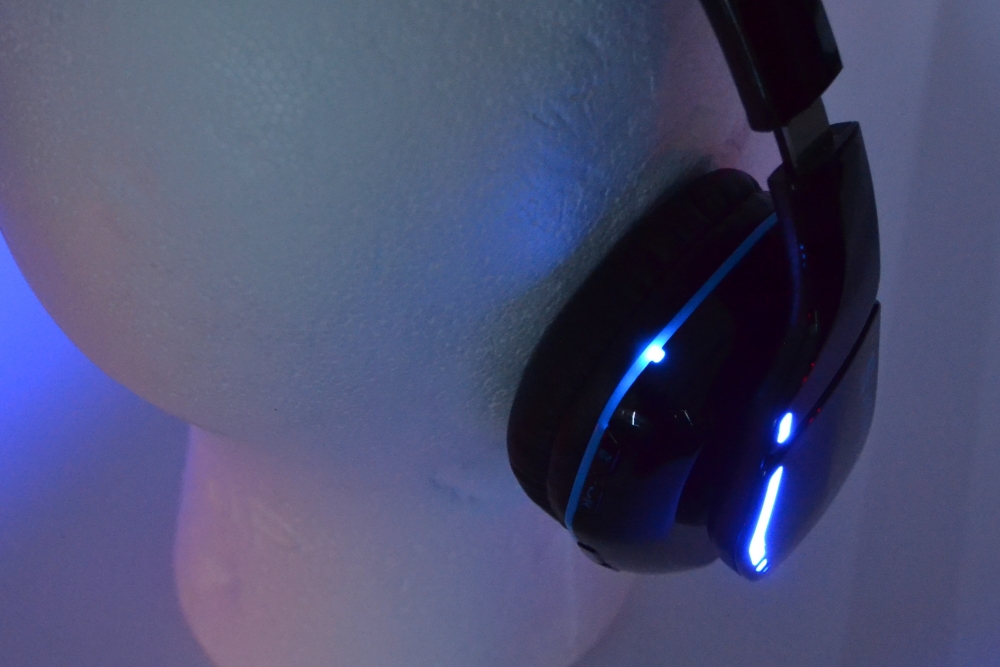 What do I think of this headset.
Sandberg Blue Storm has actually made an ok playing headset that does not sound completely wrong.
Normally, I use a Sennheiser PC350SE, which is a pretty excellent headset. Blue Storm is unprecedented, but considering the price, it actually plays quite well.
There are some errors, as I have pointed out in my review. But it's not big things that you can not live without. Again, the price taken into account.
Sandberg has chosen to put this headset in their Gaming series. I do not quite know if I want to judge the headset qualified for it because it does not play perfectly, and not least because of the microphone, which is simply too bad.
Sandberg has made other and better alternatives, in the same price range. As far as this headset is concerned, it's about the quality of the microphone, and maybe even the sound. It should be solely because you want to be free of cables, you should choose this headset for gaming in my opinion.
What is the price then, now I mention it time after time? Well, you can buy this headset for less than 300 DKK in Danish stores. It's a pretty impressive price when you think about which headset you get.
That's why I give this headset a nice BRONZE star. The headset is not flawless, but it does what is expected for the price. It looks nice, plays ok, and has plenty of accessories, so you can use it with and without power on the headset. All in all, a good investment, where you get value for your money.
Read more about Sandberg Blue Storm Headset here.